This is the second article in a series that I will publish over the next weeks in which I put the largest mega-cap software stocks under the microscope. I kicked off with Oracle (NYSE:ORCL) earlier in June, arguing that the stock needs a catalyst, and that the company must prove that "cloud has reached the scale that it needs to start producing not only top-line momentum, but also significant bottom-line contribution".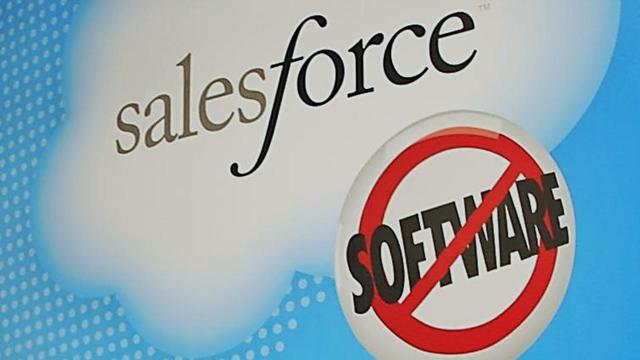 Credit: ZDNet.com
Today, I turn to salesforce (NYSE:CRM). After having bounced back strongly from its YTD low of $54.05 in February, shares skyrocketed to over $82/share just ahead of the Brexit vote. The stock has since de-risked by about 6%, and is now down nearly 8% from its 52-week high.
Following the recent events, is there good value to be realized in CRM? How does the stock stack up against the peer group?
First, let's look at some numbers.
Facing off the big players in software
The table below compares several metrics, from valuation to fundamentals, across the top 10 software companies by market cap: 2016 P/E, 2016 PEG and cash-adjusted PEG, price-to-book, next-year EPS growth, net cash as a percentage of market cap, trailing ROE, dividend yield and "distance" from 52-week highs (as I have gathered preliminary evidence that buying stocks on weakness may be a good value-based strategy).

Source: DM Martins Research, using data from Yahoo Finance and Fidelity
To help better contrast the differences across the peer group, I also created the ranking below:

Source: DM Martins Research, using data from Yahoo Finance and Fidelity
Salesforce: high multiples and modest op margins point to an aggressive play
Unlike ORCL, CRM looks much less attractive on paper. In a comparison to its large-cap software peers, CRM only scores above average in expected EPS growth, at a very respectable 39.4%. Its 2016 P/E of 85.4x suggests that the Brexit mini-crash did little to bring the stock's valuation significantly closer to the peer group's median of 20.9x. Even on a PEG (P/E over growth) basis, CRM's 2.2x is higher than the peer median of 1.7x. As I have argued recently, the market seems to be "less willing to hold on to aggressive bets as of the past couple of months, and I wouldn't expect the trend to reverse in the face of an uncertain macro environment".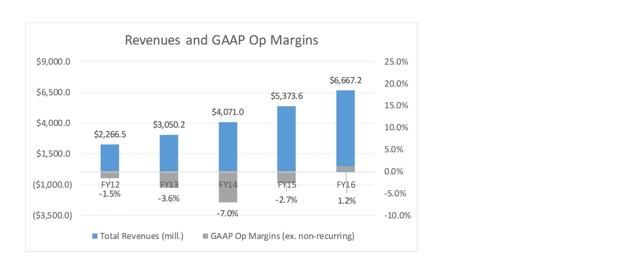 Source: DM Martins Research, using data from SEC filings
As the graph above illustrates, salesforce has nearly tripled its revenues between FY12 and FY16. But the top-line growth rate has decelerated from the low- to mid-30s in FY13 through FY15 to a less exciting 24% in FY16. And even at the high end of management's guidance, this rate is expected to decline further in the current fiscal year to 23%. To be fair, salesforce is building up its services portfolio nicely, having introduced the Lightning console for Service Cloud late last year and announced the acquisition of Demandware (NYSE:DWRE) earlier in 2016. But the company's 84x forward P/E and 23% top-line growth compares unfavorably to the 32x forward P/E and 34% top-line growth of Facebook (NASDAQ:FB), for example. Or even to cybersecurity "sweetheart" Palo Alto Network's (NYSE:PANW) 71x forward P/E and 34% top-line growth expectations. Is salesforce's growth really worth the stock price?
Looking farther down the income statement, salesforce's GAAP op margins excluding non-recurring items (but including stock-based compensation) have only turned positive this past fiscal year, +1.2% vs. -1.5% in FY12. I believe that, to generate the level of earnings that it needs to justify the stock price, salesforce would need to push harder at scaling its cost base. Gross margins are not helping much, as total company GAAP margins have declined steadily from 78.4% in FY12 to 75.2% in FY16. And competitors, including relatively new but note-worthy players in the client relationship management space, like Microsoft-LinkedIn (NASDAQ:MSFT)(LNKD), are only likely to pressure margins further. The secret to increasing profits, therefore, may lie in operating expenses, as marketing costs have come down from 52% of total revenues in FY12 to 49% in FY16. But with revenue growth still a priority, I do not expect to see sales efforts scaling down significantly over the next several quarters at least.
Salesforce, it seems, still has a long road ahead. Until I can reasonably project sustainable, meaningful profitability, I will remain uncomfortable paying such high multiples for CRM. Considering the likelihood that the market may continue to be cautious towards aggressive bets amidst macro uncertainties, I will keep a safe distance from the stock at these levels.
Disclosure: I/we have no positions in any stocks mentioned, and no plans to initiate any positions within the next 72 hours.
I wrote this article myself, and it expresses my own opinions. I am not receiving compensation for it (other than from Seeking Alpha). I have no business relationship with any company whose stock is mentioned in this article.