For those of you unfamiliar with this series of articles, they're basically an approximate five year profit and loss review of a number of Exchange Traded Funds, ETFs, and Closed End Funds, CEFs, that primarily invest in and hopefully profit from dividends earned from their investments in preferred securities, which they then distribute to shareholders. This link will provide you the information necessary to fully appreciate and understand the following article, the differences inherent in CEFs and ETFs, and the remaining articles of this series. It will also serve to eliminate lots of reading redundancy for my regular readers.
This report concerns the SPDR Wells Fargo Preferred Stock ETF (NYSEARCA:PSK), hence the following description and chart: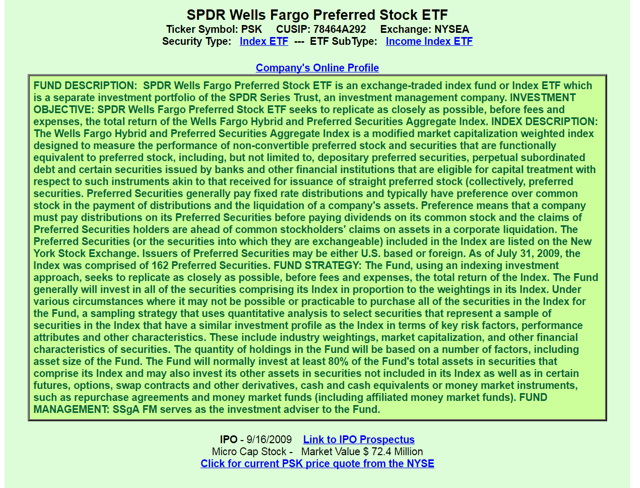 Lets dig into the facts learned from PSK's prospectus. Management fees including unnamed expenses adds up to a total of .20%. Which seems pretty low as compared to the other funds I already reviewed. However there are added fees not included in the above: Transaction costs, such as commissions when securities are bought or sold, and any applicable taxes if held in a taxable account. The more active the trading account the higher these fees. From my research thus far this appears to be standard operating procedure for funds such as this. The following quotes, of interest, are taken from the fund's prospectus:
THE FUND'S INVESTMENT STRATEGY: In seeking to track the performance of the Dow Jones U.S. Total Stock Market Index (the "Index"), the Fund employs a sampling strategy, which means that the Fund is not required to purchase all of the securities represented in the Index. Instead, the Fund may purchase a subset of the securities in the Index in an effort to hold a portfolio of securities with generally the same risk and return characteristics of the Index. The quantity of holdings in the Fund will be based on a number of factors, including asset size of the Fund. SSgA Funds Management, Inc. ("SSgA FM" or the "Adviser") generally expects the Fund to hold less than the total number of securities in the Index, but reserves the right to hold as many securities as it believes necessary to achieve the Fund's investment objective.
This fund generally invests 80% of it total assets in the index.
Its 25 top holdings: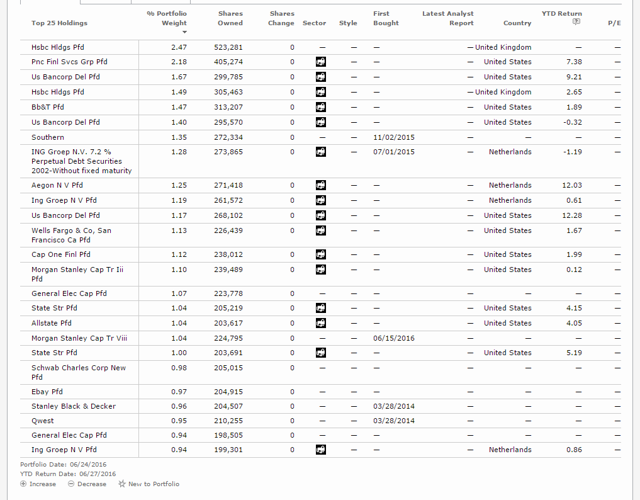 Of the above 25 it appears its top 10 are in bank preferreds. Looks to me like a safe though stodgy portfolio, one designed to give its holders a good nights sleep after it put them to sleep.
There are the usual risk disclaimers, but one that I paid close attention to was the fact that the financial preferreds they invest in are non-cumulative, meaning if for any reason the dividends are suspended, they are lost and will not be made up. Worse, the fund might be required to include that unpaid income in their gross income statement, thereby taxed even though the payments were not received. Additionally, these preferreds are less liquid and difficult to sell, especially during a downturn. And because they hold a greater number of shares than the normal private shareholder, selling them in quantity becomes that much harder in the event of that downturn.
Finally, the fund's distributions will generally be taxable as either ordinary income or a long-term capital gain or loss.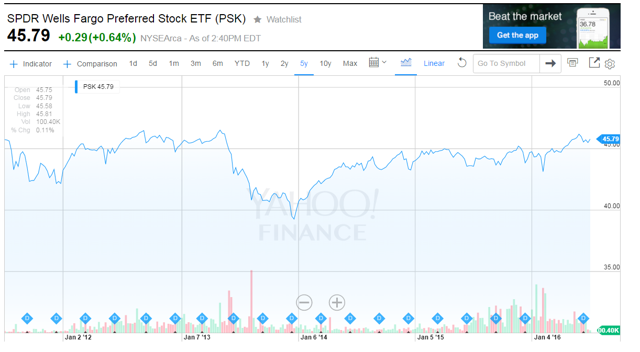 It displays PSK's performance over the past five years. This fund has performed as well as could be expected, maintained its share price and disbursed a steady stream of dividends. This fund was initiated 9/16/09 and has appreciated since then to its current price of $45.79.
However, because I agreed to cover these funds for the past five years I will continue to do so; consequently, over the past five years, PSK has distributed $13.2551* for each share invested at an approximate price of $45.71 on July 11, 2011.
*I got the dividend distribution figures from DividendInvestor.com.
13.2551/45.71 = 29% yield over 5 years.
29%/5 = 5.80% per year yield.
Therefore, if my math is correct, the investor would have profited by a yearly dividend yield of 5.80% over the past 5 years. Respectable, but not earth shattering; yet, it's relatively of limited risk and the need for careful and constant monitoring.
Not a very impressive profit over the past five years, but respectable, and more importantly, this fund has lived up to expectations. Additionally, over the life of this fund, had one invested at it's inception on 9/14/09 at the approximate price of $40.28 his gain as of yesterday's close of $45.76 would have been a healthy $5.48, which would have nicely increased this funds total percentage yield thus far. However, during that time, had he invested in the S&P 500 his gains would have been moderately higher, as displayed below, yet with the total dividend distributions and that $5.58 price increase, PSK proved a worthy investment.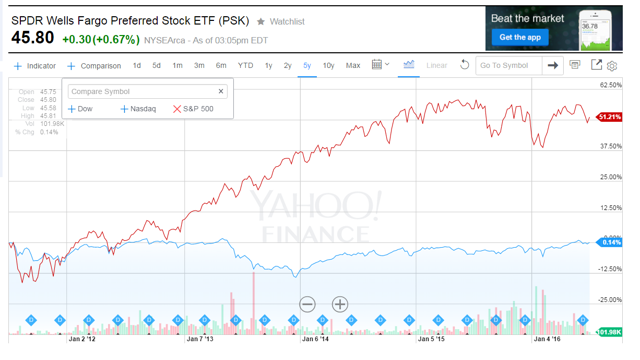 In conclusion, if my calculations are correct (please review them carefully to determine if any were made in error, and the wrong conclusion was consequently arrived at), this has been an adequate, although not earth-shaking investment.
This following is the list of funds I have, and will investigate to give you a clear picture how each has performed over the past five years. Initially, I had decided to judge each over the entire life of the fund, but was dissuaded by a number of followers who advised that the results would be unfairly skewed by the recessionary contraction of 2008-9. Here's that list of funds, which has grown considerably as a result of additions you requested: iShares US Preferred Stock (PFF) Power Shares Preferred ETF (PGX), Global X SuperIncome Preferred (SPPF). PowerShares Financial Preferred Portfolio (PGF), Market Vectors Preferred Securities ex Financials (PFXF), SPDR Wells Fargo Preferred Stock ETF (PSK), PowerShares Variable Rate Preferred Portfolio (VRP), iShares International Preferred Stock ETF (IPFF), John Hancock Preferred Income Fund II (HPF), First Trust Preferred Securities and Income ETF (FPE), Flaherty & Crumrine Total Return Fund (FLC), Flaherty & Crumrine Preferred Securities Income Fund (FFC), Flaherty & Crumrine Dynamic Preferred & Income Fund (DFP), and Flaherty & Crumrine Preferred Income Opportunity Fund (PFO), Clough Global Opportunities Fund (GLO), First Trust Strategic High Income Fund II (FHY), First Trust High Income Long/Short Fund (FSD), Prudential Global Short Duration High Yield Fund (GHY), ProShares UltraShort S&P 500 (SDS), First Trust Intermediate Duration Preferred & Income Fund (NYSE:FPF), and Cohen & Steers Select Preferred Income Fund (NYSE:PSF).
Below is a screenshot taken from my IB platform, I populated, to keep you apprised of the order of my reviews, and as a bonus.

Notice, the 2015 dividends are placed just to the right of the fund symbols. To the right of that are the last trade prices as of the close of trading on 6/27/16. Of further interest, at the far right of the screen are the prices of the 13 week highs and lows of each fund.
Disclosure: I/we have no positions in any stocks mentioned, and no plans to initiate any positions within the next 72 hours.
I wrote this article myself, and it expresses my own opinions. I am not receiving compensation for it (other than from Seeking Alpha). I have no business relationship with any company whose stock is mentioned in this article.
Additional disclosure: Because this is a series of fund performance studies, although each is an entirely different study, the method I utilize to arrive at each conclusion is quite similar, and more effective because by using the same parameters, I am comparing apple to apples, not apples to pears.