Well over a year ago, I published an article on Newell Brands (NYSE:NWL), a multi-billion dollar conglomerate that sells everything from baby and parenting products to tools. However, what I highlighted as an exciting part of the business is the company's Writing segment, which consists (among other things) of the company's Sharpie, Paper Mate, and Expo brands. Given how much time has passed, I figured it would be nice to revisit the picture and see if and how my thoughts on the matter have changed.
Writing... a major business
There is no doubt in my mind that Newell's Writing segment is the single most important part of the enterprise. Last year, the segment's revenue came out to $1.76 billion, representing 29.8% of total sales, the same percentage it accounted for in 2014 when segment revenue was $1.71 billion and slightly higher than the 29.5%, at $1.65 billion, it made up in 2013. What this shows is that Writing, while a market that you think would be pretty mature, is sporting some growth, growing about 3.3% annually.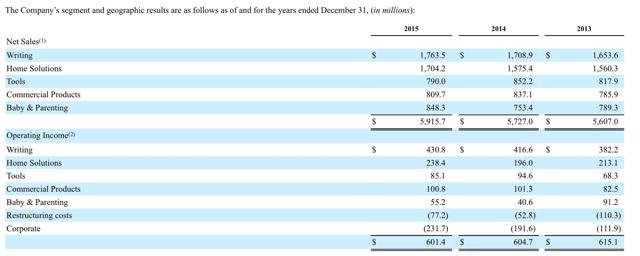 So far this year, growth is quite high. According to management, the segment's revenue during the first quarter totaled $378.8 million, an increase of 10.8% over the prior year's $341.8 million. This actually did make it the company's fastest-growing segment and was meaningfully higher than the 4% growth reported by Newell as a whole, with sales at $1.31 billion vs. $1.26 billion last year.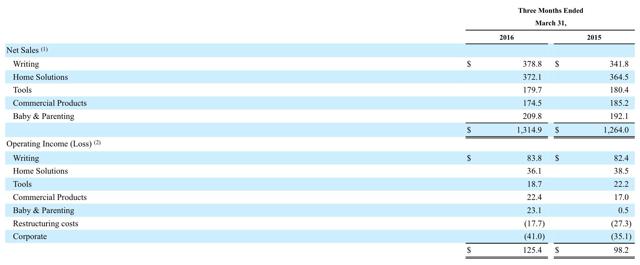 From a profitability standpoint, the business is quite a cash cow. Last year, the Writing segment generate segment operating income of $430.8 million, an increase compared to the $416.6 million in 2014 and above the $382.2 million seen in 2013. This has not only helped the segment's operating profit margin to grow from 23.1% to 24.4% over this timeframe but has also allowed for the segment to become even more instrumental in Newell's bottom line than it was in 2013.
Last year, if you strip out corporate and restructuring items, the Writing segment made up 47.3% of the firm's total segment operating profit, an increase over the 45.6% seen just two years earlier. In the first quarter this year, operating income has risen to $83.8 million compared to $82.4 million last year, but because of the large increase in sales year-over-year, its contribution to Newell's total segment operating income has fallen from 51.3% of the whole to 45.5%.
In addition to all of this, there's also no denying that investing in growing the Writing segment is a worthwhile endeavor, with our without growth. According to the company's financial statements, its operating return on assets stood at 33.5% in 2015, meaning that for every dollar invested in buying assets for the segment, the company earns $0.335 each year. The sad thing about this though is the fact that it's likely challenging to find appropriate growth opportunities given the maturity of the industry, as illustrated by the fact that management allocated just $39.5 million toward capital expenditures for the segment last year. In a world where opportunities were vast, the segment's profitability would demand as many resources for growth as management could throw at it.
But are you willing to pay the price?
Overall, I love Newell from a financial standpoint and I especially love its Writing segment. The characteristics of the segment seem to match perfectly what Warren Buffett would look for in an acquisition candidate in my opinion. The big question, though, is whether investors are willing to pay for a quality business like Newell and the Writing segment that makes the company what it is today.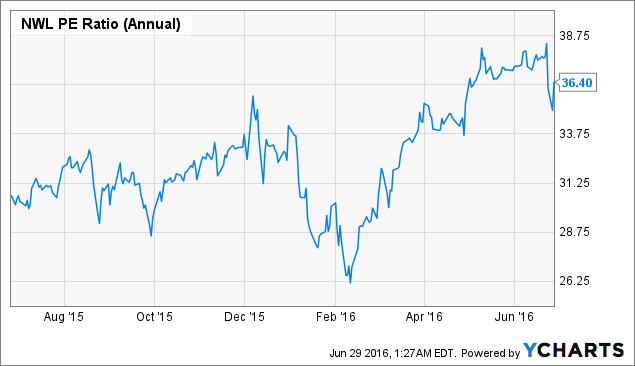 NWL PE Ratio (Annual) data by YCharts
You see, as is illustrated in the graph above, shares of the enterprise are anything but cheap at the moment. Based on the data provided, investors buying into the company must pay 36.40 times earnings for a piece of the business, which means that the payback, if earnings flatlined in perpetuity, would take over 36 years. From a free cash flow perspective, the story is little different, as can be seen in the graph below. According to it, shares of Newell are going for 35.98 times free cash flow, which is also quite hefty in my mind.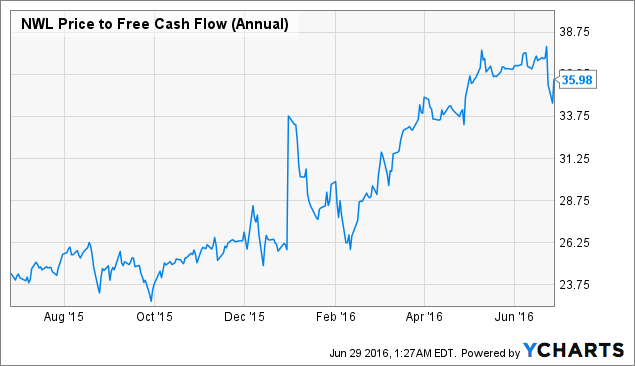 NWL Price to Free Cash Flow (Annual) data by YCharts
Takeaway
When I initially analyzed Newell and its Writing segment, I concluded that its business is truly impressive and that investors who want a quality business and who don't mind paying a hefty price for it would probably do quite well over a long period of time. Since then, shares have moved higher to the tune of 15.2% and that's excluding dividends over that timeframe that would have (without reinvesting them) pushed that return up to 17.6%. I was clearly wrong for not buying into it at the time but, in spite of that all, I still maintain that shares of the business are too rich for my blood.
Disclosure: I/we have no positions in any stocks mentioned, and no plans to initiate any positions within the next 72 hours.
I wrote this article myself, and it expresses my own opinions. I am not receiving compensation for it (other than from Seeking Alpha). I have no business relationship with any company whose stock is mentioned in this article.