ConocoPhillips (NYSE:COP) is certainly one of the more debated oil companies. It is often touted for the high leverage it exposes investors to an upside in oil prices. However, reading through the financial statements, investor presentations, and earnings calls yield an entirely different view.
Operational Performance
Here is a review of the companies operational performance over time. As with many other industry peers, it has increased debt issuance to match declining cash from operations. Compounding the volume of debt is the rate at which that debt is being issued - which accelerated sharply in the first quarter of 2016 as operating cash flow dropped towards a long term bottom.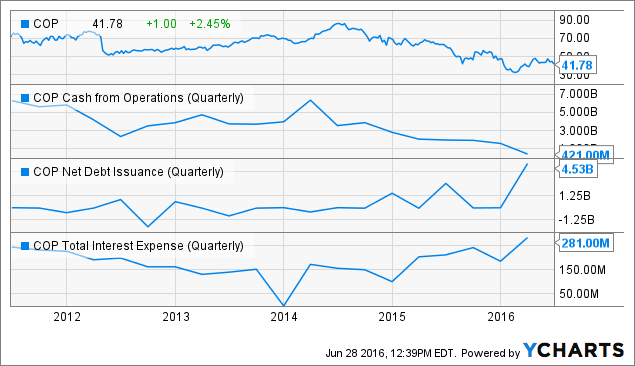 COP data by YCharts
Company Line
It is interesting to review how well a company holds to its word over the years. Many companies feed investors what they wish to hear, while failing to follow through. With ConocoPhillips, one must only go back six months to see the failure of the group to keep its promises. In December 2015, the group provided the following slide. With a priority to strengthen the balance sheet, sustain a low-cost structure, and reduce debt.
Investors should note point 1 - Dividend is the highest priority use of cash. As with several companies before it, an affirmation of the dividend was shortly followed by a cut. At the end of the day, executives want to maintain the status quo as long as possible.
Point 4 - maintaining a healthy balance sheet - also topped the list; An outcome that clashes with the pre-ordained dividend in Point 1.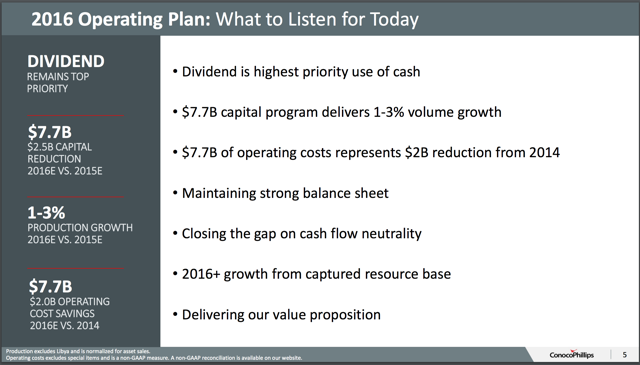 Source: ConocoPhillips
The Dividend Cut, And A Failing Balance Sheet
Conoco followed through with a dividend cut of nearly two-thirds in February, showing cracks in the "armor" the company had built. In fact, Conoco reiterated their desire to strengthen the balance sheet again after the first quarter this year. This time, it had moved to a medium-term concern.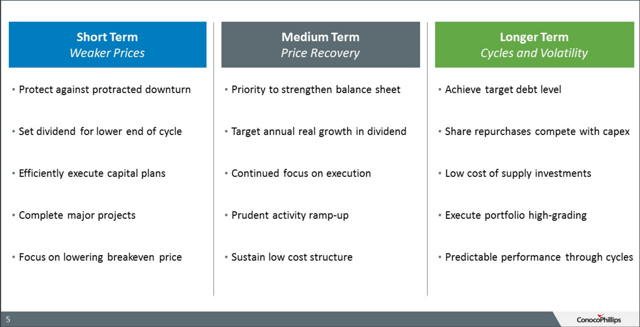 Source: ConocoPhillips
As one would expect with oil prices at nearly 10-year lows, the company's performance throughout Q1-2016 was terrible. However, as capital projects continue to eat into the balance sheet, the companies liabilities reached a cycle high.
How is that for strengthening the balance sheet?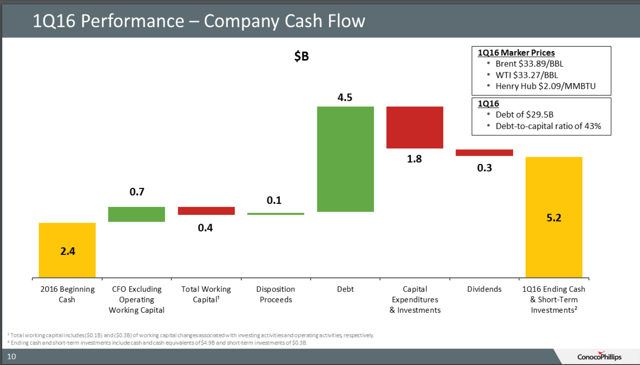 Source: ConocoPhillips
While what management says, versus what management does, may not necessarily change the valuation of a company; a lack of recognizing the circumstances does. Had Conoco accepted a change of circumstances and cut the dividend in early 2015, nearly $3 billion in debt could have been reduced from the balance sheet.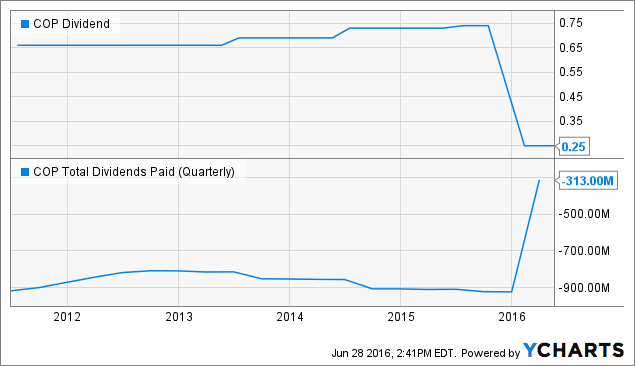 COP Dividend data by YCharts
Paying out a dividend while the return on equity is well below zero percent shows overconfidence in an oil price recovery. That overconfidence is why capital projects continue to march forward, and debt continues to rise.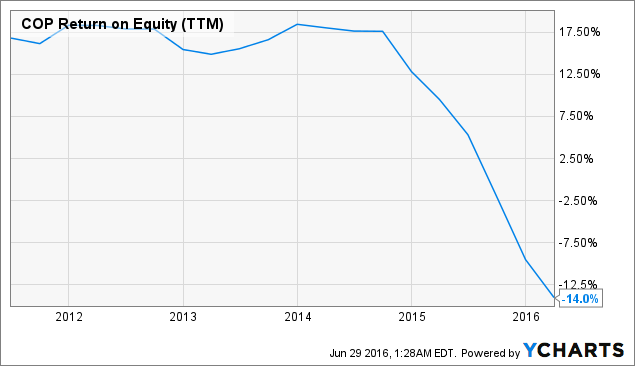 COP Return on Equity (TTM) data by YCharts
COP has focused on maintaining production this has led to continued capital expense programs that have not been cut in line with a reduction in cash flows. Capital expenditures have exceeded cash from operations for much of the last five years. Now those projects are online at a substantially lower oil price. From a 10,000 foot view, COP should have reduced CAPEX, or cut their dividend as much as four years ago.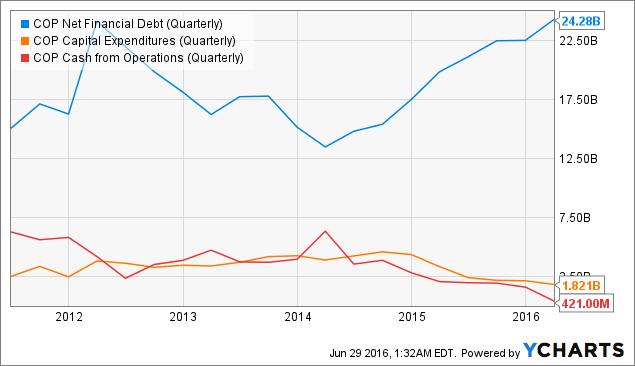 COP Net Financial Debt (Quarterly) data by YCharts
Management Excess
Management at COP was incentivized during high oil prices to increase production and increase the share price (surprise). In a world of cheap debt, and rising oil prices, it was easy to do both. Ramp up capital projects and pay out a large dividend to entice dividend investors. This is a classical example of management working for themselves than their investors. As with many other companies, they failed to see an oil price crash coming.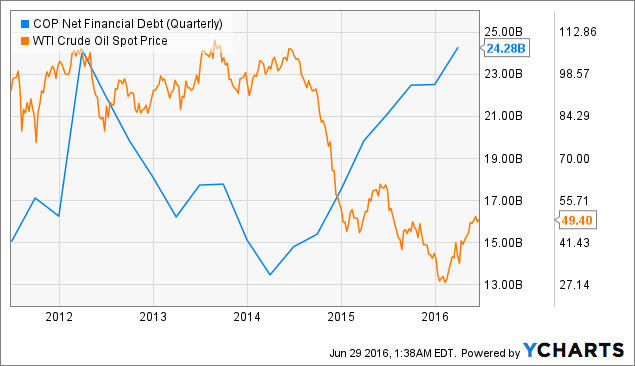 COP Net Financial Debt (Quarterly) data by YCharts
Conoco management put themselves in a precarious position that all but assured that debt levels would rise to unsustainable levels. Interest expense took up more than half of cash from operations during Q1, and will likely take up to 25% of cash from operations in Q2 despite the oil price recovery. Meanwhile, capital expense projects and dividend payouts continue to soak up debt issuance.
Few observers in the market believe we will see $100 oil for many years. I believe, and I have written many times, that oil would remain banded between $40-$60 for 3-4 more years as the oil market adapts to shale oils rapid price response. Conoco will continue to elevate debt throughout the year, and the company that comes out the end of this down cycle, will not be the same as the one that went in. With a trailing, twelve month EV to EBITDA 700% higher than many competitors, COP's share price shows the assumed leverage that the company has to the stock price. At present, I see a dangerous risk/reward that does not justify the price.
COP EV to EBITDA (TTM) data by YCharts
Disclosure: I/we have no positions in any stocks mentioned, and no plans to initiate any positions within the next 72 hours.
I wrote this article myself, and it expresses my own opinions. I am not receiving compensation for it (other than from Seeking Alpha). I have no business relationship with any company whose stock is mentioned in this article.