Ford Motor Company (NYSE:F) is a major car and truck manufacturer that you are undoubtedly familiar with. Founded in 1903 by the venerable Henry Ford, this company has grown to over $150B in revenue and nearly $50B in market cap. Plus, during the financial crisis Ford did not take a bailout.
And since the tumultuous years of 2008-2009, Ford has embarked on an aggressive turnaround plan. Often, I'm skeptical of turnaround plans. But there are ample stories about how Alan Mulally brought the company back from the brink of bankruptcy (source). His leadership style has inspired analysis (source) and the company returned to profitability under his tenure.
But despite this strong track record, shares of Ford have been languishing in recent years. The stock has recovered quickly from the financial crisis, but it hasn't gone very far since. It seems the market might still be skeptical of any big improvements in Ford.
Here's a long-term price chart to provide you some perspective: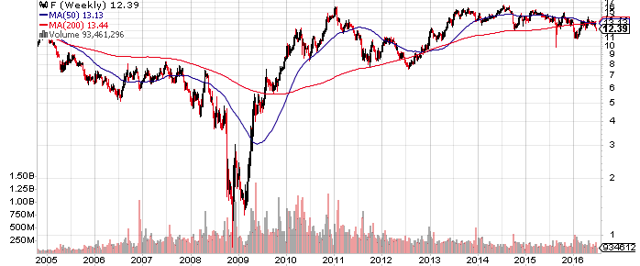 So is this skepticism warranted? Well, let's take a look at some of the recent financial information (source). I'd like to see if we can find signs of improvement or whether the turnaround is still in question, as the share price might suggest. And perhaps most importantly of all, is the over four percent dividend yield currently available on F shares sustainable?
Looking For Signs of a Turnaround in Ford
When looking at long-term performance, I always like to start at the top line. It helps to show to what extent customers want the product or service. And in the case of Ford, things don't look great over a 10-year time frame. Here's a graph: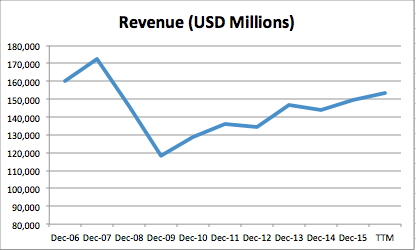 On the other hand, this might not be a fair comparison period. Since the 2009 downturn, and the aforementioned turnaround, revenue numbers have marched steadily higher. Yet shares of F haven't kept pace lately. Could they be overdue for positive mean reversion?
I'm not sure, but the transition to aluminum body trucks is going well and sales numbers are reflecting these changes. One way to better estimate if sales numbers will result in a higher share price is to look at earnings. This is a relatively good measure to get a baseline feel for whether or not Ford is consistently profitable.
So as you can see below, the recent EPS results are positive, but bumpy: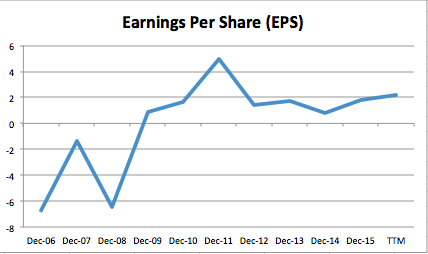 Personally, I don't love this kind of inconsistent earnings. It makes it harder to estimate future returns and adds more uncertainty to the investment. Speaking of uncertainty, should the economy fall into recession, Ford's operating results could certainly slow down as they've done in the past.
However, one important area of stability is operating cash flow. If nothing else, Ford is bringing in dollars by selling their automobiles. And in business, that ability to bring dollars in the door is worth a lot. Look at the consistent operating cash flow, and how it compares favorably to net income. This shows Ford may have more wiggle room than earnings indicate.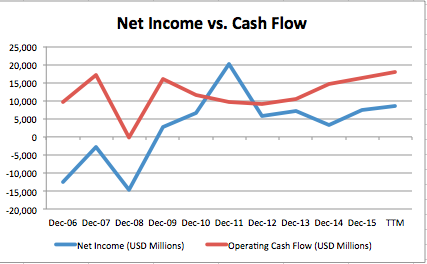 Despite this bright spot, I still see a myriad of other risks that come with investing in shares of F. For example, the industry is very capital intensive. Ford spends about half of their cash flow on capital expenses, which reduces the money available for shareholders. Given the nature of the car business, with new models constantly being launched and factories needing to be retooled, it's unlikely capital expenses will slow down much. As you can see, they've been pretty consistent: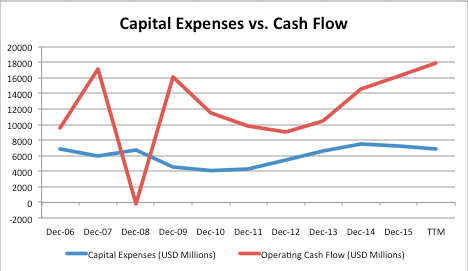 In addition to this constant cash drain, the company has other risks for equity holders. One other concern is dilution. One of the reasons shareholders haven't seen growth on a per share basis over the long term is because equity raises used to finance their turnaround have diluted their ownership. While this hasn't been a concern lately, the precedent isn't something I find encouraging.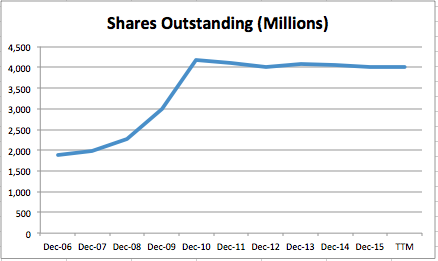 In addition to diluted equity returns, debt is another risk that Ford shareholders must face. Simply put, the debt load is enormous. This is another risk of a capital intensive business like car manufacturing. While I understand they can effectively refinance their debt forever, it is still a burden I would rather live without. Short-term debt alone is almost as much as market cap. As an equity owner, I'm personally not that comfortable with so much debt though I appreciate others may feel differently.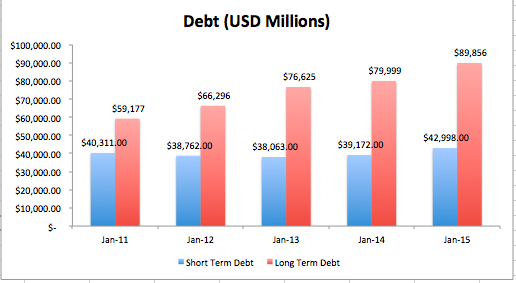 To put this debt in perspective, Ford would have to spend 100% of operating cash flow for over 7 years straight before paying off their debt. Even with cheap debt, I find this magnitude of liabilities troubling. It's just so much compared to the size of the company.
The other problem with a big debt load is that it reduces flexibility. If Ford should face any big threats from autonomous vehicles or the changing car manufacturing landscape, they might not be able to deviate too much from their plans given existing commitments.
Despite these risks, the nascent dividend growth in Ford has been appealing. And given the lackluster performance of shares, you can get a yield above 4% by investing in this iconic American brand.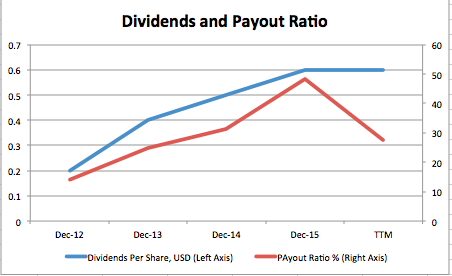 And as you can see, payout ratio is even more encouraging. Ford has lots of room to grow their dividend, as it only makes up a small percent of earnings. This is a great indication that all the other issues aside, Ford shares may present a compelling dividend growth investment opportunity. The fact their business generates significant cash flow further underwrites future dividend growth.
So what does all this mean?
Conclusion: Safe Yield in The Face of Debt
While Ford is no doubt a well-known company with an impressive history, I can't yet bring myself to buy the shares. For me, the capital intensity and debt load are simply too much. In the near future, I may start a small position for the dividend alone as I believe it is sustainable and will continue to grow. But I'm not banging the table here. I'm worried the large debt load could put pressure on price appreciation.
Thus, I'll be watching closely to ensure revenue and cash flow continue heading in the right direction. The low valuation (forward P/E of 5.6 and 2.7x price to operating cash flow ratio) may also limit the downside for shareholders of Ford. And when you factor in the brand value that the balance sheet doesn't account for, you could argue the market is practically giving this company away. I see both sides of the coin on this one.
So now that you know my perspective, do you think shares of Ford present a compelling opportunity? Or are you turned off by the debt load too?
Disclosure: I/we have no positions in any stocks mentioned, and no plans to initiate any positions within the next 72 hours.
I wrote this article myself, and it expresses my own opinions. I am not receiving compensation for it (other than from Seeking Alpha). I have no business relationship with any company whose stock is mentioned in this article.