Overall, this the most bullish inventory report in two months, although not because of the drop in crude oil stocks which can explained entirely by a decrease in imports. The bullishness of the reports comes from a 55,000 barrel per day drop in domestic production, which is very large by all standards and follows three weeks of very large declines.
Crude oil prices (NYSEARCA: USO) jumped by $1.25/bbl after the report.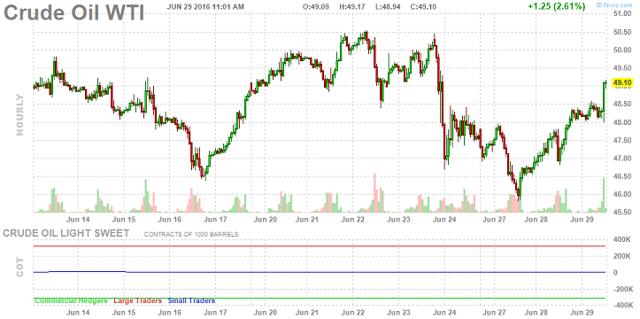 Source: Finviz.com
Stocks:
* Crude oil inventories decreased by 4.1 million barrels.
* Gasoline inventories increased by 1.4 million barrels.
* Distillate inventories decreased by 1.8 million barrels.
A decrease in crude oil stocks, that although large at first sight, can be entirely explained by a decrease in crude oil imports. This follows last week's very small decrease in inventories (vs. expectations) that was explained by a very large increase in crude oil imports.
The changes on gasoline and distillate stocks, on the other hand, pretty much offset each other.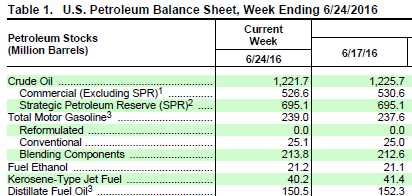 Source: EIA
Production and Refinery Utilization:
* Domestic production decreased by 55,000 barrels per day. This is the largest decline in production in over two months and the second largest since October of last year. About half of the decline comes from the Lower 48.
* Production in the Contiguous United States (excluding Alaska) decreased by 29,000 barrels per day. This brings the decline in the Lower 48 over the last four weeks to 99,000 barrels per day.
* Imports decreased by 884,000 barrels per day, which accounts for the drop in crude oil stocks. This week decrease in imports offsets last week's 817,000 barrel increase.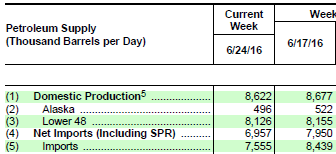 Source: EIA
* Refinery utilization increased by 170 basis points compared to last week, with major increases in utilization in the Midwest (PADD 2) and the Gulf Coast (PADD 3), the regions with the largest refining capacity. Utilization levels are finally at the normal level for this time of the year.
In percentage terms, the largest increase came from the West Coast (PADD 5), where utilization jumped from 85.8% to 91.6%. However, the West Coast only accounts for about 3.5% of total U.S. refining capacity.

Source: EIA
Cushing, Oklahoma:
* Cushing, OK inventories decreased by about 500,000 barrels. We still believe that Cushing is essentially at maximum operating capacity.
* Gulf Coast inventories decreased by 500,000 barrels, a very small decrease for the region and time of the year.
* The Midwest posted the largest decline in inventories, with a drop of 2.7 million barrels compared to last week. This is consistent with the 210 basis point increase in refinery utilization in the region.

Source: EIA
Conclusion:
This is the most bullish inventory report we have seen since the end of the April, but not because the change in inventories. Although crude oil stocks decreased by a large amount, the change can be completely explained by a decreased in imports, in the same way that last week's change in crude oil stocks (a very small decrease compared to expectations) was due to a large increase in imports. The most relevant data point of the inventory is the 55,000 barrel per day decrease in domestic production - the largest since April 29, when domestic production dropped by 113,000 barrels per day.
The change in domestic production, along with the dead cat bounce in the market following Brexit Friday and Monday, should be enough to add fuel to the current rally in oil prices.
Disclosure: I/we have no positions in any stocks mentioned, and no plans to initiate any positions within the next 72 hours.
I wrote this article myself, and it expresses my own opinions. I am not receiving compensation for it (other than from Seeking Alpha). I have no business relationship with any company whose stock is mentioned in this article.