Sony (NYSE:SNE) hosted its annual investors' meeting this week and provided a thorough corporate overview that included a financial and business outlook for 2017 and 2018. Although this is an event focused solely on Sony and its business - as Sony is a market leader in some tech segments - there's plenty of added value that investors in other tech companies could gain. Sony, of course, provided a forecast from its own point of view, but, for shareholders of Apple (NASDAQ:AAPL), Microsoft (NASDAQ:MSFT), Facebook (NASDAQ:FB) and others, it can add some color to how Sony views industry trends in the following years. In this article, I will focus on the main highlights from Sony's investors' day, especially on two segments that I believe have broader tech market implications: games and network services (PlayStation) and the semiconductor segment.
In the games and network services segment, Sony highlighted again the shift from selling a packaged product to offering a comprehensive game-as-a-service platform that allows recurring customers to access and consume games, videos, music and TV programming across different devices by using the PlayStation network and its different services. PlayStation VR is a new addition to the PlayStation ecosystem that's currently targeted to be used as a gaming console but also is expected to expand usage to other non-gaming applications and services.
Sony sold more than 40 million units of PlayStation, making the market penetration of model 4 the fastest in Sony's history, and the company expects to sell additional 20 million this year. Sony presented impressive growth in its premium fee-based subscription service - PlayStation Plus went from 10.0 million subscriptions in January 2015 to 20.8 million now. As shown in the chart from Sony's presentation below, the company upped its Gaming & Network Services outlook for revenues and operating margin, highlighting three factors to drive this growth:
Non-gaming VR - Expand VR ecosystems beyond gaming and bring various enterprise offerings to the market. PS Vue - improve the Vue experience across more devices and create ecosystems with more content, differentiating features, and compelling channels. Strengthen PlayStation as a content brand through additional original content.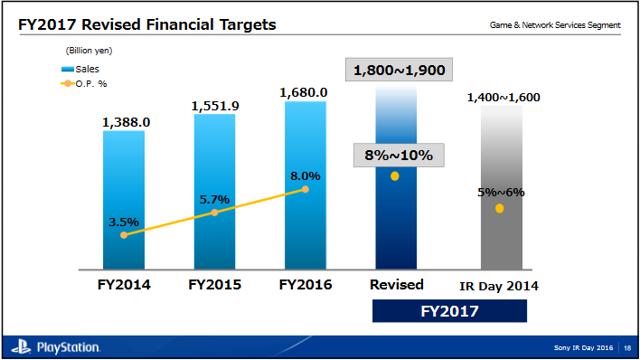 From the early days of VR, all companies involved mentioned various non-gaming usages for the headsets like in the military, sports, healthcare, social interaction and more. Sony not only believes it could deliver such an offering. It believes the non-gaming segment will drive VR growth and Games and Network Services revenues up. Judging by Sony's incredible success in the PlayStation network both in the gaming and non-gaming areas, I'm very optimistic for VR and non-gaming VR to drive games and network services segment revenue up. This also means good news for Sony's VR competitors like Facebook, Microsoft, HTC, etc., that will benefit from Sony's attempts to introduce new non-gaming VR software. They could either enjoy the buzz and hype, learn from Sony's mistakes, or benefit from an increased customer interest in the VR ecosystem.
Unlike the accelerated growth Sony expects to see next year in the games and network segment, the company projects a slowdown in its semiconductor segment in FY2017 as it estimates that high-end phone sales will slow down. Sony expects that other segments, like surveillance cameras, smart factories, automotive and drones will help the company offset some of the revenue loss due to the slowdown in high-end smartphone sales. As shown in the chart below, image sensing unit sales for security, FA and automotive should outperform mobile devices significantly by the year 2020 and should drive Sony's semiconductor segment's growth in the long run.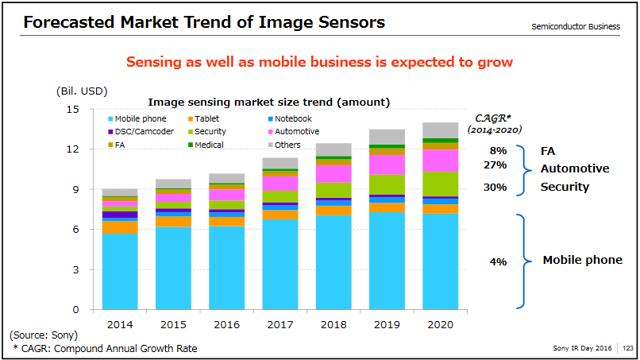 To strengthen the mobile device segment, Sony will shift focus toward South Korean and Chinese handset makers and to multi-camera smartphones to compensate for the decline in smartphone sales. During the transition, Sony will experience a 30% decline in sales between FY2016 and FY2017 to around 800 billion JPY and a four percentage point drop in its operating margin to 7% annually.
On top of the operating segment reviews, Sony also provided an operating profit guidance of 500M JPY for FY2017, which is an impressive 67% increase YoY. In my opinion, Sony presented a very positive and optimistic forecast for 2017 that includes impressive growth in the PlayStation business and a re-focus of the image sensing business to address changes in that market. Sony's investor day left me long-term bullish on the company, and I believe that Sony's growth will impact other players in the markets mentioned above and benefit the entire market.
I have been watching Sony for a long time, and the recent investors' day delivered what I expected it to. As I believe there will be more sharp corrections in the short term as a result of the Brexit, I prefer to wait for a decline in stock price before I open my Sony position.
Disclosure: I am/we are long AAPL, FB.
I wrote this article myself, and it expresses my own opinions. I am not receiving compensation for it (other than from Seeking Alpha). I have no business relationship with any company whose stock is mentioned in this article.
Additional disclosure: The information provided in this article is for informational purposes only and should not be regarded as investment advice or a recommendation regarding any particular security or course of action. This information is the writer's opinion about the companies mentioned in the article. Investors should conduct their due diligence and consult with a registered financial adviser before making any investment decision. Lior Ronen and Finro are not registered financial advisers and shall not have any liability for any damages of any kind whatsoever relating to this material. By accepting this material, you acknowledge, understand and accept the foregoing.