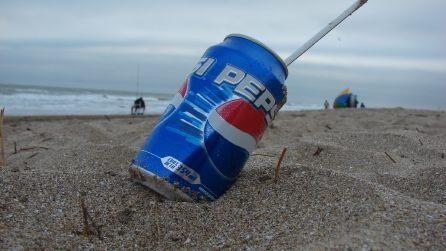 Drinks and snacks are staples of the American diet. That puts PepsiCo Inc. (NYSE:PEP) in an excellent spot as one of the largest consumer staples companies in the world and primes them for continued future growth.
PepsiCo has a stable of 22 different brands that generate over $1 B in annual sales. Those brands span the entire spectrum of beverages and snacks with juices, sports drinks, soft drinks, potato chips, oatmeal and much more.
PepsiCo is firmly implanted as a Dividend Champion with an impressive 44-year streak of rising dividends.
I've been more than happy as an owner of PepsiCo since initiating a position in 2013. Between share price appreciation, reinvested dividends and cold hard cash dividend payments I've received an internal rate of return over 13%. Even better is that my dividend income from PepsiCo has increased by over 32%.
However, as the saying goes "past returns are not indicative of future results". As such it's time to update my analysis of PepsiCo and determine the quality of the company and the price I'd be willing to pay for shares.
How about that dividend?
As a dividend growth investor, what really gets me excited is seeing a dividend that grows year after year. PepsiCo has an impressive 44-year streak of dividend increases. There are only 38 companies in the entire U.S. stock market that have amassed a streak longer than PepsiCo.
The following chart shows the annual dividend payment from PepsiCo since 2001 based on fiscal year payouts as well as the rolling year over year, 3-year and 5-year dividend growth rates.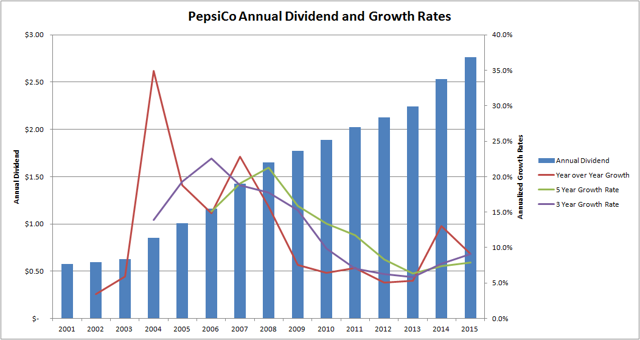 As expected the trend is for lower overall dividend growth as PepsiCo has become larger and growth of the company has come more from productivity and efficiency gains rather than true growth of the company. However, dividend growth has historically been very impressive with excellent rates across all time periods.

Historic Metrics
PepsiCo has historically shown excellent growth in revenue, operating and free cash flow. The stable nature of the snacks and beverages industry is evidenced in all 3 metrics showing just slight declines through the Great Recession.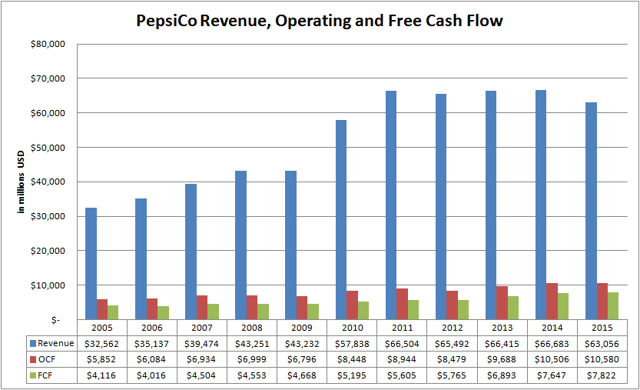 Top line growth in revenue has been hard to come by since 2011 due to the combination of currency headwinds thanks to a strong U.S. dollar as well as declining volumes in the carbonated soft drinks division.
The following table shows the rolling 3-year annualized growth rates for revenue, operating cash flow, capital expenditures and free cash flow.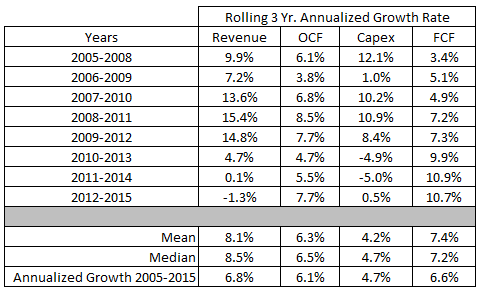 All the metrics grew at a steady clip with solid 3-year growth rates through 2012. However, since then we see that revenue has stagnated. The gains in operating and free cash flow growth since revenue has stagnated has been quite impressive although have largely come through efficiency gains since the top line has flattened.

Operating cash flow margin for PepsiCo is strong and has averaged 15.7%, 14.7%, and 15.5% for the last 3, 5, and 10 years, respectively.
What's really impressive though is that the free cash flow margin for the same periods is 11.4%, 10.3%, and 10.5%, respectively. That's free cash flow conversion rates, free cash flow as a percentage of operating cash flow, in the high 60%s to low 70%s. That's led to strong free cash flow returns on equity and invested capital as evidenced in the following chart.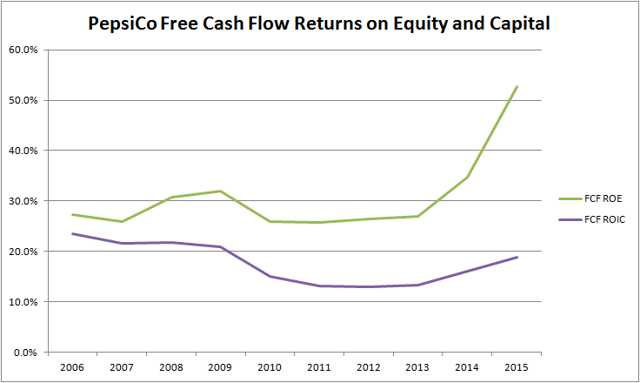 Since cash flow is the lifeblood of a company, I like to look at 3 variations of free cash flow to see how much cash management has at their disposal at different steps in the process.
Free Cash Flow, FCF - The traditional calculation for free cash flow of operating cash flow less capital expenditures.
Free Cash Flow after Dividend, FCFaD - FCF less the total amount of cash paid to shareholders via dividends.
Free Cash Flow after Dividend and Buyback, FCFaDB - FCFaD less net cash used for share buybacks.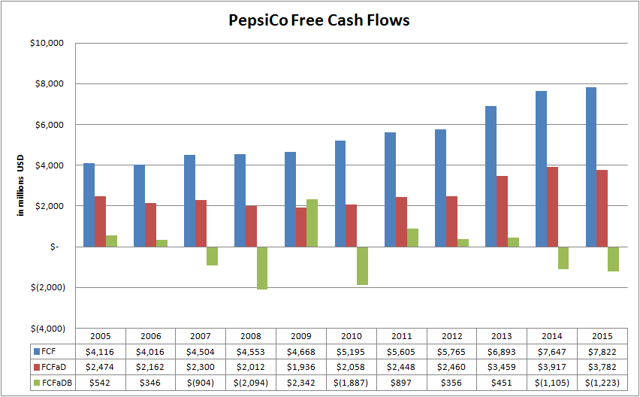 PepsiCo has historically had plenty of free cash flow to cover a growing dividend. However, they've been rather aggressive with share buybacks and have actually spent almost $2.3 B more on share buybacks over the entire period than they had available. That explains part of the increase in the debt load over the time period.
The cash flow situation needs to improve dramatically in order to maintain the dividend and share buybacks or the balance sheet will have to suffer.
Determining A Value For PepsiCo
In a discounted cash flow analysis, a company is worth the sum of all its future cash flow discounted to the present. Before we get started, we first need to set some general information and assumptions so we have a common starting point.
The current share price is $102.14.
Analysts expect revenue to decline 0.4% for 2016 over 2015 and then grow 3.1% for 2017 over 2016.
Assume that revenues will grow at 3.5% annually for the year 2018 through 2025 and at 2.5% in perpetuity.
A discount rate or required rate of return of 8% will be used to calculate the net present value of the future cash flows.
Diluted shares outstanding at the end of fiscal year 2015 were 1,459 M.
Capital expenditures will grow at 2.0% annually through 2025 and then track revenue growth in perpetuity. Year 1 capital expenditures will be $3.0 B as forecast by management.
Case 1 - Minimum Operating Cash Flow margin from the 3-year, 5-year, and 10-year averages as shown above. This gives an operating cash flow margin of 14.7%.
Case 2 - Maximum Operating Cash Flow Margin from the 3-year, 5-year, and 10-year averages as shown above. This gives an operating cash flow margin of 15.7%.
Case 3 and 4 - The same as Case 1 and 2 expect using the currency neutral revenues from 2015 as the baseline for the Year 1 revenues.
Case 1: Minimum Operating Cash Flow Margin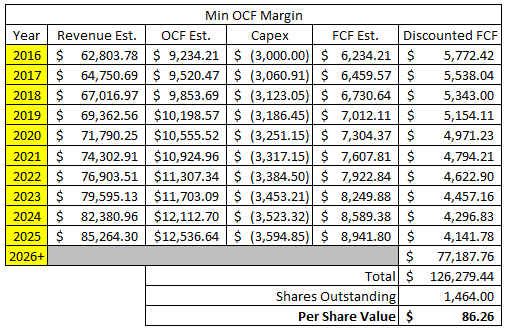 Case 2 - Maximum Operating Cash Flow Margin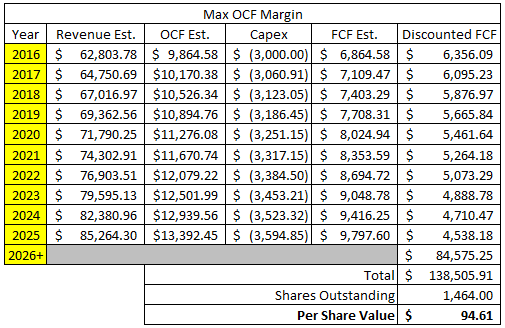 Case 3 - Currency Neutral and Minimum Operating Cash Flow Margin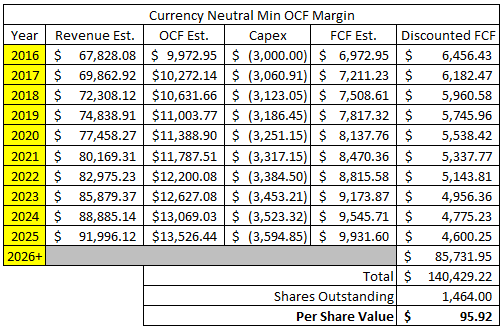 Case 4 - Currency Neutral and Maximum Operating Cash Flow Margin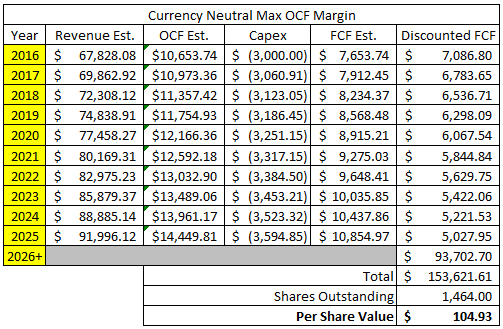 At the current share price of $102.14, PepsiCo appears to be trading at fair value at best and at worst for a rather significant premium. The market is currently valuing the shares between a 3% discount and an 18% premium. For conservative value investors, Pepsico is likely not an investment candidate at the current price levels.
Issues with the model
Quite often I see authors and analysts speak in absolutes when valuing companies is far from a certainty. The truth is that forecasting changes is nearly impossible and especially so when you're dealing with a company as large as PepsiCo that already generates over $60 B in annual revenues. In the name of being open and honest, I like to point out potential issues with this valuation model to know the possible sticking points and to improve my future analysis.
Issue #1
This model is highly dependent on future revenue assumptions. If revenue growth comes in higher than the rates assumed in this analysis then shares of PepsiCo would be worth more. Likewise, if revenue growth and free cash flow generation comes in lower than forecast then the value of PepsiCo would be lower.
Issue #2
These models are also highly dependent on assumed operating cash flow margins of 14.7% and 15.7%. In reality, operating cash flow margins are constantly in flux. The assumed operating cash flow margins err on the side of caution compared to the recent trend over the last 5 years wherein operating cash flow margins increased from 13.4% to 16.8%.
Issue #3
So far I've ignored changes to the balance sheet which can play a significant role in the future value of the company. At the end of 2009, long-term debt was just $7.4 B. However, at the end of 2015, long-term debt had risen to $29.2 B. As the debt comes, due management will be forced to either issue new debt to service the old debts or use cash flow to reduce the debt balances.
The following table shows the projected total cash dividend payments used in the discounted cash flow analysis, debt due and the free cash flow less dividend payments and debt service.

PepsiCo has approximately 60% of its total debt load due over the next 5 years. This will put a strain on the cash flow of the company and investors aren't likely to see much in terms of dividend growth or share buybacks if management tries to clean up their balance sheet. Only Case 4 forecasts PepsiCo being able to pay off their debt as it's due and still have cash left over to fund a share buyback program through cash flow.
Issue #4
The model also assumes that an investor is in search of an 8% return on an investment in PepsiCo. However, every investor is at a different stage and has varying return requirements. Also, something has to be said for the likelihood of the returns since some companies have more stable business models and generate more predictable returns.
The great thing about building valuation models in a spreadsheet is that it's easy to modify the spreadsheet in order to determine what kind of returns investors could expect for each case based on the current share price of $102.14.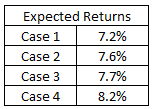 While the shares are overvalued based on 8% return requirements, the shares don't look so grossly overvalued so as to crush investors. For a large and stable business with conservative growth assumptions, the expected returns are still 7%-8% which could be adequate for some investors.
Conclusion
PepsiCo is one of the premier dividend growth investments as evidenced by its impressive 44-year dividend growth streak. That's only bested by 38 companies in the entire universe of companies listed on the U.S. stock markets.
The company is stellar with 22 different brands under PepsiCo's corporate umbrella that generate over $1 B in annual sales. Those brands range from soft drinks, juices, sports drinks, potato chips and much more. You also get instant geographical diversification since PepsiCo is truly a global behemoth with worldwide operations.
There's not much bad to say about the company and its history of providing excellent returns for investors. However, that doesn't mean that investors should be willing to purchase shares at any price.
From a pure value investing standpoint, the current share price has the company at fair value and at worst it's overvalued by nearly 20%. Even worse is that this is neglecting the important margin of safety principle; although there is a built-in margin of safety due to conservative assumptions used in the models.
I have no intention of selling my position in PepsiCo and will sit back and collect dividends in cash until a better opportunity is presented in the markets. As recently as March of this year, investors had the opportunity to purchase shares for less than $98 and in January investors had the opportunity to purchase shares for less than $95.
Disclosure: I am/we are long PEP.
I wrote this article myself, and it expresses my own opinions. I am not receiving compensation for it (other than from Seeking Alpha). I have no business relationship with any company whose stock is mentioned in this article.
Additional disclosure: I am not a financial professional. Please consult an investment advisor and do your own due diligence prior to investing. Investing involves risks. All thoughts/ideas presented in this article are the opinions of the author and should not be taken as investment advice. Information from this article was sourced from Yahoo Finance and PepsiCo Inc.'s SEC filings. All chart/images presented in this article were created by the author unless otherwise noted.