Let's talk about the S&P 500 E-mini Futures. We could talk about the cash market, but when's the last time you bought or sold it? You didn't. So why is the lead off in every financial conversation? Because then no matter what is said, no-one's every really wrong because it frankly it doesn't exist does it? Just a figment of our collective ego.
Catch you off guard? Good.
From the most significant Daily Low put in on Feb. 11, through the Daily High we saw June 24th... that's a rally of 332 S&P E-mini Points. In how many days? (you count them, it will have more meaning if you do it).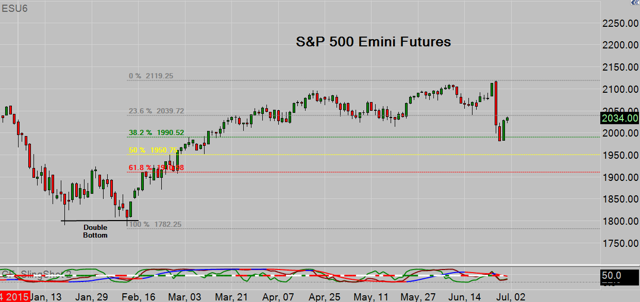 So in 2 days (so far), we saw a 38% retracement. Everyone knows that a healthy Bull needs a little down time now and then. A little rest and relaxation. After all "trees don't grow to the sky", but we already covered that didn't we?
Now based on Tuesday and the Wednesday night session which began at 6pm Tuesday evening (just over 9 hours ago, as of the time of writing early Wednesday morning), this Bull has found some fresh energy. Probably got one of those Hot Rock Massages and had a Mud Facial.
So what's our objective now?
Overcome 2039.72 the 23.6% retracememnt and go tango with the previous Swing High at 2119.50. Y'all ready to rumble?
If the Bull is truly rested, our next upside targets are 2140 / 2180 and 2300. Granted 2300 will probably take more than 1 attempt to break and run. A little "Rumble in the Jungle" (h/t to Ali - R.I.P.)
Once 2310 becomes yesterday's fish wrapper, set your sights on 2500. The forecast I've laid out may seem riddled with impossibilities, but it is the future. Math doesn't lie and Chicken Little owes me.
Carve those numbers in stone, my friends and every time we break one, you can send a little "h/t" my way.
Good trading to all.
Disclosure: I/we have no positions in any stocks mentioned, and no plans to initiate any positions within the next 72 hours.
I wrote this article myself, and it expresses my own opinions. I am not receiving compensation for it (other than from Seeking Alpha). I have no business relationship with any company whose stock is mentioned in this article.