Pinnacle Foods (NYSE:PF) performance in the future years will improve because of its efforts to revive iconic brands and its consistent product innovation efforts. Also, the company will continue with its strategy to acquire strong brands to strengthen its market position and fuel top-line growth. Moreover, the business growth momentum will be supported by attractive growth opportunities in the gluten-free category and robust pipeline of new products. As the company has increased its focus on premium priced product offering, its profit margins are set to expand in the upcoming quarters, which will augur well for the stock valuation. The stock is currently trading at a forward P/E of 18.5x, versus its peers average forward P/E of 21x.
Growth Catalysts
The company's aggressive efforts to strengthen its product portfolio through product innovation and acquisitions will not only support its sales growth in the upcoming years but will also result in margin expansion. Also, the company's has undertaken acquisitions to grow its customer base, enhance distribution network and support long-term growth. The company has been strategically pursuing product innovation strategy of offering new products with improved packing and premium ingredients at higher prices, which will allow it to attract new customers and trade its current customers up to higher priced and better margin products. Also, efficient trade spending and rationalization of low margin products will bode well for its profit margins and will positively affect its stock price.
The company has divided its product portfolio into foundation brands and leadership brands. Foundation brands represent 31% of the company's revenue and 24% of total profit, whereas leadership brands contribute 69% and 76% to total revenues and profit, respectively. As the company's foundation brands generate strong cash flows, Pinnacle rightly uses strong cash flow generated by foundation brands to support investments in fast growing leadership brands, such as Gardein and Birds Eye, which will strengthen its market share and will result in long-term growth. The company will make growth investment towards, advertisement spending, breakthrough product innovation, and acquisitions to support its leadership brands growth.
Moreover, in the coming quarters, the company's sales and earnings growth will be driven by its recent acquisition of Boulder Brands. The integration process is on track, and the acquisition will strengthen the company's position in fast growing gluten-free category market as the gluten-free market is expected to grow from $12 billion in 2015 to $23 billion by the end of 2018.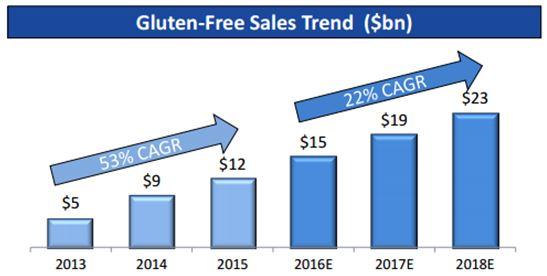 Source: Investor Presentation
Also, the acquisition will help the company to expand its health and wellness platform and leverage scale. The acquisition offers significant synergies, which will allow the company to reduce costs and expand margins. The company can grow Boulder Brands EBITDA by 50% by the end of 2017 through supply chain optimization, duplication of SG&A expenses and sales growth. Pinnacle's efforts to focus on product innovation and reduce costs have helped it to maintain a lean and efficient organization structure; it has a low SG&A as % of net sales at 9%, versus its peer average of 12%.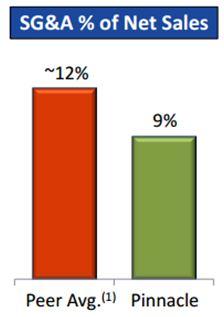 Source: Investor Presentation
Also, the company's margin and EPS growth in the future years will be supported by operational excellence program focused on generating cost savings across the supply chain. Also, the cost saving efforts will help the company to offset input cost inflation to drive margin growth. Pinnacle has a target to save 3.5% to 4% of the annual cost of product sold in 2016.
In the future, Pinnacle can acquire ConAgra (NYSE:CAG)'s frozen meal brands if ConAgra decides for additional divestitures. ConAgra earlier this year sold its private brands segment to Treehouse, and can opt for further assets sales in its efforts to refine its product portfolio. ConAgra's frozen meal brand, Healthy Choice, may be attractive to Pinnacle as the company has been expanding its frozen meals to support revenue growth and strengthen market share. Pinnacle efforts to expand its frozen meal category have helped it to grow market share of its frozen meal brand, Birds Eye Voila, to 40% in 2015, up from 21% in 2011.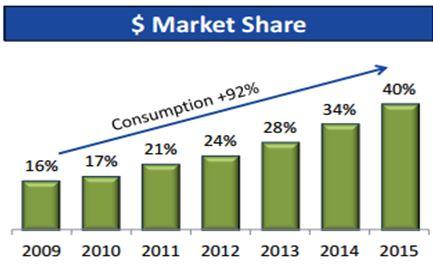 Source: Investor Presentation
Dividend and Valuation
The company's earnings are expected to grow at an attractive rate of 9% in the next five years. Along with an impressive earnings growth outlook, the stock offers a solid dividend yield of 2.4%. As the company has been making correct strategic efforts to expand its business, its cash flow generation will solidify, which will support its dividend growth in the long-term. Also, the stock's current valuation stays attractive as it is trading at a cheap forward P/E of 18.5x, in comparison to its peer average of 21x. As the company will continue to expand its high-margin product offering, execute its cost savings and successfully integrate Boulder Brands business, the stock valuation will expand.
Summation
The company is taking correct strategic measures to grow its revenue and market share. The company will continue to make investments to acquire strong brands and support its product innovation measures. Moreover, the company's profit margins in the future years will expand because of its cost saving efforts and expansion of high margin product offering. The stock is trading at a low forward P/E of 18.5x, in comparison to its peer average of 21x. The stock valuation will expand in the future as a result of revenue growth and profit margin improvement.
Disclosure: I/we have no positions in any stocks mentioned, and no plans to initiate any positions within the next 72 hours.
I wrote this article myself, and it expresses my own opinions. I am not receiving compensation for it (other than from Seeking Alpha). I have no business relationship with any company whose stock is mentioned in this article.