Tesla's (NASDAQ:TSLA) recent announcement of its planned acquisition of SolarCity (SCTY) for $2.8 billion ($26.5 to $28.5 per share) has received massive criticism and downgrades to the outlook of Tesla's shares, including a downgrade by Morgan Stanley's (NYSE:MS) most bullish analyst, Adam Jonas. Mr. Jonas dropped his price target on Tesla by a whopping $83 (26.4%) from $333 per share to $245 per share.
By June 27, Tesla shares had dropped as low as $187.87 on an intraday basis, from $219.61 on June 21, prior to the announcement. That translated to a loss of over $4.67 billion in Tesla's market capitalization (without any noticeable offsetting effect in SolarCity's value). Most recently, Tesla shares have recovered some ground, closing at $201.79 on June 28.
We believe such skepticism of the SolarCity acquisition is unwarranted, despite some of its challenges. We will not write on such challenges, as many articles have been published to express resistance to Tesla's acquisition of SolarCity such as initial negative cash flow, struggling solar industry, etc... Quite to the contrary, we believe there is a silver lining in the SolarCity deal, ultimately leading to higher auto sales for Tesla. Tesla shares stand to make a solid comeback, possibly taking out the previous intraday highs of $291.42 recorded on September 1, 2014.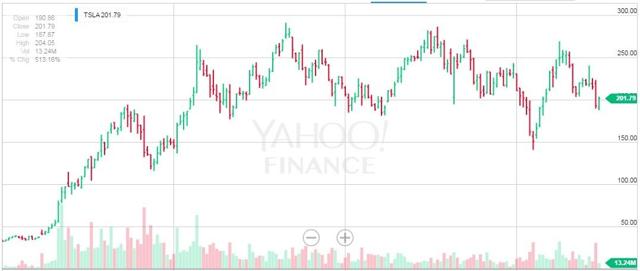 Tesla stock price 3/1/2013 to 6/28/2016
Why do people buy Tesla cars?
Central to our belief that the SolarCity deal is a good deal for Tesla is the question of why people buy Tesla cars. A subset of such a question is why people buy electric vehicles to start with. According to a survey conducted by the California Air Resources Board and administered by the California Center for Sustainable Energy, 37% of consumers buy electric vehicles to save money on fuel. Meanwhile, 21% do so to reduce environmental impact, 15% to gain access to HOV lanes, 7% for increased energy independence, 6% for embracing new technology, 6% for vehicle performance, 5% for supporting diffusion of electric vehicle technology, and 3% for other reasons.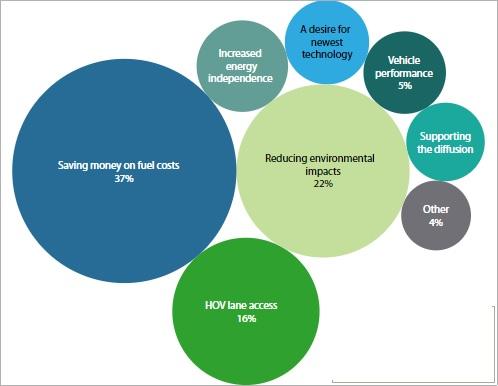 Most Important Reasons to acquire an electric vehicle - Source: Center for Sustainable Energy for the California Resources Board
In the same survey, when consumers were asked why they buy specifically Tesla, 24% said to reduce environmental impact, 20% for vehicle performance, 16% for newest technology, 13% for fuel saving, 8% for increased energy independence, 8% for HOV lane access, 7% for supporting diffusion of electric vehicle technology, and 4% for other reasons. Most importantly, the survey also collected data related to electricity rates and solar panels, and 62% stated that they get reduced electricity rates for electric vehicle charging, while 40% said they have or plan to install solar panels.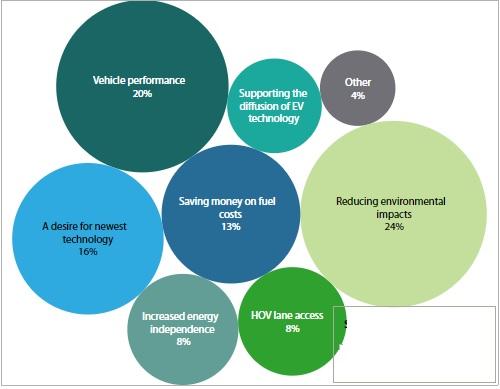 Most Important Reasons to acquire Tesla - Source: Center for Sustainable Energy for the California Resources Board
On the environmental impact side, when examined in isolation, Tesla skeptics have often debated whether Tesla's positive environmental impact is as large as claimed, primarily due to the fact that electricity is generated predominantly from carbon emitting power generation plants. Wired magazine illustrated such skepticism in its March 31, 2016 article: Tesla's electric cars aren't as green as you might think.
Similarly, on the fuel savings side, when examined in isolation, other Tesla skeptics have also debated Tesla's longevity on fuel savings, primarily due to the fact that many utilities seem to be retracting from purchasing excess solar produced power from consumers. Such pushback by big utilities is best illustrated in an article published by Ecowatch on April 7, 2015: Solar energy: grid vs. battery storage. Hence, consumers hoping to achieve fuel savings on their cars by installing solar panels to charge their cars, and counting on revenue generated from selling excess solar generation to utilities (during the day while they are at work and electricity trades at a premium), are finding that the utilities are not as receptive anymore.
When examining the above factors affecting consumer decisions for buying electric vehicles and Tesla, it is evident that SolarCity will substantially enhance Tesla's position by relating to the most important of such reasons. Tesla's integrated ecosystem, encompassing cars, solar generation and storage devices, will offset most of the arguments put forth by skeptics, while it will provide further incentive for consumers to buy Tesla cars, as Tesla meets those exact reasons for which consumers may want to purchase an electric vehicle.
The combination of solar panels and battery storage devices will mitigate the recent utility pushback, as consumers can simply store electricity generated in the morning, and use it at night. Furthermore, by purchasing SolarCity, Tesla can back its charging stations with electricity that is produced from solar farms, hence offsetting the argument that electricity used by Tesla cars is generated from carbon emitting power plants.
In essence, an ecosystem is indeed at the heart of a successful Tesla cars sales strategy. Such ecosystem is essential for mass adoption of Tesla cars, because such ecosystem provides an answer to most of the reasons for which consumers buy electric vehicles and Tesla: saving money on fuel, reducing environmental impact, diffusion of electric vehicle technology, achieving energy independence and adopting the latest technology.
Apple vs. Tesla
There are a lot of parallels that can be drawn between Apple's (NASDAQ:AAPL) early days and Tesla. In 2011, we wrote an article titled: Who will take a bite out of Apple? Anyone? In this article, we identified 9 hurdles that Apple had successfully overcome, and whereby, we correctly anticipated, will ultimately lead to further success for Apple: 1- Innovation & Creativity, 2- Miniaturization, 3- Design, 4- Integration, 5- Durability, 6- Service, 7- Marketing, 8- Pricing, and 9- Management.
Overcoming these 9 hurdles enabled Apple to realize its ecosystem, which ultimately led to mass adoption of its products, while providing Apple pricing power, an essential ingredient to its high margins. A combination of high margins and substantial unit sales have enabled Apple shares to almost double from their levels in 2011.
Steve Jobs was a visionary in the sense that he was able to connect the dots where many others did not. As a matter of a fact, through its rise, Apple skeptics were abundant. His insistence on an ecosystem was one of the main reasons why at one point he was even pushed out and fired from Apple, only later to be summoned back to implement his vision, after Apple almost went bankrupt following his departure.
Elon Musk today is in the same position as Steve jobs was in Apple's earlier days. Elon Musk's vision for an ecosystem is no different than Jobs' vision, although for a different sector. Meanwhile, if one examines those nine hurdles listed above, most would also apply to Tesla. SolarCity is simply another piece of the puzzle in connecting the dots, supplementing the ecosystem, and ultimately giving the consumer what he/she wants, and providing product differentiation and ultimately pricing power. Such ecosystem, product differentiation and pricing power will lead to high margins, which will in turn power Tesla's shares much higher.
Disclosure: I/we have no positions in any stocks mentioned, and no plans to initiate any positions within the next 72 hours.
I wrote this article myself, and it expresses my own opinions. I am not receiving compensation for it (other than from Seeking Alpha). I have no business relationship with any company whose stock is mentioned in this article.
Additional disclosure: Kindly Fast Track article as it is actionable