DoubleLine Capital, the $100 billion fund company led by legendary bond guru Jeffrey Gundlach, has two closed-end funds managing some $2.2 billion of their total assets. The DoubleLine Income Solutions Fund (NYSE:DSL) and the DoubleLine Opportunistic Credit Fund (NYSE:DBL) are two completely different funds. While both have a stated objective as "go anywhere" funds, the underlying assets they hold have very different mandates.
The two funds are very different animals in terms of the underlying holdings and actual investment strategies. DSL has a much more global mandate, low cash levels, and is more diversified. DBL on the other hand is a mortgage CEF, and should be compared to other mortgage-oriented funds like the PIMCO Dynamic Income (NYSE:PDI) and Western Asset Mortgage (NYSE:DMO).
Holdings and Objective:
DBL is a US-based mortgage fund with an emphasis on broken MBS. Gundlach uses a barbell approach with a relative balance between agency and non-agency. DSL is more of a diversified junk portfolio holding a hodgepodge of non-investment grade global credits. Much of the investment mandate can be identified based on the size of the fund with DSL being approximately $2 billion while DBL being much smaller at $380 million.
Most income-oriented funds will have similar objectives hunting for "current income" and "capital appreciation" as a secondary factor. For instance, DBL shows the following as its investment objective: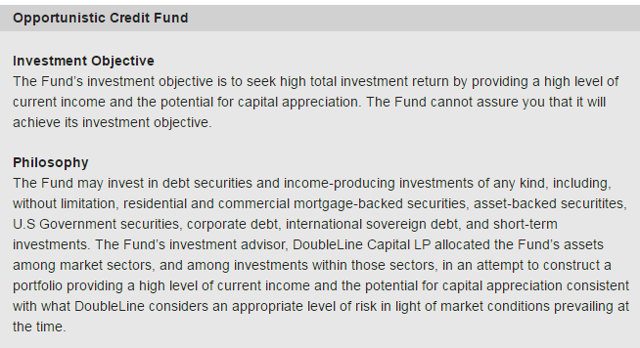 While DSL has a similar but slightly different-worded objective: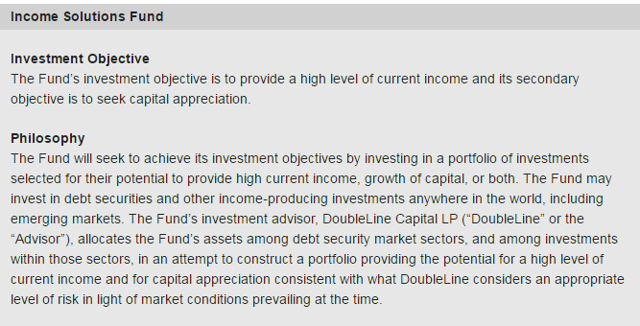 As we noted, the funds are run very differently with the underlying in DBL primarily focused on the mortgage business with significant holdings in MBS, both agency and non-agency securities. Within non-agency, they hold mostly prime and Alt-A sectors with some 14.2% coming from sub-prime borrowers. Duration of the underlying portfolio is 7.75 years.
Conversely, DSL has only 21% coming from MBS but a whopping 44.7% of the portfolio dedicated to emerging market debt. Another 18% comes from high-yield credits and 10% from bank loans. The duration of the portfolio is 6.54 years.
Clearly, just looking at the breakdown of the underlying sectors, DSL is significantly more risky. That is borne out in the credit quality distribution where 72.2% of all holdings comes from below investment grade securities and another 7.8% from unrated securities. DSL is also much more levered with 25% borrowing compared to 12% for its brother, DBL.
Performance and Discounts:
The performance of the two funds has been extremely different with DSL showing a three-year return of just 1.64% while DBL has returned over 13% per year. That performance has created a huge gap in the discounts to NAV that the funds trade. Below are the three-year charts for their discounts/premiums.
DSL has averaged a three-year discount of 7.9% but was over a 14% discount late last year as emerging market debt got clobbered. Meanwhile, DBL had typically traded close to NAV for most of its existence with a brief pop during 2014. But more recently, the funds premium has grown materially to the current all-time high of over 18%. Some of this is a function of vintage with DBL incepting in 2012 while DSL incepting in 2013, during the taper-tantrum.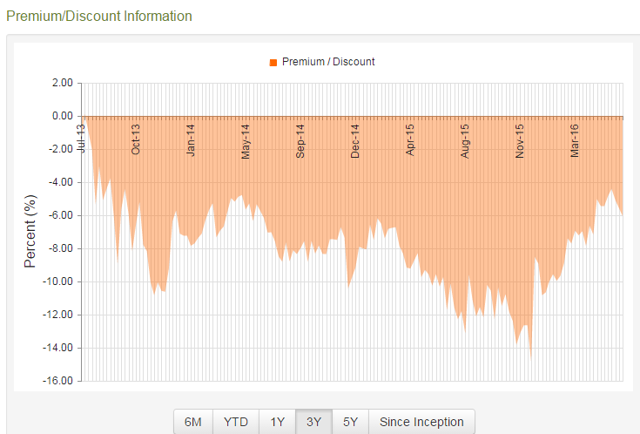 (Source: CEFConnect.com)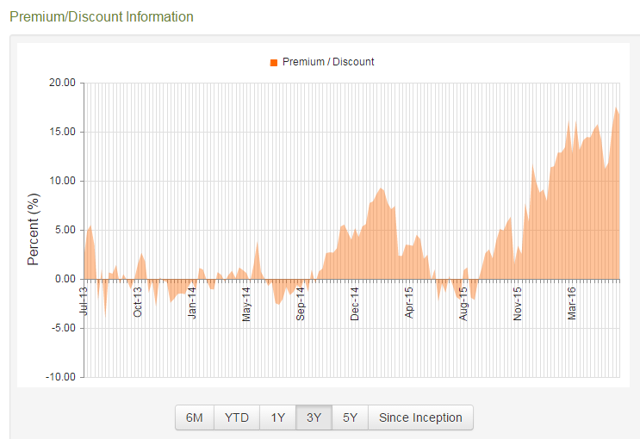 (Source: CEFConnect.com)
Our Take:
DBL is a low-risk mortgage fund with an interest rate hedge on its government-guaranteed securities. The amount of credit risk overall in the fund is minimal. But Gundlach has massive amounts of experience in analyzing MBS- he's probably one of the best in the world. To gain access to that level of knowledge, you have to pay a premium. However, as we noted in our Western Asset Mortgage (DMO) analysis, the massive tailwind in the MBS space is likely waning as supply dwindles and the rare opportunity stemming from the financial crisis abates.
In addition, the smaller fund size likely means the investor base is largely retail with a focus on safety and total return. The demand has pushed the premium up significantly despite the NAV of the fund rising *just* 10.4% in the past year, which compares to the price rising over 32.8%. Herd mentality in full-effect. Everyone rushing in just as the opportunity is petering out.
DSL is a diversified income vehicle but with such a focus on emerging markets, the fund hasn't performed nearly as well. The iShares MSCI Emerging Markets ETF (NYSEARCA:EEM) is down 31% over the last five years, 23% over the last two, and 16.7% over the last one. The main driver has been the strong USD and weak commodity prices which has pummeled these developing markets.
Acquiring shares of DSL is essentially a bet on EM turning and the dollar weakening, which would be bullish for commodities and thus, many commodity-driven developing economies. Just like we are seeing in muni bonds, we think the hunt for yield is likely to eventually land in the developing bond world. That hunt may already be starting with fund flows rising sharply since February. While the global uncertainty following the Brexit vote may upend that (we do not have data yet), the momentum has been clear.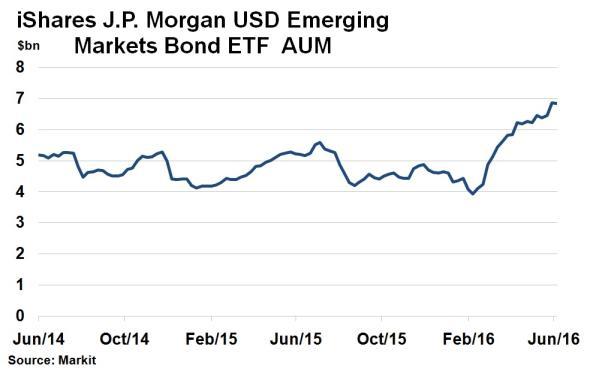 Many EM debt funds were up in the high-single digits for 2016 prior to the Brexit vote but have since fallen back. EEM is now up just 3.1% YTD. But we think the trend is likely to continue as yields in the developed world continue lower and the need for yield becomes more pervasive and acute. EM Debt remains an asset class that is largely nascent and an unknown quantity to many investors, especially retail. Over the last ten years, EM debt and EM equity have been starkly different. EM debt has had more than double the return of EM equity but with only one-third of the volatility. A compelling proposition.
We do think EM debt will see increased visibility and demand as investors become more familiar and educated about the space- all in the hunt for yield. Investment grade sovereign and corporate bonds in the EM world have similar characteristics to US high-yield debt. As the chart below shows, EM debt has attractive yields. It also provides significant diversification benefits with a correlation of just 0.44 compared to the Barclays US Agg.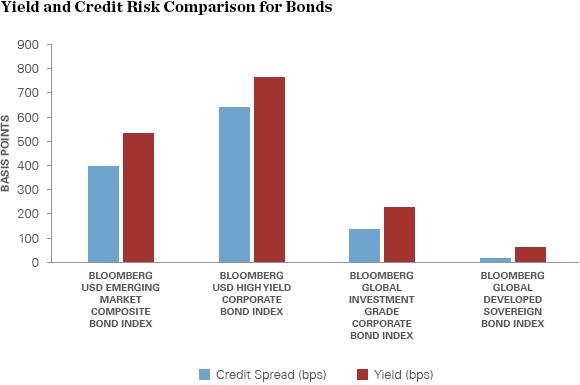 (Source: Bloomberg LP)
Conclusion
Investors like to compare the two DoubleLine funds even though they have completely different investment strategies despite their similar objective. DSL hasn't performed nearly as well due to its exposure to EM debt and to a lesser extent US high yield and senior loans. Meanwhile, as a mortgage fund, DBL has done very well benefiting from the busted MBS trade which has aided other funds with similar strategies like PDI and DMO. That strategy does have an end-life simply due to the opportunity that was created post-financial crisis is on the wane. This has coincided with a bid up of DBL which has sent it to an all-time high in premium. DSL, conversely, still trades at a discount, though that discount has closed materially in the last few months. Given the run in CEFs in general, DSL offers a solid diversified exposure but does have a large slug of EM debt. We think EM debt could continue to benefit from flows as global investors hunt for yield in a yield-less world.
Aggressive Trade:
One could short DBL while going long MBS debt via an ETF like the iShares MBS ETF (NYSEARCA:MBB). That would isolate the premium. Shorting income CEFs can be tricky and flawed due to the high borrowing costs and the large monthly distributions. Still, we think the premium in DBL is unsustainable while DSL offers a compelling long-term holding in the multi-sector category that would complement other CEFs in the space given its EM exposure.
Disclosure: I am/we are long PDI.
I wrote this article myself, and it expresses my own opinions. I am not receiving compensation for it (other than from Seeking Alpha). I have no business relationship with any company whose stock is mentioned in this article.