As we wrote yesterday in our Natural Gas Daily article:

Many of the firms we follow point to the supply shut-in to continue. BP's (NYSE:BP) Pascagoula plant processes nearly 1.5 Bcf/d of gas coming from the Gulf of Mexico in the Destin Pipeline. So far, there's no indication that the gas would be rerouted into another pipeline, and if the outage persists, we could see U.S. gas supplies move lower.
RBN reports that the preliminary supply estimate was revised lower by 0.2 Bcf/d, and today's preliminary report is lower yet again by 0.2 Bcf/d. Estimates for the end of injection storage figures are coming in once again with the average estimate declining by about 150 Bcf. Some forecasters are pointing to the bullish weather forecasts and contending that this summer has been much hotter than they had previously expected.
The 8- to 14-day outlook is also very supportive of this narrative, and gas prices have responded by moving materially higher.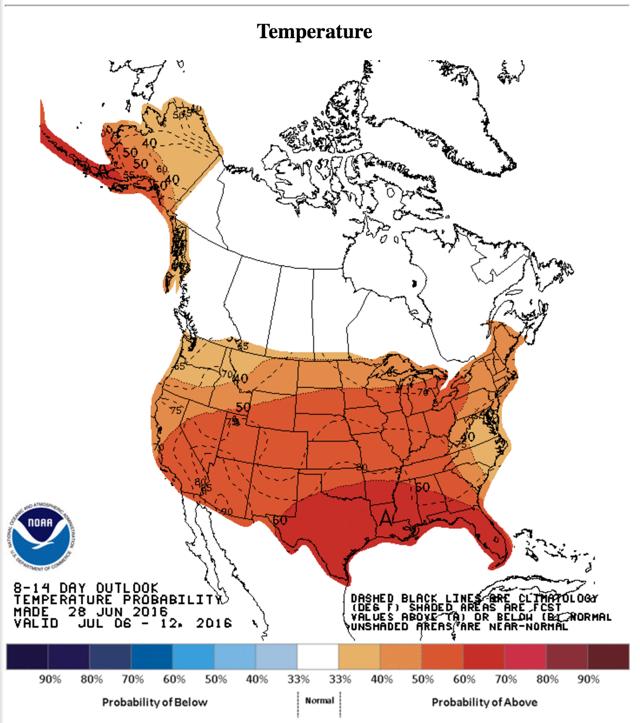 Canadian gas imports rose again to 6.2 Bcf/d as the AECO basis differential remains wide. Western Canada gas storage being 90.5% full doesn't help the basis differential, and we think gas imports could rise to 6.5 Bcf/d over the next several weeks to help alleviate the storage situation.
Snapshot of Natural Gas Prices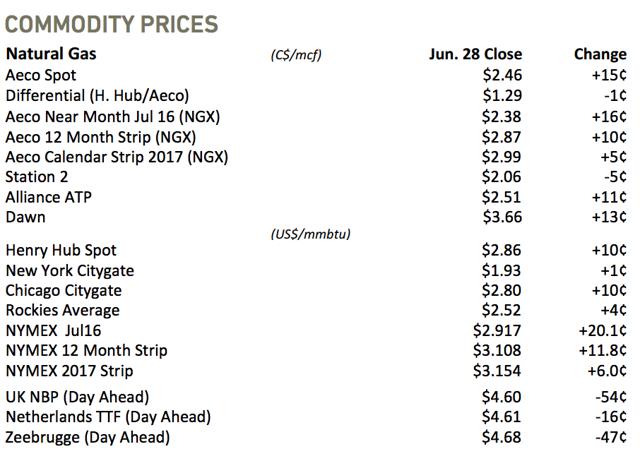 An additional 0.6 Bcf/d of demand will be online within the next 60 days as Cheniere Energy (NYSEMKT:LNG) steps up train two. This will further help reduce the end of injection figures.
Overall, the fire has helped curb nearly 1.5 Bcf/d of gas supplies, and the longer the outage lasts the more bullish it is for injection figures. If the outage persists for just one week, that's 10.5 Bcf less into storage, which helps narrow the year-over-year surplus. We remain bullish on prices, but once the outage is gone, prices could come back in a bit. Prepare yourself for a low injection figure this week; that's what we're watching for next.
As always, if you enjoy our natural gas (NYSEARCA:UNG) daily, please click on the "Follow" button above and read our other energy write-ups. We also have a premium service tailored to investors looking to how we are thinking about positioning and real-time trade alerts. You can view our delayed one-month portfolio update here. We hope to see you join the HFI community.
Disclosure: I/we have no positions in any stocks mentioned, and no plans to initiate any positions within the next 72 hours.
I wrote this article myself, and it expresses my own opinions. I am not receiving compensation for it (other than from Seeking Alpha). I have no business relationship with any company whose stock is mentioned in this article.