IBM (NYSE:IBM) has announced that it has closed the acquisition of EZSource, a company that provides automated application source code analysis to enterprises. IBM's aim is helping developers unlock numerous z Systems mainframe application codes in order to quickly and easily modify and customize the codes for enterprises. IBM believes the acquisition will accelerate the adoption of its hybrid cloud platform. Ross Mauri, general manager, IBM z Systems, said:
The IBM mainframe is a foundational technology for digital transformation. Today's developers can drown in the sea of complex application code. EZSource's application discovery technology makes it fast and easy for developers to understand and extend those applications at the speed of business.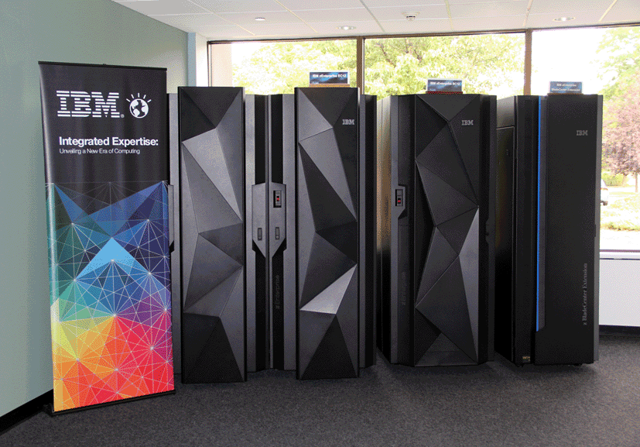 Best Fit for Cloud: Mainframes vs. Commodity Hardware
IBM's z Systems, a robust hardware platform, has the potential to take cloud computing away from its competitors, such as Amazon's (NASDAQ:AMZN) AWS or Microsoft (NASDAQ:MSFT), by making IBM Cloud, i.e., the combination of BlueMix and SoftLayer, more flexible. IBM still makes mainframes, which are industrial-grade hardware, because it believes the machines are capable of offering better scale and economics compared to commodity hardware for the mobile economy.
The primary difference between mainframes and commodity hardware is that mainframes are "scale-up" systems, whereas commodity hardware constitute "scale-out" systems. Scaling up implies upgrading a server by adding more CPUs or memory, as opposed to scaling out, which means adding more servers in the datacenter. Mainframes need specific software applications for its specialized hardware.
Mainframes can handle mission critical cloud computing workloads, such as OLTP (online transaction processing) and OLAP (online analytical processing), more efficiently than commodity hardware. In general, RDBMS is used for handling OLTP workloads and data warehousing for OLAP workloads. Since virtualizations are increasingly being used to manage such workloads, and enterprises can create thousands of virtual servers on a single mainframe, deploying mainframes for such workloads makes sense.
Developers know that combining Bluemix and SoftLayer, they can build remarkable applications. In order to help developers maximize return from their effort, IBM started to offer Bluemix integration with z Systems just after the launch of z13. The z13 mainframe has the ability to process 2.5 billion transactions per day and its embedded analytics is capable of providing real-time insights on all transactions, IBM said. Clearly, z13 can be the best choice for CIOs to manage OLTP and OLAP workloads. KVM virtualization on z13 can result in superior outcome compared to commodity hardware.
IBM's Mainframe Platform Is Underutilized
Despite the advantages and potential benefits of mainframes over commodity hardware, the platform is underutilized due to the conventional practice of running OLAP workloads on commodity hardware. At present, mainframes are used mainly for OLTP workloads, i.e., workloads that need to crunch numerous transactions instantly. The use of mainframes is limited to companies such as financial services, telecom operators, online retailers and insurers. However, this can change if mainframes are used for OLAP workloads as well.
For OLAP workloads, i.e., workloads related to business intelligence (BI), mainframes lag behind commodity hardware. To extract business insight from the data residing in mainframes, as mentioned above, enterprises generally move that data to data warehouse systems based on commodity hardware using an ETL (extract, transform and load) platform. This conventional process is costly because enterprises need to purchase ETL software and employ ETL developers.
For analyzing the data where it resides, i.e., on the mainframes, IBM has introduced the z Systems Integrated Information Processor ((zIIP)), which provides enterprises a less costly technology for analyzing the workloads natively on System z without using general-purpose mainframe processors. In addition, IBM has developed data virtualization technology for allowing enterprises to use its own business analytics platform Netezza without moving data to the analytics engine.
IBM's Mainframe and Cloud Business Will Get a Boost
IBM's mainframe business will get a boost due to its EZSource acquisition. IBM said:
Together, EZSource and IBM will enable clients to unlock billions of lines of application code residing on z Systems to help accelerate companies' adoption of hybrid cloud.
EZSource's technology will help developers write applications for taking advantage of IBM's technology of running OLAP workloads. As a result, not only IBM's mainframe revenue will grow, but its cloud revenue will also grow.
Conclusion
A few days ago, rumors were doing the rounds that IBM will sell its mainframe business to Hitachi. Although IBM sold its PC business and x86 server business to Lenovo (OTCPK:LNVGY), I didn't believe it would sell the mainframe business because it's an integral part of its cloud business. The EZSource acquisition proved that IBM won't sell its mainframe business. Instead, the business got a new lease on life due to the acquisition.
Disclosure: I am/we are long IBM.
I wrote this article myself, and it expresses my own opinions. I am not receiving compensation for it (other than from Seeking Alpha). I have no business relationship with any company whose stock is mentioned in this article.