Alcoa (NYSE:AA) has had a mixed time on the stock market in the first half of 2016 as its stock is in the red. The company started the year on the back foot due to the steep decline in commodity prices earlier in January, but over the past five months, it has made a remarkable recovery. In fact, Alcoa has gained more than 33% over the past five months, and going forward it is likely that the company will be able to sustain this momentum. Let's see why.
Stronger aluminum prices will drive Alcoa higher
A key reason why Alcoa shares have done well over the past few months is because of the rise in aluminum prices. As shown in the chart below, even though the price of aluminum has swung a bit wildly so far in 2016, but it is in a better state as compared to where it was at the end of 2015.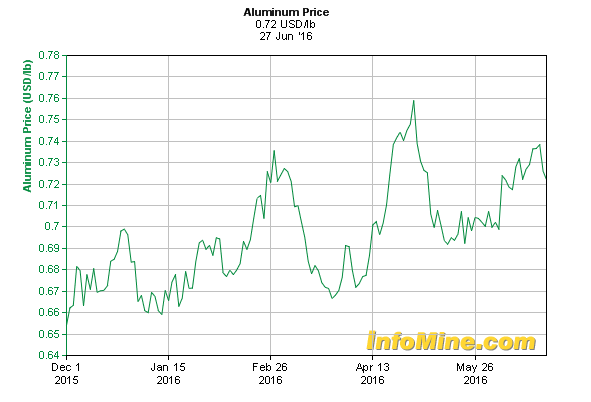 The reason why aluminum prices have started picking up pace is due to an improvement in the demand-supply situation in the end-market, which has brought down the oversupply to some extent. According to a report late last month, global aluminum supply had dropped over 12% from the end of 2015 until February this year, with almost 80% of the supply reductions being driven by China.
More specifically, Chinese aluminum production has dropped over 18% during this time period as the country has been shutting down smelting facilities in order to reduce oversupply. In fact, China has shut down 4.27 million metric tons of smelting capacity since the end of last year. This means that the country's aluminum production could go down further as its output has dropped from 2.53 million metric tons to 2.07 million metric tons, which is smaller than the drop in the country's aluminum smelting capacity cut on an absolute basis.
Considering that China accounts for over half of global aluminum production, a decline in production and further smelting capacity cuts in the country will prove to be tailwinds for aluminum pricing going forward. A key factor why China will cut more aluminum smelting capacity going forward is because most of the country's smelters are unprofitable in the current pricing scenario.
More specifically, 70% of the aluminum smelting capacity in China is currently cash negative, along with 75% of alumina refining capacity. This is the key reason why smelters in China are shutting shop, with 5 million tons of capacity shut down in the country last year. As such, even this year, China has decided not to add any more smelting capacity, rather the country is looking to reduce more capacity this year.
On the other hand, aluminum usage is rising across key industries such as aerospace and automotive. For instance, the average usage of aluminum in a vehicle is expected to increase by over 66% in the next decade. As a result of such factors, aluminum consumption in 2016 and beyond is slated to increase. In fact, this year's aluminum demand will rise 5% from last year. When coupled with the drop in supply, the market is expected to move into a deficit this year.
As a result, the price of aluminum will increase going forward as forecasted by the World Bank and IMF. This is shown below: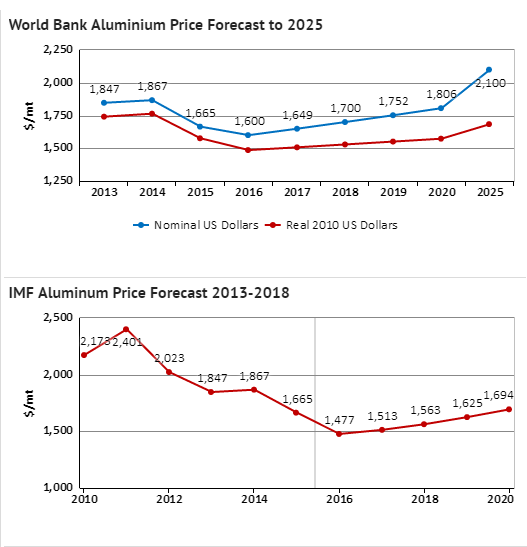 What higher aluminum prices mean for Alcoa?
Alcoa's financials and stock prices move in tandem with aluminum prices. This can be gauged from the chart given below: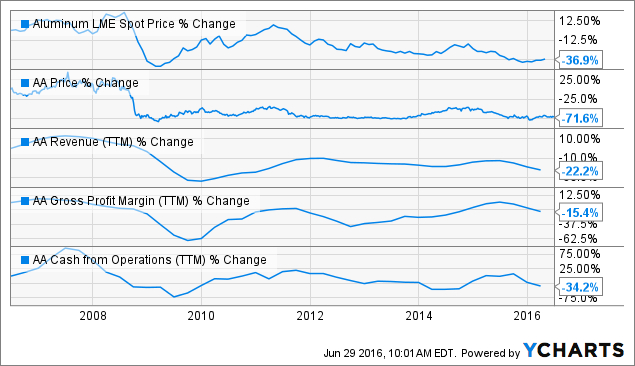 As seen above, the massive drop in aluminum prices post 2008 started creating weakness in Alcoa's revenue and margins. Then, a rally in prices from 2010 onward had a positive impact on its financials once again. However, since aluminum prices have been in a state of decline from 2011 onward once again started creating instability in Alcoa's performance, though the company's cost reduction moves allowed it to keep its margin in good shape.
Now, considering the fact that Alcoa has been focusing aggressively on achieving productivity gains, an increase in aluminum prices will allow it to augment margin growth. For instance, last quarter, Alcoa recorded productivity gains of $232 million. In fact, for the whole of 2016, Alcoa is on track to achieve $400 million from productivity initiatives, driven by its focus on improving the infrastructure.
As an example, Alcoa is currently focusing on improving the casting process of aluminum, which will enable it to construct a smaller mill that's 25% of the size of a traditional mill. But, despite this massive reduction in size, Alcoa's mill will be able to produce an alloy with 40% higher formability and 30% more strength. This will allow the company to reduce operating costs due to a smaller mill size and a better alloy.
Conclusion
Considering the points discussed above, I won't be surprised if Alcoa is able to sustain its performance on the stock market going forward. The company is on track to benefit from improving demand-supply conditions in the aluminum market, while its moves to reduce costs will have a positive impact on the margin profile. So, it makes sense to remain invested in Alcoa for the long run as it should do well in the long run.
Disclosure: I/we have no positions in any stocks mentioned, and no plans to initiate any positions within the next 72 hours.
I wrote this article myself, and it expresses my own opinions. I am not receiving compensation for it (other than from Seeking Alpha). I have no business relationship with any company whose stock is mentioned in this article.