Ever since oil prices hit bottom earlier this year, ConocoPhillips (NYSE:COP) shares have been steadily rising. In fact, since mid-February, the stock has gained close to 20% on the market despite the recent pullback as a result of the Brexit vote. Looking ahead, I believe that ConocoPhillips is capable of delivering more upside as the current oil market conditions are good enough to help the company accelerate its financials.
More importantly, Conoco's increasing focus on accelerating its production from the Lower 48 plays such as the Eagle Ford and the Permian will also play a key role in allowing the company to improve its margins in the long run as oil prices rise. So, in this article, we will take a closer look at the reasons why ConocoPhillips is capable of sustaining its performance in the long run.
Lower 48 production is an advantage
The Lower 48 region contributes to the majority of ConocoPhillips' overall portfolio. In terms of production, reserves or resources, the Lower 48 is substantially ahead of the other areas, as shown below: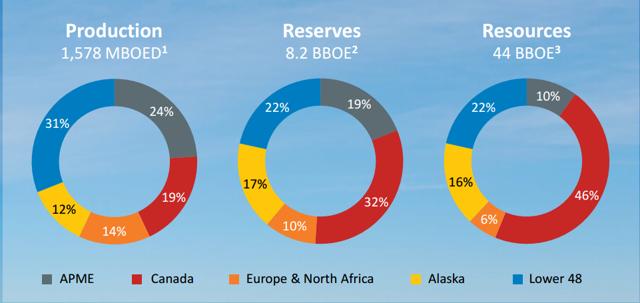 Source: ConocoPhillips
Now, there is a reason why ConocoPhillips has been increasingly focusing on its Lower 48 assets. These assets carry a higher rate of efficiency due to low costs and higher production. For instance, COP is running only 3 rigs in the Lower 48 this year as against 13 at the end of 2015. In addition, the company had also sold some of its legacy conventional assets in this region last year.
But, despite this, the company's production in this area was down just 3% year-over-year in the previous quarter. Additionally, ConocoPhillips will lower its capital investment in the Lower 48 area by a wide margin this year, but this won't have a huge impact on the company's production as shown below: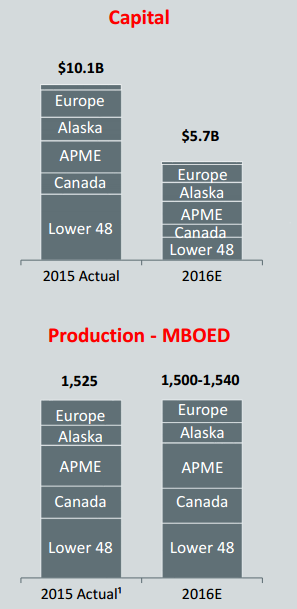 Source: ConocoPhillips
This clearly indicates the efficiency of the company's Lower 48 assets as they are capable of sustaining their production at robust levels despite a massive cut in the capital expenses. As a result of the strength in this segment, ConocoPhillips has decided to gradually exit from its deepwater assets and instead realize more efficiency in the Lower 48.
Now, the reason why COP has been able to keep its costs low and production stable in the Lower 48 is because of the drilling and completion efficiencies in the Bakken and Eagle Ford areas, which have allowed it to lower the base decline rate to 10%. This decline rate is way lower than the declines of "47% for the Bakken, 55% for the Eagle Ford and 22% for the Permian" witnessed last year across the industry.
This effectively means that ConocoPhillips will be able to extract oil for a longer period from its assets as compared to the rest of the industry, which ultimately means lower capital requirements and higher cash flow. The good news is that as a result of lower capital requirements in the Lower 48 area, the company has been able to bring down its oil break-even price by 25%. This is shown in the chart below: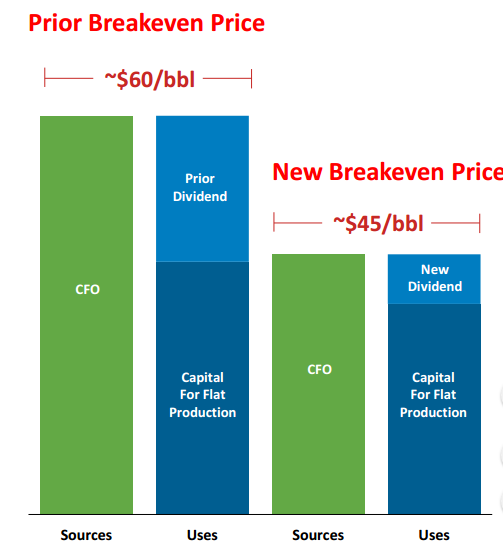 Source: ConocoPhillips
What next?
A lower break-even point will allow ConocoPhillips to improve its margin profile going forward. In fact, even before the oil recovery gathered full steam, the company had already started witnessing an improvement in its gross and operating margins. This is shown in the chart below: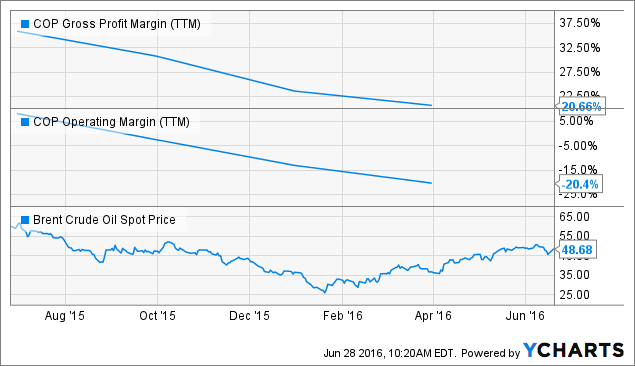 As the chart above shows, a slight improvement in the oil price from February onward had a slight positive impact on its margins. Now, as the price of oil has improved further in the current quarter, ConocoPhillips will post a further improvement in its margins when it reports its next set of results.
Additionally, investors should not miss out the probability of a further increase in oil prices. This is because oil production has been declining at a fast clip this year, while the strength in demand is being sustained. For instance, the EIA recently raised its Brent price forecast by $1 per barrel in the latest short-term energy outlook, expecting a price of $52 a barrel next year. What's more, by the end of next year, Brent oil price is expected to rise to $58 a barrel. This represents an increase of over 20% from current levels.
This rise in Brent oil prices by next year is not surprising as consumption is expected to catch up to production. As a result of the improved demand-supply balance, oil prices will continue to improve. The following chart shows the balancing of the oil and gas market going forward: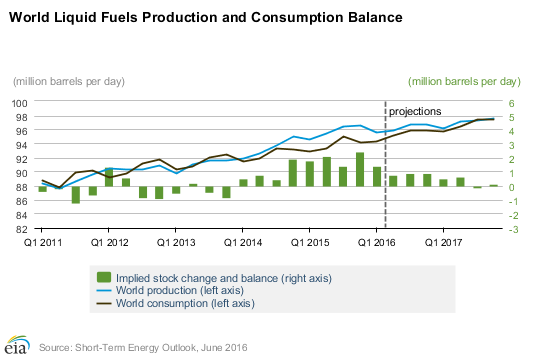 Source: EIA
This forecasted increase in Brent oil prices is good news for ConocoPhillips as an increase of $1 in the Brent price adds $100 million to $120 million to its net income on an annual basis.
Conclusion
ConocoPhillips is doing the right thing by focusing more on its assets in the Lower 48 as they will enhance its production at lower costs. This will allow the company to take advantage of an increase in oil prices going forward and enhance its net income and margins. So, despite its steady appreciation this year, ConocoPhillips still presents a buying opportunity for the long run in light of the points discussed above.
Disclosure: I/we have no positions in any stocks mentioned, and no plans to initiate any positions within the next 72 hours.
I wrote this article myself, and it expresses my own opinions. I am not receiving compensation for it (other than from Seeking Alpha). I have no business relationship with any company whose stock is mentioned in this article.