I put on a short position in the S&P 500 (NYSEARCA:SPY) in May based on my view that a relatively weak economy was not being reflected in share prices. As I am assessing the economy going forward, I thought I'd write a review of the indicators I look at.
Railcar Loadings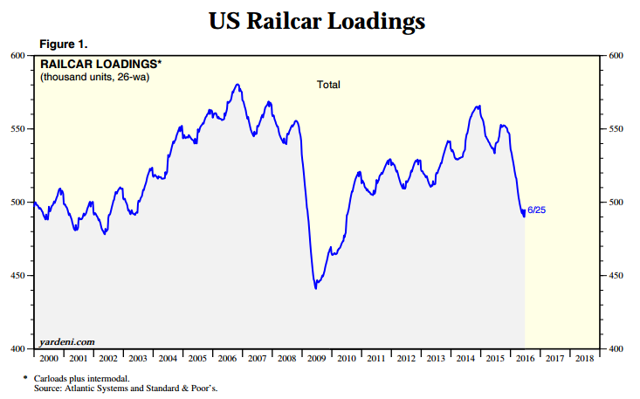 Railcar loadings, at first glance, look terrible. But a big part of this drop is due to the weak performance of the coal industry.
Railcar Loadings ex-Coal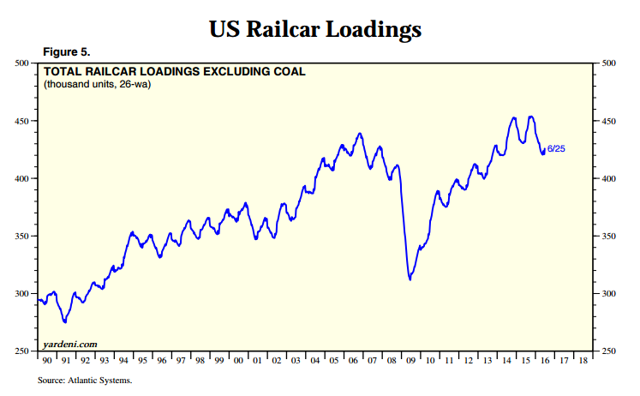 Source: Yardeni Research
After excluding coal, we still see a pretty weak picture for rail loadings. Rail loadings are down to levels last seen in 2013, which would indicate a reversal of the recent momentum.
Truck Tonnage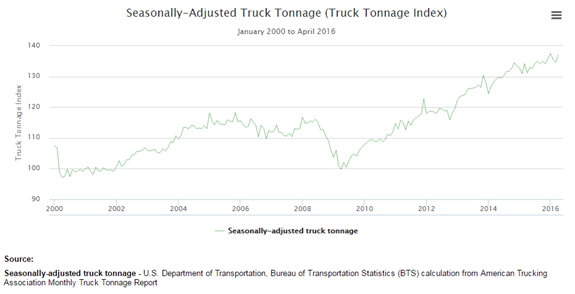 Source: Bureau of Transportation Statistics
The picture for truck tonnage is significantly more positive than railcar data. Perhaps there has been a shift from rail to trucking in the wake of lower oil prices. However, I would note there is a flattening of growth from 2015 to 2016, which supports a thesis that we are in store for a "muddle-along" scenario.
Airline Load Factor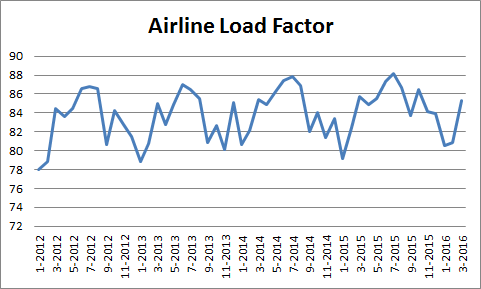 Source: Bureau of Transportation Statistics
Airline load factor for February was weak, but it rebounded nicely in March. The picture for load factor is mixed.
Revenue per Available Room (RevPAR)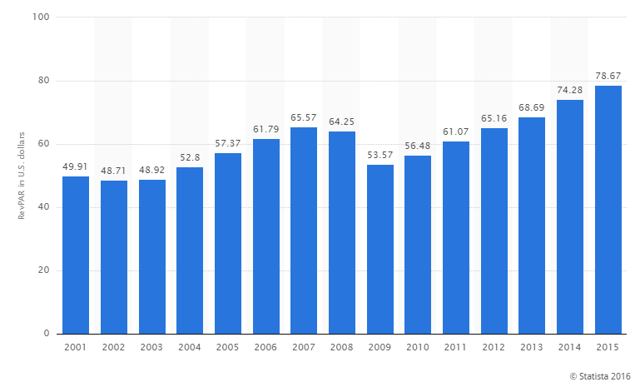 Source: Statista
RevPAR is an important metric for domestic tourism, and another leading indicator. It seems to be tracking up solidly for 2015, with growth in line with the trend.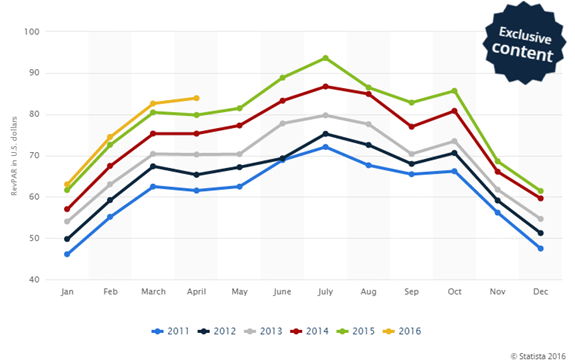 Source: Statista
Monthly RevPAR confirms the annual trend is extending into 2016, with every month so far tracking higher than the prior corresponding month. This is bullish, especially in light of industry disruption by new services like Airbnb (Private:AIRB).
Housing Starts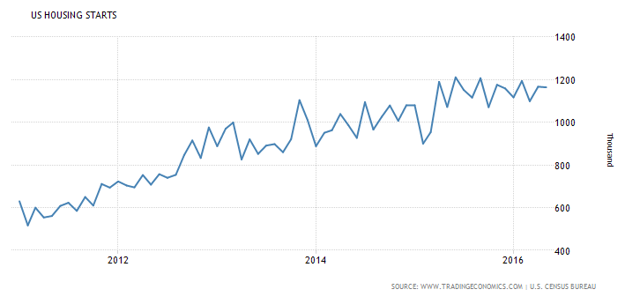 Source: Trading Economics
Housing starts seem to be holding up, but with a flattening of the trend from 2015, pointing to more of a slow growth scenario.
Auto Sales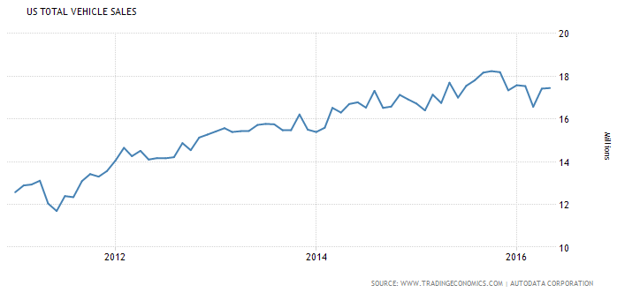 Source: Trading Economics
Auto sales were pretty awful for the first quarter. Even after ticking up slightly for April and May, the data are pointing to a downturn in the trend in auto sales.
I would consider the last two the most important leading indicators.
ISM PMI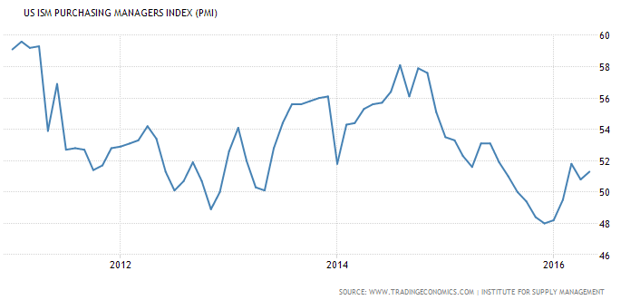 The PMI was looking abysmal at the beginning of the year. Any measure below 50 indicates contraction, rather than expansion, of the economy, so the PMI was indicating a recession was more likely than not as early as October 2015.
Somehow, we seem to have made it out of this situation, with the PMI now safely above 50. At the same time, we are receiving data from the BEA that the first-quarter GDP was revised upwards from .8% to 1.1%, a huge jump. A GDP growth above 1% actually seems pretty good in light of the abysmal results from every other major developed economy. It also gives the U.S. economy some room to decelerate its growth before entering a full-on recession.
Consumer Spending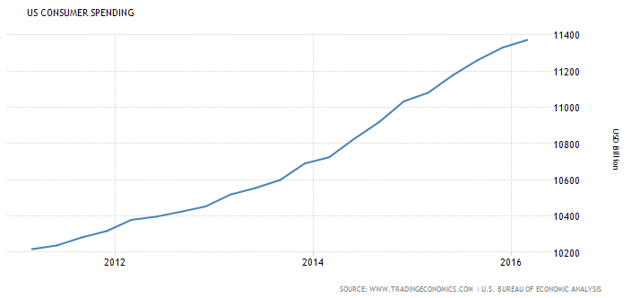 Consumer spending rapidly accelerated in 2014, as would be expected with a much stronger dollar, but appears to be flattening out with a weak first quarter this year. April's consumer spending data was strong, and May's data was relatively mediocre - not especially strong, not especially weak.
I consider consumer spending as a key metric, because the last Fed minutes indicated that the members of the board were concentrated on this metric for making a decision on interest rates.
Furthermore, I had reasoned that in order to compensate for the negative effects of a stronger dollar on corporate profit margins, personal consumption must increase by a larger amount to continue growth. A key piece of my thinking in going short was that consumer spending was not picking up enough to overcome shrinking profit margins. The May data, which was not overtly bearish, casts doubt on this premise.
Conclusion
Overall, the data is mixed. Many of the indicators are quite strong, but showing deceleration of growth. The notable exception would be rail traffic, which is quite weak even ex-coal. The strong truck tonnage data partially compensates for this weakness in rail.
The indicators are not as clearly bearish as they were at the beginning of the year, which makes me more cautious on my shorts. On the other hand, they are bad enough that the Fed might elect to delay its rate hike until 2017, especially in light of the recent market turmoil. I am currently still slightly net short stocks - about 50% long, 70% short - but I'm looking to add to longs and take profits on the shorts if we resume a Brexit sell-off.
Disclosure: I am/we are short SPY.
I wrote this article myself, and it expresses my own opinions. I am not receiving compensation for it (other than from Seeking Alpha). I have no business relationship with any company whose stock is mentioned in this article.