There has been a lot of interesting activity happening in the market and in the world lately. The Brexit, oil rebounding from historical lows, and junior gold miners and gold in general for that matter skyrocketing upwards. In addition, we are in the midst of a political race for presidency where we are either going to get candidate A who has a knack for…well it's probably best not to vocalize my political thoughts at risk of tarnishing this article.
One thing that is certain though, micro-cap stocks still lack the public's attention and are still branded as the pump-and-dump schemes they have been made out to be. With that being said, I have fully committed myself to being 100% invested in off the radar micro-cap stocks that are likely to generate significant alpha based on statistically back-tested results. Furthermore, I spent the better half of 2015 highlighting some of these off the radar micro-caps that have generated significant alpha for my readers who have taken advantage of these deals.
Given the lack of attention micro-caps get compared to the much larger names out there, I feel like it would be beneficial to my followers to highlight compelling ideas in micro-cap land and my thoughts on a weekly basis. Finally, a weekly post on micro-cap stocks not only will be beneficial to followers, but it can be a great place to generate valuable dialogue in the comments below - which most of the time is much more valuable than an entire article on Seeking Alpha.
The best place to find new ideas is…
When I decided to quit my job as a butcher and start writing about stocks full-time, one of my first concerns was idea generation. Sure I had a list of around 30 or so companies that I had plans to write about, but when that list ran dry what was I do to?
Eventually the list did run dry and I scrambled to find new ideas to write about. Back then, which was only around a year ago, I primarily generated ideas through screeners. Screeners work pretty well, however, using screeners is like being a horse with blinders on; you only see what is in front of you.
As I continued to use screeners for idea generation, I slowly began building up my professional network and follower base. Soon, investors would reach out to me, giving me compelling ideas to look into. One idea, that was brought to my attention from a follower, which I submitted in the Top Long Idea Contest of 2016, was Claude Resources (OTCQB:CLGRF), which was recently bought out and returned my followers ~260% since my initial publication.
I still use screeners to an extent and I talk to other professional investors daily. However, one of the best places that I have used for idea generation lately is a site called MicroCapClub. Here is a brief description of MicroCapClub, per their 'About' Page.
"Founded in 2011, MicroCapClub is an exclusive forum for experienced microcap investors focused on microcap companies (sub $300m market cap) trading on United States and Canadian markets. MicroCapClub was created to be a platform for experienced microcap investors to share and discuss stock ideas. MicroCapClub's mission is to foster the highest quality microcap investor community, produce educational content for investors, and promote better leadership in the microcap arena."
I have only recently became a member and have just tapped into the sites potential. Furthermore, I have attended one of their conferences thus far and plan on attending another one this September, which should be very beneficial and hopefully a great idea generator. Interestingly, the conference that I attended this past December had a company called VirTra Systems (OTCPK:VTSI) there, which has more than doubled since I saw their CEO present…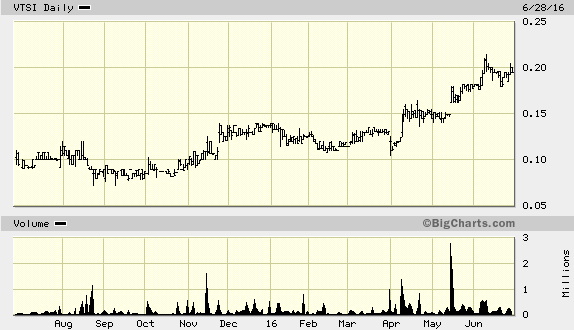 I am not surprised that VTSI saw its stock price double given the performance MicroCapClub has had since inception…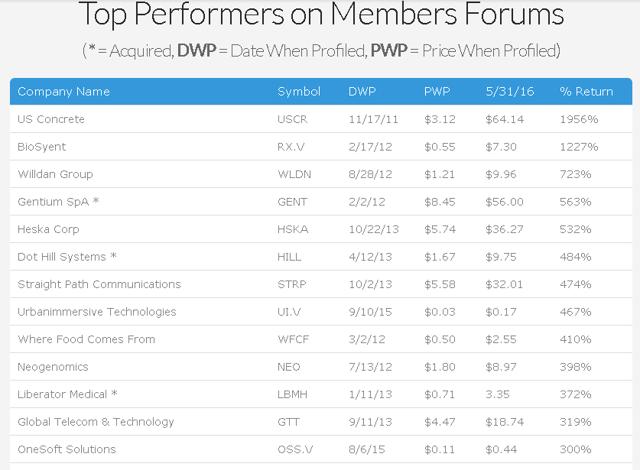 Source: MicroCapClub Company Performance
Overall, MicroCapClub has been one of my main go-to-sites for idea generation as of lately.
There is a significant amount of ways to generate investing ideas. Additionally, using more than one tool for idea generation can be complementary per your investing style. I am curious to know; what is your favorite way to generate investing ideas.
Three Ideas Playing Out
Since I have started to publicize my investment ideas on Seeking Alpha, I have had a handful of doubles, a pocketful of fifty percenters, and a good chunk of ideas over 25%. Here is a quick recap of a few ideas that are playing out and their respected thesis.
Precision Auto Care (OTCQX:PACI)
PACI is a franchisor of automotive and maintenance service centers and known for its fast oil change and lube services.
My original thesis for the company was based upon the company up-listing to the most visible OTC exchange; OTCQX, a deep undervalued company on an absolute and relative basis, shareholder friendly management and high FCF. In my thesis I was estimating that the company had 110-144% upside or a price target of $1.05-1.22/share. You can read my original article here.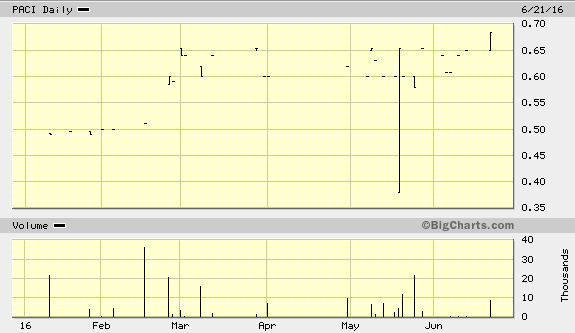 Since my article, the company has returned 36% for my followers who could take advantage of the opportunity. I still believe the company can push $1.00/share in the mid to long-term.
Socket Mobile (NASDAQ:SCKT)
SCKT is a provider of mobile cordless barcode scanners. I originally highlighted the company on September 15th, 2015, in which my thesis was based upon the increased used in efficient payment systems, a swing into bottom-line profitability and further EPS growth down the line.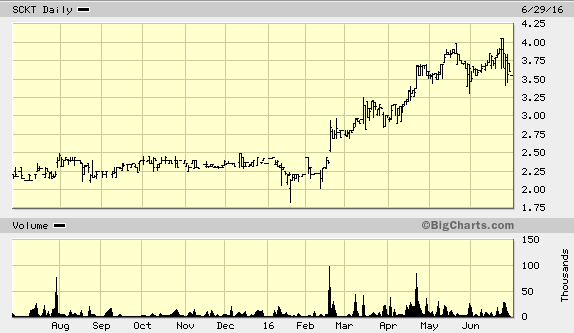 Since my original thesis, the company has returned my followers ~60% in less than a year.
I believe that my thesis is still intact and has become even stronger. The company is still experiencing double digit topline growth-hidden by a declining legacy business, has swung into profitability with high fixed costs eliminated and has recently up-listed to the NASDAQ. Based upon my revised and updated thesis, I believe the company is worth $5.25/share.
Teranga Gold (OTCQX:TGCDF)
TGCDF was highlighted on December 16th, 2015 as an attractive buy opportunity due to a potential buyout, continual improvements in regards to operations and a deep undervaluation.
The company is a Canadian based gold mining company with all tangible assets based in Senegal, West Africa, in the Sabodala Gold Mine. Moreover, this mine is the only gold mine in Senegal.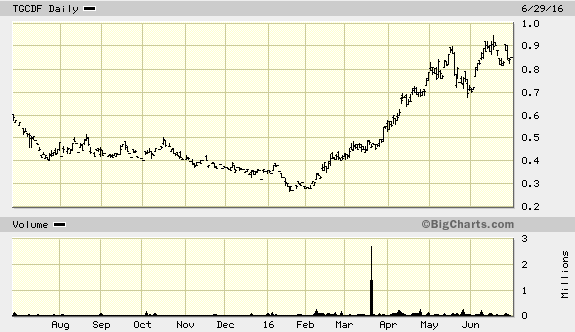 Since my original thesis, which can be found here, the company has returned 132% in six short months. Ever since the rapid rise in the company's stock price, I have stopped following the company, despite the fact that it appears to offer some value. Because of the rapid price increase, I believe there are better ideas on the table with less risk and more reward. If you are still interested in TGCDF, I would suggest that you read the two following articles which highlights TGCDF's recent acquisition…
Gryphon Acquisition Is An Excellent Deal... For Teranga
Teranga Gold's Acquisition: A Game-Changer, Or Too Much Risk?
Community Banks
If you are a follower of my work, you will begin to see more articles on community banks. The reason for the uptick in my work on community banks is simple; no one pays attention to local community banks. Furthermore, community banks are very boring, they lack the public's attention and a good majority of them are fast growing yet sell at a steep undervaluation.
I have also started to write for Nate Tobik's, the founder of OddballStocks, website CompleteBankData. Here is the Seeking Alpha platform for CompleteBankData, where the majority of my work will be. I urge you to follow it if you are interested in community banks and bank investing in general.
Community banks are very interesting to me and I believe they offer a significant amount of alpha for the investor willing to dedicate time to studying these off the radar companies. Moreover, there is a significant lack of investor attention in the community banking space that leads me to believe that there are hidden opportunities to take advantage of, by the astute micro-cap investor.
I also believe that community banks can offer the astute investor a way to find multi-baggers before the majority of the street. Here are five banks that have become ten-baggers in the past five or so years…
Oxford Community Bank (OTCPK:OXBC)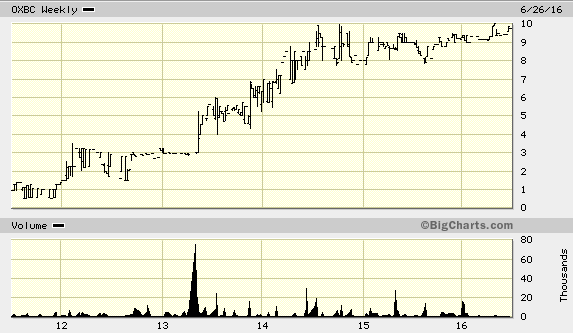 Royal Financial (OTCQX:RYFL)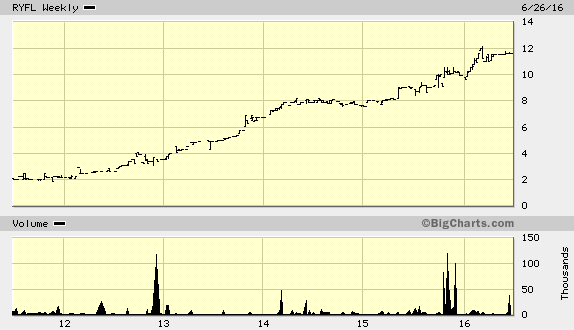 BNCCORP (OTCQX:BNCC)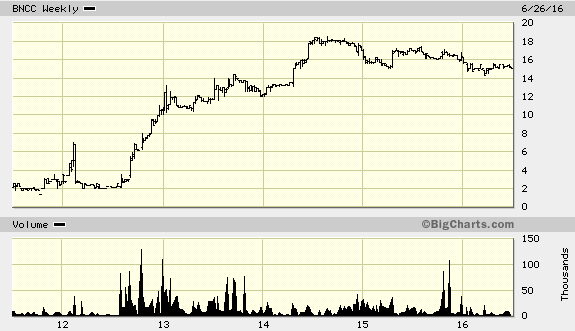 Independent Bank (NASDAQ:IBCP)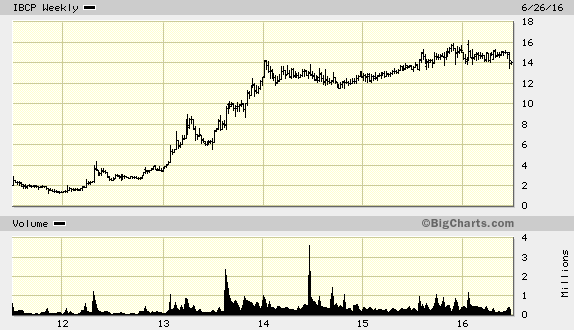 Fentura Bancorp (OTCQX:FETM)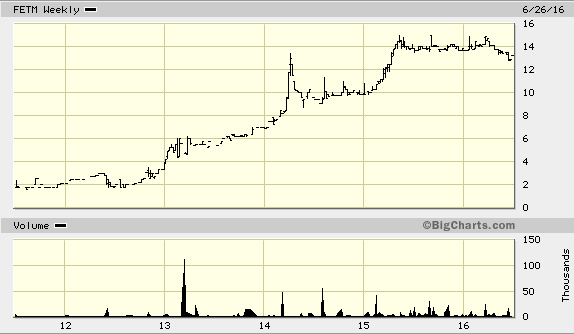 Overall, I feel like community banks offer a significant amount of value for the investor willing to put in the work valuing these companies. Within my work on community banks, I hope to offer readers value combined with the potential for multi-bagger appreciation.
Conclusion
While the turmoil of the Brexit continues and the election of a new US President just around the corner, I will continue to write about and invest in undervalued micro-cap stocks, while blocking the noise from financial pundits. In addition, I think that it is important not only for my followers, but for my sake, to write my weekly thoughts down in regards to companies I am watching, what looks interesting and a few updates on companies I have covered in the past. Hopefully a weekly dialogue will prove to be enlightening.
Other Readings for the Week
Disclosure: I/we have no positions in any stocks mentioned, and no plans to initiate any positions within the next 72 hours.
I wrote this article myself, and it expresses my own opinions. I am not receiving compensation for it (other than from Seeking Alpha). I have no business relationship with any company whose stock is mentioned in this article.
Editor's Note: This article covers one or more stocks trading at less than $1 per share and/or with less than a $100 million market cap. Please be aware of the risks associated with these stocks.