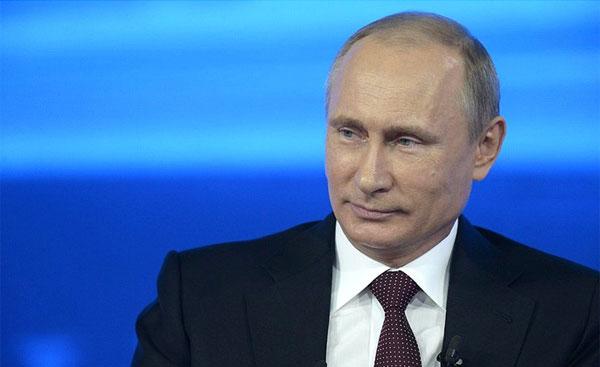 Brexit has dominated world headlines for the last couple of weeks, and with good reason: The U.K.'s historic referendum has already roiled markets around the globe, raised serious questions about immigration, trade and diplomacy, cast a harsh spotlight on the EU's avalanche of rules and regulations, and divided member states on the best way forward. Among other far-reaching consequences, Brexit could end up causing Europe to rethink its sanctions policy against Russia following a vote in Brussels last week to extend them another six months.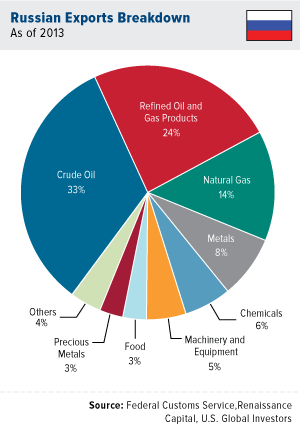 Nearly everyone agrees that Russia and President Vladimir Putin are among the winners because of Brexit. The U.K. is the EU's most vocal critic of Russia's 2014 annexation of the Crimean Peninsula and was instrumental in the decision to levy sanctions against the country's financials, energy and defense sectors two years ago.
Several EU countries, including Austria and Hungary, have expressed interest in lifting, or at least softening, sanctions, as they can no longer afford to miss out on trade with Russia. Countries that have faced difficulty offsetting lost trade opportunities are Finland, Poland and the Baltic states - Latvia, Estonia and Lithuania. The French parliament recently adopted a resolution to urge Brussels to drop all sanctions. Italy's Upper House of Parliament, meanwhile, approved a resolution opposing any automatic renewal of sanctions.
Britain's exclusion from any future policy decision-making, then, could help Moscow's chances to renegotiate terms.
In the long term, this bodes well for Russia's economy, which has been hammered by not just sanctions but also falling oil prices during the last two years. In 2013, energy accounted for 70 percent of all exports, with crude alone representing a third. What's helped keep oil producers profitable is the weakened ruble, which has lowered labor costs while making exports more competitive.
Double Whammy: Sanctions and Low Oil Prices
Estimates vary as to which has done more damage to the country's currency - sanctions or the drop in Brent oil. As I've pointed out before, there's a clear correlation between the ruble and oil prices.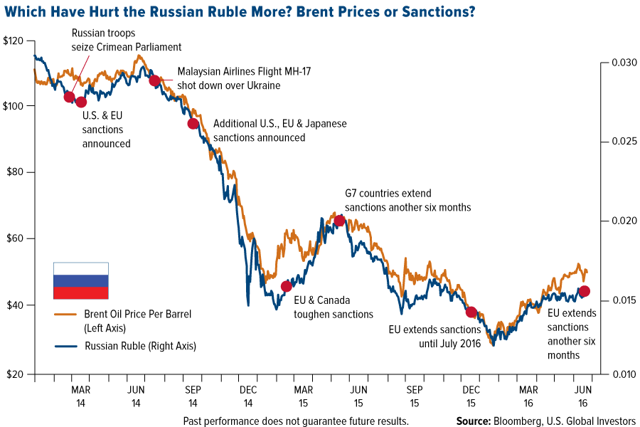 But sanctions have made their own significant impact. According to the International Monetary Fund (IMF), trade restrictions were responsible for a 1.5 percent decline in Russia's gross domestic product (NYSEMKT:GDP) in 2015, with the effects intensifying the longer they're in place. The Economic Expert Group, a Russian fiscal policy consultancy, estimates that between 2014 and 2017, international sanctions and the plunge in oil prices will cost Russia a whopping $600 billion. A large percent of this includes capital flight, though we've seen its rate slow since sanctions were first announced. Renaissance Capital believes $45 billion will leave the country this year, an improvement from the $64 billion lost in 2015 and $125 billion in 2014.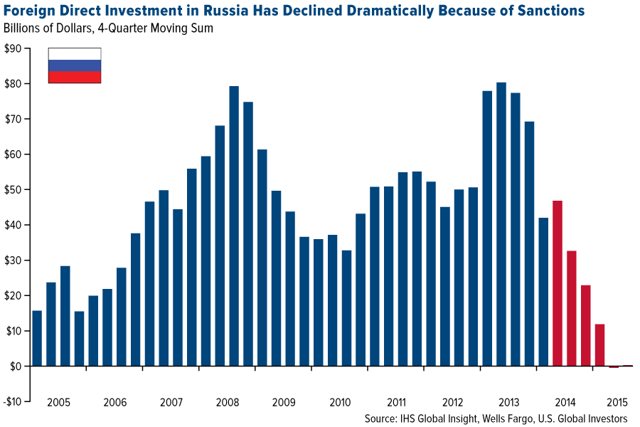 Exports have likewise taken a huge hit. In April, exports fell to $21 billion, a 28 percent decline from the same time a year earlier.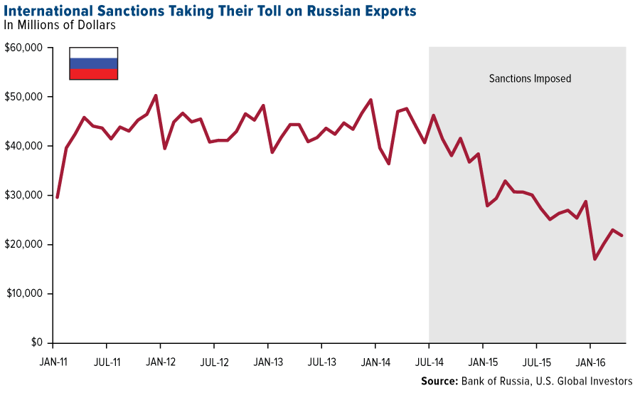 What Now?
Just as the U.K. won't officially leave the EU for another two years, the removal of sanctions won't happen anytime soon. As I said, EU officials already voted last week to extend them another six months. Many people, including Putin, doubt whether Brexit will materially change Russia's relationship with the European trading bloc.
(On a side note, it's interesting that even Putin recognizes why Brits voted the way they did: "No one wants to feed and subsidize weaker economies, support other countries, entire peoples," he told reporters on Friday.)
However, there's mounting pressure among individual EU member states to drop or at least soften sanctions, and with Britain, the bloc's strongest supporter of restrictions, voting to leave, an opportunity to revisit terms could surface sooner than expected.
All opinions expressed and data provided are subject to change without notice. Some of these opinions may not be appropriate to every investor. By clicking the link(s) above, you will be directed to a third-party website(s). U.S. Global Investors does not endorse all information supplied by this/these website(s) and is not responsible for its/their content.
U.S. Global Investors, Inc. is an investment adviser registered with the Securities and Exchange Commission ("SEC"). This does not mean that we are sponsored, recommended, or approved by the SEC, or that our abilities or qualifications in any respect have been passed upon by the SEC or any officer of the SEC.
This commentary should not be considered a solicitation or offering of any investment product.
Certain materials in this commentary may contain dated information. The information provided was current at the time of publication.
Disclosure: I/we have no positions in any stocks mentioned, and no plans to initiate any positions within the next 72 hours.
I wrote this article myself, and it expresses my own opinions. I am not receiving compensation for it. I have no business relationship with any company whose stock is mentioned in this article.