Natural gas futures prices have staged a remarkable recovery since their depths of March rising by 76 percent. Much of the increase has been due to the realization of higher-than-normal cooling degree days (CDDs) in June, and a projection of scorching hot weather in July, as I relayed back in April.
Though the market is focused on these short-term fundamentals, I developed a longer-term scenario to consider in the event the winter starts early and becomes bitter cold. That was another projection made in my article, the source of which is Weather Trends International (WTI).
Heating Degree Days and Demand
To prepare a quantitative projection, the first step is having a model that relates heating degree days (HDDs) to demand. In my model, I use three factors: HDDs, cooling degree days, and GDP.
With just these three factors, I have a 97% multiple regression fit since 2012. This means these factors, each of which is highly statistically significant (as indicated by the T-statistics), explains 97% of the monthly variation in demand (see graph below).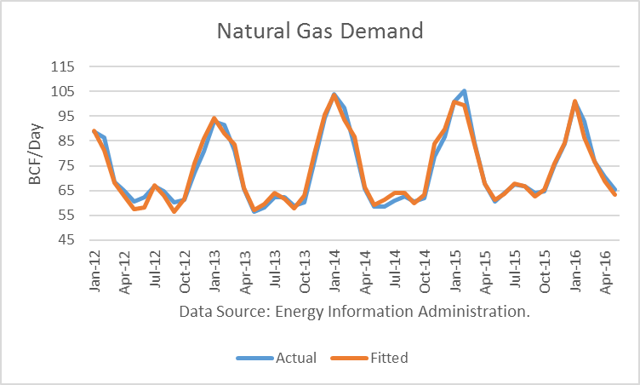 Projecting Storage Levels
The Energy Information Administration (EIA) publishes its predictions for month-ending storage levels in its monthly Short-Term Energy Outlook (STEO). The EIA uses normal (average) HDDs in its projections. As I have previously written in my article, How the Natural Gas Glut Will End, the year-over-year supply glut will end around December based on EIA's projections.
To assess what could happen if HDDs are higher than the normal levels assumed by the EIA, I selected actual HDDs starting in June 2014 on forward. HDDs from June 2014 through April 2015 were 6.7% higher than normal.
By utilizing these higher-than-normal HDD assumptions, and keeping the EIA's supply numbers the same, I projected storage levels over the balance of 2016 and 2017. After April 2017, I used the ongoing HDDs from May 2015 forward.
The results of this one cold weather scenario illustrate how rapidly the glut can disappear and even become a deficit by the end of next winter. In the graph below, I provide the EIA's projection (based on normal temps), this scenario and the 5-year average storage levels.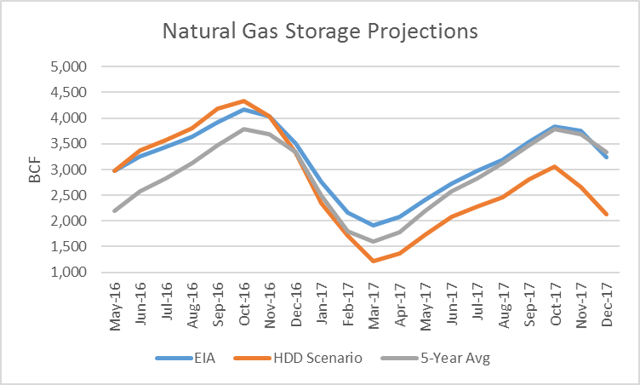 By the end of next March, storage would drop to 1,220 BCF, 692 BCF below the EIA projection and 386 BCF below the 5-year average.
Conclusions
This one cold weather scenario was developed by having a model that explains past demand, which includes HDDs. The scenario of actual HDDs from a recent cold weather year illustrates how quickly the current glut can be transformed into a deficit. WTI is predicting that the 2016/17 winter will present a cold weather scenario. Looking beyond near term, natural gas prices are likely to be supported by improving storage fundamentals.
Disclosure: I/we have no positions in any stocks mentioned, and no plans to initiate any positions within the next 72 hours.
I wrote this article myself, and it expresses my own opinions. I am not receiving compensation for it (other than from Seeking Alpha). I have no business relationship with any company whose stock is mentioned in this article.