I Prefer Internally Managed
Lexington Property Trust (NYSE:LXP) is a self-administered and internally managed REIT. I greatly prefer internally managed REITs as management is more aligned with shareholders' and the company's objectives. In addition to the advantageous alignment of interests, an internal manager will have the responsibility for a single portfolio, whereas an external manager may have to oversee several REITs. This added focus of only managing one REIT allows for more efficient capital allocation and better portfolio management.
Often times part of an external manager's compensation is tied to a percentage of assets in the portfolio, which can lead them to focus on simply acquiring assets to inflate their own pay. This is not the case as LXP spells out in its strategy that it is repositioning its portfolio and looking to exit what it calls "non-core" office markets. In turn, they then take proceeds from the sale to pay down debt or investing to maximize value for shareholders. Earlier this month, (June 17th), LXP sold $49.6 million of short-term leases in a non-core office markets where it does not have a significant presence. They used $21.1 million from the sale to pay off mortgage debt. In addition to being in areas where LXP does not have a significant presence, these were also short-term leases, something else the company is moving away from. The chart below shows that LXP has been effectively increasing long-term lease revenues and using the funds from the sales of assets like those mentioned above to shift the company's portfolio towards long-term leases.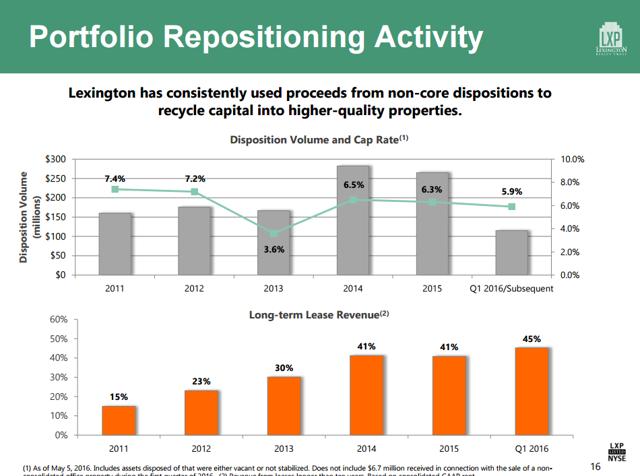 Management is Executing its Strategy
The slide below from LXP's May Investor Presentation outlines the strategy and it is reassuring to see management following through on it.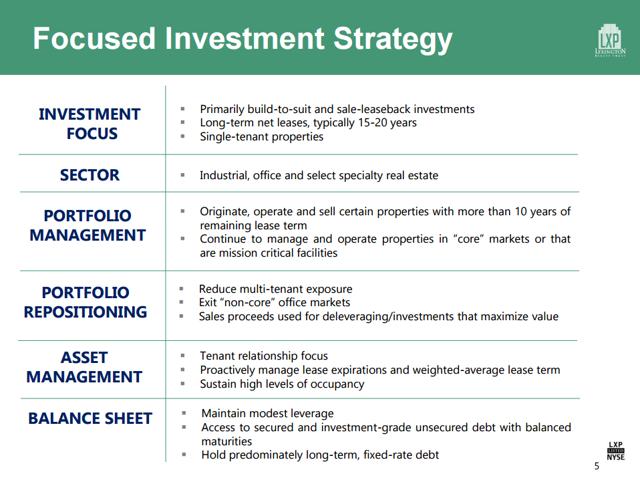 The company shared additional actions taken so far during 2016 to align itself with the above strategy, detailing dispositions, acquisitions, and plans for managing the company's debt load. Another item of significance is that the company states it will not need to raise equity in 2016, and though REITs do commonly grow via equity offerings, it's encouraging to see LXP not needing to do so at this time.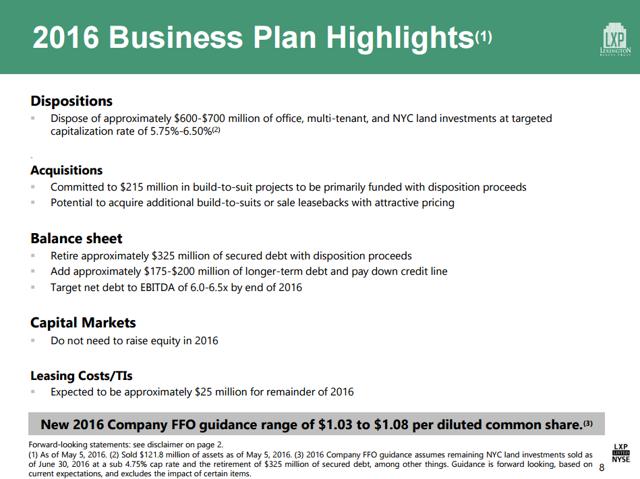 Strong & Diversified Portfolio
In addition to having a transparent strategy in place and taking steps towards executing it, the company also has a portfolio of that is nicely diversified. Looking at LXP's portfolio we see it is spread out very well in geographical terms, and has decent variety in its property type and area in square feet. Keep in mind that industrial will be larger in square feet likely due to size of warehouses versus offices. A second item to note is the small number of multi-tenant properties LXP has in its portfolio, which is good as management is moving towards single tenant assets.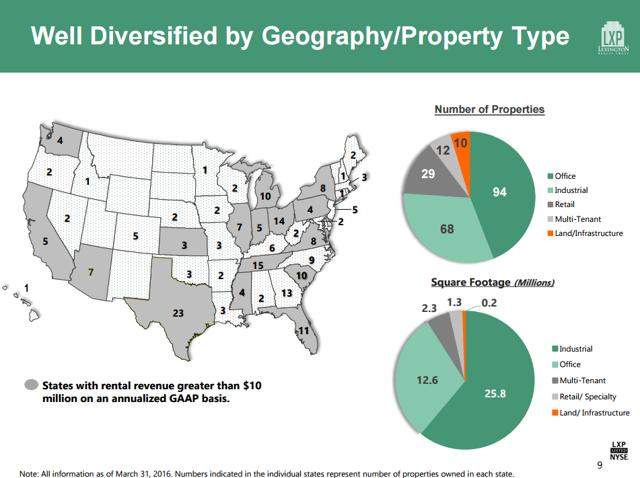 The company has also reduced its dependence on office properties as a source of revenue, decreasing from 61.3% of revenues in 2013 to now just over 50% in 2016. Also, note that multi-tenant revenues shrinking from nearly 8% in 2013 to now just 1.8% in 2016; yet another instance of management following through on its strategy of reorganizing its portfolio.
Not only has LXP diversified geographically and by tenant type, they also have a well-diversified tenant list as seen below. The top 10 tenants make up just shy of 25% of LXP's base rent.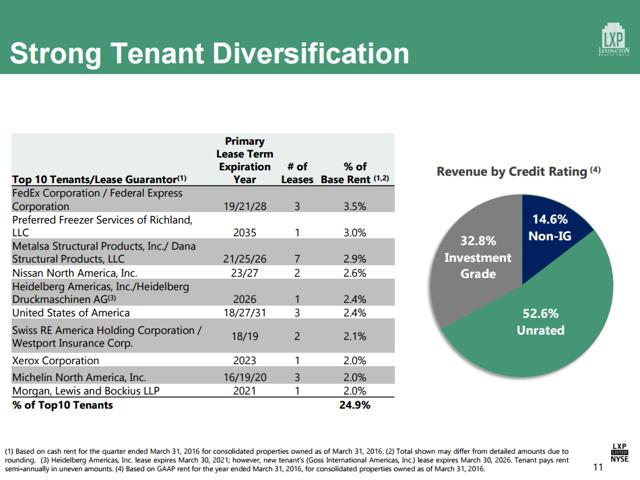 Investment Grade Financials
LXP has done well to create stable cash flows from its triple-net, long-term rents which have the tenant covering property taxes, maintenance, and building insurance also have built in increases. This allows for steady and predictable growth, which allows management to execute its strategy of returning value to shareholders effectively.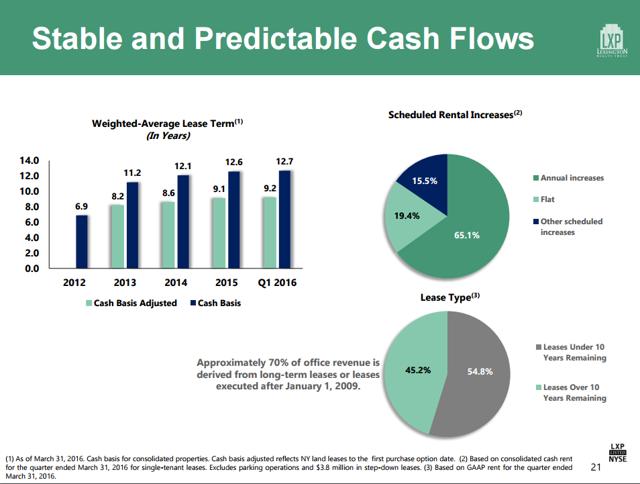 LXP's capital structure is very flexible, allowing the company access to capital when needed and it currently has BBB rating from Fitch, which also expects LXP's capital recycling property to improve asset quality as it looks to move to a more unsecured funding model. Revenue from unencumbered assets alone has increased from 22.9% in 2010 to 69.2% in 2015.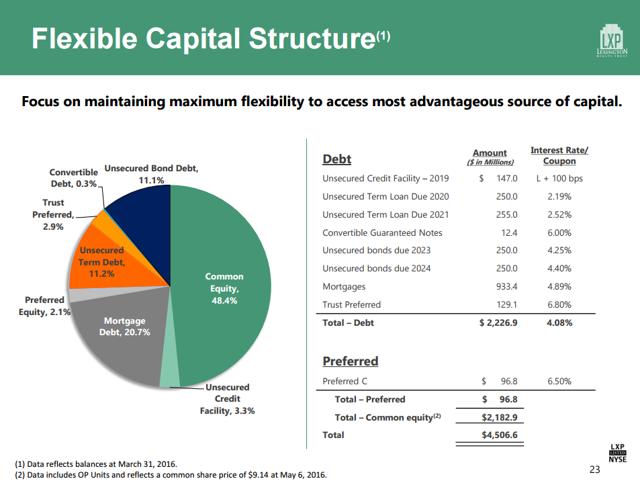 Safe, High-Yield Dividend
You read that right, safe and high-yielding. It's not that common to see a dividend with both of those characteristics, but LXP does just that. With a current yield of 6.89% and a payout ratio of only 63.6% there is more than enough cash to support it. As an added bonus, its P/AFFO is 11.0x. That's quite an attractive valuation for a company with all of the characteristics above.
Conclusion
Being a high-performing, high-yielding, and internally managed REIT, LXP has everything I am looking for (especially at its valuation). I have been long LXP since December of 2015, and have been enjoying the ride over the past 7 months and look to keep collecting the hefty dividend and look to hold this REIT for many more months to come.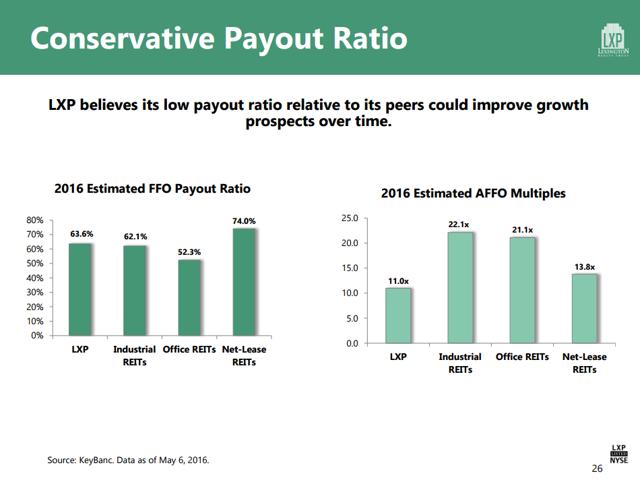 Disclosure: I am/we are long LXP.
I wrote this article myself, and it expresses my own opinions. I am not receiving compensation for it (other than from Seeking Alpha). I have no business relationship with any company whose stock is mentioned in this article.