Source: NextEra Energy Inc.
Most dividend investors think of electric utilities as boring, safe, low volatility, high-yield income generators. Usually such companies are slow but steady dividend growers that protect low risk investors from inflation and can help keep up with the market's overall total returns.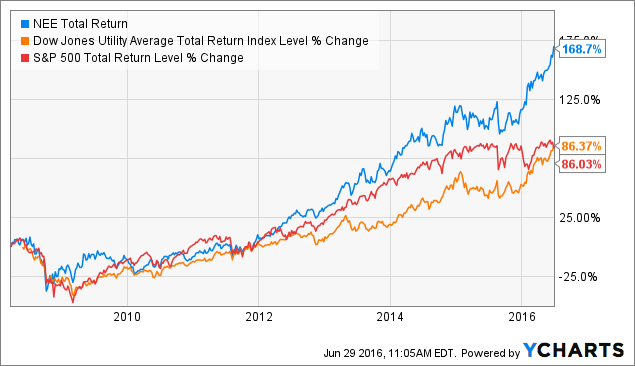 NEE Total Return Price data by YCharts
However, some utilities, such as NextEra Energy Inc (NYSE:NEE), can offer these characteristics while still generating impressive growth. Read on to learn the three reasons I think NextEra Energy Inc. is one of the best utility stocks you can buy today, and likely to continue greatly enriching income investors over the coming years and decades.
Stable and highly profitable business model
NextEra Energy operates 45 GW of electric generating capacity in 27 states and Canada. Its cash flows are derived from two key divisions.
Florida Power & Light is a traditional regulated electric utility serving 4.8 million customers in the sunshine state. It offers dividend investors solid, low risk exposure to one of America's strongest and fastest growing economies.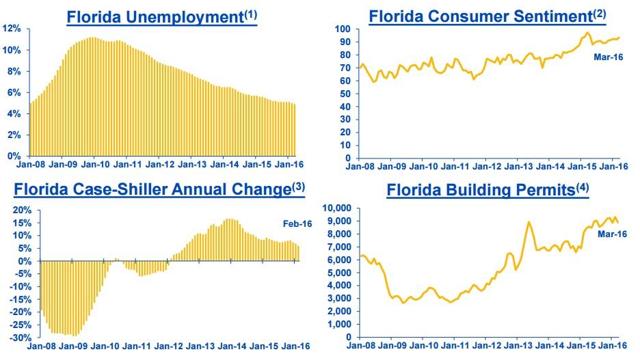 Source: NextEra Energy investor presentation.
However, the real secret to NextEra's success is its renewable energy division, NextEra Energy Resources, which is the world's largest supplier and solar and wind power. NextEra's exposure to this fast growing industry immense long-term growth potential, fueled by one of the strongest mega-trends of the coming century.
In addition, when combined with its solid management team, it results in some of the best profitability in the industry.
Source: Morningstar

| | | | | | | |
| --- | --- | --- | --- | --- | --- | --- |
| Utility | Operating Margin | Net Margin | Free Cash Flow Margin | Return on Assets | Return on Equity | Return on Invested Capital |
| NextEra Energy Inc. | 27.5% | 15.9% | 12.6% | 3.4% | 12.7% | 7.0 |
| Industry Average | 17.6% | 7.2% | NA | 2.1% | 8.5% | NA |
Very attractive dividend profile
Electric utilities are primarily about dividends and on that front NextEra doesn't disappoint. True, its yield is a bit lower than the average electric utility's, however investors need to keep two things in mind.
Sources: Yahoo Finance, Morningstar, earnings releases, Fastgraphs, Factset Research, Moneychimp

| | | | | | |
| --- | --- | --- | --- | --- | --- |
| Utility | Yield | TTM Dividend Payout Ratio | 20 Year Dividend Growth Rate | 10 Year Projected Dividend Growth Rate | 10 Year Projected Total Return |
| NextEra Energy Inc. | 2.7% | 58.2% | 6.7% | 7.6% | 10.3% |
| S&P 500 | 2.2% | 37.9% | 5.8% | 5.8% | 9.1% |
First, yield while important, is just one aspect of any company's dividend profile. In addition you need to consider the security of the dividend as well as its long-term growth potential.
NextEra's payout still offers better current income than the broader market, is highly secure, AND has an impressive track record of dividend growth. This explains its excellent returns over the past few years. More importantly, because the rule of thumb for dividend stock total returns is yield + dividend growth, NextEra has the potential to continue generating market beating total returns over the coming decade.
Of course that's only assuming that those analyst forecasts are accurate. And while investors always need to be skeptical of long-term projections, NextEra Energy has four strong growth catalysts that are likely to make hitting those growth targets highly attainable.
Numerous catalysts to drive strong future growth
Florida's economy is projected to grow at 3.1% in 2016. This is courtesy of strong population growth that is expected to provide a 2.2% job expansion, especially in industries connected to providing for the housing and service needs of its growing population.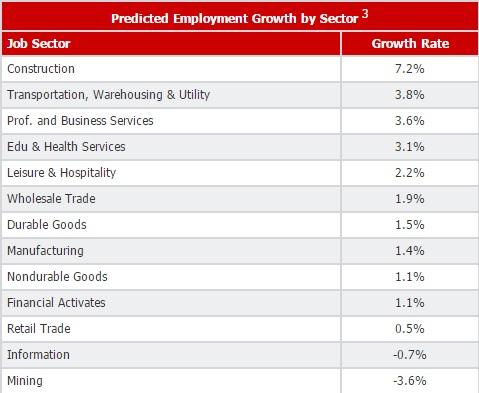 Source: Floridatrend.com
In fact, between 2010 and 2050 the state's population is expected to increase by 80%, or nearly 14 million people. To help prepare for this NextEra is investing heavily in new electric infrastructure, including $1.2 billion into the Okeechobee Clean Energy Power facility. This 1.6 GW power plant that will be able to power 300,000 homes when it comes online in 2019.
In total, based on capital investments already approved by Florida regulators, NextEra's base rate will increase by over $1.3 billion between 2017 and 2020. Management expects this to be lead to 6% to 8% earnings growth between now and 2018.
However, as wonderful as Florida's economic boom is likely to be to NextEra's future, the real reason to be excited about this fast growing utility is its dominant position in the booming renewable energy industry.
Green energy revolution will bring about a very sunny future for investors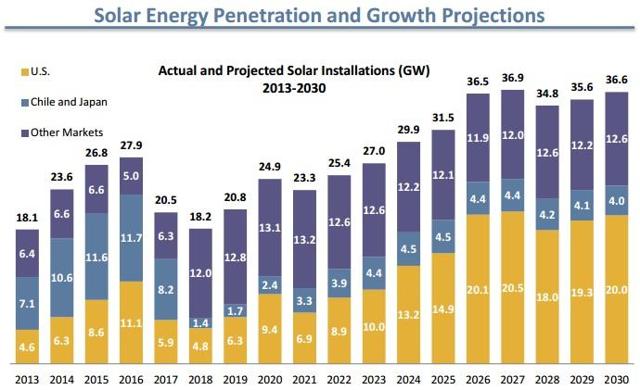 Source: 8Point3 Energy Partners investor presentation.
According to the International Energy Agency between 2015 and 2020 700 GW of solar and wind power will come online as the world transitions towards a cleaner, greener energy portfolio.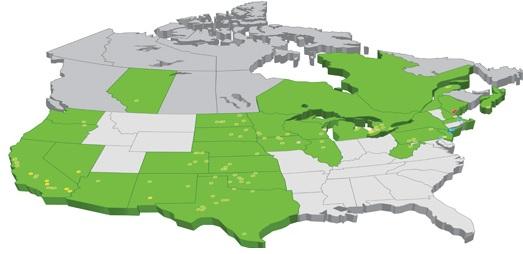 Source: NextEra Energy Inc.
NextEra Energy Resources currently operates 17.7 GW of renewable energy capacity in 25 states and Canada. Better yet, the utility continues to strive to expand its dominance in renewable energy, with potentially another 5.4 GW of wind and solar projects to be completed between 2017 and 2018. If completed on schedule, this would mean NextEra Energy would have put in service a stunning 9.4 GW of solar and wind power capacity between 2015 and 2018. That's enough to power nearly 1.8 million homes.
To help pay for all this new green power capacity, NextEra Energy has embarked on an ingenious strategy.
NextEra Energy Partners: Helping to fund NextEra's renewable energy ambitions
NextEra Energy Partners (NYSEMKT:NEP), is NextEra Energy Incs' yieldCo, of which it is the sponsor, general partner, and manager. A yieldCo is an MLP or REIT like security and one of the best ways for dividend investors to profit from the coming green energy gold rush. It's designed to allow the general partner to monetize existing energy production assets, as well as raise additional capital to expand in the future.
Here's how it works. NextEra Energy Inc. owns 71% of NextEra Energy Partners' limited partner units, as well as its incentive distribution rights. NextEra Energy Partners raises debt and equity capital from investors attracted to its generous and fast growing 4.4% yield. It then uses the proceeds to buy NextEra Energy Inc's wind and solar projects once they have long-term power purchase agreements, or PPAs in place.
NextEra Energy Partners' PPAs have an average remaining duration of 19 years. During which time the yieldCo is guaranteed steady cash flow from some of America's largest and most creditworthy utilities at fixed prices with annual escalators built in to offset inflation. This cash flow then funds NextEra Energy Partners' generous distribution, which management expects to grow by 12% to 15% through the end of 2020.
Because of NextEra Energy Inc's 71% ownership of its yieldCo, as well as its incentive distribution rights which gives it 50% of marginal cash flow above a certain quarterly payout, NextEra Energy Inc will receive a rapidly growing stream of cash from its solar and wind projects. Yet, because it's selling these assets to NextEra Energy Partners it can also fund its rapid green energy growth plans without taking on dangerous amounts of debt that could potentially imperil either the safety or growth of its own dividend.
Acquisitions are the final piece of the growth puzzle
NextEra Energy Inc is currently in the process of attempting to acquire Hawaiian Electric Industries (NYSE:HE), for $4.3 billion. The deal is currently being reviewed by state regulators and a final decision is expected soon.
However, according to Wells Fargo (NYSE:WFC) analysts the deal has only a 50-50 chance of going through, and Guggenheim Securities analyst Shahriar Pourreza has said it looks the deal is increasingly "an uphill battle". At issue is the state's goal of achieving 100% renewable energy generation by 2045. While NextEra Energy is obviously a big proponent of green energy, its management believes this plan may not be economically achievable. However, even if the Hawaii Electric merger falls through, NextEra Energy's growth prospects still look bright.
That's because Bloomberg is reporting that NextEra Energy Inc is considering abandoning its attempts to buy Hawaiian Electric in order to pursue a possible acquisition of Oncor Energy. Oncor operates the largest electric distribution and transmission system in Texas, with 119,000 miles of transmission lines serving over 3 million customers.
Like Florida, Texas is one of America's fastest growing states, with its population expected to double to nearly 55 million people by 2050. What's more, with Texas's own solar and wind energy's booming, such a deal would seem to be a natural fit; one that provides "attractive risk-adjusted rates of return compared to the cost of financing" according to analysts.
Risks to consider
The electric utility industry is highly capital intensive and investors should know that NextEra Energy Inc's balance sheet, while not dangerously leveraged, has more debt than that of the average electric utility.
Sources: Morningstar, Fastgraphs

| | | | | | |
| --- | --- | --- | --- | --- | --- |
| Utility | Debt/EBITDA | EBITDA/Interest | Debt/Assets | S&P Credit Rating | Average Debt Cost |
| NextEra Energy Inc. | 3.97 | 5.84 | 0.38 | A- | 4.7% |
| Industry Average | 3.15 | NA | 0.34 | NA | NA |
Should NextEra Energy win the bid to acquire Oncor, which analysts value at around $17 billion to $18 billion, it's leverage ratios could get a lot higher. That's because analysts believe that NextEra's is considering financing its offer purely with cash and stock. With only $628 million in cash and cash equivalents on its balance sheet, that would mean a substantial increase in the utility's debt levels, which currently stand at around $30 billion.
Finally, you should be aware that NextEra Energy current valuation is rather high, relative to its historic norms.
Source: Fastgraphs

| | | | | | | | |
| --- | --- | --- | --- | --- | --- | --- | --- |
| Utility | Yield | Average 5 Year Yield | P/E | 20 Year Average PE | P/Operating Cash Flow | 20 Year Average P/OCF | Average Historical Overvaluation |
| NextEra Energy Inc. | 2.7% | 3.2% | 20.8 | 15.5 | 9.2 | 7.4 | 25.7% |
Given the quality of its management, and strong growth prospects, NextEra Energy Inc is certainly worth a premium share price. However, in the short-term investors need to be aware that multiple contract is possible, which could make for poor short-term share price performance. That's especially true if the stock market, which is already at frothy levels, enters a correction.
Bottom line: NextEra Energy combines all the benefits of traditional utilities with a chance to cash in on the renewable energy mega-trend
NextEra Energy, with its exposure to: the fast growing Florida economy, a potential entrance into the Texas electric market, as well as the ongoing solar and wind energy boom, offers utility investors an opportunity for strong long-term dividend growth.
At the same time, with its low beta of 0.38, and reasonable payout ratio, NextEra Energy Inc still offers the kind of low risk profile that utility investors usually look for.
Disclosure: I/we have no positions in any stocks mentioned, and no plans to initiate any positions within the next 72 hours.
I wrote this article myself, and it expresses my own opinions. I am not receiving compensation for it (other than from Seeking Alpha). I have no business relationship with any company whose stock is mentioned in this article.