The failure of QE and ZIRP to stimulate real economic growth has left the economy vulnerable to external shocks, but what is more alarming is that the stock market continues to move ever upward contrary to economic fundamentals. This indicates that equity valuations have decoupled from economic reality, leaving them vulnerable to a significant correction or even a market crash that could easily be triggered by a multitude of existing and emerging economic risks.
The sharp sell-off of equities across global markets in the wake of the U.K. referendum which recorded a vote in favor of it leaving the European Union, illustrates just how vulnerable interdependent financial markets are to adverse economic and geopolitical events. The Brexit is only one event among many that have the potential to create a perfect storm and trigger the next market crash, key among them is growing global economic fragility.
U.S. stocks are considerably overvalued
The Brexit on its own is not sufficient to trigger a market crash but it could just be the tip of the iceberg in a global economy wracked by economic fissures. As concluded in my last article, investigating whether a market crash is imminent, the likelihood of such an event is ratcheting upward primarily because of the failure of QE and ZIRP, with equities continuing to rise in value and no longer reflecting economic fundamentals.
What is becoming clear is that equities are addicted to the easy money pumped into the economy by the Fed and it is this and this alone that has caused their values to disconnect from economic reality. This now sees the S&P 500 (NYSEARCA:SPY) at close to historic highs despite the Brexit induced sell off and there are clear signs that economic fundamentals do not support such lofty valuations.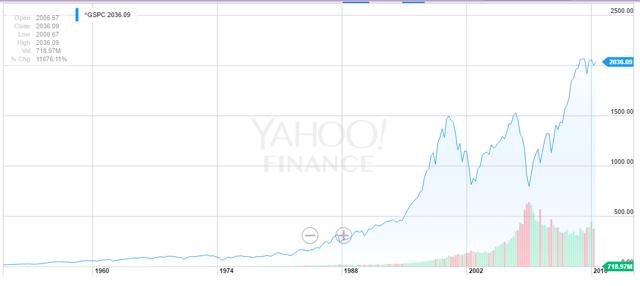 Source: Yahoo Finance.
Not only do fundamentals fail to underpin the elevated value of equities but there are a range of risks that could bring the whole house of cards toppling down.
Well-known activist investor Carl Icahn has certainly taken this view, warning a year ago that markets are extremely overheated and iterating in a national broadcast that:
The public is walking into a trap again as they did in 2007.
Equities have become addicted to the extreme liquidity produced by QE and ZIRP and Icahn isn't alone in this view that U.S. equities are extremely overvalued.
Analyst and economist Andrew Smithers warned way back in 2014 that:
U.S. stocks are now about 80% overvalued.
Yet the U.S. stock market has continued to rise in value since then, logically now making it even further overvalued.
On top of this, there are a number of other economists who claim that stocks are overvalued by roughly 50% and that a correction is nigh.
These opinions indicate that equities are overvalued but it is difficult to determine by how much.
One quick and dirty method is to take the P/E of the S&P 500 index, which is currently 23.8 and compare this to the index's historical mean P/E of 15.6 over the last 100 years. This indicates that not only have equity prices disconnected from historical averages but that the market is overvalued by around 50%.
Another way of looking at it is to compare the market-cap of the S&P 500 and compare this to U.S. GDP. At this time, the market-cap of the S&P represents an incredible 115% of last reported GDP, which when compared to a historical average of 57% over the last 52 years indicates that the S&P 500 is overvalued with equities trading at double their indicative value.
While these numbers appear a little staggering, they do indicate that equities are firmly in overvalued territory, leaving them ripe for a sharp correction.
But the $64 million question for investors is what will trigger this crash?
Global economic shocks are becoming more common
This is easy to answer, the decoupling of equity values from economic fundamentals has made them extremely vulnerable to the plethora of emerging economic risks in what is an increasingly fragile global economy.
Already the Brexit has played havoc with global markets and there is more fallout to come. The Brexit it is claimed will trigger a recession in the U.K., which was once known as the sick man of Europe prior to joining the E.U.
According to the IMF, the U.K.'s leaving the E.U. will stoke inflation, causing living standards to fall and push it into recession and could shave up to as much as 6% off the country's GDP growth by 2019.
Meanwhile, Goldman Sachs predicts that the U.K. will fall into a mild recession in 2017 as a result of the Brexit.
There is also the impact on the Eurozone to be considered, which as the world's second largest economy would certainly have spillover effects into the global economy.
According to Dutch bank ING, it could lower Eurozone GDP growth by 0.01% to 0.03% annually and have a marked impact on trade ad finance in the E.U. A number of economists share similar views, although the economic fallout is not the major issue for the Eurozone. Rather it is the political fallout that will have the greatest impact on an already divided continent where a refugee crisis, terrorism and stagnant economic growth has elicited an increasingly nationalist and anti-globalist response among the populations of member states.
You see, the Brexit sets the scene for a general disintegration of the Eurozone and a precedent for the people of member states to support political parties that will allow them to exit the E.U.
The impact of the Brexit is not only confined to the U.K. or Europe, economists predict that it could cause up to a few tenths to be shaved off U.S. GDP growth over the coming year.
It has also had an impact on the economies of Asia, with cascading effect of global equity market causing stocks to fall sharply across major regional exchanges. Both the governments of South Korea and Japan have sought to reassure markets, stating that they have stimulus plans in place in order to stimulate economic growth.
But the biggest unknown is the impact on China, which could be far worse than many believe with the E.U. the largest recipient of exports from China. It could be the Brexit or more correctly the ensuing potential disintegration of the E.U. that could be the threat to China's economy, adding to an already growing assortment of economic fractures that are threatening the stability of the global economy.
China's economic decline is a key threat to economic stability
One of the biggest fissures in the global economy and possibly the greatest threat to world economic growth and thereby financial markets is the advent of a hard economic landing in China. Renowned investor Soros, along with other institutional investors and economists has been an advocate of such an event occurring. It was in fact, Soros's claims that China's economy now resembles the U.S. economy before the global financial crisis stating:
... (China) eerily resembles what happened during the financial crisis in the U.S. in 2007-08, which was similarly fueled by credit growth.
These claims along with a hard landing or even worse doesn't appear so farfetched with China's economic growth appearing unsustainable.
For 2015, economic growth slowed to its lowest level in over two decades and there are signs that it will continue to slow despite Beijing's stimulus program. First quarter 2016 GDP growth came in at 6.7%, China's lowest level of economic growth since the global financial crisis.
Meanwhile, industrial activity continues to lag with it barely over the level required to indicate an expansion in industrial activity for the month of May. Then there is the construction sector, which remains caught in a deep downturn, with no signs of it emerging any time soon.
This is having a deleterious impact on commodity prices with China the most important market for commodities globally. It is China's manufacturing and construction sectors that are the two single largest consumers of commodities in the country and their ongoing decline means that demand can only remain weak and commodity prices will remain caught in a protracted slump.
Then there is Beijing's policy aimed at transitioning the economy from growth through investment led infrastructure development to one where growth comes from domestic consumption. This will obviously cause growth to slow as Beijing seeks to rein in destabilizing excesses and make China's economy more sustainable.
There is still considerable concern that China's growth remains unsustainable regardless of these policies. This is because Beijing is obsessed with using debt to prop up ailing state enterprises in order to prevent social discord by keeping employment rates high and driving economic stimulus through infrastructure investment.
Beijing also has a habit of devaluing the yuan whenever it suits, in order to make exports more competitive, which is adding to market volatility globally and triggering significant flights of capital from China.
With China being the motor of the world economy responsible for generating 17% of global GDP, any economic decline in the country will have a sharp impact on the global economy. The travails of China's economic slowdown will certainly have an impact on countries in the region as well as commodity dependent economies such as Australia and Canada.
Emerging economies are vulnerable to weaker commodities
It also has the potential to trigger a debt crisis among emerging markets. This is because the large majority of emerging economies are heavily dependent on the extraction and sale of commodities such as oil, iron ore, copper, zinc, nickel, lead and coal as a key driver of economic growth.
According to the World Bank, weak commodity prices continue to impede economic growth. The fallout from this will have a significant impact on the global economy with emerging markets responsible for 57% of the world's GDP. This sharp decline in commodities coupled with a subsequent marked devaluation in emerging economy currencies has caused capital flows to reverse and growth to deteriorate.
According to Christine Lagarde, Managing Director of the IMF:
... many commodity-exporting emerging economies are under severe stress, and some currencies have already seen very large depreciations.
Not only is this causing growth to deteriorate among developing economies but it also has the potential to trigger a debt crisis in emerging markets.
All of these factors have significantly reduced the revenue that both corporations and governments in these economies are capable of earning, and this along with their currencies depreciating sharply against the U.S. dollar now sees emerging market distressed debt at record levels. The volume of distressed debt is expected to continue rising throughout 2016, while trading volumes have fallen, indicating that the market is becoming increasingly illiquid.
This has the potential of triggering a debt crisis with the possibility of the contagion spilling over into the debt markets of developed economies.
The Eurozone's economy is extremely fragile
Just as worrying as the uncertainty surrounding China and many other emerging economies is the economic health of the Eurozone. The fact is that the Eurozone was just emerging from its worst economic slump of modern times and this economic recovery is particularly fragile.
This is alarming because the Eurozone has benefited from the positive effects of sharply weaker oil prices, which has essentially had the same positive outcome as a tax cut and the European Central Bank's own program of quantitative easing.
Nonetheless, there are signs that these factors have done very little to stimulate economic activity, indicating that the economic issues at the E.U. run far deeper and require massive structural adjustments if they are to be resolved.
In fact, just as in the U.S., it appears that QE and ZIRP or more correctly NIRP have failed in the Eurozone, with no tangible signs of growing activity in the real economy.
The ECB has implemented negative interest rates and now charges banks 0.4% to hold their cash, hopefully encouraging them to increase lending and stimulate economic activity. Inflation in the Eurozone indicates that QE has failed, with it unable to reach the 2% mark targeted by the ECB indicating that economic activity is not increasing as desired and setting the scene for the rise of a deflationary environment.
Then there is a looming European banking crisis with the stocks of some of Europe's largest banks at multi-year lows. This has been brought to the fore by a range of concerns relating to whether they are holding considerable quantities of toxic assets, their ability to cope with a slowing China, Europe's deep economic slump and rising distressed debt in emerging markets.
Then there is the impact of negative interest rates in their profitability, and with signs that NIRP will remain in play for the foreseeable future there is little upside for European banks.
Some such as Deutsche Bank (NYSE:DB) and Credit Suisse (NYSE:CS) are now trading at prices, which are lower than those seen at the height of the global financial crisis, and there are signs that they will fall even further.
This indicates that there are deep-seated issues among Europe's major banks and with them falling so sharply, it is adding additional weight to the economic issues the Eurozone is facing and could easily trigger a banking crisis, adding further fuel to the fire of European economic instability.
Indeed, it is arguable that the crisis in Europe, particularly with the Brexit now in play, poses far more dangers to the global economy and equity markets than China.
Final thoughts
These aren't the only dangers the global economy faces, although they are among the most prominent. Japan has officially eased itself to death with QE and NIRP, while economic growth in South Korea is waning. What is increasingly clear, is that the global economic outlook remains treacherous and this in conjunction with the surge in threatening geopolitical events including the Brexit, indicates that there are rough times ahead for markets.
Unquestionably, the rise in volume and frequency of economic shocks coupled with the growing disconnect between equity prices and economic fundamentals along with rising geopolitical instability means it is only a matter of time before a major correction occurs. Given the interconnected nature of the global economy and structural fissures, this could easily cascade into a market crash.
Disclosure: I/we have no positions in any stocks mentioned, and no plans to initiate any positions within the next 72 hours.
I wrote this article myself, and it expresses my own opinions. I am not receiving compensation for it (other than from Seeking Alpha). I have no business relationship with any company whose stock is mentioned in this article.