On Monday morning, we sent out an email with the stocks we were watching, to all of our subscribers. We always send out an email before we make changes in the portfolio. Among the list of potential buys was a new name. The other names all had a price point listed in the email, but this new name, Lazard (NYSE:LAZ), did not. The reason, because it was such a new idea that I was still reading through the annual report and proxy documents. I have finished, and I really liked most of what I found. First let me give you some background on the company, and then I'll discuss why we bought it. Fair warning though, it does have the ugliest stock chart I have seen in a while.
Overview
Lazard Ltd. is far from a household name, but the advisory firm has been around long enough that it probably should be. Originally founded in 1848 by the Lazard brothers in New Orleans, the firm has grown to become a global leader in the niches it covers. The firm operates in two chief segments. Those segments are an advisory group specializing in debt restructuring and M&A (mergers and acquisitions), and an asset management group. The company's Yahoo Finance profile is as follows:
"Lazard Ltd., together with its subsidiaries, operates as a financial advisory and asset management firm worldwide. Its Financial Advisory segment offers various financial advisory services regarding mergers and acquisitions and other strategic matters, restructurings, capital structure, capital raising, corporate preparedness, and various other financial matters. This segment serves corporate, partnership, institutional, government, sovereign, and individual clients. The company''s Asset Management segment offers a range of investment solutions and investment management services in equity and fixed income strategies; and alternative investments and private equity funds to corporations, public funds, sovereign entities, endowments and foundations, labor funds, financial intermediaries, and private clients. Lazard Ltd. was founded in 1848 and is based in Hamilton, Bermuda."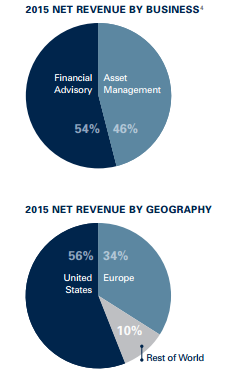 Lazard is globally diversified in a time when that is being treated as a bad thing by investors. Still, this is a pretty balanced firm, both by geography and by business division. Take a look at the pie charts above (taken from 2015 annual report). The United States make up 56% of the firm's revenue, followed by Europe at 34%. Lazard has made major strides to increase its presence in both South America and Africa in the last couple years. While the firm's earnings are volatile, it can and will survive under various scenarios. The firm's asset management business would be hit by a global recession, but its debt restructuring business should perform well. Over the last few years, Lazard's asset management and M&A businesses have been doing the heavy lifting.
Valuations
What caught my eye first was the trailing price to earnings (P/E) multiple of less than 4. The trailing P/E is a backward looking metric, but it was low enough that it made me curious. Truth is, this year's earnings will likely be much lower than last year's, so let's do a little exercise. The company earned $7.40 per share in 2015. Now let's assume that the company earns 50% of that, or $3.70. At yesterday's closing stock price of $27, that yields a P/E of 7.3. Too optimistic you say, then assume that earnings fall by a precipitous 75% and you still get a P/E of 14.6. That's pretty darn good for a company that has a payout of about 5% and a payout ratio of about 72% (under the scenario where the earnings fall by 75%). That sounds like a pretty secure payout to me, and as frosting on the cake Lazard has a history of paying out extra cash to shareholders at the end of most years.

Take a look at the 5-year history of Lazard's revenue, earnings, and free cash flow. The company even performed fairly well during the European debt crisis of 2011. Do you really expect the next couple years in Europe to be that much worse?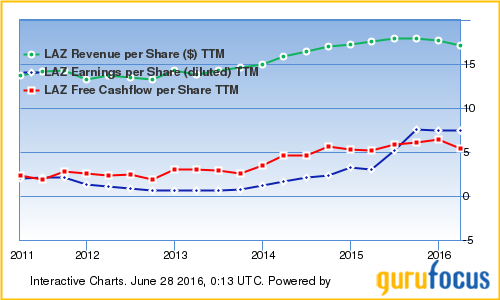 My first concern with this company was that it had lending and regulatory exposure, like the big banks. It was selling off almost as steeply over the last few days as the foreign "too big to fail" money center banks. Fortunately, I realized that those weren't viable concerns as I dug further into Lazard's business model. My next concern is what kind of debt and murky derivative products could be lurking on the balance sheet. I was pleasantly surprised to see the debt situation isn't bad at all, with $735 million in cash and $1.2 billion in long-term debt. Management has also been paying down debt over the past few years. See the GuruFocus chart below, which shows the debt load falling and the cash position rising each of the last several years. Also, do you remember when I mentioned those special cash payouts at the end of most calendar years? You can see them in action as the company's cash position falls in the chart below.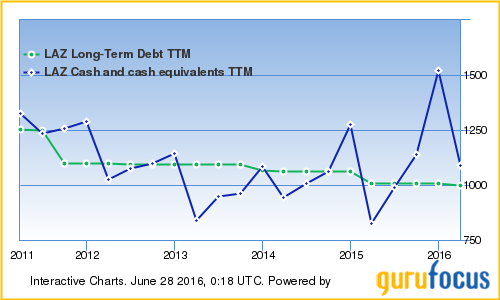 For another look at Lazard Ltd.'s trends over the past five years, take a look at the charts below. I would expect that revenue and earnings will take a hit in 2016, but I also feel that those likelihoods have been baked into the current stock price. Plus, acting more like a consulting firm than a bank… CapEx requirements are almost nonexistent at Lazard.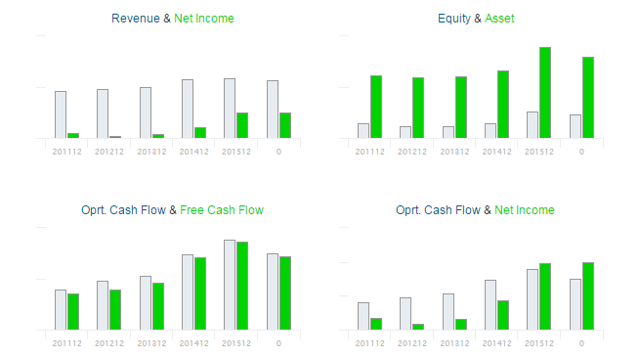 Conclusions
We bought shares of Lazard at $29 on Tuesday morning, but unfortunately, the stock price closed the day at $27. Oops. That's what happens when you try to catch falling knives. As of this writing, the stock price is well over $28, but it may take a while for Mr. Market to see value in Lazard. Knowing this was a volatile time, we broke our purchase up into two different tranches. If the share price falls as far as $25, we will certainly be buying additional shares. Many investors are worried that ALL financial institutions will collapse as a result of the British referendum. This is silly, but that opinion aside, Lazard doesn't have the risks of a global bank. As described above, Lazard is a hybrid asset management and consulting firm. It is not the kind of company we would own forever, so look for us to sell once prices rebound meaningfully. This position is likely a swing trade.
Are you familiar with Lazard? What do you think of it and its chief competitors?
Disclosure: Long LAZ. This article is for informational purposes only and should not be considered a recommendation for anyone to buy, sell, or hold any equities. I am not a financial professional. The information above is provided by Yahoo Finance, GuruFocus.com, and Morningstar.com.