Following the Brexit vote, stocks of cruise lines have added to losses this year, being pushed near 52-week lows and are threatening to test multi-year lows. However, the cruise industry has been growing and profits have been expanding as operators are opening up new markets in Asia. These stocks have been punished as investors apply worst case scenarios from the Brexit and a slowing economy.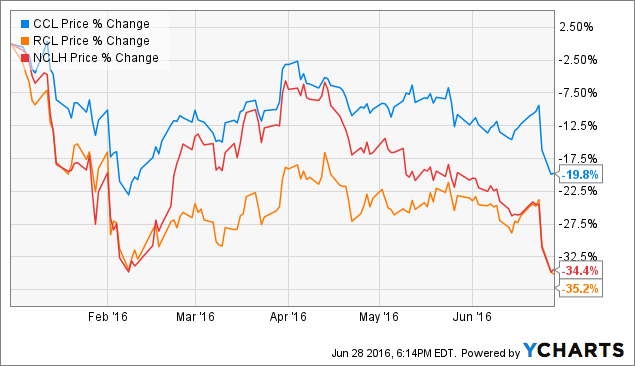 The cruise industry is dominated by 3 companies that together control about 75% of the market. Carnival Corporation (NYSE:CCL), which includes Carnival, P&O, Cunard, Holland America, Princess, Seabourn, Costa, and AIDA, has 42% market share. Royal Caribbean Cruises Ltd. (NYSE:RCL) includes Celebrity, and Azamara as well as Pullmantur and CDF in a joint venture with Springwater Capital, and TUI in a joint venture with TUI AG, and has 22% market share. Lastly, Norwegian Cruise Line Holdings Ltd. (NASDAQ:NCLH) has 12% share with Norwegian, Oceania and Regent Seven Seas brands; the last two were acquired for $3.025 billion in 2014. Each company has little to differentiate itself from its peers and these stocks tend to move in tight correlation with each other. In this case, a rising tide of improved investor sentiment towards the industry as these companies deliver results that will lift all boats.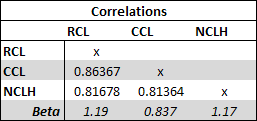 Source: Created by Aaron Murdock data from Yahoo Finance
On Tuesday, Carnival said cumulative advance bookings for the rest of the year are well ahead of the prior year and at slightly higher prices. Since March bookings have been running at higher prices with lower volume as remaining inventory has been lower than last year. Carnival is working on launching its new yield management system that now covers 30% of inventory. This will be a story for 2017 and 2018 as it is rolled out to more of the inventory and more futures to optimize yields are added. Pulling bookings forward along with constrained supply should continue to support higher prices. The small luxury ships from Regent and Seabourn are the only remaining ships coming online this year. Large ships from Princess and Norwegian are launching next year but are built specifically for the Chinese market. These ships will reach new markets rather than compete over existing ones. This gives most markets stable supply over the next 18 months and should allow prices to rise for all operators.

Source: Cruise Critic
With regards to Brexit, Carnival on Tuesday reaffirmed guidance even after saying fuel and currencies would reduce EPS by $0.17 per share for the rest of the year compared to March guidance. The company said its UK lines, P&O and Cunard, being priced in pounds should present an even better value to UK travelers compared to other land based travel choices in Europe and around the world. The company does have some natural hedges, with British and European brands having both revenue and expenses in either Pounds or Euros. But a 10% change in the Pound versus the US Dollar translates to a $0.08 change in EPS for the year. This is the first company in the industry to report after the Brexit vote and it feels confident it can reaffirm guidance even given this currency headwind.
All three companies have plans in place to return capital to shareholders. Royal Caribbean on the first-quarter call said it has $50 million worth of a $500 million buyback authorization left and it will address the issue in the future. However, the company is balancing returning capital to shareholders with improving its credit rating. Royal Caribbean also pays a dividend of $1.50 per share. At the end of March, Norwegian had $264 million left on a $500 million buyback authorization. The company said it anticipates larger share repurchases in 2017 as it de-levers some and liquidity improves. Carnival, with the strongest balance sheet, has returned the most capital to shareholders. On Tuesday, the company said since October it had repurchased $1.9 billion of stock and the board has authorized its third $1 billion buyback. Carnival also recently increased its dividend to $1.40 per share.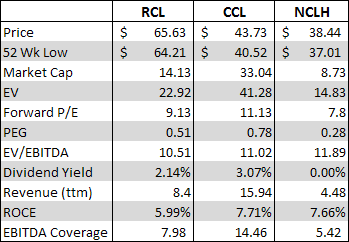 Source: Created by Aaron Murdock data from Yahoo Finance
Valuations for the industry appear reasonable with an average EV/EBITDA of 11.1 and an average Forward P/E of 9.3. Carnival is arguably the best allocator of capital with the highest Return on Committed Capital (ROCE) percentage. On Tuesday, Carnival guided EPS for the full year of $3.30 per share at the midpoint of the range. Even if you apply at 17 times multiple to its already low P/E, you get a share price of $56, 28% from current levels.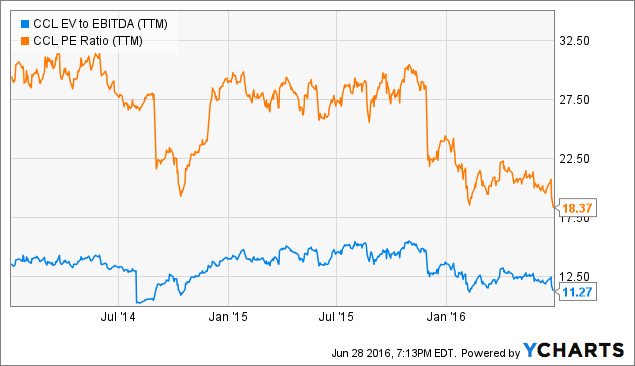 Conclusion
I think now is a buying opportunity for all three companies. With PEG ratios below 1 and prices near 18-month lows, all three stocks could see gains over the next year. But I think Carnival, with its dividend yield twice that of 10-year treasuries, dominating position in the market, and lower volatility, is the best investment at this time.
Disclosure: I/we have no positions in any stocks mentioned, and no plans to initiate any positions within the next 72 hours.
I wrote this article myself, and it expresses my own opinions. I am not receiving compensation for it (other than from Seeking Alpha). I have no business relationship with any company whose stock is mentioned in this article.