Natural gas prices have surged over the past month, a move that was anticipated. In the last month, the United States Natural Gas Fund (NYSEARCA:UNG) has gained nearly 30%. The question is whether there is further upside in natural gas.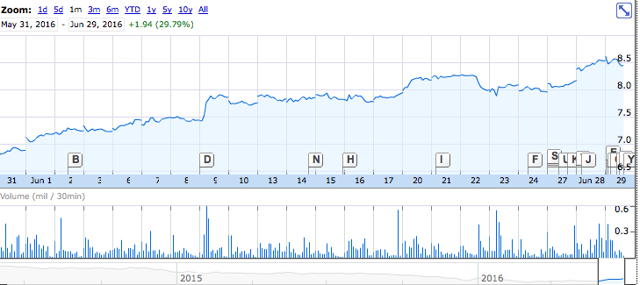 Google Finance
Factors Driving The Rally
The natural gas rally has been driven by declining production and a hot summer. This rally had been anticipated as I had noted in my article over a month ago.
According to the Energy Information Administration (EIA), natural gas production totaled 80.1 billion cubic feet per day (Bcf/d) in the month of February. This was the second highest prediction level on record. However, the EIA did note last month that production will be leveling in the next few months. According to the latest report from the EIA, for the week ended June 22, natural gas production averaged 73 Bcf/d, which represents a 1% decline from the same period last year. The June Drilling Productivity report from the EIA indicates that production has slowed in all seven of the shale producing regions in the U.S.
In addition, net injections have slowed. For the week ended June 17th, net injections into storage totaled 62 Bcf. According to data from the EIA, this is well below the five-year average of 88 Bcf and last year's net injection of 77 Bcf.
These factors have combined with a hot summer. According to the EIA, temperatures in the lower 48 states averaged 72°F during the storage report week, up 2% from the previous week. For the week ended June 17th, temperatures were 3% above normal, according to the EIA. Higher temperatures have boosted consumption. Consumption of natural gas for electric power generation rose by 7% for the week ended June 17th, according to data from PointLogic.
The surge in natural gas price has given bulls a reason to rejoice. Natural gas has been one of the worst performing commodities in the last few years as the chart from the EIA below shows.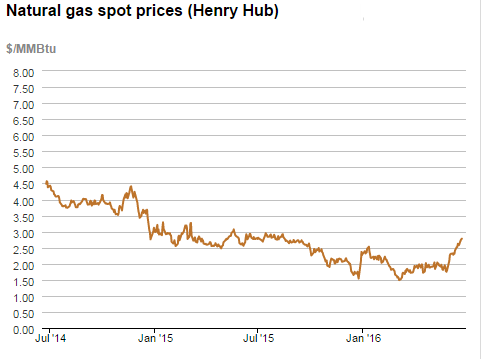 Energy Information Administration
The question is whether bulls should now consider taking profit or continue to ride the wave.
Upside Potential Capped
While the hot summer could provide some boost to natural gas in the near term, I believe that the upside potential is capped. As I noted in my previous article, increase in prices will lead to an increase in production. The EIA noted in its recent report that a sustained rise in natural gas prices could lead to increased drilling, well completions and higher natural gas production.
In fact, we already are seeing signs of that happening. According to oilfield services company Baker Hughes (BHI), the number of gas-directed drilling rigs jumped by 8 after bottoming out at 82 on June 3.
Then there is "fracklog" as the backlog of wells is known as. These are wells drilled before 2016. If the rally in natural gas extends for a while, there will be a strong incentive for producers to tap into these wells.
Remember that the fundamentals for natural gas are still weak. While net injections have slowed recently, natural gas storage levels are significantly higher than the five-year average.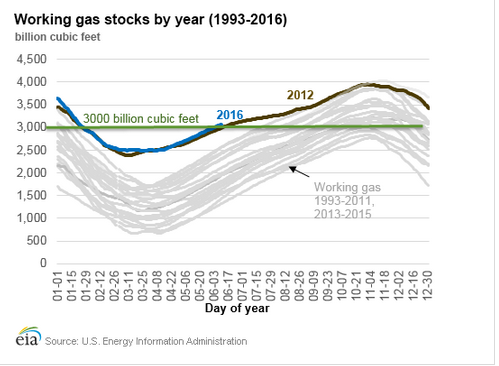 Energy Information Administration
To sum up, the rally in natural gas was anticipated as production showed signs of leveling and there were predictions of a hot summer. However, fundamentals continue to suggest that the gains will be capped. Therefore, I believe there is limited upside in UNG going forward.
Disclosure: I/we have no positions in any stocks mentioned, and no plans to initiate any positions within the next 72 hours.
I wrote this article myself, and it expresses my own opinions. I am not receiving compensation for it (other than from Seeking Alpha). I have no business relationship with any company whose stock is mentioned in this article.