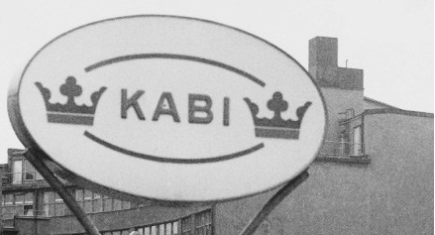 Except for Biogen (NASDAQ:BIIB) investors, few readers in the US have ever heard of Swedish Orphan Biovitrum (OTCPK:BIOVF; trades under SOBI in Stockholm), but Sobi has been involved in the process development and manufacturing of recombinant protein drugs since the technology was first developed more than 30 years ago, then as part of KabiVitrum. More history later - but first, the stock.
Sobi is down 30% YTD, in step with the biotech sector as a whole, despite rapidly accelerating revenue growth and profits from approved products. For Q1 2016, yoy revenue growth was 47%. That included a milestone payment from Biogen for the European launch of recombinant factor VIII Fc fusion protein Elocta for hemophilia A.
Even excluding that one-time credit from BIIB, total product revenue was up 100% over the previous 2 years.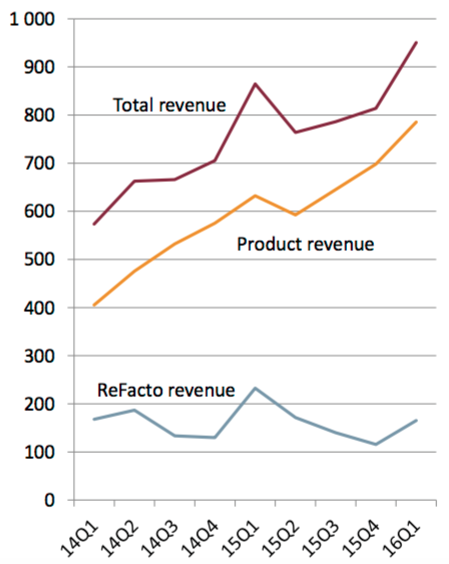 Sobi is well diversified for a $4 billion company, with multiple revenue drivers: manufacturing (16% of total for FY15), recurring royalties (5-7%), sales of Kineret (25%), and other drugs for inflammation (3%), Orfadin (25%), and other partnered products (24%). The most recent growth from principal drivers of sales is as follows: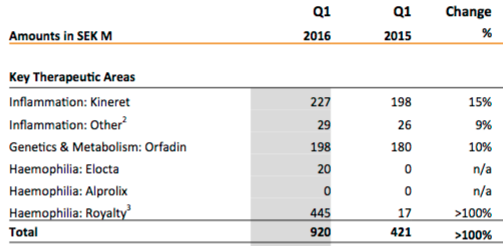 ELOCTA® was approved by the EMA in November 2015, and the first sales in the EU were reported in 2016Q1. Sobi is responsible for commercializing Elocta in its territory: essentially Europe, North Africa, Russia, and most Middle Eastern markets. Recombinant FVIIIFc was approved by the FDA in 2014 - yes, a year and a half ahead of the EMA approval. Biogen will market rFVIIIFc as ELOCTATE® in the US and other non-Sobi territories.
According to Biogen's 2016Q1 Investor Presentation, Eloctate is its fastest-growing drug.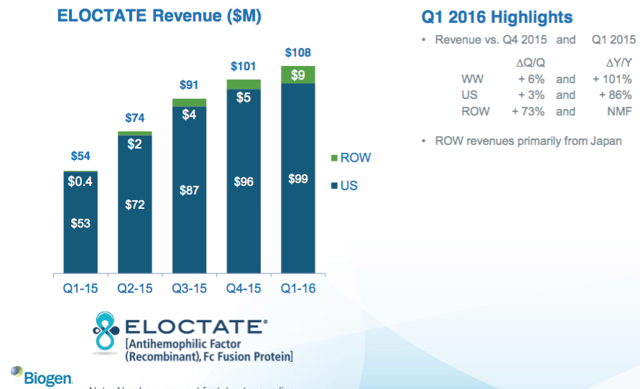 Eloctate sales in 2016Q1 were up 101% yoy. Ninety-two percent of sales were in the US, but for the last quarter sequentially, growth in rest of the world (ROW) was faster than in the US. There is a lot of room for more growth in ROW, including Europe, and Elocta was just approved on June 27th in Switzerland. Eloctate is priced at $2,380 for a bottle containing 1,000 units.
ALPROLIX®, alias rFIXFc, was also the result of a collaboration which began in 2007 between Biogen and Sobi. Biogen sponsored the phase 3 B-LONG study, which began in 2010 and was published in NEJM in 2013. The FDA approved Alprolix for hemophilia B in 2014, two years ahead of EMA approval. BIIB markets the drug in North America, and has covered all development and manufacturing costs since 2010. Sobi receives 12% of product revenue on these sales. The EU approved Alprolix in May 2016. Sobi has final development and commercialisation rights in the SOBI territory. The first sales in the EU were announced by Sobi on June 6.
Alprolix sales in SOBI territory will bring in less revenue than Elocta does, because the hemophilia B mutations are less common than the ones that cause hemophilia A and afflict only about 1 in 30,000 males. Both hemophilia A and B are carried by females on one of their two X chromosomes, but the bleeding disease occurs in the half of their male offspring who receive that altered X chromosome. Hemophilia A is more common occurring in about 1 in 5,000 male births - not rare, and this is one reason Elocta should be a large revenue driver for Sobi. More so for Biogen's new spin-off (see below).
The nomenclature rFVIIIFc and rFIXFc derive from the terms recombinant, blood clotting Factor VIII and Factor IX, and the Fc fragment of an antibody. The reason for fusing the Fc portion of an antibody to the respective clotting protein is that the life of the infused recombinant molecule gets extended by the human body's antibody recycling system. This means less frequent need for prophylactic infusions - less than once a week, compared to 2x-3x weekly for other recombinant - artificial - proteins in which Fc has not been incorporated. Patients and their hematologists will like this. Earlier generations of recombinant replacement clotting factors are effective for an even shorter time than the respective factors derived from fresh human plasma. Plasma-derived protein may be the only option in resource-constrained regions, and carries the risk posed by viruses and other transmissibles.
Predecessor of Eloctate
Refacto, alias rBDD-FVIII. The BDD stands for B-Domain (of the clotting protein) -Deleted. This deletion makes the gene transferred to the manufacturing cell line (e.g., hamster ovary cells) and its encoded protein smaller but still effective, and improves product yield. Clinical trials on the recombinant protein that became Refacto began in 1993. Drug discovery and development were described by E Berntorp of the University of Lund, Malmö, Sweden in 1997. Swedish Pharmacia AB (est. 1911) and Upjohn USA (est. 1886) merged in 1995 and further developed Refacto.
Wyeth, which acquired rights in 1997, got EU approval to market Refacto in the Nordic areas in 1999. Pharmacia/Upjohn received FDA approval in 2000 to market the drug in the US. Much of this history is posted on the website of Pfizer (NYSE:PFE), which merged with Pharmacia in 2003.
Biovitrum, which was formed out of Pharmacia in 2001, began manufacturing Refacto for Wyeth/Pfizer in 2004. The safer formulation, called ReFacto/Xynta®, is also manufactured for Pfizer by Biovitrum/Sobi.
US-based Syntonix designed the longer-acting Fc fusion protein (the preceding link to a 2009 publication is the earliest I can find) and joint-ventured with Biovitrum in 2006 to develop what was to become Eloctate and Elocta. Biogen acquired Syntonix in 2007 and began the first clinical trials of rFVIIIFc for hemophilia A in 2009.
In 2010, Biovitrum acquired Swedish Orphan International, a pioneer in orphan drugs, creating Swedish Orphan Biovitrum, or Sobi (Biovitrum was listed on the Nasdaq in 2006).
This digression into history identifies important relationships in little orphan Sobi's life. But the hemophilia connection, past, present, and (see below) future, makes Biogen Sobi's closest relative now.
Back to Refacto for a concluding remark: sales are in rapid decline because there are many prior-generation competitors - the likes of Baxalta, Bayer (OTCPK:BAYZF), Novo Nordisk (NYSE:NVO) - and now, the superior fusion protein rFVIIIFc is replacing all of them.
That concludes this discussion of the Biovitrum part of Sobi. Swedish Orphan International and its product portfolio included two proprietary drugs, Multiferon® and Orfadin™, along with a diverse in-licensing portfolio of another 50 products when it was acquired in late 2009.
Orfadin™ nitisinone is the treatment of choice for several hereditary deficiencies in enzymes that break down the amino acid tyrosine and cause it and other toxic metabolites to accumulate. Orfadin accounted for about 16% of Sobi revenues in 2016Q1, up 10% from prior year same quarter.
Orfadin is expensive - about $500 per 10 mg capsule - but costs less than, for example, a 10 mg tablet of Celgene's (NASDAQ:CELG) Revlimid (approx $600).
Kineret® anakinra is the first and only therapy approved by the FDA to treat newborns, children, and adults with Neonatal-Onset Multisystem Inflammatory Disease (NOMID). NOMID is a severe form of cryopyrin-associated periodic syndromes, or CAPS. This is a one-in-a-million orphan disease. Kineret is also approved for use in adults with rheumatoid arthritis who have failed one or more disease-modifying antirheumatic drugs, and is not considered a DMAR itself. Both conditions are associated with overproduction of interleukin-1, and anakinra blocks IL-1 alpha and beta effects through IL-1 receptor blockade. Kineret accounted for 18% of revenue in 2016Q1 and was up 15% over same quarter prior year. Amgen (NASDAQ:AMGN) granted Sobi co-promotion rights in 2003 and exclusive license to Kineret in 2008. Kineret is priced at about $156 for a 100 mg syringe.
There are only 400 drugs for 7,000 known rare diseases, and the market is growing.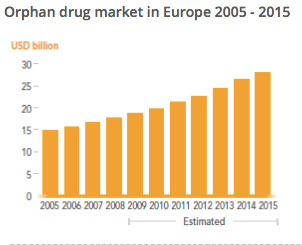 Source: Sobi website
This is Sobi's focus, not Amgen's, and that is why the Kineret acquisition made sense for both companies.
The Future
The Sobi emphasis is on hemophilia, rare diseases, and anti-interleukins for inflammatory diseases. The drugs in its pipeline are shown in this illustration.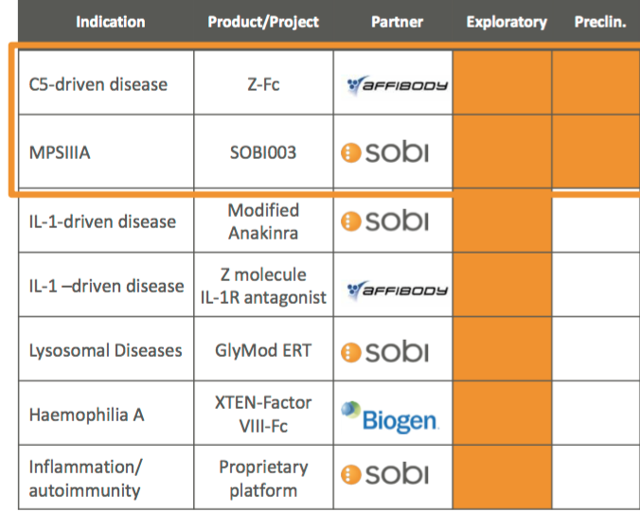 Source: 2015Q3 Presentation
XTEN is a next-generation recombinant protein platform owned by Amunix. XTEN technology further extends the half-lives and effectiveness of therapeutic proteins. Sobi is partnering with Biogen on designing the next generation of clotting factors that will supersede Eloctate and Alprolix, respectively, and other clotting factors like von Willebrand. In 2014, Sobi in-licensed rights to XTEN from Amunix. Sobi's collaboration with Biogen has similar terms to those of Elocta and Alprolix, i.e., territorial. (Information Source: Note 19 of 2015 Annual Report)
Biogen is spinning off its hemophilia business, forming a separate company under its current executive vice president for Pharmaceutical Operations & Technology, John G. Cox. This will be a win for both, allowing Cox's new company to stay focused on hemophilia and Biogen on neurological disorders.
Pharmacia AB may have orphaned little Sobi when it was engulfed by behemoth Pfizer in 2003. Biogen, which has known Sobi for more than a decade, adopted that orphan. Sobi's relationship to Biogen's new hemophilia spin-off will be even closer.
Disclosure: I am/we are long BIOVF.
I wrote this article myself, and it expresses my own opinions. I am not receiving compensation for it (other than from Seeking Alpha). I have no business relationship with any company whose stock is mentioned in this article.
Editor's Note: This article discusses one or more securities that do not trade on a major U.S. exchange. Please be aware of the risks associated with these stocks.