Eric Sprott does not slow down. Despite the prices of gold and related stocks going higher, this notable Canadian resource investor continues increasing his long positions in certain stocks. What is more, he is also adding new miners to his personal portfolio. In this article, I discuss Eric Sprott's latest market activity.
However, before going further, I would like to make a statement. I do not think that copying the stock market tycoons is the best investment idea. Firstly, these notable investors may have aims that the majority of investors do not comprehend. Secondly, big investors, holding large or even majority stakes in their companies, think long term while a typical small investor is only interested in quick profits.
On the other hand, understanding what drives these sharks into specific investments should be, in my opinion, a helpful and practical lesson on how to become a better investor. Summarizing:
"Do not copy big investors/speculators. Instead, try to understand them"
Introduction
On April 7, 2016, I published the article called: "When Eric Sprott is buying you should care." The article aroused quite a wide interest of Seeking Alpha readers. At that time, I was discussing Eric Sprott's new stakes in Newmarket Gold (OTCQX:NMKTF), Excellon Resources (OTCPK:EXLLF) and Metanor Resources (OTCPK:MEAOF).
Today, I am discussing the newest acquisition made by Mr. Sprott. Additionally, I am taking a closer look at recent developments in the companies acquired by Mr. Sprott earlier.
Jaguar Mining Inc.
Jaguar Mining (OTC:JAGGD) is a small gold producer, operating two mines in Brazil. In 2013, the company was close to going bankrupt. Simply put, to grow its business, Jaguar financed it through debt. Then, in 2012, the entire precious metals market went into its severe bear phase. I do not want to go too deeply into history but let me present one chart defining the problem: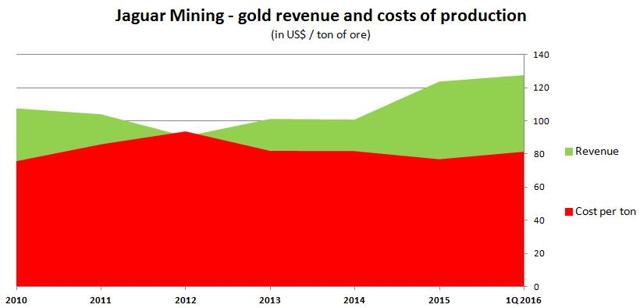 Source: Simple Digressions
It is easy to spot that since 2010, Jaguar's costs of production have been going steeply up while gold revenue has been going down. In 2012, both curves met each other at the point where no mining executive would like to be - costs surpassed revenue. Add to that, high debt load and… you are in trouble. As a result, net debt (debt less cash) went up from $10.6 million at the end of 2009 to S313.0 million at the end of 2013.
Fortunately, for the company, the problems were solved in 2014; however, at high cost. For example:
One mine, Paciencia, was put on care and maintenance
The company encountered serious changes in management
The debt holders gained control over the company
The then company's shareholders went home… empty handed
As a result, at the end of 1Q 2016, Jaguar was holding net debt of $43.3 million, and the two operating mines delivered free cash flow of $4.1 million. What is more, as the chart above shows, the gap between the revenue, delivered by these mines, and costs of production is much wider than a few years ago. It is a classic pattern showing that things at Jaguar are better now.
Therefore, I am not surprised that Mr. Sprott decided to get involved in the company. According to the June 28 announcement:
On June 28, 2016, Sprott acquired ownership of 11,673,791 Shares of the Corporation at a price of $0.38 per Share and a principal amount of US$5.35 million of Debentures for total consideration of $22.3 million.

…After giving effect to the Acquisition, Sprott beneficially owns and controls 12,776,791 Shares, representing approximately 11.5% of the outstanding Shares on a non-diluted basis…"
Let me look more deeply at this deal. First of all, Eric Sprott now holds around 12.8 million common shares. Apart from that, he holds the company's debentures of nominal value of $5.35 million. According to the 2015 Annual Report, each $1,000 debenture entitles its holder to 8,781 common shares of the company. So Mr. Sprott has the right to exchange his $5.35 million debentures into 46,978,350 common shares, starting from October 27, 2016. Summing up these figures, it looks like Eric Sprott controls around 59.76 million shares of the company. According to the company's presentation (slide 6), on June 10, 2016, the number of fully diluted common shares was standing at 317.53 million, so Mr. Sprott controls over 18.82% of the company common shares.
It means that due to the above-described purchases (common shares and debentures), Mr. Sprott is now the largest shareholder of the company.
It also has to be noted that Eric Sprott has invested in the company run by an experienced management team. The company's CEO is Rodney Lamond, a former CEO of Crocodile Gold (OTCQX:CROCF). To remind my readers, in 2015, Crocodile amalgamated with Newmarket to form a new company called Newmarket Gold. Mr. Sprott is one of the largest shareholders in Newmarket Gold. What is more, I am confident that he was standing behind the December 2015 election of Rodney Lamond as the CEO of Jaguar. Add to that the latest election of Robert Getz, another former member of the Crocodile Gold's management team, to the Jaguar's Board of Directors and my impression is that these guys want to repeat the Crocodile Gold success story.
Is there any chance for that? I think so. For example, Jaguar owns an excellent asset, called Turmalina. This year, Turmalina should produce the highest amount of gold in its history: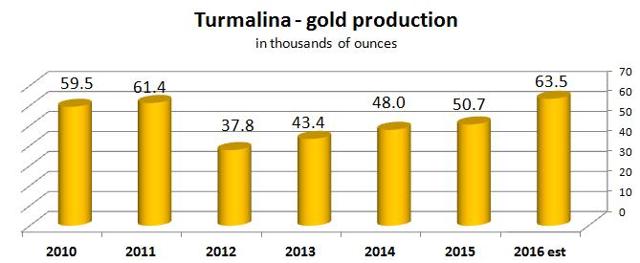 Source: Simple Digressions
What is more, the gold should be produced at a relatively low all-in sustaining cost of production of $850-$900 per ounce of gold. Assuming the 2016 average price of gold of $1,250 per ounce, it means that Turmalina should deliver cash flow of $22.2 million, at least.
Then, the new management wants to initiate aggressive drilling campaigns at a few brownfield targets (for example, at the Pilar Gold Mine, which is part of the second operating mine, Caete).
Summing up - I believe that Jaguar is now quite a decent mining company. However, looking at what is happening inside the company, I think that there is something else. Generally, I think that Mr. Sprott and his team of experienced and successful managers guarantee that Jaguar may be a shining precious metals star in a few years.
Newmarket Gold
On June 22, Eric Sprott increased his stake in Newmarket Gold, acquiring 16.2 million shares. To remind my readers, Newmarket Gold is a mid-tier mining company operating three mines in Australia. Its flagship property, Fosterville, delivers around 120 thousand ounces of gold in annual production.
After this transaction Mr. Sprott owns 30.33 million shares, controlling 17.3% of the outstanding shares.
The graph below documents current share holdings in the company: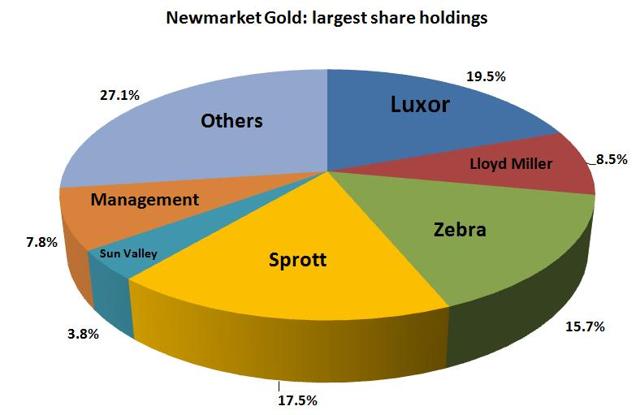 Source: Simple Digressions
Metanor Resources
In my article published on Seeking Alpha on April 7, 2016, I noted that between March 1 and March 23, 2016, Eric Sprott acquired 15.7 million shares in Metanor Resources. It meant that, together with the earlier acquired shares, Mr. Sprott controlled a 9.2% stake in the company.
Usually, such an announcement ignites an immediate and furious rally in stocks acquired by a stock tycoon. However, in our case, nothing special happened. Since the end of March, Metanor shares have been trading in a wide range of $0.06-$0.09 a piece. Does it mean that the company does nothing? Not at all.
First of all, Metanor published its 1Q 2016 results. In my opinion, these results were poor. The company incurred a net loss of $1.98 million and delivered lower amount of gold than in 1Q 2015.
What is more, the economics of Metanor's mining business (represented by the company's flagship property, called the Bachelor Mine) is still not impressive:

Source: Simple Digressions
Note: For comparison reasons, I am using a fixed price of gold (as of the end of 1Q 2016) to show the maximum hypothetical revenue Metanor could be able to squeeze out from its business.
The table above shows that, using the prices realized in 1Q 2016, the company would get less and less cash for its gold. For example, one ton of ore processed in 2014 would deliver C$276.6, while in 1Q 2016, it was only C$206.8. Simply put, the quality of the ore mined and processed is getting lower over the years (lower grades, lower recovery ratios).
What is more, the company is not able to decrease its costs of production - in 2014, it cost C$107.0 to mine and process one ton of ore, while in 2015, this cost went up by 68.4%! As a result, comparable margins (defined as: gold revenue per ton less cost per ton) have gone down as well.
Was Mr. Sprott wrong about the company? It looks like he was… at least for the time being.
However, in my opinion, Metanor should be treated as a long-term project. The company is intensively exploring its Bachelor and Moroy properties (Moroy is planned to be the next Metanor's mine).
Apart from that, the Bachelor Mill has capacity of 1,200 tons per day. Currently, the company is using only around 50% of its name - plate capacity, so there is some room to offer milling services to other miners. According to the company, there are numerous deposits within suitable distance from the mill that could be interested in toll milling at the Metanor's mill.
Unfortunately, the company lacks cash to finance its growth. At the end of 1Q 2016, Metanor held only C$1.7 million in cash.
Summarizing - I am not recommending Metanor shares as a buying opportunity. The company is in trouble now and it is prudent to stay away. Let Mr. Sprott do his job…
Disclosure: I am/we are long NMKTF.
I wrote this article myself, and it expresses my own opinions. I am not receiving compensation for it (other than from Seeking Alpha). I have no business relationship with any company whose stock is mentioned in this article.
Editor's Note: This article covers one or more stocks trading at less than $1 per share and/or with less than a $100 million market cap. Please be aware of the risks associated with these stocks.