A week ago we wrote an article examining the retail auto parts industry and why we think it's attractive. In short, the industry is resistant to disruption from online retailers such as Amazon (NASDAQ:AMZN) and will benefit from industry consolidation and an aging vehicle fleet. We recently initiated a position in Advance Auto Parts (NYSE:AAP) in our dividend portfolio. It barely pays a dividend, so it's an unconventional pick, but it will make sense by the end of this article.
Our investment thesis on the attractiveness of the auto parts retail sector isn't exactly groundbreaking news. As you can see in the table below, the four major auto parts stores aren't trading at levels anyone would call cheap.
| | | |
| --- | --- | --- |
| Company (Ticker) | Fwd P/E | Dividend Yield |
| AutoZone (NYSE:AZO) | 17.4 | n/a |
| Genuine Parts Co. (NYSE:GPC) | 19.0 | 2.61% |
| O'Reilly Auto (NASDAQ:ORLY) | 22.1 | n/a |
| Advance Auto Parts | 18.3 | 0.15% |
Note: Genuine Parts Co. is the parent company of NAPA.
Why Advance Auto Parts?
In September of 2015 activist hedge fund Starboard Value built up a large stake in Advance Auto Parts and released a presentation urging a litany of changes at the retailer. Previously we've invested (and still own) in a different Starboard target, Darden Restaurants (NYSE:DRI). Starboard has already ousted Advance Auto's previous CEO and now controls five of the company's thirteen director seats. Just like with Darden we believe Starboard's prescription for Advance Auto has significant merit and will be successful.
What's the Problem at Advance?
The biggest issue at Advance is that margins are half as much (or worse than) its closest peer AutoZone's. In FY2015, AutoZone had operating margins of 19.2% while Advance's operating margins were only 8.5%. EBITDA margins were closer, 11.25% versus 21.8% for AutoZone. The companies are virtually identical with similar numbers of stores and similar overall revenue figures, so there's no reason why Advance should have margins substantially below AutoZone's.
Looking under the hood, it seems that the main reason for Advance's margins lagging peers stems from its distribution and logistics network. Advance has 5,171 stores and 122 branches. The average Advance store is 7,500 square feet and carries 22,000 SKUs. The stores average $789,000 in inventory with $231 in sales per square foot. Inventory turnover was 1.31 times in FY2015.
In comparison, AutoZone is much more efficient. AutoZone has 5,609 stores that average 6,500 square feet in size with about 21,000 SKUs per store. The stores average $610,000 in inventory per location and sales per square foot were $268 in FY2015. Inventory turnover was 1.4 times in FY2015.
AutoZone has stores 87% of the size of Advance but with 95% of the inventory SKUs. AutoZone has clearly done a great job figuring out which items sell and carrying those parts.
Part of Starboard's plan for Advance is for the company to carry more SKUs to better serve the DIFM ("Do It For Me") market a/k/a garages which make up majority of Advance's business. We can see that in the context of Advance's business this makes perfect sense. The stores are on average 1,000 square feet larger than AutoZone's, and changing the inventory to stock a larger variety of SKUs that can be delivered to local garages the same day will help the company grow market share in a highly fragmented market.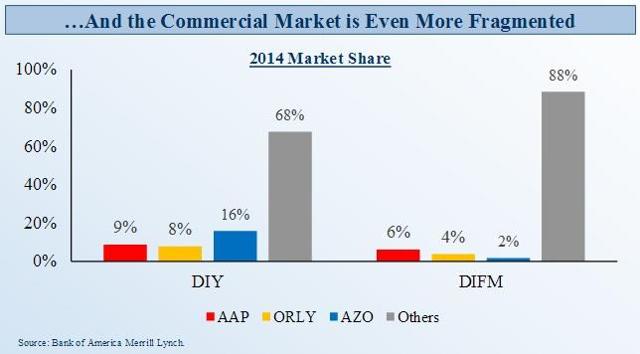 Source: Starboard presentation on Advance Auto Parts.
Also, same day delivery is a critical differentiator for the big four parts stores in staving off competition from online retailers like Amazon.
The other important change that is likely coming at Advance is improvements to the efficiency of its distribution network. Advance employs 73,000 people of which 7,300 are employed in distribution. (86% are employed at the store operations level and 4% in store support which I'm taking to mean corporate level operations). AutoZone employs 81,000 people but only 4,500 are employed in distribution. AutoZone has 62% of the amount of staff employed at the distribution level, yet manages to supply a network of stores that did $450M more in sales in the last fiscal year than Advance.
The issue of poor inventory management and an inefficient distribution network are easy fixes for Starboard. All Advance needs to do is largely replicate what AutoZone is doing. It's not unrealistic to expect that with better management over the coming three to five years or so Advance Auto Parts' margins will eventually be in line with AutoZone. It will take some time to reach that level. For instance, AutoZone is in the process of building out what they call mega-hub stores which carry over 100,000 SKUs and replenish regional hub stores which in turn carry 35,000 to 50,000 SKUs and replenish the ubiquitous retail stores. It's going to take time for Advance to replicate what AutoZone did for distribution but it's easily doable.
In FY2015 Advance generated $455M in free cash flow and paid out just $18M in dividends. There is plenty of money to both increase the dividend (which Starboard advocates) and fund increased capital expenditures to develop a more efficient distribution network based on the AutoZone model. Advance is also conservatively financed with only $1.2B in long-term debt compared to $4.6B for AutoZone and $1.3B for the smaller O'Reilly's chain. Normally we aren't a huge fan of retailers taking on debt, since the retail business itself is highly levered via leases and high fixed inventory costs. However, the auto parts retail business is incredibly stable. During good economic times people tend to drive more which puts more wear and tear on vehicles and necessitates more repairs. Additionally, people also have the income to perform discretionary repairs on cosmetic items or non-essential items like fixing a broken sun visor for instance. During downturns, people may drive less but they tend to try to save money by keeping older, less reliable cars on the road. Indeed, according to Starboard's presentation, the three pure play auto parts retailers (AAP, AZO, and ORLY) only had three individual years of negative SSS as far back as the 1990s.
Summary
Starboard did a great job turning around Darden by simply changing Darden's operations to follow industry best practices. We believe the story at Advance is the same. By simply having Advance do what AutoZone is doing, shareholders could see profits almost double and one would assume by extension similar increase in stock price. On September 30, 2015, Advance Auto traded at around $170 per share prior to Starboard announcing their stake. Today shares are trading at $161. Investors have the opportunity to buy in Advance at a price that is close to (or perhaps below) what Starboard paid.
Disclosure: I am/we are long AAP, DRI.
I wrote this article myself, and it expresses my own opinions. I am not receiving compensation for it (other than from Seeking Alpha). I have no business relationship with any company whose stock is mentioned in this article.