Harley-Davidson, Inc. (NYSE: HOG) saw stock shares respond to Brexit news on June 24, 2016. Shares traded hands 4,654,745 times; nearly 2x the volume of the thirty day average. Such volume had not been surpassed since May 9th when 5,379,726 shares traded below the Relative Strength Index / RSI of 30 (oversold).
July 19, 2016 will be Harley-Davidson's Q2 earnings release. They have had one downgrade in June by Goldman Sachs with a $50 PPS target. Wedbush and Wunderlich have issued lower price targets and hold/neutral ratings.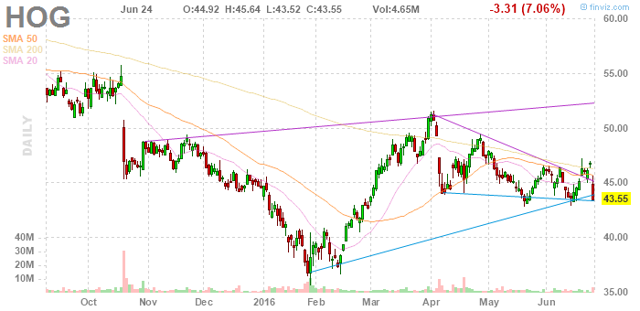 Harley-Davidson, Inc. reported last quarter to have nearly $700m in cash and equivalents. That's an account that could easily takeover Arctic Cat, Inc. (NASDAQ: ACAT) based on the market capitalization or a premium on asset valuation.
Arctic Cat with a Snowbike for the Harley Off-season
On January 28, 2016 Arctic Cat, Inc. filed SEC Form 8-K regarding the press release suspending its stock dividend. Arctic Cat, Inc. would have to pull from their reserves in order to resume the suspended stock dividend. This is based on last quarter's cash flow statement of negative free cash flow/FCF.
The company reported $19.12m in cash from operating activities and an expense of $37.96 in capital expenditures for a FCF of -$18.84m.
The company has seen better years and has managed to keep $17.73m in cash & equivalents. If they resumed the $0.50 dividend for the year; that's 13.04m common shares for an approximate cost of 37% of their reserves. This assumes negative free cash flow persists or reserves increase only negligibly.
A continued pattern of negative free cash flow is possible. For the past four quarters the company has missed on earnings estimates. Three of the four earnings reports were also misses on revenue. Profit margins and operating margins show a pattern of decline.
New products are in the pipeline and their snowbike, SVX 450, stirs up possibilities.
Arctic Cat, Inc. has a snowmobile business that could complement the Harley off-season. The new SVX 450 is a unique product that could thematically bridge the two together.
Arctic Cat, Inc. trades at a market capitalization of approx. $215m, which is less than the company's total assets. However, this is still at a premium to their total equity of $167.39m. Earlier in the 52 week period, at $8.90 PPS they were a steal below total equity value.
Price to earnings metric is n/a due to negative earnings. FCF yield is also negative and trails in comparison among other recreational vehicle companies. Thor Industries, Inc. (NYSE: THOR) and Marine Products Corporation (NYSE: MPX) show good valuation under FCF/EV, however THOR specializes in towable RVs for camping and MPX is less likely to benefit from acquiring snowmobiles and ATVs.

Conclusion
Arctic Cat's continued troubles with earnings and free cash flow would be exacerbated if the dividend were to resume. Peak winter season is still several quarters away. The snowbike is anticipated to release in the winter of 2017. This is why I will be looking for further pullback on ACAT until it returns to the deep value territory near $12 PPS or less.
Meanwhile, Harley-Davidson, Inc. is a buy with a modest FCF yield, the P/E under 12 and plenty of cash on hand that could go towards a meaningful acquisition.
Click the follow option at the top header next to author's name. The feature will alert you to new releases. The author's profile lists past articles.
Disclosure: I/we have no positions in any stocks mentioned, and no plans to initiate any positions within the next 72 hours.
I wrote this article myself, and it expresses my own opinions. I am not receiving compensation for it (other than from Seeking Alpha). I have no business relationship with any company whose stock is mentioned in this article.