Why a new list?
Anyone reading posts on Seeking Alpha is very familiar with them: American companies that are increasing their dividends year after year. Not just a few years -- for decades. Coca-Cola, Johnson & Johnson and Procter & Gamble are just a few of these.
These companies can be found in various compilations. Some of them are nearly as well known as the companies themselves -- at least among the DGI community. On one hand, there is the extensive work of David Fish and his list of Challengers, Contenders and Champions (CCC).
On the other hand we have another famous Seeking Alpha Contributor, Robert Allan Schwartz and his detailed work on companies and their dividends.
And there are still more: if you take a short look at the Dividend Growth Center you can find links to compilations for the UK, Spain and the EU.
For some time I have asked myself the question: why isn't there a similar list for Germany? We are speaking of the biggest European country, the biggest European market. Why not for Germany?
I found three reasons for this:
There is no real "equity culture" in Germany. Many Germans think of the stock market as something disreputable.In 2013 there were only 8.9 million shareholders from over 82 million German people. This corresponds to just 11 percent of the population.
There are no companies in Germany that have such impressive dividend streaks. The longest dividend "growth" history in Germany is from 1969 onwards: reassurance giant Munich Re has not cut its dividend in 47 years (but keep in mind: we are talking about "maintaining and/or increasing" the dividend, not increasing year after year)
There are only very few real "aristocrats" that have increased their dividend for 10 or more years. In fact there are currently only six of

them in Germany (the four "F"): Fielmann, Fresenius, Fresenius Medical Care and Fuchs Petrolub, plus Paul Hartmann and Stratec Biomedical.
Introducing the German Dividend Aristocrats
I wanted to change this situation and I worked on a new list -- a German compilation.
My goals were:
Creating

a list for my own needs: to become a better investor

Helping to improve the equity culture in Germany
Providing assistance for international investors to find suitable German stocks for diversification
I realize a majority of Seeking Alpha's audience is mostly US-based, so please view this list as a possible good starting point to internationally diversify your dividend income.
It took me quite a long time to contact all the companies for detailed information about their dividend payments, but I finally compiled an initial version of the list.
The German Dividend Aristocrats - a short definition
There are many compilations about dividend paying companies in the US. The most famous are the S&P Aristocrats Index and the CCC-List by David Fish. This is not surprising as the United States is the mother of dividend history and dividend growth. The situation in Germany is quite different: most people do not consider becoming a shareholder as a retirement provision. Therefore, companies do not focus on continuous distributions and growing dividends.
Nevertheless there is a growing awareness on both sides in Germany -- among people and companies -- that dividends are an important part of returning shareholder value and one possible way of building up private money for (early) retirement. This development gets boosted by the Quantitative Easing politics of the European Central Bank with zero interest on classical investments and assets.
In short, the situation in Germany is quite different.
This leads to a quite different compilation. Here is what the Germany Dividend Aristocrats are:
"German":
I have included stocks from companies which are based in Germany (headquarters in Germany) plus companies, which are listed at one of the German stock exchanges but based outside of Germany (headquarters not in Germany). Nearly all of the companies in the list belong to first group ("German" companies).
"Dividend":
The compilation includes only companies that pay dividends. This shows a further significant difference from the situation in the United States: First, it is not self-evident that companies pay dividends. Secondly, German companies usually pay an annual dividend (and not quarterly). That means there is only one distribution over the year. The main dividend season in Germany is in April and May when most general meetings are held. Only a few companies out of the DAX ("Deutscher Aktien Index" -- the main German stock index) pay in other months (for example, Siemens in January).
"Aristocrats":
Noble corporations within the meaning of the compilation are all companies that have not reduced the dividend for at least 10 years. The term "aristocrats" therefore is expanded; it does not solely include the dividend increasers. The reason is simple: in Germany there are hardly any companies that do this for years or decades. Therefore it also includes companies that have maintained their dividend.
In a nutshell: the German Dividend Aristocrats are an exclusive group of German stocks that have not reduced their distributions for at least 10 years. I will call them the "GDA" as a short synonym. At the moment (June 2016) there are 28 of them. They will be updated at least once a quarter.
Again, some quick information for all non-German investors: there is a German tax on all dividends, which is called "Abgeltungssteuer". This tax is automatically deducted by the banks or online brokers. It is exactly 26,375% (25% tax and an additional 1,375% as special tax we Germans have to pay since the reunification -- it's called "Solidaritaetszuschlag" -- don't mind the word).
The main general results
The complete list includes a total of 143 analyzed companies. 140 of them paid a dividend in 2016 for fiscal year 2015. Only three companies completely cut their dividend. Looking at the 140 dividend paying companies, there are eight companies that reduced their distribution, 26 with stable payments and 106 increases.
The analysis goes back to the year 2000. The reasons for this "cut" are as follows:
Since the year 2000 the euro was implemented (for stocks first, for cash transactions later); previous dividend histories usually show payments in D-Marks ("Deutsche Mark"), the former German currency
There are only a few companies that have a longer series
The year 2000 is a striking year, which is well suited as a starting point for building up a comprehensive list
Here are the main results: On average the situation can be described as follows:
Average number of years of dividends increased: 2.66 years (mean)
Average number of years of dividends maintained: 5.88 years (mean)
Average number of years of dividends paid: 9.39 years (mean)
Average Dividend Yield: 2.95%
Let's break down the number of companies and their dividend increases:
5 to 9 years increased: 24 companies
10 and more years increased: 6 companies
5 to 9 years maintained: 52 companies
10 and more years maintained: 28
Longest series of increases:
The two German companies with the longest series of increases are Fresenius (OTCPK:FSNUY) and Fresenius Medical Care (FMS). They have increased their dividend for 16 years. This makes them the two German companies with the longest history of dividend increases.
Here are the six companies that have increased their dividend for 10+ years (in alphabetical order):
Fielmann AG
Fresenius
Fresenius Medical Care
Fuchs Petrolub
Paul Hartmann
Stratec Biomedical
Longest series without reduction:
The most stable and secure dividend of Germany is paid by the world's largest reinsurer: Munich Re (OTCPK:MURGY) -- headquartered in Munich, Germany -- has not reduced its dividend since 1969. As the GDA list was initiated in the year 2000, the companies got a period of 16 years. This streak they have in common with nine other companies.
Here are the 22 companies that have maintained their dividend for at least 10 years (in alphabetical order; without the six "increasers"). Together with the 6 companies mentioned above they form the German Dividend Aristocrats (GDA) -- also in alphabetical order:
Axel Springer
Bayer (OTCPK:BAYRY)
Baywa
Bechtle
Dt. Euroshop
Eurokai
Fraport
Frosta
Grenke Leasing
Hamborner Reit
Henkel (OTCPK:HENKY)
Hornbach Holding
Linde (LNAGF)
MTU Aero Engines
Munich Re
MVV
OHB
Schaltbau Holding
Siemens (OTCPK:SIEGY)
Software AG (OTCQX:STWRY)
USU Software
VIB Vermögen AG
This is a view on the complete list: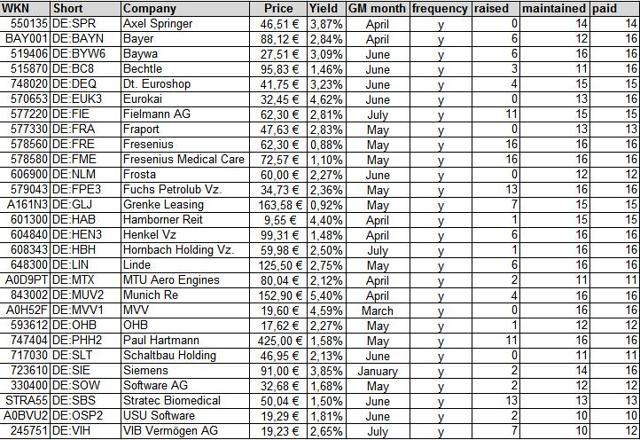 The Top Stocks
The full list is a good basis for further analysis. To come to concrete recommendations for further company checks and stock analysis, I created two so-called top lists. The rules for these two lists are as follows:
Top-List Dividend-Increasers:
At least 5 years of dividend increases
At least 3% dividend yield
Sorted by descending dividend yield
With the specified criteria, the top list of dividend increasers contains a total of 7 companies:

Top-List Dividend-Maintainers:
At least 10 years of dividends maintained (no cuts)
At least 3% dividend yield
Sorted by descending dividend yield
With the specified criteria, the top list of dividend maintainers contains a total of 8 companies:

The complete list of the German Dividend Aristocrats (GDA) is work in progress. Updates and upgrades will be added from time to time, at least once a quarter. I will keep posting any news here on Seeking Alpha.
Special Bonus: For readers who are interested to read even more I offer the following link to the complete list of the German Dividend Aristocrats.
Conclusion
There are no "Johnson & Johnsons" in Germany, but there are quite a load of companies who could be interesting for you. The new list of the GDAs might be a good starting point for anyone who is interested in more international diversification.
Important information: I have created this list on my own. The data source for all the data is direct contact to the investor relations teams of the companies. In some cases where I did not get any answer to my questions I got the information from the company website and/or further web research.
I am not a financial professional and this is not an official survey. Therefore please keep in mind:
The list might contain errors, and if you find any, please let me know. I am happy to improve the compilation
The list might not show the complete German picture -- there might be additional companies not listed that I missed in the first run
The list is a v1 compilation. I am working on an enhanced version. So please stay tuned for more
The German Dividend Aristocrats is not investment advice. Please do not rely solely on this compilation. Do your own research.
I am looking forward to reading your comments. I am happy to have your feedback to improve the compilation. Let me know if there is anything you miss.
Thanks for reading and commenting!
Editor's Note: This article discusses one or more securities that do not trade on a major U.S. exchange. Please be aware of the risks associated with these stocks.