As discussed in my previous articles (here and here), the major challenges for the Greek Banks are their non-performing loan (NPL) portfolios and their liquidity. Let's have a look at how these challenges developed in the first quarter of 2016.
NPL Ratio
In the first quarter of 2016, the NPL ratios of the Greek banks have been quite stable. Only Eurobank (EGFED) has been successful in disposing NPLs this quarter. This has been mainly achieved in its international operations. Hopefully, next quarter will show significant disposals.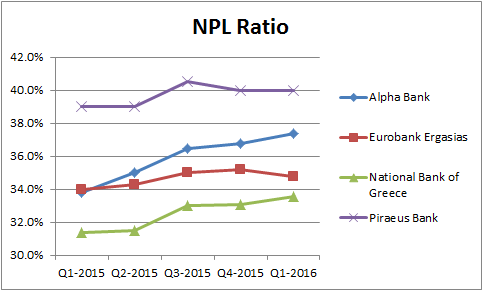 NPL Coverage Ratio
The cash reserves held by the Greek banks this quarter to cover potential losses has been stable as well. Alpha Bank (OTCPK:ALBKY) and Piraeus Bank (OTCPK:BPIRY) have raised their coverage ratios. As I discussed in another article (here), the total coverage for bad loans is far north of 100% if you add up the collateral (mainly real estate) of the loans. So it seems like all Greek banks are well reserved.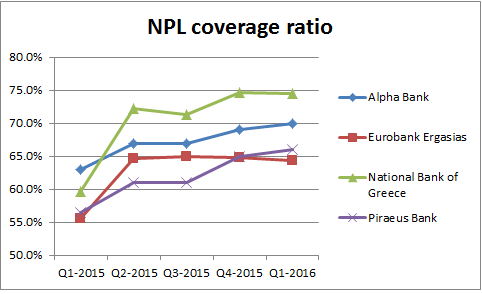 Liquidity
With the exception of National Bank of Greece (OTCPK:NBGIF), the Greek banks are still not able to support all their assets (mainly loans) with customer deposits. Since the market is not providing the Greek banks with funds, they are obligated to get ELA life support. Unfortunately, the loan/deposit ratio did not improve at all this quarter.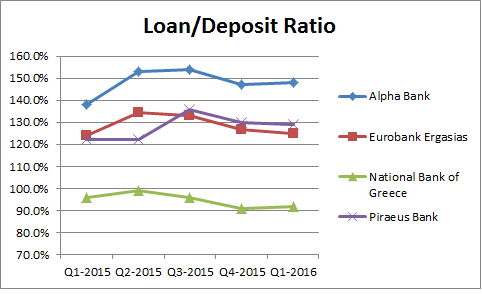 Greek Economy
In the meantime, the GDP growth of Greece has been stabilized somewhat and the unemployment rate is slowly getting better. Housing prices (and thus collateral values) are still in decline.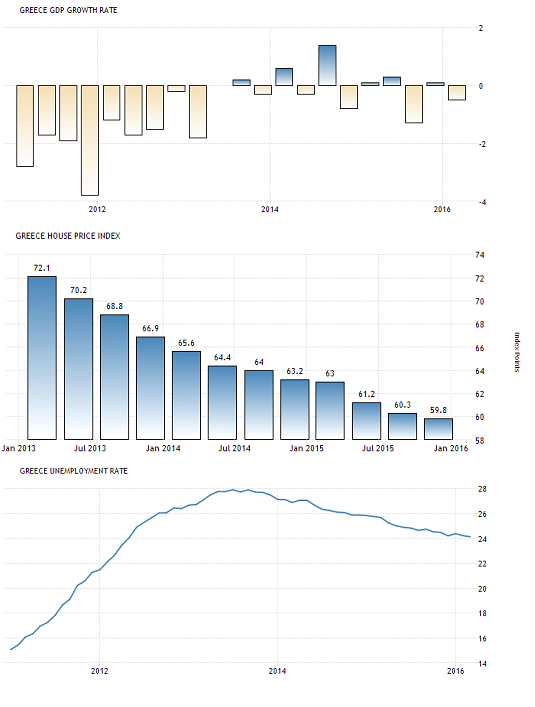 Conclusion
The major challenges of the Greek banks have not significantly improved in the first quarter of 2016. The Greek economy is progressing slowly.
Disclosure: I am/we are long EGFED.
I wrote this article myself, and it expresses my own opinions. I am not receiving compensation for it (other than from Seeking Alpha). I have no business relationship with any company whose stock is mentioned in this article.
Editor's Note: This article covers one or more microcap stocks. Please be aware of the risks associated with these stocks.