Well, I was wrong. I'd argued for months now that Thompson Creek Metals (OTCQX:TCPTF) likely had no equity value, but apparently Centerra Gold (CAGDF) disagreed. After the close Tuesday, Centerra announced its intention to acquire Thompson Creek for $1.1 billion in an all-stock deal.
Obviously, I'm surprised, and obviously I'm somewhat skeptical as to whether this is that great a deal for Centerra. For TC shareholders, the deal might come as a slight disappointment in terms of valuation, but the stock-for-stock aspect does allow continued ownership of and exposure to the flagship Mt. Milligan mine, and it does take bankruptcy off the table - which remained a significant possibility even after some recent strength in gold prices. For TC bondholders...well, it's Christmas in July.
The Deal From Centerra's Perspective
(Author's note: all figures in U.S. dollars unless otherwise specified.)
There is a clear inherent logic to Centerra's move here. Centerra's flagship mine is the Kumtor gold mine in Kyrgyzstan, which has been beset by battles with local regulators and uncertainty about environmental permits that finally came through at the last minute. CEO Scott Perry admitted on the conference call following the merger announcement that Kyrgyzstan "unfortunately, from a capital markets perspective, is not deemed to be a top-tier jurisdiction, and we've all seen that reflected in our valuation multiples." Adding Thompson Creek's Mt. Milligan, located in stable, mining-friendly Canada, "will serve us well in terms of reducing and rebalancing our overall geopolitical risk profile," as Perry put it on the call.
The explicit goal for Centerra - as Perry referenced multiple times on the call - is to drive a re-rating of the stock from a multiple perspective. Diversifying out of riskier jurisdictions is one step; Centerra also renegotiated Mount Milligan's gold stream agreement with Royal Gold (RGLD) in an effort to make net revenues from the mine more gold-heavy. Royal Gold will give back 17.25% of the gold proceeds (lowering its take to 35% at $435 an ounce) while receiving 18.75% of the copper revenues at 15% of the spot price. On the call, Perry argued that moving Mt. Milligan more in the direction of gold would drive lower discount rates from analysts and investors, and drive a new base of better-valued peers; the company even addressed that argument in the merger presentation: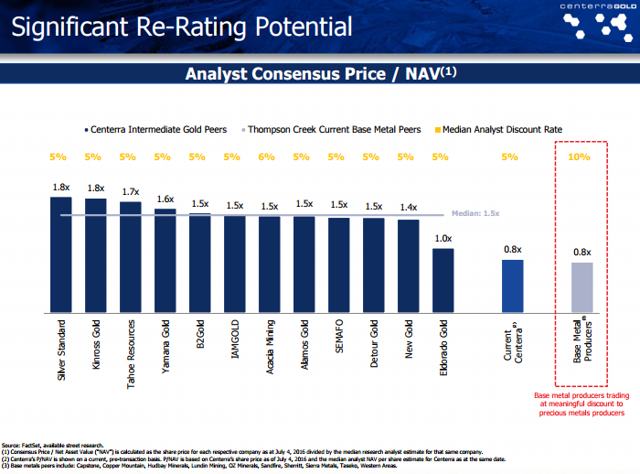 source: Centerra merger presentation
I'm not necessarily sure I buy that argument, and I'm not sure investors will, either, at least immediately. Adding Mt. Milligan's NPV to the NAV base doesn't imply some sort of multiple expansion relative to the legacy Kumtor mine, or other development assets in Canada and Mongolia. Centerra did cite potential synergies between Mt. Milligan and the undeveloped Greenstone project in Ontario, but it's difficult to imagine those are material relative to a $1.1 billion purchase price. At the end of the day, buying Mt. Milligan shouldn't, in theory, change the valuation of the rest of Centerra; the success of the transaction should boil down to whether Centerra got a good price for the asset.
Given my bearishness toward TCM, I'm obviously a bit skeptical about the price paid. The issue is less the equity compensation; the equity slice is a tiny part of the overall deal (~13%) and the premium paid relatively modest. But Centerra is making bondholders whole (more than whole; Centerra is paying the call price, which is above par for one issue) despite the fact that the 2018 and 2019 issues traded last week in the 70-72 range. (There was some buying today both in the bonds and the stock; it does seem that news of the merger may have leaked.) When asked on the post-merger call why Centerra didn't negotiate with the bondholders - some of whom bought that debt less than 15 cents on the dollar earlier this year - Perry replied that "one of the key things we were focused on was certainty". Evidently, Centerra didn't want to risk losing the deal.
But the company is paying over $500 million for debt that the bond markets last week valued at a bit over $350 million. As for the streaming deal, Perry said the amended agreement is roughly neutral from an NAV perspective, though in the near-term it does pull revenue forward: in fact, using 2016 production guidance, it would provide a benefit of about $18 million at current prices. Mt. Milligan's mine plan calls for steadily decreasing gold production (including a step down in 2020), so Royal Gold's share of revenue will increase as copper becomes a larger portion of output.
From here, it looks like Centerra overpaid; I've only been able to get to a $1 billion-plus valuation for TCM with relatively aggressive assumptions, which similarly seem priced in with an overall $1.1 billion price tag. And with a December 2017 maturity looming for Thompson Creek, there's an argument that had Centerra been more patient, it might have been able to secure concessions from bondholders or use more of its stock in the deal. From a broader perspective, there is a concern as well - as one questioner on the call pointed out - that Centerra might have impacted its ability to fund future projects, including its Greenstone JV and undeveloped properties in Turkey and Mongolia.
All that said, there is a logic to the acquisition, and Centerra shares may indeed get a bit of a post-deal bounce. Perry said talks had been ongoing since the beginning of the year; TCM had hired outside advisors to look at strategic alternatives, so the idea that Centerra was bidding against itself or missed an opportunity to haircut bondholders is pure speculation. Even if Centerra did overpay somewhat from a NPV/asset perspective, valuation/multiple benefits from a better risk profile and a larger, more diversified asset base could more than offset any modest value destruction from Mt. Milligan. I'm not sure that investors will look at Centerra all that differently post-Mt. Milligan - but it's certainly possible that they will.
The Deal From Thompson Creek's Perspective
Based on my history with the stock, and even some of the comments here on SA's news item regarding the deal, some TCPTF shareholders will be unhappy with the terms of the buyout. The exchange ratio implies a C$0.79 (US$0.61) value for Thompson Creek shares - a premium to recent trading, to be sure, but one that means only relatively recent owners will wind up in the black: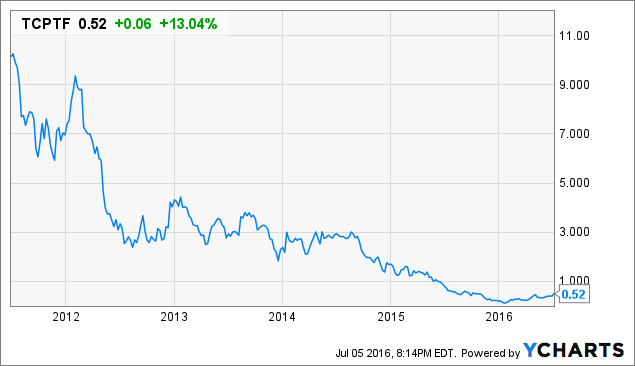 One would think there's a large base of retail investors in the stock, given the delisting, and two-thirds of votes at a planned special meeting must be in favor of the sale. I'm not sure it's a slam dunk that the deal will be approved, given the apparent lack of large/institutional shareholders. There are two major and relatively longtime 5% holders listed in the proxy statement who combined own about 15% of the company, and would sell at a loss (albeit from a value perspective, at the moment). But I can certainly imagine some shareholders holding out for a better offer and/or choosing to risk going it alone, given comments on previous pieces and correspondence with shareholders who see fair value above $1 (particularly given the recent gold rally).
I've given my opinion on equity valuation enough in the past, but even that aside I think a vote against the deal would be a major mistake. I don't see much argument for a higher price, either from Centerra or another buyer. TCM hired Moelis as an advisor last November, and apparently has been in discussions with Centerra for most of 2016. The company's potential solvency issues have been well-known for some time; it seems highly unlikely that there is another bidder out there (whether private equity or another miner) that would be spurred to make another offer at this point. Centerra is owed a $35 million termination fee as well (though it's not clear whether that would be triggered by shareholders voting down the deal).
At the end of the day, this looks to be the deal, with TCM shareholders winding up with about 8% of the combined company following the closing (and not including dilution from the bought offering). That doesn't sound like much - and it does seem like the bondholders got a better deal (certainly, they got a nicer bump today - well over 30%). But shareholders got something, at least, and without Centerra there was a very real risk of the equity being wiped out. And it does appear that this will be the best deal that TCM can get.
Editor's Note: This article covers one or more microcap stocks. Please be aware of the risks associated with these stocks.