The June non-manufacturing report came in at 56.5 which is 3.2 points above expectations and 3.6 points higher than the 52.9 value in May.
One could assume that the current value is just an outlier in a downtrend. The ISM manufacturing report, which was published last Friday showed that growth is accelerating. I therefore assume that the current non-manufacturing report is not just an outlier.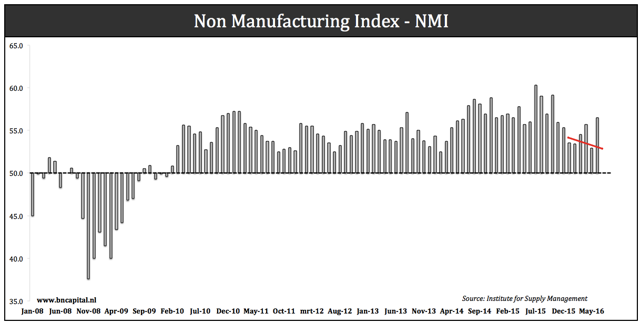 The graph below shows the manufacturing report and the start of a new uptrend.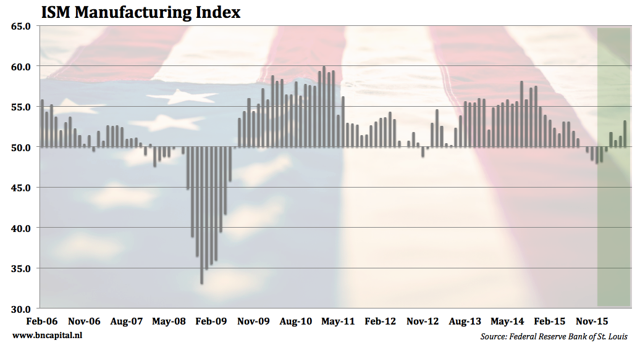 Business activity/production, the composite index and new orders all had tremendous growth last month. They confirm the outlook given by manufacturing companies. Growth is accelerating again.
Even employment entered the growth zone again after a few months of contraction.
Prices remained the same. The most obvious reason is the fact that commodities didn't rally in June.
Only the backlog of orders decreased a bit and entered contraction at 47.5.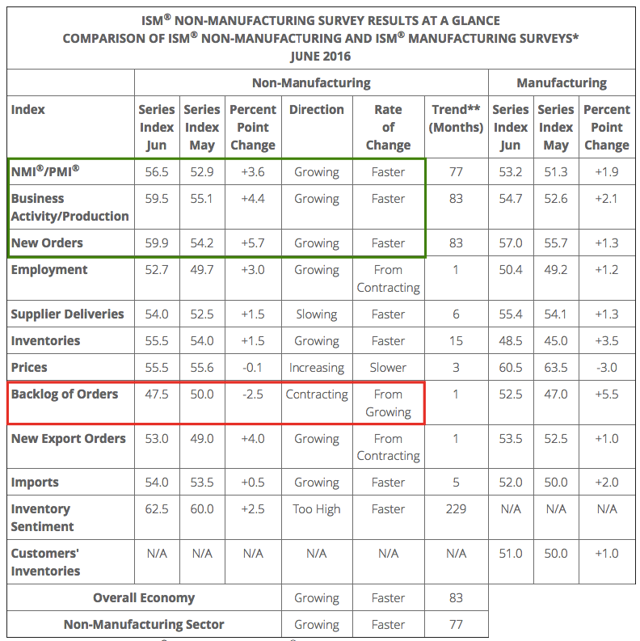 Source: ISM
In the picture below you get an overview of all industries in the non-manufacturing report and their monthly performance. Only three out of eighteen industries reported contraction. All other industries are positive.

As you can see above, the entertainment industry is reporting growth again. The graph below shows the historical industry performance. Long periods of growth and contraction have switched almost every six to seven months. At this point, it looks like growth is returning. The next few months will either confirm or deny this.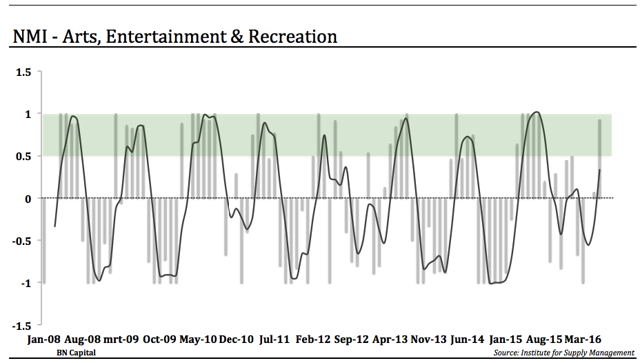 The strongest industry last month has been: mining. One of the worst industries since 2011 has risen again. As you can see, contraction started at the point where commodities peaked. Especially gold crashed in 2011 and is currently up about 30% YTD.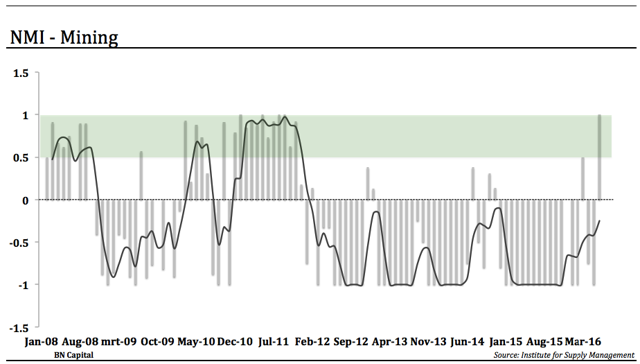 I hope you enjoyed this article. If you have any questions or remarks, feel free to write a comment. I will use the (non)-manufacturing data to do in-depth research of many industries this month.
Disclosure: I/we have no positions in any stocks mentioned, and no plans to initiate any positions within the next 72 hours.
I wrote this article myself, and it expresses my own opinions. I am not receiving compensation for it (other than from Seeking Alpha). I have no business relationship with any company whose stock is mentioned in this article.