Background
This month's article marks the sixteenth installment in my on-going series which outlines my efforts to achieve dividend growth success. The portfolio is nicknamed the MnM portfolio, which is a moniker for "Minne 'n Monthly."
The title of this month's article celebrates the portfolio's success as we reach the midpoint of 2016. As of the time of writing, positions in the portfolio have increased their dividend on twenty-six separate occasions, with the portfolio averaging just over four increases per month. Additionally, valuations on securities in the portfolio have continued to escalate, raising the value of the portfolio above $88,000.
Note: The portfolio continues to hold 32 positions; however the holding of Ingevity Corporation (NYSE:NGVT) which was received as part of a spin off from Westrock Company (NYSE:WRK), may be sold should it not present dividend growth opportunities. I am still targeting a portfolio size of ~35 - 40 positions over time. I feel that at that level it is enough that I can effectively follow them all, and equally weighted would provide strong diversification as each would represent approximately 2% - 3% of the portfolio total. I also receive 100 free trades each year from my brokerage, so I can trade in small quantities without worry about brokerage trading costs.
That being said, here's what happened in June.
June 2016
I have captured the activity for June and for the year-to-date in the standard rollforward summary below. The portfolio continued its upward climb during the month following a strong performance in May. The performance during the month was largely driven by gains in the REITs held by the portfolio. The common equities within the portfolio have also advanced, but continue to display some measure of volatility, as some have outperformed while others have struggled.
The net performance of the portfolio of 12.66% year-to-date continues to outperform the S&P 500. The portfolio collected $248.92 in dividends and interest during the month and all but $.05 of interest and a $22.00 special dividend from Main Street Capital (NYSE:MAIN) was recurring on positions held.
The portfolio was comprised of the following securities as of June 30, 2016: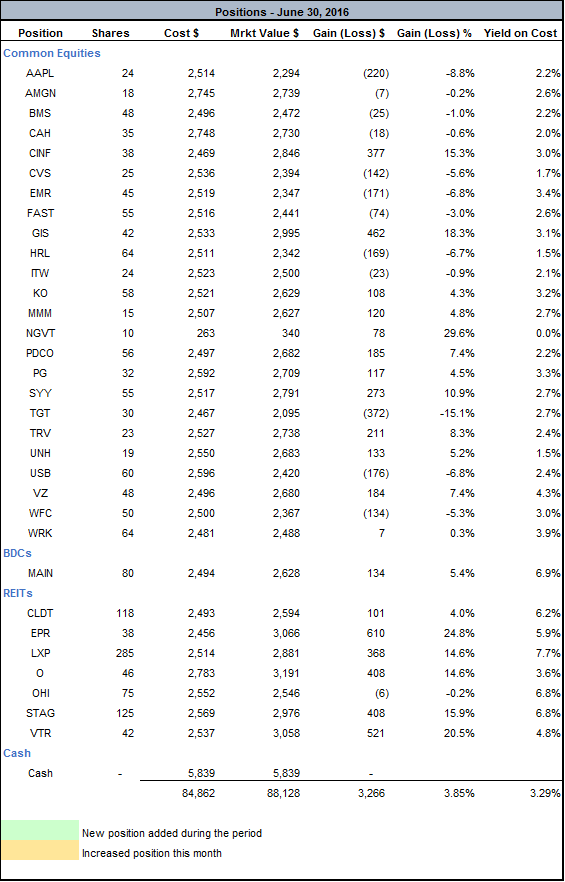 The following sections go into greater detail of the events that have occurred since the end of May.
Sales
None.
I finally took a break from trading Realty Income (NYSE:O) and doing so has proven to be a good decision. The stock's upward march has continued and the valuation is now approaching $70 per share as of the end of June. While it was fun to be active, I have recommitted to the buy and hold strategy, so there will be no more sales unless a dividend is cut.
Additions
None.
For the first time since I started writing (over a year ago), I did not purchase any new shares this month. This decision was largely driven by the fact that I have exhausted my free trades.
As far as positions I would like to add, right now I am keeping an eye on reintroducing Unum Group (NYSE:UNM) back into the portfolio. The stock has struggled in recent months despite good performance, and has declined below the price at which I liquidated it at earlier this year. Target (NYSE:TGT) and CVS Health (NYSE:CVS) are retail positions I would like to increase, and with interest rates stagnating, shares of US Bank (NYSE:USB) and Wells Fargo (NYSE:WFC) are appealing as well.
The year has been characterized by poor performance in the retail sector and struggles with many interest-rate sensitive stocks. These struggles have left us with much better valuations than in other sectors such as consumer packaged goods and REITs, which have outperformed. I will continue to observe and likely come August, when my free trades reset, I will resume reinvestment.
Dividends Collected
As mentioned already, I collected $248.92 in dividends and interest during the month, noting that all but $22.05 of interest and a special dividend, was recurring. I have included the forward-looking dividend summary, highlighted by the twenty-six times that portfolio positions have increased dividends this year.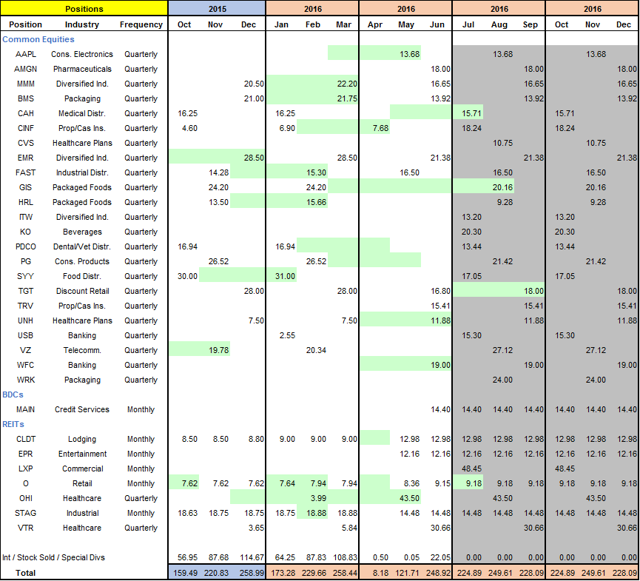 The income for the month has returned to normal levels with the portfolio collecting from all positions which paid a dividend during June.

Dividend Increases
As I highlighted in the summary points of the article, the portfolio had four positions announce increased dividends during the month. It was a Minnesota-led month for the portfolio with UnitedHealth Group (NYSE:UNH), Target and General Mills (NYSE:GIS) all increasing their dividends.
UnitedHealth continues to be a dividend raising superstar, issuing a 25% increase in their dividend. Target issued a stellar 7% increase, and I was not anticipating another increase from General Mills, which increased its dividend for the second quarter in a row. Rounding out the increases this month was Realty Income, which issued its standard, but no less appreciated, quarterly increase.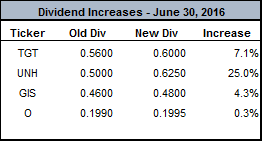 Looking forward I will be watching for increases from Wells Fargo and US Bank, as both of them had their capital plans approved which leave room for increased distributions.
Summary
It's good to see the portfolio continue to perform, especially in a month where I did nothing. As much fun as it is to continue acquiring via reinvestment, it's important to keep in mind that reinvestment is only one piece to the puzzle, and that dividend growth is just as important to the long-term returns.
I plan on holding off on acquisitions until the free trades resume in August. There's really no valuation out there right now that is worth chasing for a $9 trade cost, particularly when the free trades come back in just over a months' time. I should not be running into this issue again, as I see no further reason to sell everything as I did earlier this year, which exhausted my free trades.
I continue to be happy with the portfolio's performance, highlighted by the number of times which portfolio positions have increased their dividends. I look forward to continued growth, and will soon be putting the portfolio's cash to work, as I find opportunities.
Disclosure: I am/we are long THE STOCKS LISTED IN THE PORTFOLIO.
I wrote this article myself, and it expresses my own opinions. I am not receiving compensation for it (other than from Seeking Alpha). I have no business relationship with any company whose stock is mentioned in this article.