I recently wrote an article detailing how CVS Health (NYSE:CVS) is well positioned to reap the rewards of an aging population. In it, I explain how baby boomers entering old age over the next decade will substantially increase demand for the healthcare industry. Companies in the healthcare sector who have substantial market share, as well as competitive advantages, will outperform the rest of the sector.
Towards the end of my research, I came across UnitedHealth Group (NYSE:UNH). Somehow in thinking about this changing landscape I glossed over the largest healthcare insurer in America. United Health provides health insurance and services to 75 million people worldwide with the vast majority of that business stemming from the US. For an industry leading company, UnitedHealth doesn't garner the type of attention one might think. This could be a result of insurance not being the most spine-tingling business. Whether dull or not, what should captivate investors is the opportunity to invest in a company holding considerable market share in an industry ready to erupt over the next decade. There is no doubt a long-term opportunity exists but with the company trading at all-time highs, what price should investors be paying to participate? Below I will examine the current opportunity inherent in UnitedHealth and layout how I see the company evolving in the future.
But is it cheap?
No matter the how solid a business looks, it isn't worth overpaying for. With UnitedHealth's stock trading at all-time highs is it really a smart investment? Before delving into the future growth prospects and strategic advantages the company has, we need to look at the present valuation and whether or not it makes sense for investors to take a position at this time. United trades at a PE of about 22. Solid but not astonishing, until you realize the healthcare industry trades at an average PE of more than 32. With all the advantages that come along with being a market leader with a market cap of $134 billion, this relative undervaluation comes as a surprise. Year over year growth has been impressive at 24.5%-largely due to the company's Optum segment which grew substantially over this time.
Using a discounted cash flow model (total value of United's free cash discounted to today's value), we see the company has a future cash flow value of $200 and is currently trading at a 30% discount. Oh yeah, to top it all off, they have seen sales rise for 15 straight years at an average rate of 16%-thats the definition of steady growth.
However, the picture isn't entirely rosy for UnitedHealth. Their level of debt compared to net worth has been increasing the last five years, going from 44% to 91% today. Couple that with some uncertainty in their future involvement with Obamacare-which may affect revenue-and questions begin to arise over a fair valuation of the company. Despite these points and barring any unforeseen rise in competition, I see UnitedHeath being at worst fairly valued and at best trading at a significant discount.

Adaptation
As the largest player in their industry, it would be understandable for UnitedHealth to be slow to adapt. As the healthcare industry has seen rapid innovation and a changing landscape over the last several years, United has not fallen into this complacency trap. Instead, the company has made it a priority to unearth new sources of revenue to bolster its reign atop the industry. One avenue the company has explored as of late is a venture into the urgent-care business. With the purchase of MedExpress last year-a physician run urgent-care-centre-UnitedHealth added 140 facilities to their network. These centers are advantageous for two reasons. First, every time a patient makes a trip to one of these urgent-care-centres, United avoids what could be a much more cost intensive visit to the emergency room. Second, because their competition has yet to caught on to this tactic UnitedHealth has a chance to gain a stranglehold in this area by developing these facilities further and providing services other companies will be unable to match.
Along with these urgent-care-centres, the company has seen success in its pharmacy-benefit management business. Like the care center business, PBM falls under United's Optum division and is referred to as OptumRx. Optum has been the fastest growing unit for the company-rising over 50% last year alone- With acquisitions such as Catamaran which significantly expanded the size and reach of the business, United has been growing their PBM business. The timing of this expansion could not be more serendipitous, as public outrage over price-gauging drug makers is at an all-time high. Because UnitedHealth is agnostic to where it gets its drugs, any price regulation should lead to increased margins for the company. However, UnitedHealth isn't resting on its Optum laurels. The company continues to innovate with its OptumHealth and OptumInsight divisions. Although these segments will not be the cash cows OptumRx is, they could see substantial growth over the next several years and help diversify the companies revenue streams.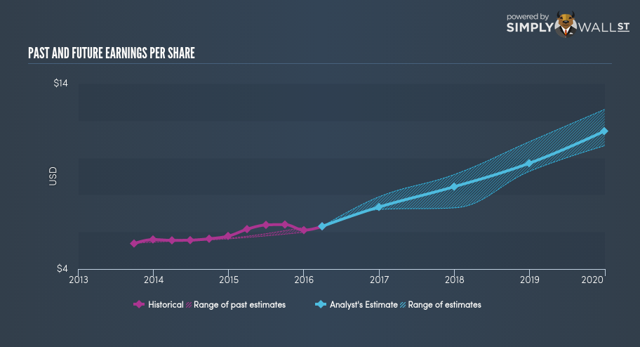 Bottom line
In the end, an investment in UnitedHealth is not without its risks. Questions remain as to what the fallout from the Obamacare departure will look like. Competition is sure to arise as was the case with recent acquisition talks between Anthem (NYSE:ANTM) and Cigna (NYSE:CI), which combined, would have made them larger than United in terms of total members. As of now this deal looks as if it won't go through but others will surely emerge in its place. Finally, shares are trading at all-time highs, which always makes me nervous. Despite these concerns, I feel the tailwind of an aging population, coupled with a commitment to innovation and a large lead on the rest of the market, positions the company to appreciate greatly over the next decade. I see UnitedHealth as a solid investment at this level but would view any significant pullback as a strong buying opportunity.
Disclosure: I/we have no positions in any stocks mentioned, but may initiate a long position in UNH over the next 72 hours.
I wrote this article myself, and it expresses my own opinions. I am not receiving compensation for it (other than from Seeking Alpha). I have no business relationship with any company whose stock is mentioned in this article.