Himax Technologies (NASDAQ:HIMX) announced welcome news Tuesday when it pre-announced preliminary Q2 results. The report was all good news and the stock bounced more than 7% on the positive quarter.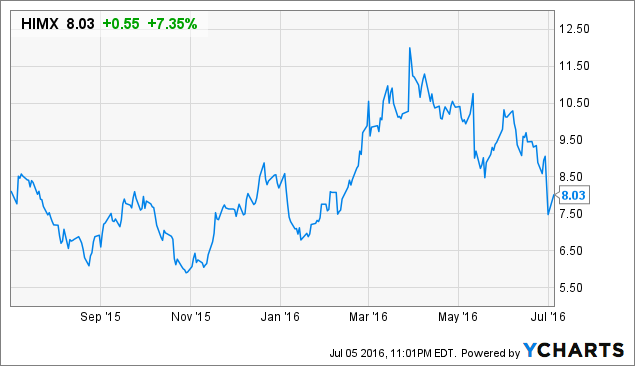 As HIMX investors likely know, the company has been feeling the pressure in recent quarters as macro weakness in the Chinese smartphone market has eaten into the top line and trickled down the balance sheet. The medium and small panel driver business was suffering declines in all its major sources of revenue (smartphones, monitors, tablets, etc.) and the large panel business, mainly 4K TV, was the one segment still growing. But it appears that last quarter (Q1 2016) the company's revenue decline in small and medium panel drivers finally hit bottom. In that earnings report, Himax reported that its year-over-year revenue increases/declines by segment was:
Large Panel Driver: +14.1%
Small/Medium Panel Driver: -8.7%
Non-driver products: +2.2%
Total Q1 revenue represented a sequential revenue increase of 1.3% and a year-over-year increase of a measly 0.7%, which would seem to evidence Himax's struggles. But Q2 guidance blew expectations out of the water and indicated that Q1 would be the bottom and the end of the company's woes. In the earnings report, management estimated Q2 revenue would be between 7.5% and 12.5% higher than Q1, which is a huge step up from sequential revenue growth during the weakness of past quarters.
In my experience, Himax management has always been transparent and honest in its press releases. When revenue was cratering, the company owned up to it and was frank about the dull future prospects in the near-term timeframe. But in the past couple of quarters, management has been talking of a turnaround and because of their transparency in the past, I actually believed that a comeback was on the horizon. And behold! It has arrived.
Based on Himax's preliminary Q2 results, revenue has indeed bounced back and is heading higher. Q2 revenue was $201 million, which represented an 11.5% sequential increase (towards the high end of management's guidance) and an 18.8% increase year-over-year. Gross margin too showed robust recovery as the company reported a margin of 26.1%, about even with Q1's margin and well above Q4 2015's margin of 22.9%. EPS also saw a big comeback with $0.115 a share in profit for the second quarter, which is a more than 50% sequential increase and a more than 100% increase year-over-year.
Management said the revenue rebound was fueled in large part by increased small and medium panel driver sales, which had previously been struggling mightily due to supply gluts in China. The headwinds appear to be dissipating. The preliminary results were enough to convince me that Himax's small and medium panel driver segment finally bottomed in Q1 and the recovery is well underway.
Yet strangely enough, in the months since the company issued strong Q2 guidance (May 12th was the date the Q1 report was released, which contained Q2 guidance) the stock has actually gone significantly lower.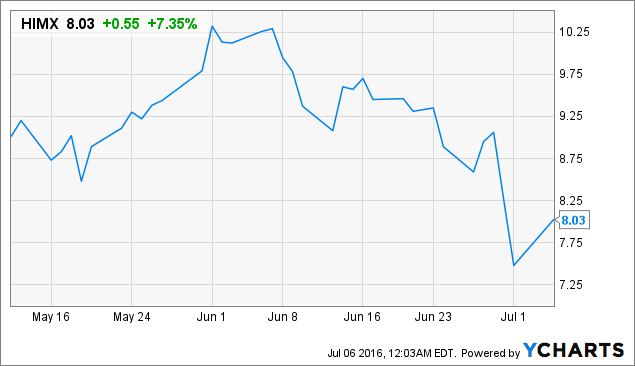 There was a short-lived rally that lifted HIMX above double-digits, but the stock quickly crashed back down again. So the company's core business sharply rebounds, and the stock falls to a price level well below what it was at before strong Q2 guidance. What is up with HIMX?
Forget AR/VR potential. The company's core segments are being treated like they're worthless! In Q1, the panel driver business accounted for about 80% of total company revenue, and the other 20% included miniscule revenue from AR/VR. Yes, the AR/VR market has tremendous upside potential and Himax is already positioned well with OEMs to reap the benefits, but the company is first and foremost a panel driver manufacturer.
Revenue is just beginning to recover back towards previous peaks as this chart shows: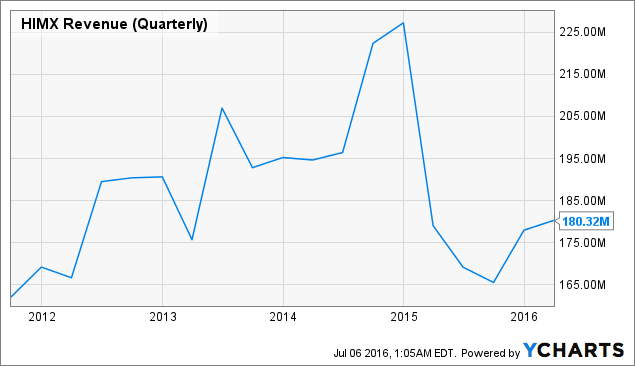 HIMX Revenue (Quarterly) data by YCharts
(This chart does not include the $201 million in revenue for Q2, which shows a continuation of the upward trend)
Without any significant contribution from AR/VR, Himax recorded $201 million in revenue and $0.115 per share. Management sees continued strength in the second half of 2016, but for argument's sake let's conservatively estimate that revenue and EPS remain constant the next two quarters. With revenue of $180.3 million and EPS of $0.076 in Q1, and assuming Q2-level revenue for Q3 and Q4 2016, we get full-year 2016 revenue of $783 million and EPS of $0.42. That's a conservative forward P/E ratio of just under 20. And that is only including Himax's core driver business and assuming no growth in Q3 and Q4, which is highly improbable.
Management has been adamant about strong second half of 2016 sales performance, but I won't speculate on any actual numbers until we get the Q2 report in full. However, the preliminary Q2 results give the indication that Q3 and Q4 have more growth in store. Couple that with the expected second half launch of in-cell TDDI products (more details on 2H 2016 here) and others, and Himax appears to be on the uptrend from this point.
How this company is currently valued at just $1.4 billion is a mystery to me. Considering it would come as a surprise to me if Himax doesn't break $1 billion in sales in 2017, I think HIMX is a clear bargain right now. Buyer beware however that the stock is very volatile and any news regarding AR/VR, whether warranted or not, will send it bouncing all over the place. My main message to anyone considering buying HIMX at the current price is that even with just the core driver business, I think the stock is a strong buy. Add on the non-driver products like CMOS, WLO, and especially LCoS, and the risk-reward profile here seems heavily in the favor of bullish investors at this point in time.
My disclosure on this article will say that I may open a position within 72 hours in HIMX, but in fact I will be buying shares as soon as I see a nice buy-in point. After that, I will be holding it for the long haul.
If you want to stay up to date on my articles, you can Follow me by going to my author page or by clicking "Follow" at the top of this page.
Thanks for reading!
Disclosure: I/we have no positions in any stocks mentioned, but may initiate a long position in HIMX over the next 72 hours.
I wrote this article myself, and it expresses my own opinions. I am not receiving compensation for it (other than from Seeking Alpha). I have no business relationship with any company whose stock is mentioned in this article.