A new quarterly earnings season is about to get underway. But before the data starts to roll in and the chorus across the airwaves that "earnings are coming in better than expected" begins, it is worthwhile to determine exactly where we stand in terms of actual expectations for the upcoming quarterly earnings season.
It's Almost Always Worse Than Expected
In working to set expectations for the upcoming earnings season, the first point that we must accept is that quarterly earnings will almost certainly end up being considerably worse than what is supposedly "expected" by "analysts" heading into reporting season.
The following is a chart that highlights this point. On December 31, 2015, analysts were forecasting that annualized as reported earnings would fall by -6.77% for the just completed 2015 Q4 before coming back to life with annualized gains of +1.62% in 2016 Q1, +13.06% in 2016 Q2, +26.05% in 2016 Q3 and +24.23% in 2016 Q4. Wow! What an awesome year 2016 was supposed to be in the dreams of Wall Street analysts. In reality, not so much.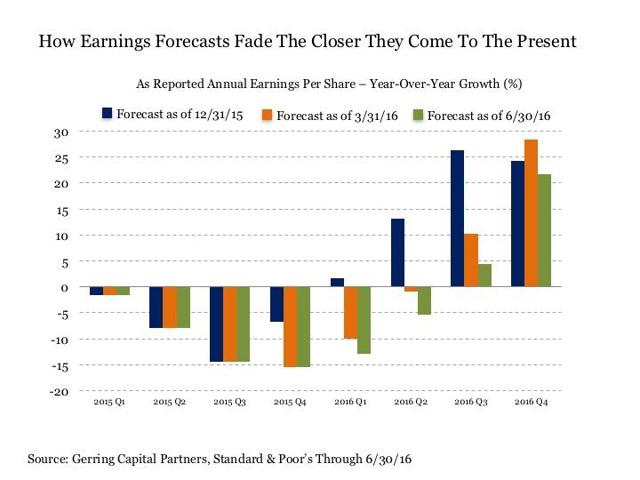 Moving forward just three months to March 31, 2016, analysts not only whiffed badly on annualized as reported 2015 Q4 earnings that came in at -15.42%, but they had also revised their forecasts lower for 2016 to -10.05% for the just completed 2016 Q1, -0.95% in 2016 Q2, +10.17% in 2016 Q3 and +28.40% in 2016 Q4. OK, so the first half of the year is going to end up being kind of lousy, but just wait for that resounding recovery "in the second half of the year." Once again, not so much.
Let's move forward three more months to just a few days ago on June 30, 2016. Already sharply downward revised 2016 Q1 earnings ended up even worse at -12.91%, while Q2 earnings that only six months ago were supposed to be higher by double digits are now projected to fall by -5.40%. That +26.05% increase for Q3 has now melted down to just +4.35%. But hang on for Q4, right?! We've got +21.70% earnings growth waiting right around the corner "early next year." Believe it only when you see it and not a day earlier.
Getting What You Think You've Paid For
Why so much attention on the downward revisions by analysts to the quarterly earnings reports? Because these farcical analysts' projections feed a narrative in the mainstream media that can mislead many investors that may not otherwise have access to the underlying information. I hear it almost daily, sometimes several times a day. Some analyst gets on television or the radio and talks about how stocks are cheap today because they are only trading at 16 times 2017 earnings on the S&P 500 Index.
Sounds like a fairly reasonable price, right? A P/E ratio of 16 times implies a earnings yield of over 6%, which sounds like a decent equity risk premium in an environment where core interest rates remain near zero and 10-year U.S. Treasuries are trading with yields below 1.50%.
But here are the problems with this assessment.
First, this 16 times multiple is based on operating earnings, not as reported earnings. Why does this matter? While I remain a GAAP loyalist myself when it comes to assessing corporate earnings, a reasonable case can be made for evaluating operating earnings that adjusts for non-recurring items on a company specific level. After all, unusual circumstances can arise at any given point in time that can distort the numbers and should be taken into consideration. But the same case is more difficult to make on an aggregate S&P 500 Index basis. This is due to the fact that across 500 companies in a headline benchmark index, a certain measure of non-recurring items should be expected every quarter. As a result, these charges are no longer unusual but instead become expected.
Also and arguably more importantly, this 16 times multiple also is based on earnings that have yet to take place but instead are projected as many as six or seven quarters into the future. If analysts can miss by as much as ten percentage points or more in their earnings growth forecasts for a quarter that has just been completed, how much should we rely on their forecasts for a quarter well into the future? Moreover, it would be one thing if we had a more normal distribution of analysts missing their forecasts both on the low side and the high side. Instead, analysts have an eyebrow raising skew to their forecasts by almost always missing their forecasts by coming in too high.
In short, what this leaves us with is the following. People take to the television and the radio telling people they can buy stocks today and expect to get an earnings yield of over 6% today, when in reality by the time 2017 rolls around, they will most likely be getting an earnings yield of around 4% instead. They have a name for this type of activity in marketing circles, and it's not a good one.
As a result, the mainstream media should be taking analysts that cite these garbage numbers out to the woodshed given how egregiously incorrect they almost always turn out to be. Instead, these estimates are allowed to go across the airwaves largely unchallenged. On the other hand, if somebody were to go on and talk about how the market might go down between now and the end of the year, then watch out and be ready to deflect widespread scoffs and looks of derision.
For What It's Actually Worth
What we have today is a stock market as measured by the S&P 500 Index that's trading at 24.2 times trailing 12 months as reported earnings. This is a valuation based on factual information that has actually happened and is now in the books. In other words, investors have a market that's providing a 4.1% earnings yield, which is among the lowest levels in history.
But then again, it is against a backdrop of historically low Treasury yields. Regardless, stocks are now expensive from a historical perspective, which means the margin for error is meaningfully less and thus the associated risks of stock ownership are higher. And the fact that annualized as reported earnings growth has been falling at a double-digit rate over the last few quarters only adds to the challenge.
Of course, we should not completely dismiss what lies ahead just because analysts' earnings projections are in large part no more useful than a Sears Roebuck catalog in a turn of the century outhouse. Instead, what we can do is recognize patterns in terms of how these analysts' forecasts are revised lower to get a sense of what we should actually expect in the upcoming quarter and what results might truly end up being better than expectations.
First, we should expect that actual earnings results will come in below expectations. The question instead is how much lower? Now in the first quarter of 2016, analysts' earnings forecasts ended up being revised lower by -11% to -13%. In the second quarter, these forecasts were revised lower by a better -3% to -6%. This implies a slowing in the degree of earnings falling short of expectations. As a result, if we see forward earnings projections for the next few quarters reduced by less than -3%, this could be taken as a solid quarter.
Second, if annualized as reported earnings for 2016 Q2 on the S&P 500 Index (NYSEARCA:SPY) came in at $86.44 per share or better, this would be a particularly favorable development, as it would mark a reversal in trend from the six consecutive quarters of annualized as reported earnings decline dating back to the $105.96 per share peak from 2014 Q3. At present heading into reporting season, the forecast for 2016 Q2 earnings is $89.79, so a final reading of $86.44 would imply only a -3.73% downward revision from current forecasts, which appears doable.
Another key will be monitoring the forecasts for 2016 Q3 and 2016 Q4 as the forecasts for 2017 are still largely noise at this point. The annual as reported earnings forecast on the S&P 500 for 2016 Q3 is currently $94.60, which represents a +4.35% increase from year ago levels. It will be worth monitoring to see if it can hold above $90.66 by the end of the quarter, which would be a -4.17% downward revision from current forecasts but would still be flat versus the year ago level. Also doable, but expect a fair amount of "Brexit" related kitchen sink throwing by companies as they revise and lower their forecasts for the second half of the year.
As for 2016 Q4, they still have the look of fantasy numbers at this point, but the fact that they have held up as well as they have to this point is notable, for it suggests that actual earnings improvement may be on the horizon by the end of the year. The current annual earnings forecast for the S&P 500 is for $105.31 per share in Q4, but if it can hold above $100 per share by the end of the reporting season, which would be a -5.04% downward revision from current levels, it would suggest that stocks might have a legitimate shot at an actual solid earnings improvement at the end of the year, all else being held equal of course.
The Bottom Line
Second quarter earnings season is about to get underway next week, and it is important to ignore the noise and set realistic expectations of what is truly good and bad coming out of the upcoming wave of reports. It also helps provide a better understanding of what your stock holdings are actually worth in the current market environment.
Disclosure: This article is for information purposes only. There are risks involved with investing including loss of principal. Gerring Capital Partners makes no explicit or implicit guarantee with respect to performance or the outcome of any investment or projections made. There is no guarantee that the goals of the strategies discussed by Gerring Capital Partners will be met.
Disclosure: I/we have no positions in any stocks mentioned, and no plans to initiate any positions within the next 72 hours.
I wrote this article myself, and it expresses my own opinions. I am not receiving compensation for it (other than from Seeking Alpha). I have no business relationship with any company whose stock is mentioned in this article.