One of the fastest-growing areas of pharmaceutical research is biologics, or principally, monoclonal antibodies (mAbs), recombinant proteins, and vaccines. Currently, mAbs make up by far the largest portion of this market, with roughly 60 different products on the market, contributing combined annual sales of nearly $100 billion. Humira, for example - the world's top-selling pharmaceutical product - is itself a monoclonal antibody, with several biosimilars currently in development. In fact, 6 of the top 10 selling pharmaceutical products are mAbs.
Biologics, primarily used in the treatment of cancers and immunological disorders, differ from traditional small-molecule therapeutics in that they are highly specific and generally well tolerated, separating them from traditional products in their potential for rapid commercialization. They are produced through a complex process using live cells to produce the drug, followed by a series of separation and purification processes. At each step, specialty products are required to enhance production yields for the manufacturer, while also lowering costs and reducing risks through process optimization. Repligen (NASDAQ:RGEN) is a leading manufacturer of bioprocessing equipment for upstream and downstream biologic development, and is beginning to take an extremely strong position within this market.
For years, the bulk of RGEN's revenue has come from its manufacturing of Protein-A, a critical reagent in the downstream purification of mAbs, for which RGEN has roughly 98% of total market share. RGEN is largely able to retain its foothold in this market because companies are generally very reluctant to change any aspect of their purification process, as changes to the manufacturing protocol could alter the characteristics of the product.
Additionally, a series of acquisitions over the past several years have transformed RGEN from primarily a downstream purification specialty product manufacturer (primarily via its core Protein A business) into a formidable go-to supplier of upstream and downstream bioprocessing products. Last quarter, growing demand for RGEN's bioprocessing products led to record quarterly revenue of $25.1 million, up 21% from the same quarter in 2015.
This is in part led by RGEN's acquisition of Refine Technology's Alternating Tangential Flow (ATF) system, a best-in-class device for generating high cell concentrations, allowing for improved drug yield and more robust, large scale manufacturing.
Between 2014-2015, RGEN saw a revenue increase of $23.1 million ($60.4 to $83.5 million), with $8.8 million of that increase coming from ATF sales (up to $15.6 million from $6.8 million in 2014). ATF sales are expected to see continued rapid expansion, as the product moves through early adoption stages. With the recent acquisition of Atoll GmbH this year, another manufacturer of specialty pre-packed columns, guidance for FY16 has been raised to $98-102 million, up from previous guidance of $93-96 million.
We believe that RGEN will continue to see robust growth, catalyzed by a consistently expanding market for mAb-based therapeutics. In addition to the ~60 mAb products currently on the market, over 300 are currently in development. Based on recent success and turnover rates, roughly 26% of mAb products reaching Phase 2 human clinical trials will achieve market approval, with a mean Phase-2-to-approval time of ~7 years. Figure 1 below shows historical growth of the number of approved mAb products.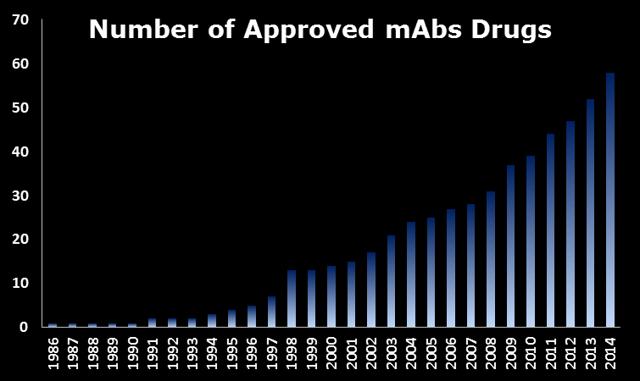 Figure 1
In addition to a growing body of products, global sales growth of mAb products have also consistently outpaced gross pharmaceutical sales growth (as shown in Figure 2 below).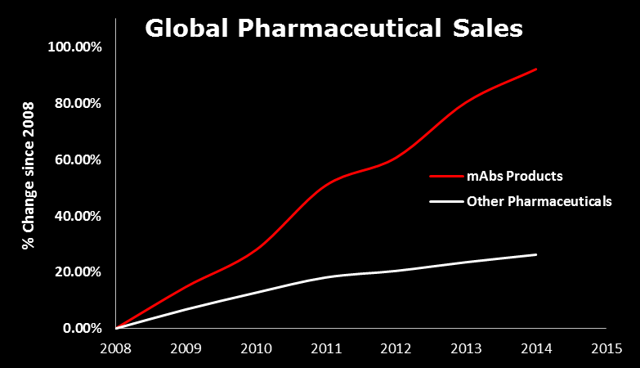 Figure 2
Over the same period shown in Figure 2 (2008-2014), RGEN saw an 87% revenue increase, compared to a 98% increase in mAb product sales. We are of the opinion that the market for bioprocessing consumables expands at a more or less comparable rate to the biologics market growth. Repligen primarily supplies products for monoclonal antibody purification. Management estimates that RGEN's total addressable market for these products is currently around $700-800 million. Based on recent sales trends, extensive analysis of historical revenue data and guidance, and evaluation of potential markets for emerging biosimilar products, we project that the market for mAbs (and thus, RGEN's revenue) will produce a CAGR north of 12% for at least the next several years.
However, look no further than RGEN's forward price-to-earnings ratio of ~44 to see that much of these growth expectations are already baked into the current share price. With these kinds of multiples, it is very easy to knock RGEN's lofty valuation. However, our 12% CAGR projection is more ambitious than current projections, largely due to what we believe to be understated growth generated by increasing development of and demand for new biosimilars.
In addition to what we believe to be excellent growth catalysts for RGEN, the company is also a cash flow machine, with a solid balance sheet. While the recent announcement of debt issuance earlier in May raised some eyebrows, as this is the first time RGEN has issued debt, and the company has not had any leveraging issues in the past, we do not see this as a major red flag.
Additionally, cash and equivalents grew 47% Y/Y in Q1, and RGEN's steady accumulation of cash and equivalents over the past 5 years can be seen in Figure 3. Because of the tendency of manufacturers to maintain consistency in their purification methods, RGEN is able to easily secure long-term supply contracts with suppliers of chromatography media that generate consistent revenue.
In light of these facts, as well as RGEN management's history of aggressive expansion, we see the recent debt issuance more as a reflection of the availability of low-cost debt in the current interest rate markets that could benefit the company's continued growth, rather than a sign of trouble for RGEN. Further, we believe that regardless of any pricing reforms that may be put into place, mAbs development, as well as demand for RGEN's suite of bioprocessing products, will expand unhindered as the company continues to generate strong cash flow.

Figure 3 - RGEN cash and equivalents (source - Morningstar via Wolfram Alpha)
While, we do not foresee any fundamental issues for RGEN in the near future, their lofty valuation presents the biggest threat to shareholders. Slight signs of trouble either for RGEN or the sector as a whole tend to lead to more pronounced drops in RGEN's share price, making RGEN one of the more risky biotech plays out there (for comparison, beta for RGEN, Amgen (NASDAQ:AMGN), and the iShares Nasdaq Biotechnology ETF (NASDAQ:IBB) are 1.38, 0.82, and 1.08, respectively). However, as we recently pointed out, we currently have a bullish outlook for the sector, and think that sector tailwinds will carry RGEN to past $30 per share with significant potential to reach $35 within the next 12 months.
Disclosure: I am/we are long RGEN.
I wrote this article myself, and it expresses my own opinions. I am not receiving compensation for it (other than from Seeking Alpha). I have no business relationship with any company whose stock is mentioned in this article.