After a promising 1Q'16 in which GDP expanded 2.8%, economic activity is set to decline in the following quarters starting in Q2. We believe that growth could reach the lower end of government's expectations and that there is an increasing risk of a weaker than expected growth for 2017. In fact, the chances of recession, although still small, are slowly mounting.
The recovery of the Mexican economy after the 2008 financial crisis started to slow down in 2013 and 2014 due to a weaker recovery in the US, Mexico's main export destination. Last year, exports to the U.S. constituted 71% of total Mexican exports and 24.7% of Mexico's GDP.
But the country proved to be resilient to the sharp decline in oil prices and US' weak economic growth last year. In 2015, Mexico's economic growth at 2.5% increased with respect to the 2.25% expansion in 2014. This was possible due to a strong domestic consumption, which is not a typical driver for the Mexican economy.
Mexico's atypical consumption last year resulted from a low interest rate at 3%, combined a 16% depreciation (from MXN 14.8 to 17.2/$) that boosted remittances 4.8% to a record of $24.8 billion, without affecting inflation - which remained at the historical low of 2.1%. Low inflation made possible a real salary increase that was complemented with declining unemployment. Still by May this year, the retailers association reported a 7.8% accumulated real growth in sales after 8.17% growth in 2015.
But signs the Mexican economy will decelerate in the coming months became evident in June, when the institute of national statistics, INEGI, reported that its general index for economic activity, IGAE, a proxy for economic growth, contracted 1.2% in April, the largest monthly decrease since January 2009. In April, the industrial activity contracted 0.7%, while services decreased in 1.4%.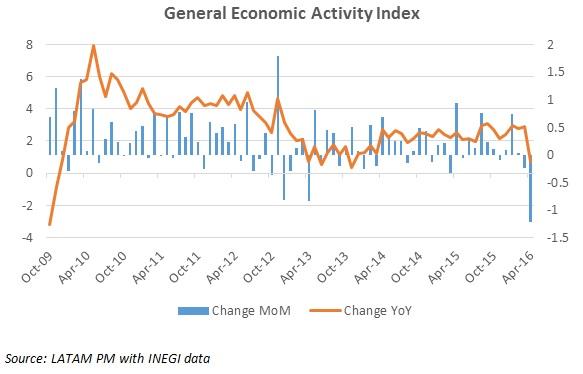 In Banxico's June survey, the private sector reacted to IGAE's last numbers and revised its growth expectations for 2016 to 2.36% from 2.44% in May's survey. This contrasts with the growth estimates of Mexican officials. Estimates from the Ministry of Finance currently stand at 2.2-3.3% growth for 2016 and 2.6 - 3.6% for 2017, which had to be revised from 2.6 - 3.6 and 3.5 - 4.5%, respectively. But even more conservative estimates from Banxico's 2-3% and the IMF's 2.4% might fall short.
Economic growth estimates for Mexico
| | | |
| --- | --- | --- |
| Forecaster | 2016 | 2017 |
| Ministry of Finance | 2.2 - 3.3 | 2.6 - 3.6 |
| Banxico | 2 - 3 | 2.3 - 3.3 |
| Private sector | 2.3 | 2.7 |
| IMF | 2.4 | 2.6 |
Source: LATAM PM
Although low inflation, depreciation and increasing remittances continue to coexist, the inflation trend is now tilted to the upside and the cost of money is increasing.
Since Banxico increased its interest rate in 25bps replicating the Fed in December, the central bank has hiked 100bps more taking the interest rate from 3 to 4.25% in 6 months. Although monetary policy takes months to influence economic growth, it mixes with the effects of a contractionary fiscal policy that has seen tax increases in 2015, coming from 2014 fiscal reform, and cuts for 2015, 2016 and 2017 budgets worth MXN 560 billion ($31 billion) equal to 3% of the GDP.
Government's Fiscal Consolidation Effort
Announcement

Budgets cuts in billion pesos

2015

2016

2017

January 2015

124

September 2015

97

February 2016

132.3

April 2016

175.1

June 2016

31.7

Total

560
Source: LATAM PM
But pressures for 2016 and 2017 growth rates in Mexico not only come from monetary and fiscal policies. US growth will continue to be key in Mexico's economic activity and the Fed's last monetary policy meeting continued to deliver bad news. Fed revised downwards its estimates for an economy growing more slowly this year and the next. Fed officials' median expectation for 2016 and 2017 was 2%, down from 2.2 and 2.1%, respectively.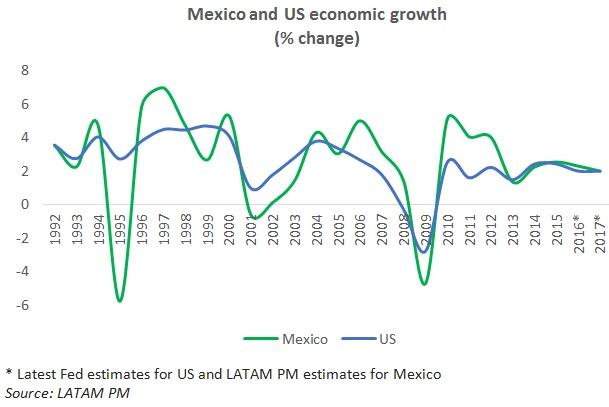 LATAM PM's Take: The combined effects of Mexico's fiscal and monetary policy and weak US growth will take a toll in an economic growth that we forecast in 2.3% for 2016 and 2.0% for 2017.
Our estimates have risks to the downside and upside. To the downside, weaker than expected US and global growth could affect the Mexican economy further. Volatility coming from Brexit and US presidential election could also increase risk aversion and Mexican peso depreciation forcing Mexican officials to act again with a tighter monetary policy and contractionary fiscal policy.
To the upside, in addition to a better performance of the US and global economies, the effective implementation of the structural reforms could stimulate private investments and a renewed private consumption. Finally, a continued rally in oil prices could revert the current trend in fiscal expenditure.
All in all, we believe that negative catalyst overshadow positive ones. Donald Trump's chances of winning are still low, but that could begin to change in the following months and create FX and confidence pressures. (Ironically, FX depreciation would benefit exports, but volatility and uncertainty are a no-no.) Manufacturing exports are falling on an annualized basis and they are currently our main concern, and gross fixed investment fell 2.1% in April. Moreover, both of INEGI's cyclical indicators have deteriorated recently and currently stand below 100 points-pointing now towards recession. If all this was not enough, fiscal spending is being cut and monetary conditions are being tightened. Again: a no-no.
This said, while we believe that the economy can still regain momentum, stars are beginning to align towards the opposite direction. All it takes is a bad blow (Trump? Brexit? Fed? More spending cuts?). Thus, we are opening short positions on the country ETF (NYSEARCA:EWW) versus the rest of our LatAm ETF sample. At the current 48.80, we are suggesting a 36.4 target for the next 6 months-25.8% upside. We believe that this is one of the most convenient ways to hedge any chances of Donald Trump winning the election and adding uncertainty to a fragile global economy.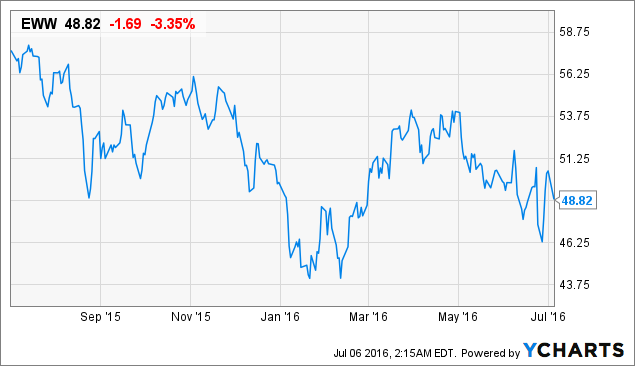 Supporting Documents
Disclosure: I am/we are short EWW.
I wrote this article myself, and it expresses my own opinions. I am not receiving compensation for it (other than from Seeking Alpha). I have no business relationship with any company whose stock is mentioned in this article.