As gold continues higher taking out the Brexit highs, one of the things in the gold sector that isn't increasing is the amount of gold discovered each year. While the price of gold has risen nearly 500% from 1990, over the same period, the 3-year running average of gold discovered each year has dropped by over 80%. In 1995, the gold market reached peak discovery levels with nearly 140 million ounces of gold being discovered based on the 3-year running average. As of 2013, this figure sits at roughly 10 million ounces and continues to trend lower. With declining discoveries made each year, it is nearly impossible for large-cap gold companies reserves to stay at stable levels. Over the past 3 years, the gold miners' GDX gold reserves fell from 550 million ounces to 460 million ounces. This represents a drop of over 15% in only a 3-year span, and this in turn affects production levels. This cycle is making it extremely difficult for large-cap gold companies to increase their earnings, as despite a 20% rise in the price of gold, most gold majors are seeing 20% drops in forward production. The only way for gold majors to increase their production is by acquiring other gold companies to add to their reserves and their production profile. Unfortunately for the gold majors, none of them except Goldcorp (NYSE:GG) have stepped up to the plate and done any acquisitions this year. I believe this is a huge mistake by gold majors, as they are now paying double the price they would have been paying in the first quarter of this year for the exact same gold companies.


As we make the shift from a violent bear market to a new bull market in gold prices, all of the large-cap gold companies are seeing their production either drop or taper off over the next 3 years. This is extremely frustrating to investors in gold majors who have already sat through a lost half decade in most of their GDX holdings. What investors would like to see is gold majors increasing their production as gold rises, as this is their chance to be their most profitable on the ounces they are selling. Goldcorp's production alone is dropping by almost 15% from last year, and despite this year's 25% drop in gold prices, the company will hardly benefit due to its lowered guidance. While Goldcorp will benefit significantly from a 20% higher gold price, it will see 15% less production and the benefits will be severely diluted.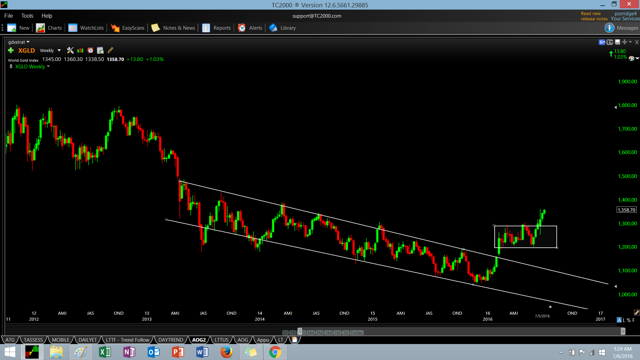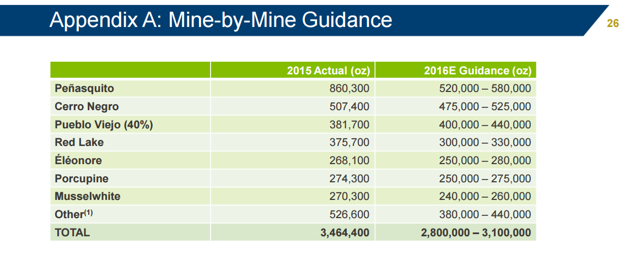 Goldcorp: first gold major to strike on M&A front in 2016
Goldcorp has received quite a bit of criticism for its acquisition of Kaminak Gold (OTCPK:KMKGF) from analysts and bloggers, like in this article. I could not disagree more with the criticism surrounding the acquisition and I believe GG made a great move by buying Kaminak. Goldcorp bought out Kaminak Gold and acquired its very impressive Coffee project in the Yukon for $520 million on May 12th of this year. Since May 12th, the junior gold miners index GDXJ has risen 27% and Kaminak was outperforming the index all year. We can infer from these stats that with the GDXJ up 27% since May 12th, that Kaminak would likely be up roughly 32% in this same time period (as it was outperforming). The average buy-out this year is being done at a 20% premium to the share price prior to the acquisition and therefore Kaminak's shares would be much more expensive had Goldcorp waited. If Goldcorp had hesitated to buy Kaminak, it would currently be paying close to $700 million for the company given how Kaminak would have performed. I am very impressed by GG for buying when it did, even though I would have preferred it if it had bought a gold company which was already producing.
It is clear that Goldcorp wanted to add reserves and future production by buying one of the top 20 gold projects in the world, not currently owned by a gold major. If it had its sights set on Kaminak Gold and saw the gold juniors continuing to trend higher, it would only make sense it would buy in May before it ended up paying exponentially more for the same asset down the road. I commend Goldcorp's management for having the foresight to buy before KMKGF continued its parabolic rise, but believe they may have more acquisitions in store for this year. While Kaminak Gold's Coffee project is a world-class deposit that will make for a nice addition to future growth, Goldcorp will not see any of this production until at least 2019. This is why I believe Goldcorp is on the look out for a gold producer that can add to its production in the meantime. After looking through several intermediate gold producers, I have come across what I believe to be Goldcorp's next takeover target. The company has a very reasonable market capitalization giving its growth prospects, a world-class, high-grade gold deposit and is sitting right in Goldcorp's backyard.
High-Grade, High-Margin Ounces in Goldcorp's Backyard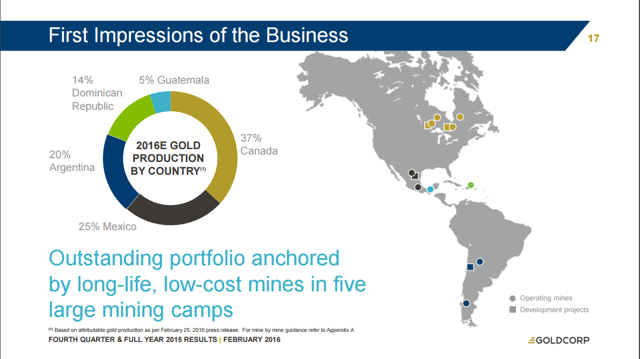 Goldcorp prides itself on having very low geopolitical risk as you can see from over 60% of its production coming from North America. The company is no stranger to mining in Mexico as it has 4 mines currently operating there: Marlin, Los Filos, Penasquito and El Sauzal. Its Los Filos mine is unique as it is sitting less than 20 kilometers from another gold producer, which currently has over 10 million ounces of gold proven up on its project.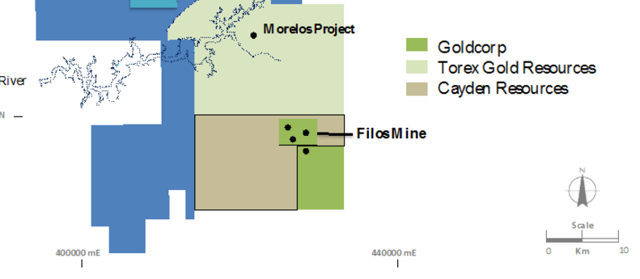 The company I am talking about is Torex Gold (OTCPK:TORXF), an intermediate producer which began commercial production in the first quarter of this year. Torex Gold's Morelos Gold project, located 20 kilometers to the north of GG's Los Filos Mine, is in my opinion one of the top 10 projects not owned by a major currently. The project hosts a resource of over 10 million ounces of gold currently between two major discoveries, its El Limon Guajes deposit and its Media Luna deposit. Its 29,000 hectare land package is located on the prospective Guerrero Gold Belt and is relatively unexplored, with only 25% of the property having been drill tested. The fact that TORXF has managed to prove up over 10 million ounces of gold on a relatively uncharted property leaves the possibility for massive upside and more organic growth. I would not be surprised in the slightest to see TORXF ultimately prove up to 15+ million ounces on this deposit with several other targets still waiting to be explored.
In an attempt to see if Torex Gold was an economic fit for Goldcorp, I compiled the below table to show how the two companies stack up and what benefits a Torex acquisition would provide Goldcorp.

Looking at the table, we can see that currently Torex represents less than 10% of Goldcorp's market capitalization, but would contribute much more than 10% to Goldcorp in terms of earnings growth, grade growth and production growth. To be fair in this calculation as most gold companies are being acquired for a 20% premium to current share price, we will assume that Torex represents 10% of Goldcorp's current market capitalization. I am placing Torex at 10% of Goldcorp's current market capitalization from the 8.3% in the table to adjust for if Goldcorp had to bid 20% higher in order to acquire Torex Gold in a hostile takeover.
As you can see in the table, Torex is already a 370,000 ounce producer and would immediately add 12.8% to Goldcorp's production profile and make Goldcorp a 3+ million ounce gold producer like it was in 2015. Torex Gold's all-in sustaining cash costs are 30% lower than Goldcorp's company wide costs and would make an impressive difference in Goldcorp's margins. By acquiring Torex Gold, Goldcorp would go from being a producer with an average all-in sustaining cash cost (AISC) on total production of $890/oz, to a producer with a total AISC of $845/oz. This would raise Goldcorp's margins from $410/oz to $445/oz, using a conservative $1,300 gold price. The most significant benefit to a Torex acquisition for Goldcorp would be the massive addition to pre-tax earnings. Goldcorp would add $233 million dollars of annual pre-tax earnings with this deal, which represents a 19.6% increase in its total earnings which would be effective almost immediately.
Based on these metrics, I believe Torex Gold is an absolute no-brainer for Goldcorp. For a measly 10% of Goldcorp's market capitalization, it is adding nearly 13% to total production, almost 20% to pre-tax earnings and over 10% to its reserves, in a district where it is already familiar with mining. Goldcorp would be able to market itself much better after this deal as the pro-forma company would be a 3.2 million ounce producer with $845 all-in sustaining cash costs and over $1.4 billion in pre-tax earnings using a gold price of $1,300/oz. It would also move its total grade on its reserves from 1.05 grams per tonne gold to just below 1.20 grams per tonne gold, or an increase of 15%.
Potential for Two Mines on one Property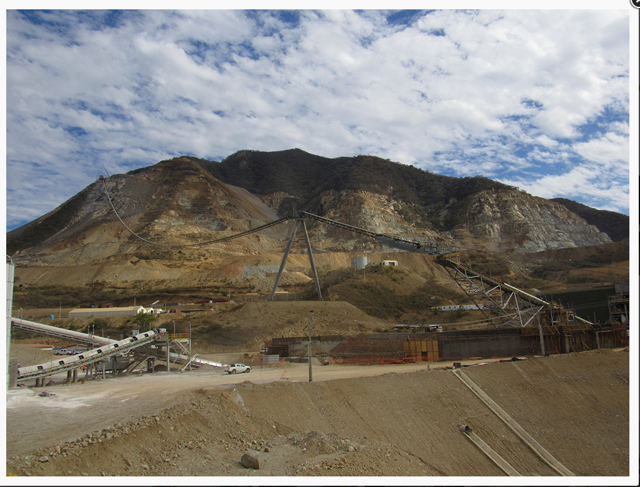 Torex's Morelos gold property is a rarity in the gold mining space as the technical team has not only managed to delineate one massive deposit and build a mine from it, they are clearly working on the potential for a second. The company's El Limon Guajes Mine began production in December of last year and ramped up to commercial production in the first quarter at its projected run-rate of 370,000 ounces annually. The El Limon Guajes Mine is a high-grade open pit mine with a resource of 3.6 million ounces of gold at 2.62 grams per tonne. The mine has industry leading all-in sustaining cash costs of $613/oz which very closely rival Kaminak's cash costs of $550/oz (GG's most recent acquisition).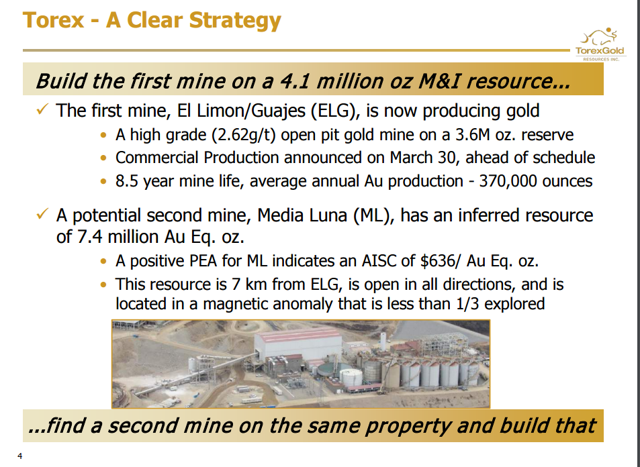 The above table and analysis of a Goldcorp takeover of Torex Gold is based almost solely on Torex being able to only build one mine on this property. I believe the above analysis is extremely conservative as it is assuming that Media Luna will not be a producing mine despite having a very robust PEA.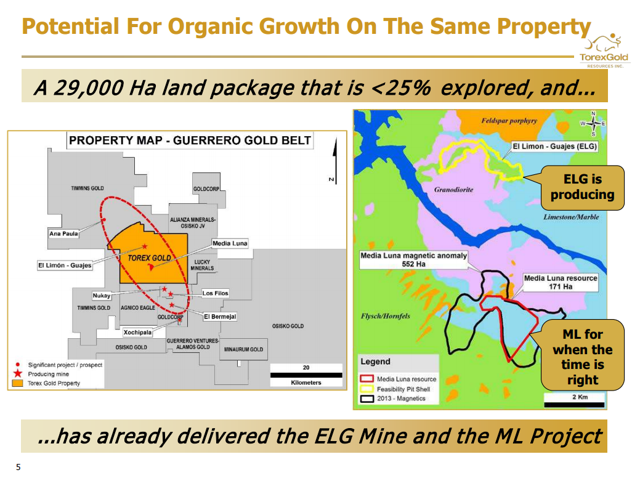 Torex's second deposit Media Luna was discovered just over 4 years ago in March of 2012, and is located 7 kilometers from its El Limon Guajes mine. The deposit is on the other side of the Balsas River and currently hosts a resource nearly twice the size and twice the grade of El Limon Guajes. Media Luna's current inferred resource is 7.4 million gold equivalent ounces with an average grade of 4.48 grams per tonne gold. The 2015 PEA done on the property envisions an underground mine with annual production of 313,000 ounces a year at $636/oz all-in sustaining cash costs. This gives the company the ability to nearly double production and transform itself into a 690,000 ounce gold producer. The initial capex for Media Luna is estimated at $480 million which represents roughly 5 years of Torex Gold's production at its El-Limon Guajes Mine based on after-tax earnings. The fact that TORXF can internally fund Media Luna is a massive bonus as the current resource supports a nearly 20-year mine life.
I cannot think of a better investment for Goldcorp currently than Torex Gold. Not only are you getting a producing mine with significant free cash flow that can grow your current production profile, you are also getting a nearly 30,000 hectare property which has barely scratched the surface in terms of exploration. If Media Luna is able to produce, Goldcorp would be getting almost 25 years of gold production at industry leading cash costs, for under $1.6 billion (based on a 20% takeover premium). I do not think the market is currently giving Torex credit for its Media Luna deposit as a potential mine. The more time that passes, the more the market will likely realize that Torex Gold's vision of 2 mines on the same property is a reality and not a golden dream. This should lead to a re-rating of TORXF closer to a $2 billion market capitalization, and much less attractive of a value proposition for Goldcorp.
There are always risks buying a company solely on the hope of it being taken over, but I believe Torex Gold represents a dual-opportunity for investing currently. If Goldcorp takes Torex over in the form of a hostile takeover, I believe this is the worst case for Torex investors. While there will be significant short-term gain, I can easily envision Torex Gold making another major discovery while transforming itself to a 690,000 ounce producer over the next 4 years. Either of these outcomes should provide a massive re-rating in TORXF shares, and if both outcomes occur, I could see a $3 billion market capitalization 4-5 years down the road.
Technically, Torex Gold is one of very few gold companies trading at all-time highs. While most gold stocks were absolutely crushed in the 5-year rout on gold stocks, Torex was certainly no exception. The stock lost over 65% of its value, but has since moved over 200% in the past year to place it right above its all-time high breakout level. I believe it is only a matter of time before this weekly breakout picks up speed and consider now a prudent time to accumulate a position if investors do not have one currently.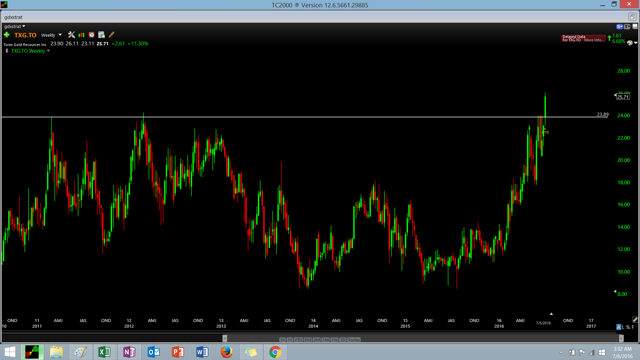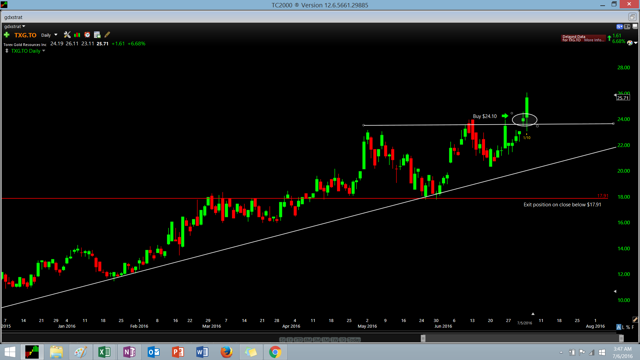 From a daily perspective, Torex Gold has just completed a new 3-month breakout which is my buy signal for equities using my trend-following strategy developed by Richard Dennis and the Turtles. I am invested in Torex Gold on the Canadian markets and entered my position at $24.10, with a stop on this position of $17.90 if the stock closes below there. All of my current positions shown below have been entered using this same strategy, and once in position, I simply ride my winners while they are trending and cut my losers if the trend is invalidated. I do not believe in guessing where the top on a stock is or profit targets, as I find profit targets to be profit limiting and imply an investor has a crystal ball. When the trend is over, price itself always tells me and while I may give up some returns as the share price breaks its trend, I will give up much more exiting my position because I think it is simply overbought. Several of my positions have looked overbought this year but have continued higher and Torex Gold is no exception. While the daily and weekly chart may look overextended, the monthly chart has just completed a massive breakout and looks ready for much higher prices long term. I believe if my thesis is right, Goldcorp should see short-term pressure if it decides to take over Torex Gold, therefore I see Torex Gold as the much more attractive investment opportunity (over GG).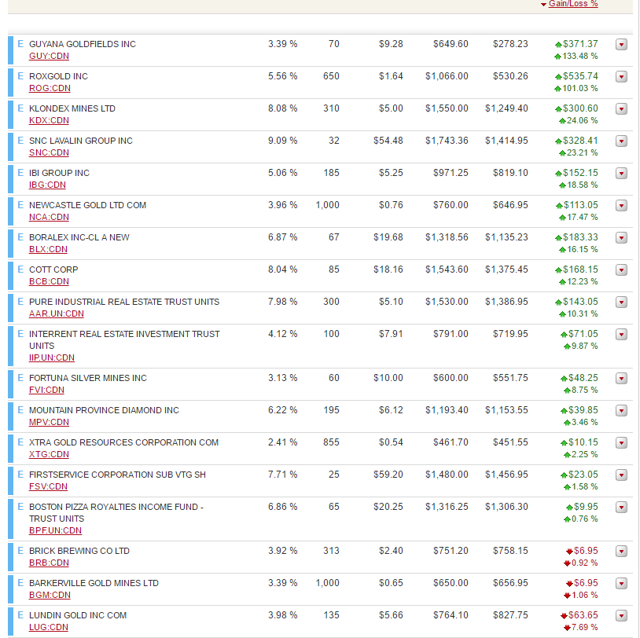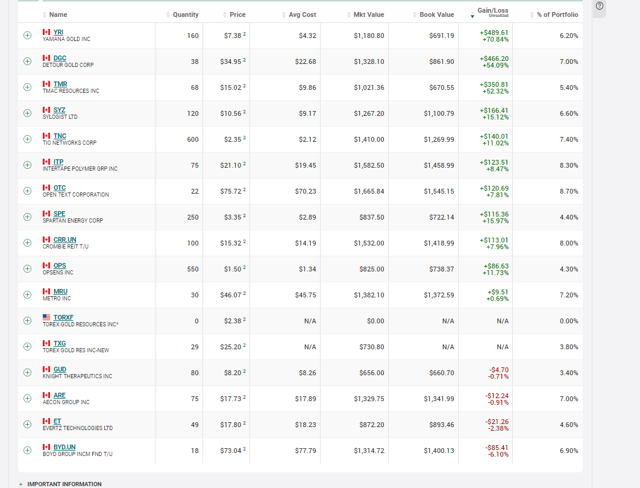 If Goldcorp is looking to stay competitive and keep its seat as one of the 5 largest gold producers in the world going forward, I believe a Torex acquisition would be very wise before the company gets any more expensive. Torex has underperformed the GDXJ this year but is fundamentally one of the most impressive with industry leading cash costs and a property with over 10 million ounces of gold. I do not believe this underperformance will continue for much longer and see Torex as a great addition to portfolios going forward, whether Goldcorp steps up to the plate or not.
Disclosure: I am/we are long TORXF, GDXJ.
I wrote this article myself, and it expresses my own opinions. I am not receiving compensation for it (other than from Seeking Alpha). I have no business relationship with any company whose stock is mentioned in this article.
Additional disclosure: If you liked this article and found it useful, please feel free to follow me by clicking on my name next to my name at the top of this article. I also invite you to check my performance at TipRanks.com, where my average return on equities this year is 65% on new long positions. My current performance ranking on TipRanks is in the top 2% of financial bloggers writing from all finance websites currently.
Editor's Note: This article discusses one or more securities that do not trade on a major U.S. exchange. Please be aware of the risks associated with these stocks.