Pepsi (NYSE:PEP) is slated to release earnings this Thursday, July 7, before the market opens. Currently, the stock is trading at 52-week highs of ~$106. Share prices have completely recovered from the sell-off surrounding the Brexit, and I think that this recovery in unjustified. Investors should be cautious heading into this earnings report.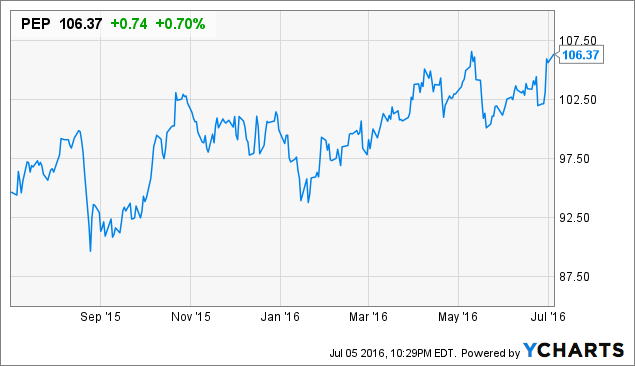 PEP data by YCharts
The big news when the company releases earnings will be Brexit-updated guidance. The numbers won't be pretty. Throughout the company's 10-K, PEP states that a strong dollar is a risk to performance. Moreover, the company lists UK as one of the markets that generates a "significant portion" of net revenue.
Last year, PEP generated 3% of revenue from the UK alone, and with the pound at multi-decade lows, revenue guidance will reflect this unfavorable FX rate. Moreover, around 6% of revenue for PEP comes from Mexico, and the USD is back its February high levels against the Peso. Essentially, we have a stock with significant international exposure that is trading near 52-week highs even after the Brexit. This seems like a disconnect to me, and I expect an ugly guide to contribute to sending shares lower.
The guide was also be negatively impacted by a growing number of cities and states getting and/or considering adding soda taxes. Soda taxes are already present in multiple US metros and states. Most recently, Philadelphia's new tax adds 18 cents to the cost of a can of soda. These taxes could de-incentivize sugary drink purchases and hurt soda sales volume. It is especially untimely for soda companies, as the taxes will make it rather convenient for consumers to "go healthy" and jump on trending diets such as the plant-based diet.
Additionally, I am not convinced that quarter was even that good pre-Brexit. According to Susquehanna data, PEP volume fell 5% YoY in the 12 weeks ended June 5. This not only lags the industry growth rate of -2.8% YoY, but is also significantly worse than Coca-Cola's (NYSE:KO) -1.3% growth rate. Moreover the current health conscious trends based in plant-based diets will enforce these popular trends away from soda in general. The valuations, though, reflect the opposite of this data. PEP and KO valuations have diverged since April 2016, and PEP is now 11.5% more richly valued than KO on a trailing P/E basis.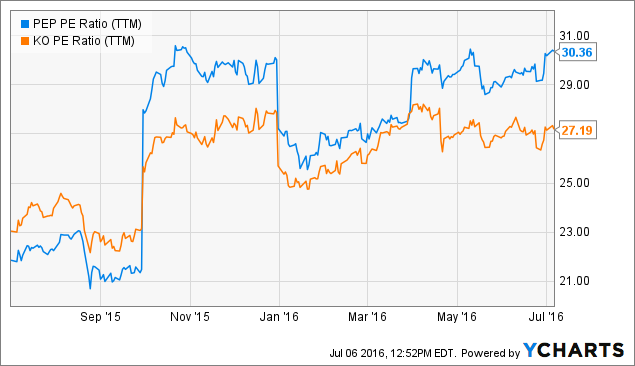 PEP PE Ratio (TTM) data by YCharts
This premium is unjustified considering that PEP has negative growth and doesn't have tailwinds from the 2016 Rio Olympics. KO is an official sponsor of the 2016 Rio Olympics. PEP is not. To me, this means there will be a slew of athletes in Rio drinking Powerade this summer and not many drinking Gatorade. With such poor water conditions in Rio, KO could get a huge boost in Powerade popularity that PEP will not get.
The valuation for PEP feels disconnected from its rather bleak outlook. FX headwinds, significant international exposure, soda taxes, lagging volume sales, and a lack of presence in Rio this summer are all things that don't feel baked into the stock price. The stock has rallied into this earnings report, and I think this makes for a good earnings play on the short side.
Disclosure: I/we have no positions in any stocks mentioned, and no plans to initiate any positions within the next 72 hours.
I wrote this article myself, and it expresses my own opinions. I am not receiving compensation for it (other than from Seeking Alpha). I have no business relationship with any company whose stock is mentioned in this article.