Prologue
It was a year ago, when I first named my original A-Team - a group of 5 high-yield dividend stocks investors should stick with for the long run.
The original group consisted of the following five stocks: Ares Capital Corporation (ARCC), Apollo Commercial Real Estate Finance (ARI), Gladstone Investment (GAIN), Main Street Capital (MAIN) and Starwood Property Trust (STWD). Back then, in July 2015, I also took advantage of the opportunity to nominate Prospect Capital (PSEC) as a potential "sixth element"; a top candidate to enter my A-Team - and it eventually did (in mid-January 2016).
PSEC, together with additional four new names - Hercules Technology Growth Capital (HTGC), Ladder Capital (LADR), Newtek Business Services Inc. (NEWT) and New Residential Investment (NRZ) - are now part of my current ten-member A-Team that, for itself, has turned from being a "Fab Five" into a "Top Ten".
At the end of Q1, following extensive purchases of interest rate sensitive instruments during the beginning of 2016, I've started a series of articles that breaks my A-Team into pieces. Each article is focusing on a different company that is part of my A-Team.
In order to know or be reminded what is the criteria to make it into my A-Team, what were the closing prices at the end of Q1/2016 and which names already been covered in details - please look at previous parts of this series of articles:
Part I focuses on MAIN (Main Street Capital).
Part II focuses on ARCC (Ares Capital Corporation).
Part III focuses on STWD (Starwood Property Trust, Inc.).
Part IV focuses on NRZ (New Residential Investment Corp.).
Part V focuses on ARI (Apollo Commercial Real Estate Finance, Inc.).
Part VI focuses on GAIN (Gladstone Investment Corporation).
Part VII focuses on LADR (Ladder Capital Corp.).
Part VIII focuses on NEWT (Newtek Business Services Inc.).
Originally, I intended to finish the individual coverage all ten stocks during the first three months following the launch of the A-Team before publishing an end of quarter review. Nonetheless, my genuine good intention has bumped into some delays and, therefore, the A-Team's end of Q2 review already been published while the focused articles regarding HTGC and PSEC haven't.
Following this article, PSEC will be the "last man standing" without being properly covered as of yet. Ill get there son so stay tuned!
Warriors, Thunders and Cavaliers
The first group of five stocks that I covered are the "Warriors" - companies that are larger in size (market cap) and/or more experienced (having a longer track record) as a public company. The second group of five stocks that I'm still covering are the "Thunders" - companies with a smaller market cap and/or a shorter track record as a public company. Naturally, the "Warriors" are less risky/volatile and more resilient than the "Thunders".
Accidentally or not, the recent, quite shocking, news - Kevin Durant joining the Golden State Warriors team - is a reinforcement of my view that "Thunders" are looking to become "Warriors"...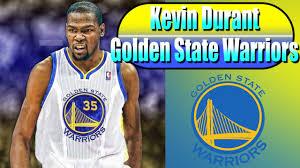 No matter what type of stock you hold, when it comes to investing in equity markets, the concepts are very similar to those that apply to the basketball court:
1. Fly high - Attack with massive power! Try to pick the stocks that can fly as high as possible and turn into a massive slam dunk.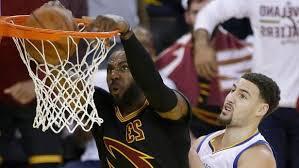 2. Protect your capital - Don't forget to play defense! Playing defense is at least as important as playing offense.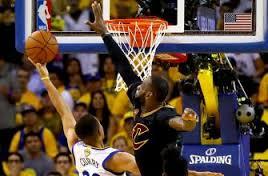 3. Timing is everything - Take profits and cut losses, as needed. Do your best to avoid crying out of sadness/losses, only out of joy/profits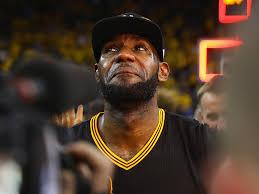 Sticking to these basic rules may turn your Warriors and Thunders into a Cavaliers and you may even find a "King James" among your holdings.
Hercules Technology Growth Capital is no King James. With a market cap of only $915M - size matters!... - it can't even claim to be an all-star. Nonetheless, just like Hercules - the Greek divine hero - HTGC is famous for its strength and for its numerous successful adventures, i.e. investments.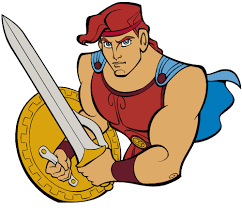 The A-Team Performance
As usual, before diving into Greek classical mythology, it's worthwhile taking a look at the A-Team overall performance. Since the Q2 performance of the A-Team already been discussed, I wish to focus and touch upon the A-Team performance since the Brexit results became available - June 23rd 2016: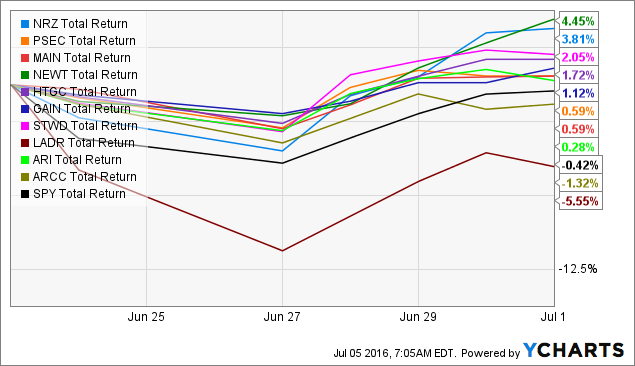 Brexit, as we all know, hasn't caused too much damage, at least when it comes to the equity markets. Following a short-lived two days of relatively sharp declines, the market (NYSEARCA:SPY) has recovered the losses quickly. So did the A-Team.
The exception to this full recovery was LADR that is still outperforming both the SPY as well as its A-Team "comrades". During the two days following the referendum, LADR has suffered ~1% drop for each $1 of its share price; from $12.79 post Brexit to as low as $11.34 afterwards. The 11.34% decline has since then been cut by half.
It's important to note that until the Brexit vote, LADR has started to move higher. Since the previous focused report (June 9th), LADR has massively outperformed any of the A-Team non-official benchmarks (BDCS for BDCs, REM for mREITs, IYR for the real estate sector and VNQ for eREITs)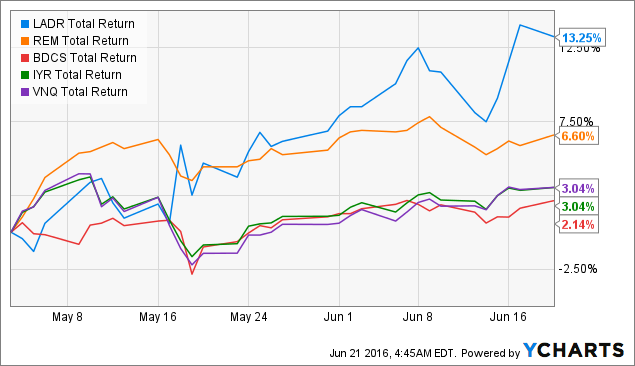 Brexit had its toll on LADR and the stock still experience elevated levels of volatility. Nevertheless, it hasn't left my "buy range" ($11-$14) at any given time and holding above the $11 mark is a good sign. As the Brexit dust sinks and since I believe that LADR offers a very good value for money I expect LADR to move back towards and above its pre-Brexit price, reflecting its various advantages: low payout ratio, high dividend yield, attractive P/EPS and a safe distribution.
Looking at the performance of the entire A-Team since March 31st 2016 (chart can be seen at the quarterly review), ARCC remains the only A-Team component to show negative return, something that is entirely attributed to the recent mega deals the company announced on and/or been involved with. Investors fear that ARCC is chewing more than it may be able to swallow. I disagree and I expect the company's management to address those market concerns during its next earnings report. Adding to that what I expect to be solid results, the next earnings announcement, August 2nd, should perhaps put an end to the current-temporary lagging of this name.
HTGC: "The Rock"

While ARCC and LADR experience volatility, HTGC is as stable as an A-Team can gets. Since the A-Team launch, this stock has witnessed stable pricing combined with declining volatility: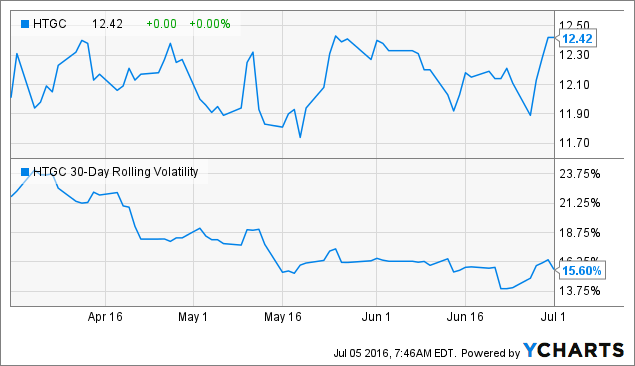 The price stability and the low volatility are the two characteristics that turn HTGC, in spite of its size, into a solid-reliable rock.
Needless to say that there's much more than only that to this powerful stock.

HTGC: Company Profile, Focus Areas, and Portfolio
Hercules, funded in 2003 and went public in 2005, is an internally managed BDC that invests in lower-middle market US companies. The company focuses on companies operating in the fields of technology, life sciences, and sustainable and renewable technology industries. As the largest non-bank lender to venture capital-backed companies at all stages of development, the company provides financing in the form of debt investments such as senior secured debt, warrants, mezzanine and equity capital for acquisition and recapitalization, seed and early stage capital requirements.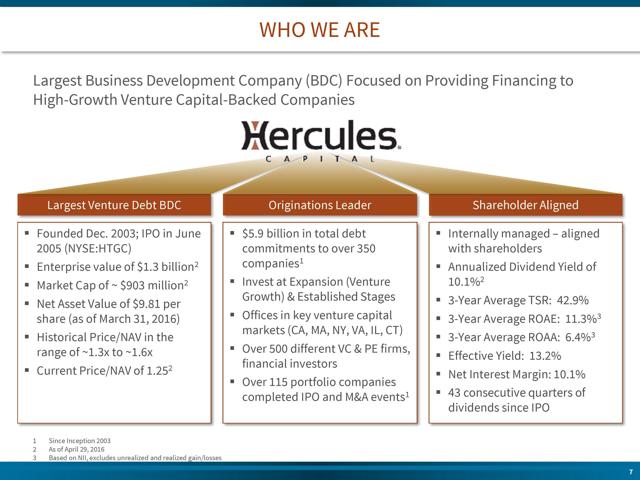 HTGC's financing solutions include:
Growth capital financing
Asset-based financing
IPO, M&A and public company financing
Other types of financing solutions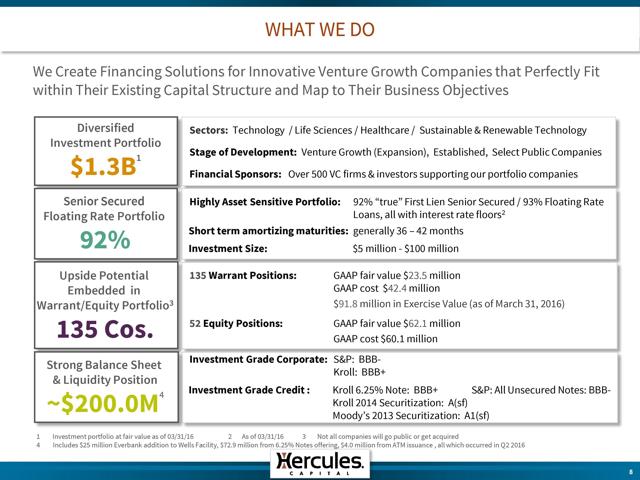 The Company's portfolio consists of the following main areas:
Technology companies that utilize debt financing for a broad range of activities - hiring the right talent, purchasing equipment, investing in new capabilities, financing working capital, and making strategic acquisitions.
Sustainable and renewable technology companies. This is a fast-growing, rapidly changing sector and HTGC financing solutions in this area have been used for growth, operations, expansion, acquisitions, and deployment of facilities.
Life Science companies that leverage HTGC' debt financing solutions to speed time to market, broaden the scope of their clinical development and research, invest in new capabilities to reach important growth milestones, or shore-up their balance sheets ahead of an IPO or negotiations with strategic partners.
Special-Opportunity Lower-Middle Market companies that use HTGC' senior secured loans to grow and develop their businesses.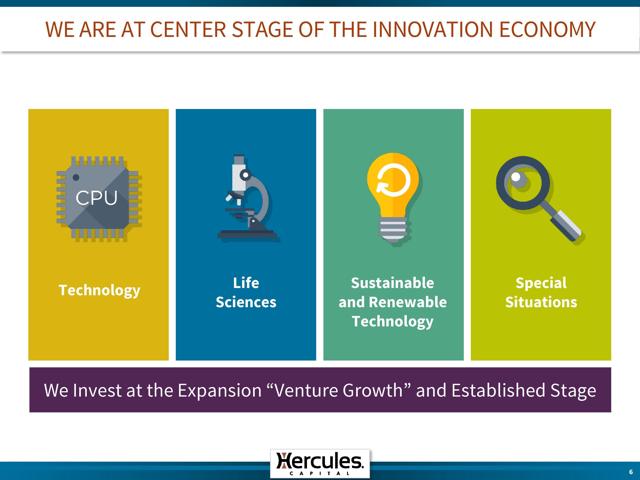 Sometimes, when you look at a company, it's important to know what it doesn't do (almost) as much as what it does. HTGC has no exposure to any of the following: oil and gas, CLO, CMBS, RMBS, metals or minerals. Putting it differently: HTGC try to avoid volatile sectors and instruments.
Avoiding volatility but not avoiding risk... A big chunk of HTGC's lending/investment activity is directed towards the VC segment.
HTGC debt and equity commitments are, unsurprisingly, showing the exact same pattern as the investment trend of the whole VC segment: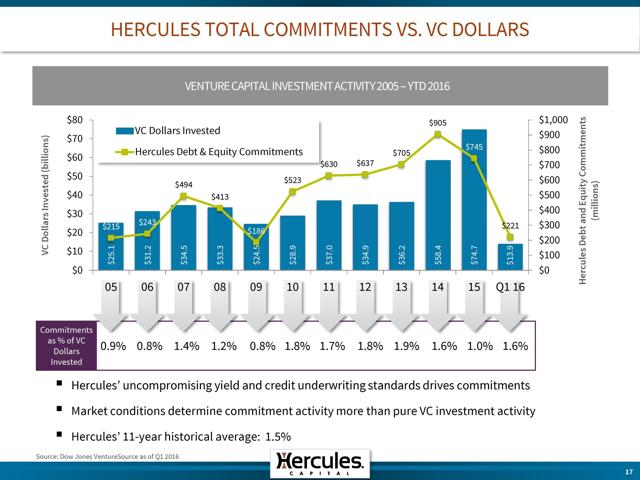 As you can see, our relatively tiny HTGC is responsible for about 1.5% of the US VC-backed activity!
HTGC focuses primarily on innovative high-growth venture capital backed companies at their expansion (venture growth) and established stages in a broadly diversified variety of technology, life sciences and sustainable and renewable industries. As such ,HTGC also benefits from companies that make exits.
Here is an overview of how exits look from the entire VC segment perspective: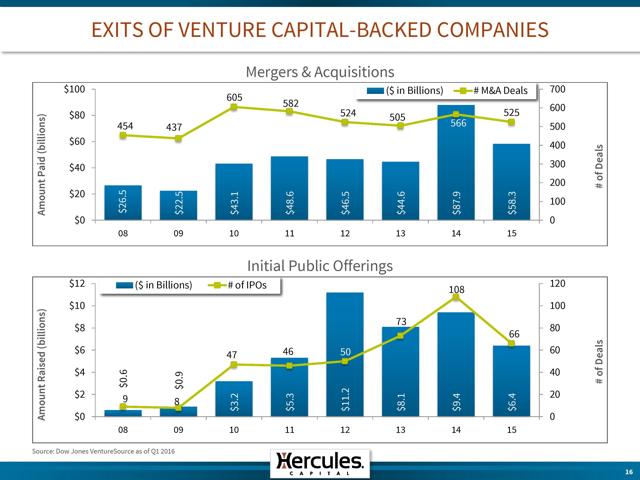 And here is how successful backings that ended with IPOs (the lower half of the above chart) looks from HTGC narrower perspective: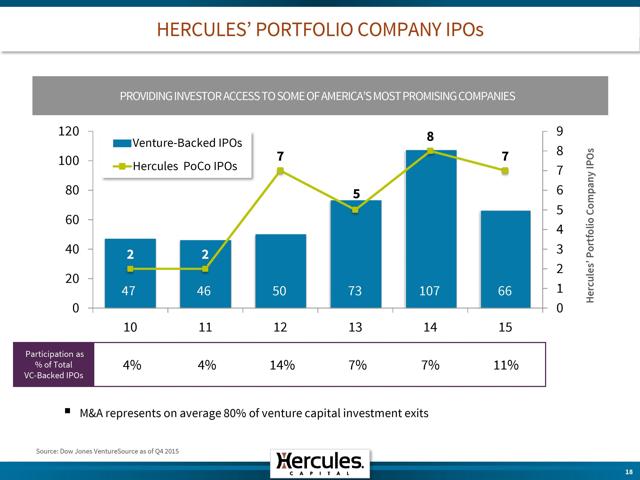 Similar to GAIN, HTGC is not only counting on its traditional lending activities but it's also benefiting from companies that HTGC hold stakes in and are going public or being acquired. While HTGC is not doing so in the same extent that GAIN does, the "VC characteristics" of HTGC are no less significant due to the nature of companies HTGC is focusing on. Putting it differently, while GAIN total exposure (% wise) to companies' equity is bigger, HTGC focused areas makes it as innovative and/or venture capitalist as GAIN is, perhaps even more.
HTGC's Main Strengths and Most Compelling Features
Large and profitable market opportunity. Operating within the growing and ever-thirsty VC arena allows HTGC with its 1.5% (average) share to be picky and sizeable enough to set its own terms and conditions. The VC arena is risky by nature but whenever there's a success it's usually a huge success. In-spite of its strict risk management policy (see hereinafter), HTGC has scored an amazingly high rate of ~10% participation (over the past four years) in the number of companies that went public out of the total number of VC-backed IPOs companies.
History and safety of distributions, backed by financial results. Since it went public, the company has 43 consecutive quarters of dividends. The company de-facto has already returned to investors money valued at almost 100% of the current share price: More than the past impressive distributions, it's the future safety of the dividend that makes HTGC a solid income play: It's important to also note the financial highlights of HTGC that add another layer to the margin of safety in regard to the company's dividend: Distributable net operating incomeof $0.32 per share (total $22.7M), up 44% YoY *** Net investment income of $0.28 per share total $20.1M), up 55% YoY *** Loan book effective yield of 13.2% (versus dividendyield of ~10%) *** Q1/2016 ROAE of 10.9% *** Q1/2016 ROAA of 5.9% *** Net interest margin of 10.1%.
Set and ready for a rising rates environment. While at the moment an interest rate hike seems unlikely (though never say never!), I like to see management teams that are adjusting and preparing for the ever-changing markets and landscape. HTGC is maintaining one of the highest sensitive portfolio to interest rates with 93% of its loans are linked to floating rates and have interest rate floors. As the above chart shows, HTGC is expecting every 0.25% increase in the prime rate to add about $0.03 to its EPS; that's about 10% jump in the company's per share profitability for every 25bps rise in rates.
Consistent portfolio growth and steady NIM. As already outlined, HTGC main strength across the board is stability. HTGC is very good at what it is doing and that leads to solid-continuous performance and portfolio growth. The portfolio growth, for itself, leads to higher and better dividend growth coverage through higher NII. The company's consistency is also evident by the very stable net interest margin ("NIM)" along the years:
Strong credit quality with strict focus on Credit underwriting process. HTGC's portfolio credit quality weighted average has been very stable along the years representing the company's weak appetite to lend to lower grade borrowers:
Repurchase program. On February 23rd the company's initial repurchase program expired and an additional open market share repurchase program of up to $50M had been approved. The extended $50M share repurchase program is expected to run through August 23rd 2016. Under its initial $50M repurchase program, the company bought back about 1.2% of the float for a total amount of $9.4M. What is more impressive than the program itself is the fact that HTGC is buying back shares while the company's share price is (and has been) trading way and above the NAV. Putting it differently, the company believes in the undervaluation of the stock price to such a degree that it's willing to purchase shares above their BV. While not accretive to shareholders from a pure NAV perspective, that's a great sign of confidence by HTGC's management. On the other hand, in accordance with its actively-utilized ATM equity distribution, HTGC also sold (as of May 2nd 2016) 1.4M shares for total net proceeds of $16.4M. Unlike the repurchase program, this sum is accretive to NAV and as a matter of fact, more shares have been sold than bought so the net effect from a NAV perspective is positive.
Strong balance sheet and diverse funding sources that leads to significant available capacity. HTGC employs and benefits from a variety of funding sources that include banks, baby bonds, SBA debentures, convertible debt and securitization: As a matter of fact, HTGC managed to increase its borrowing power over the past couple of months through various channels. The company expanded its credit facility with Wells Fargo Capital Finance (under the accordion feature that allows for an expansion of up to $300M): First in March as AloStar Bank of Commerce committed $20M and then in April as Everbank committed $25M. These two additions make bring the credit capacity to $120M of under the accordion that allows a total of up to $300M. About two weeks ago, the company also priced an additional $60M in aggregate principal amount of its 6.25% unsecured notes due July 30th, 2024. The newly committed funding not only reinforced the reputation and financial strength of HTGC but it also allows the company to take advantage of opportunities as they arise. Since the company is focusing on early-stage opportunities and these opportunities are sometimes quite crowded - the company's ability to react fast and to hold the necessary sources available is key in HTGC to put in hands on lucrative early-stage opportunities. As of March 31st 2016, the company's liquidity stands at ~$200M that are immediately available with additional leverage capacity of up to $297.1M.
Active risk management. One of HTGC's main strengths is its risk management that in return leads to the company's consistency and stability. As already outlined, HTGC has no exposure to the oil and gas industry. Although personally I'm in favor of energy exposure there's no doubt that by avoiding one of the most volatile sectors the company ensures lower volatility for itself. The company's mitigation of risk is noticeable on various levels: First and foremost, the company operate a well-diversified portfolio within the segments it operates and specializes in: The company not only holds a diversified portfolio but it also re-balances the exposure to the different sectors on a timely basis: Furthermore, the investment structure allows HTGC to recover about one third of its typically 36-month duration loans after only 12 months, thus reducing the tenor and borrower risks: HTGC also employs low leverage on both absolute and relative terms that leaves extra capacity to grow further:
Attractive yields and equity upside from warrant portfolio. HTGC's core yield is both very stable as well as sufficient to meet and cover the ~10% dividend yield. The GAAP effective yield is even higher than the core yield, suggesting that HTGC is actually operating at an ever better margins than the core yield suggests on its own. The company insists on key parameters to protect the most important interests from a lender perspective: (1) In position to call the shots: HTGC is usually the only lender. (2) Seniority: 92% of funding are first lien senior secured loans. (3) Duration: All loans have short term (36-42 months) amortizing maturities. (4) Future potential: All loans principally include warrants for potential additional return:
HTGC from a Trading Perspective
Just as I did in previous A-Team articles, I enjoy making "family links", i.e. pointing out at stock behavior similarities, between my "Warriors" to my "Thunders". An older brother-younger brother type of relationship. Accordingly, LADR has been "coupled" with STWD and NEWT found a new "relative" called NRZ. Using the same line of thinking, I find HTGC to be the equivalent "Thunder" of a great "Warrior": ARCC.
Admittedly, the most suitable "spouse" for HTGC would have been GAIN, a BDC that is also involves in VC-like type of activities. Nonetheless, since GAIN (like HTGC) is a "Thunder" it can't be coupled with another "Thunder" ad therefore this proposed matchmaking has been banned.
Similar to ARCC, HTGC traditional, long-term, average dividend yield is ~10%. Like ARCC, HTGC is looking to get bigger and stronger and in order to do so, the company is willing to explore non-traditional, routes that offer a high risk/reward profile. While ARCC is setting a new bar for BDCs with its ACAS takeover, HTGC is setting a new bar for BDCs with its VC-funding activities.
Both ARCC and HTGC are willing to take relatively big risks in the short term in order to possibly win big rewards in the future. Just like many investors fear that ARCC is trying to chew more than it can swallow, I believe that many investors may view HTGC as too risky due to its VC focus. History for both companies is long enough - including going through the sub-prime crisis - to suggest that the two companies know what they are doing: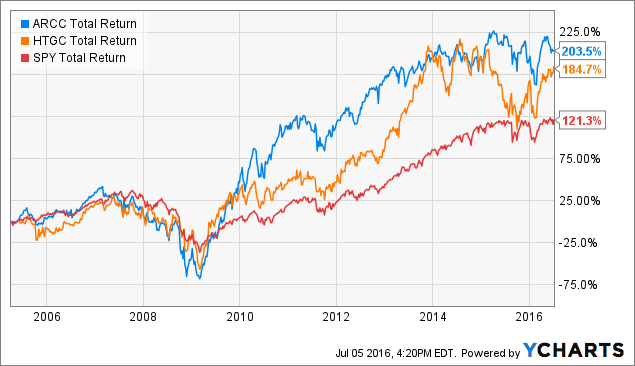 Not only that the performance graph of ARCC and HTGC is quite similar but they both recorded relatively close total return over the past ~11 years. Furthermore, the two companies have beaten the SPY significantly over that time period, suggesting that their risk/reward offering in apparently working!
HTGC benefits from its internally-managed BDC status that, in most cases (MAIN, TCAP, KCAP; NEWT is an exception), leads to the stock trading at a generous premium to BV. The current share price of HTGC, $12.42, implies a about 27% premium to the $9.81 NAV as of March 31st 2016. I shall remind readers at this stage that MAIN's premium to its NAV is twice as much!
Like in the case of ARCC, I see further upside for HTGC - and my investment recommendations reflect this - but it's not massive.
Unlike the case of ARCC, since the launch of the A-Team on March 31st, the two companies took completely different paths: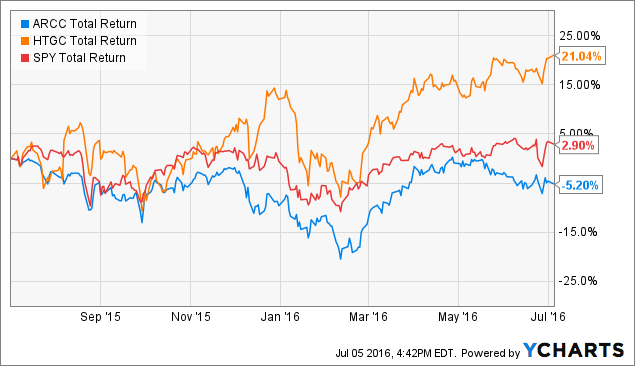 ARCC has a lot of catch-up to do (but that's a different story) while HTGC already performed well and beyond my wildest dreams.
HTGC Investment Recommendation
Share price
Rating
>17.5
Strong SELL
15.5 - 17.5
SELL
13.5 - 15.5
HOLD
11.5 - 13.5
BUY
<11.5
Strong BUY
As you can see, HTGC is trading is relatively tight range, reflecting the relatively solid and very consistent performance of this stock.
Usually, I find it to be quite an easy task to set the trading recommendations' ranges but this time I had to give it an extra thought. If I could add to each value in the above table +/-0.25pt I would happily do so. Those ranges are never paved in stone, especially not in the case of HTGC...
The stock is still attractively valued and HTGC is very attractively positioned to allow the stock to move out of the BUY range soon enough. From there - the upside is admittedly limited but, as you already know, I'm not shy of any stock yielding 10% even if the price isn't going to one bit. An annual return of 10% is more than enough to please my reward (and subsequently risk) appetite!
Portfolio Update For Q2/2016 By Hercules Itself - July 5th
This article started being written on July 4th and finished the next day. Shortly after hitting the "submit" button I became aware of Hercules providing a portfolio update for Q2/2016. Here goes...
Closed new debt and equity commitments of $203.9M to date for Q2/2016
Eight new commitments to venture growth stage innovative technology, life sciences and sustainable & renewable technology companies backed by leading venture capital firms
An important milestone has been achieved: Over $6B in total debt commitments since inception (December 2003)
"Early pay-offs": Unscheduled principal repayments of $117.6 million for Q2/2016
Five Hercules' portfolio companies currently in IPO Registration
Six announced current and former portfolio company M&A liquidity events during Q2/2016
Completed two successful bond offerings, raising an additional $141.9M of 6.25% Notes due 2024 ("HTGX") to support continued portfolio and earnings growth
Expanded the Wells Fargo Accordion Credit Facility with an additional $25M from Everbank, for a total of $120M in credit capacity, subject to borrowing base, leverage and other restrictions
All in all, HTGC continues to execute of its portfolio and earnings growth strategy, just like a Swiss clock. And that, folks, is exactly why Hercules is so strong.
Epilogue
In spite of being "just" a "Thunder", HTGC is one of the A-Team's most solid picks.
In spite of operating within the higher-risk VC arena, HTGC is one of the A-Team's most consistent picks.
In spite of having one of the smallest market cap, HTGC is one of the A-Team's less volatile picks.
HTGC is in many ways one of great things that come in small packages. Don't let the relatively small size or the VC playground (where HTGC plays) drive you away. HTGC belongs and deserves to be viewed as one of the big guys - ARCC.
In a perfect world, we wish to get a high return for a low risk. HTGC is offering you one of the most attractive risk/reward combination in a far from being perfect world.
Disclosure: I am/we are long ARCC, STWD, ARI, NRZ, GAIN, LADR, NEWT, HTGC, PSEC, TCAP.
I wrote this article myself, and it expresses my own opinions. I am not receiving compensation for it (other than from Seeking Alpha). I have no business relationship with any company whose stock is mentioned in this article.