Business Fundamentals
Seadrill (NYSE:SDRL) offers services in deep sea drilling. The company is one of the strongest in the industry, but the entire industry is suffering from the recent crude oil downturn. As a matter of fact, the industry in general needs >$70 crude for its services to be in demand from oil producers. Here is a short summary of the company's information:
Cash on hand: ~$1.04 billion
Total debt: ~10.7 billion
Total debt due in 18 month: 4.4 billion
Current interest expense: ~280 million/quarter
Projected upcoming net operating income: ($150 million) to $50 million per quarter
Contracts' average length: 16 months
Currently, the company is using debt equity swaps to deal with its bond debt. The company twice offered a total of 15,684,340 shares to exchange for $105 million total in bond debt (see the latest news report here). Unfortunately, these debt equity swaps do have drawbacks. Issuing equity at such poor prices significantly dilutes the company's shares, and gets rid of very little debt from Seadrill's balance sheets. Since the company does not pay dividends, these swaps will not affect cash flow and will help Seadrill and investors. In the long term, each share's dividend will be diluted if the company manages to recover.
As a result, the company is expected to continue creating opportunities for debt equity swaps in the future. However, these maneuvers may only be able to reduce the short-term $1.0 billion in bond debt by a projected maximum of $300 million within the next 18 months. Unfortunately, the $3.4 billion in bank loans due are significantly more difficult to deal with. A major deal in this area is required to reduce some outstanding $4.0 billion in debt in the mid-term, as the economic situation in oil stalls into 2018.
As a contrast to the $4.0 billion in short-term debt, the company only has $1.1 billion in cash. In addition, its monthly operating income is completely cancelled by its interest expense on its $10.7 billion debt. In fact, net operating income for Q1 2016 is nearly zero.
To make matters worse, the contracts generating the operating income are expiring very quickly -- as of July 2016. As a matter of fact, nearly half of all jack-ups and semi-submersibles have expired recently, or are expiring within six months. This will significantly reduce the company's revenue streams and make its net operating income negative.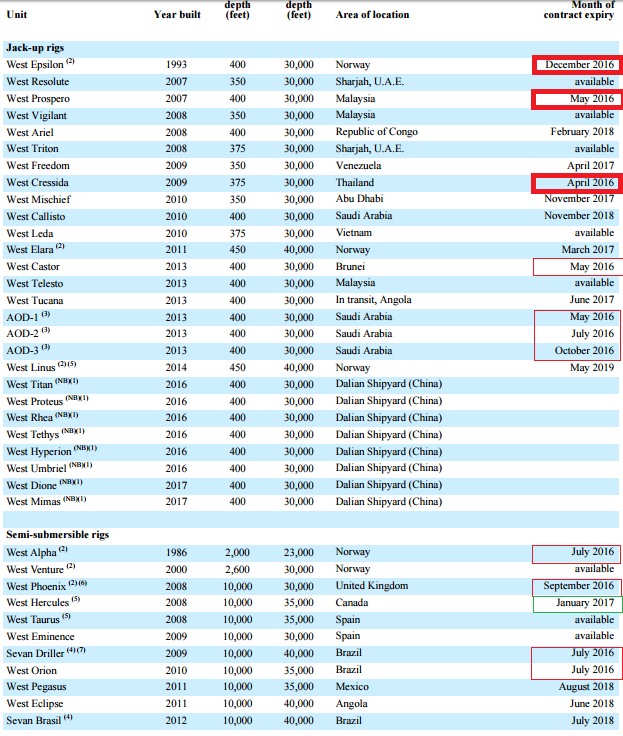 As a result of these contract expirations, Seadrill's operating revenues are expected to decrease. Consequently, its interest expenses will quickly exceed its contract revenues. Therefore, net operating income will become negative and start to eat into its $1.1 billion cash reserves rather quickly. As a result, the current cash reserves are not likely to last very long, thanks to debts due and diminishing revenue.
Due to the above-mentioned factors, the company faces liquidity dangers as soon as the second half of 2017. That's because cash is expected to be used quickly, and the company has a minimum liquidity threshold of $250 million. To avoid these liquidity dangers, Seadrill will need to negotiate three or more big deals to address its $3.4 billion in bank loans in 2016 and 2017.
Summary of Macroeconomic Conditions and Forward Expectations
Currently, brent crude prices are around $47.50 and likely to rise very little until Q2 2017 (see below photo). As a matter of fact, oil prices will have difficulty rising to $70 within a few years due to a plethora of factors.
The shale industry is capable of cheaply and quickly bringing oil supply online at prices of $50 to $60 per barrel crude. This phenomenon effectively caps any type of oil rally beyond that range unless there is outrageously strong demand for crude. Unfortunately, the currently slowing global economy, especially in China and Europe, will not produce outrageously strong oil demand for a few years.
As a matter of fact, you can refer to the below picture for EIA's crude forecast. The agency only predicts crude rising slowly to $60 by the end of 2017. You can see the full short-term energy report here.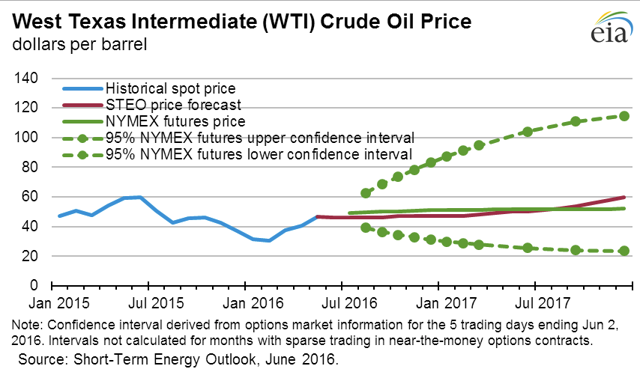 The above predictions can be found here.
Pro-Oil Forces
As a plus to oil prices, strong macroeconomic forces are at play with oil trading around $47.50. Low prices strongly stimulate demand as consumers overwhelmingly favor gas-guzzling pickup trucks and SUVs. Moreover, the low price climate discourages investments, further reducing future oil supply coming online. However, these economic forces might have to work for years to erase the current oil glut and inventory builds. These forces cannot be expected to help Seadrill for another two years.
Bankruptcy
As noted above, Seadrill should be expected to file for Chapter 11 bankruptcy as early as second half of 2017. To avoid this situation, Seadrill will need the price of oil miraculously breakthrough the $50 to $60 range. To help realize this miracle and avoid filing for Chapter 11 bankruptcy, Seadrill will likely need two of the three following items to materialize:
Negotiate to defer at least 85% of its debt payment on its $3.4 billion short-term bank loan payments.
Serious oil supply shocks affecting at least 2.5MBPD occur and temporarily bring oil back to $70 for a few months in the next 12 to 18 months, allowing Seadrill to renew some if its contracts and open its negotiation options. This situation will be difficult to achieve since serious supply shocks in Canada and Nigeria that brought oil to $53 are quickly coming back online.
The global economy, especially in Europe and China, miraculously and significantly improves, helping oil recover quickly within the next 12 months. This situation is extremely unlikely as the global economy is slowing and global crude inventory are at historical highs and require serious oil demand.
Since these situations will be very unlikely to materialize, it is likely Seadrill will be forced into Chapter 11 bankruptcy. Whether the company will liquidate under Chapter 7 bankruptcy will depend on how effectively it can negotiate its debt. This will be a close call.
Conclusion
Currently, Seadrill's future is very bleak. Any investment in Seadrill is very speculative. My opinion is that Seadrill will be forced into Chapter 11 before crude prices rise significantly enough for its services to be in demand. Therefore, it is advisable to sell or stay away from Seadrill common shares.
Disclosure: I/we have no positions in any stocks mentioned, and no plans to initiate any positions within the next 72 hours.
I wrote this article myself, and it expresses my own opinions. I am not receiving compensation for it (other than from Seeking Alpha). I have no business relationship with any company whose stock is mentioned in this article.
Additional disclosure: May I change my pen name to one of the below: Dividend Investor, Dividend Income, Smart Dividend Income? Thanks!