Whiting Petroleum (NYSE:WLL) shares have taken a big beating on the market in the past month, losing around a third of their value. In fact, on Tuesday this week, Whiting was being decimated on the market as its stock fell over 12%, driven by the weakness in oil prices. Driven by the economic uncertainty and a stronger dollar on account of Britain's EU exit, WTI oil has retreated in recent sessions and now trades at just over $46 per barrel, down almost 10% in the past month.
This has created weakness in Whiting Petroleum's performance on the stock market. However, in my opinion, the drop in Whiting Petroleum shares is an opportunity to buy more shares as it is well-prepared to thrive even in a low oil price environment. Let's see why.
A lower cost structure will be a tailwind for Whiting
Whiting Petroleum has been continuously focusing on bringing down its costs in a sustainable manner so that it can improve its rate of returns going forward. As a part of this strategy, Whiting has been using more frac sand in its well completions, along with more number of stages so as to enhance production at lower costs.
For instance, in the Middle Bakken and the Three Forks formations, Whiting has recently completed a couple of wells by deploying 40 frac stages and 6.8 million pounds of frac sand. Additionally, the company has been also using diverter agents in order to single out the frac zones that lie along the wellbore. The good news is that these wells have delivered a massive spurt in production due to the enhanced completion techniques deployed by Whiting.
The Middle Bakken well saw a 232% increase in initial production as against the traditional drilling technique, while the Three Forks well delivered a 124% jump in average initial production. This massive improvement in the production rates at these two wells is not surprising as the use of more frac stages and higher proppant is an efficient way and cost-effective way to increase production.
By using more frac stages, a driller is able to increase well injections in order to create more pressure inside the well. This leads to enhanced production on account of stronger pressure and an increase in contract with the wellbore, as shown in the chart below: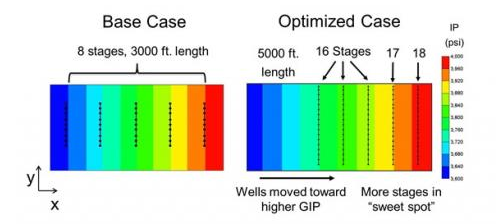 Source: RBN Energy
Looking ahead, Whiting will continue to develop more wells in such high-pressure oil windows since it has around 1,777 locations in the Williams County of the Williston Basin. Additionally, the fact that Whiting is making structural improvements to its well development cannot be ignored either, as this is allowing the company to bring down drilling times.
For instance, Whiting has upgraded the configuration of its wellbore, which is allowing it to remove the intermediate casing string used in the prior well design. Instead, Whiting is cementing a 5.5 inch casing from the surface of the well until the depth, and this has enabled it to reduce the drilling time for a 7,000 feet lateral in half to 4.44 days on a year-over-year basis.
More positives
The reduction in the drilling time on Whiting Petroleum's part, along with a subsequent increase in production, will lead to a drop in per barrel costs. The good news is that the company's efforts are already bearing fruit as Whiting's lease operating expenses were down almost 23% last quarter, while exploration expenses were slashed in half.
As a result, Whiting's return profile in its key shale areas has improved as compared to last year. In 2015, Whiting had said that it was capable of bringing in 42% as internal rate of return at an oil price of $55 in the Williston Basin. Considering that the company has brought down its cost base further, it should see an increase in its return profile at an identical oil price.
In fact, as shown in the chart given below, Whiting Petroleum's gross margin and operating cash flow had started improving even before the oil price rally gained momentum. So, it won't be surprising to see further improvements in Whiting's margin and cash flow on the back of an even lower cost base and better oil pricing: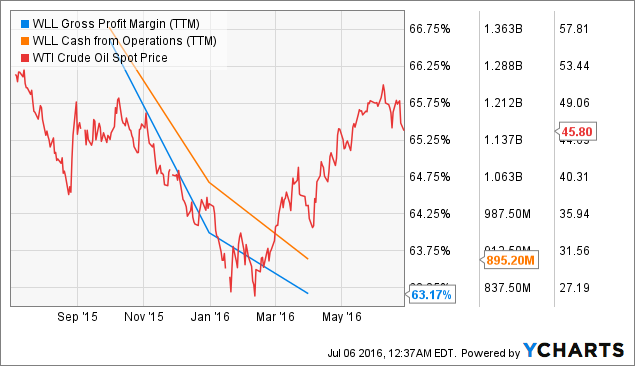 Conclusion
Thus, even though oil prices have weakened slightly of late, Whiting Petroleum investors should not lose faith as the company's lower cost base will allow it to get better in the long run. As such, I think that it will be a good idea for investors to consider buying the drop in Whiting shares since the company looks well-placed to deliver gains in the long run.
Disclosure: I/we have no positions in any stocks mentioned, and no plans to initiate any positions within the next 72 hours.
I wrote this article myself, and it expresses my own opinions. I am not receiving compensation for it (other than from Seeking Alpha). I have no business relationship with any company whose stock is mentioned in this article.