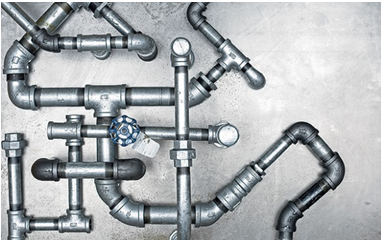 Rexnord (NYSE:RXN) came to our attention when they amended their Change of Control policies back in May. Changes in CoC policies are often indications that a sale is in process or approaching, so we thought it was worth taking a closer look at the company.
Background: Rexnord has two businesses, Process & Motion Control (PMC) and Water Management. Process & Motion Control consists of motion control products, shaft management products, aerospace components, and related value-added services. RXN mentions in their filings that most of the PMC products are critical components in manufacturing processes, yet usually account for a low percentage of an end-user's total production cost. The PMC business is highly levered to the industrials end market, as the industrials sector has struggled in the past few years, the PMC business has struggled in turn. PMC sales have decreased from $1.24bn in 2014 to $1.10bn in 2016, and operating margin has fallen from 19% to 13% over the same time frame. The revenue decline is despite four acquisitions in PMC since 2013.
The Water Management business, while smaller, is arguably a more appealing one. The business consists of water safety, quality, flow control and conservation products (i.e. plumbing, drainage, faucets, sewage, etc.). This business is levered to the construction/infrastructure markets and has grown, albeit slowly, over the last few years. The demand for water management products is driven by "new infrastructure, the retrofit of existing structures… and new commercial and institutional building construction." Sales increased from $796m in 2014 to $824m in 2016 while operating margin has stayed constant around 9%.
Recent developments: There are a few recent developments at Rexnord worth noting. In 2013, RXN tried to sell themselves, but ended the process because bids did not meet their expectations. Since 2013, they've taken a number of restructuring and pension losses each year which might raise flags for a potential buyer.
On their most recent earnings call, management mentioned a few things of note. They projected core growth of -2% to 1% for FY'17 (starting this quarter), continuing their disappointing growth trend. They have a helpful slide in their management presentation projecting FY'17 growth rates for each of their end-markets. Additionally, RXN recently acquired Cambridge International, which creates engineered metal conveying solutions for the food industry. The acquisition should add $80m in revenue and ~$16m in EBITDA to FY'17 results. RXN also announced they would spend $100m to pay down debt during 1Q'17.
Valuation: Rexnord has a history of private equity ownership, having been owned by Carlyle (NASDAQ:CG) before being sold to Apollo (NYSE:APO) in 2006. Apollo then took them public in 2012, and now no longer holds any ownership in the business. There's a reason that the business is appealing to private equity firms - it produces a decent amount of free cash flow. In FY'16, they produced $171m in FCF and they project at least $150m - $160m during FY'17.
Including the EBITDA from their Cambridge acquisition, RXN is currently trading at ~9x EV/EBITDA. That's a fairly healthy valuation for a company that's experiencing declining revenues and projecting more of the same. That being said, the industrials sector has been hot recently with a number of acquisitions at higher multiples. Honeywell (NYSE:HON) acquired Intelligrated, a material handling automation company, for 12x EBITDA and Elster, an energy metering company, for 12.6x EBITDA recently, and according to Bloomberg, has $25bn to spend on deals. Additionally, Danaher (NYSE:DHR) acquired water-filtration firm Pall at 21x EBITDA last year. It's likely that in any sale, the Water Management and PMC businesses would be sold separately.
In conclusion, this isn't a home-run investment by any means, but given the valuations in this space and the potential signs of an impending sale, it's definitely worth taking a look.
Disclosure: I/we have no positions in any stocks mentioned, and no plans to initiate any positions within the next 72 hours.
I wrote this article myself, and it expresses my own opinions. I am not receiving compensation for it (other than from Seeking Alpha). I have no business relationship with any company whose stock is mentioned in this article.