On February 26, 2016, Hilton Worldwide Holdings (NYSE:HLT) announced that it would spin off its timeshare operations into a separate publicly traded company. On June 2, 2016, Hilton Worldwide released the Form 10 for its spin-off to be named Hilton Grand Vacations Inc. and listed under the symbol HGV. The filing, while incomplete, was the first look at the financial statements and operations on a standalone basis of Hilton Worldwide's timeshare operations. It now potentially joins a number of other public timeshare companies in the Hotels, Restaurant & Leisure sector.
Hilton's peer group of public timeshare companies contains the likes of Marriott Vacations Worldwide Corporation (NYSE:VAC), Diamond Resorts International, Inc. (NYSE:DRII), International Leisure Group, Inc. (NASDAQ:IILG), and Wyndham Worldwide Corporation (NYSE:WYN). Wyndham, while also a hotel operator, is included by the fact that a significant portion of its total operating revenues and net income are derived from timeshare and other timeshare related operations (i.e., vacation exchange through its RCI subsidiary).
Obviously, there are other timeshare operations within public companies such as Disney Vacation Club, a subsidiary of the Walt Disney Company (NYSE:DIS) and Holiday Inn Club Vacations, an affiliation with Intercontinental Hotels Group PLC (NYSE:IHG) to name a couple, but their respective operations are minor to the larger corporate earnings of their parents.
So, how does Hilton stack up against other public timeshare companies?
The short answer would be pretty well.
Overall Operations
Hilton Grand Vacations will have approximately 46 resorts in its portfolio representing 7,402 units compared to Wyndham, which has approximately 213 resorts representing 24,000 units; Marriott, which has approximately 61 resorts representing 12,807 units; Diamond, which has approximately 109 resorts representing 12,000 units; and Interval Leisure Group, which has approximately 38 resorts representing 6,000 units after its recent acquisition of Vistana Signature Experiences from Starwood Hotels and Resorts Worldwide Inc. (NYSE:HOT).
By sheer number of resorts, Hilton is at the lower end of its peer group, but its properties are more concentrated in non-seasonal destinations like Las Vegas, Hawaii and Orlando. Its resorts include 2,551 units in Las Vegas anchored by the 1,200 unit Elara and 714 unit HGV Club on the Boulevard. In Honolulu, it has 1,769 units anchored by 639 units in the Hilton Hawaiian Village, including the Grand Waikikian with 331 units. In Orlando, Hilton has 1.494 units across 4 properties in close proximity to each other near the major attractions.
Properties in these three destinations alone account for approximately 78% of its total units, which doesn't include an additional 603 units on the big island in Hawaii. It also recently announced the Grand Islander property, opening in 2017, with approximately 418 units, also located in the Hilton Hawaiian Village.
While this concentration of locations does increase the risk of business disruption due to adverse developments in any one of these areas, it has the potential sales advantage of providing accommodations that buyers want to purchase in locations that vacationers want to stay. Each of these areas is a high tourism market with very little seasonality, thereby allowing for more consistent and less fluctuating pricing models throughout the year. In addition, they have equal year-round exchange demand as well as a strong rental market.
Because of the concentration in these highly desirable areas, it may have a disadvantage by potentially pricing the units at the higher end of the peer group, thus requiring a more affluent buyer even though Hilton indicates that it offers multiple bedroom types, which would maintain price variation.
In 2015, based on their respective filings, total revenues for Hilton Resorts Corporation, the predecessor company to Hilton, were $1,475 million inclusive of cost reimbursements with net income of $174 million. Compared to the peer group of Marriott with $1,830 million in revenues and $122 million in net income, Diamond with $954 million in revenue and $149 million in net income and Interval (pro forma combined with Vistana) with $1,275 million in revenue. Wyndham had $1,604 million in vacation ownership interest sales, but its overall revenue and net income also include its hotel operations as well.
For 2015, Hilton reported volume per guest or VPG, a traditional timeshare metric calculated based on the sales volume divided by the number of tours, at $3,508. By comparison, Marriott reported $3,386, Wyndham reported $2,326, Diamond reported $3,198 and Interval reported $3,554.
The VPG metric is influenced by the average sales price and the rate that contracts are closed (close rate). A company with a higher average sales price would tend to have a higher VPG assuming a level closing rate and vice versa. So to fully evaluate this metric, one would need further information on average sales price and average closing rate. While it provides a year-over-year comparison for an individual company's performance, VPG is not a good indicator when comparing company to company due to the variability in sales price and close rates.
Like the rest of its peer group, Hilton offers seller financing to its buyers. For 2015, Hilton reported a low default rate of 2.84% (after 120 days past due) with an average FICO of 743 compared to Marriott at 3.3% (after 150 days past due) with an average FICO of 736, Interval at 10.9% (after 180 days past due) with an average FICO of 703, and Diamond at 7.7% (after 180 days past due) with an average FICO of 723 during the same period.
For 2015, Hilton reported 64% of its customers financed some portion of their timeshare purchase. Marriott reported that approximately 49% of its customers in its North America segment utilized financing. Wyndham reported 61% and Diamond reported 74.5% financed between 2011 and 2015. The percentage financed is typically influenced by the targeted customer base both in income level and geographic region and Hilton is clearly right there among its peers.
As of the end of 2015, Hilton had approximately $412 million of timeshare inventory on its books of which $111 million was completed and salable. The balance represented $101 million in construction-in-progress and $200 million in land, infrastructure and other assumed to be utilized for future timeshare development. Assuming a rough average of 35% cost of goods sold percentage as determined from its 2015 statement of operations of $173 million in timeshare cost of sales divided by $492 million in net sales of timeshare, that would indicate only approximately $317 million of potential sales in its completed inventory pipeline and only approximately $288 million of potential sales from units under construction. Therefore, Hilton has a relatively small level of salable inventory on hand, less than one year's sales volume, which would support its comment that the major focus of their inventory acquisition over the near term will be utilizing the capital efficient models described.
By comparison, as of the end of 2015, Marriott had $664 million with approximately $333 million available for sale, Wyndham had $1,259 million with approximately $604 million available for sale, Diamond had $358 million with approximately $299 million available for sale. Diamond utilizes an inventory re-acquisition strategy that would naturally result in a lower level of inventory at any point in time compared to the peer group.
As a result of the spin-off, Hilton indicates that it expects to incur $300 million to $500 million of debt over and above the current debt associated with their notes receivable monetization. In addition, Hilton indicated it will borrow an additional $200 to $300 million through additional notes receivable monetization and contribute these funds to Hilton Worldwide. This would indicate a total possible indebtedness of approximately $1.0 billion to $1.3 billion.
As of the end of 2015, Hilton had $506 million of debt in its timeshare warehouse facility and securitizations. Assuming $200 million to $300 million in additional borrowings that would be approximately $700 million to $800 million of debt against a notes receivable balance of $976 million or 82% borrowed against, on the high end.
Debt on the balance sheet is nothing new to timeshare companies since debt associated with monetization of notes receivables has been the mainstay of their capital funding for years. So, on the surface, nothing much to see here. However, in Hilton's case, depending upon the growth of their notes receivable portfolio from future sales, the higher ratio of notes receivable to debt may put some limit on any further borrowing and access to capital for new construction.
Like its peer group, Hilton has its own internal exchange network or "club" allowing its owners access to other Hilton properties. Much like the rest of its peer group, it also participates in a major exchange network, RCI operated by Wyndham, which allows its owners exchange opportunities outside of Hilton's own network of properties. Interval also operates a major exchange network in Interval International or II. The majority of timeshare companies public and private participate to some degree in one of these two exchange networks.
Like its peer group, Hilton has a consistent, ongoing revenue stream from the management fees paid by the respective property's Homeowner Associations (HOAs) as part of the annual maintenance fees as well as enrollment, annual membership and transaction fees associated with its internal exchange network or club. Hilton also rents its unsold inventory as well as its unoccupied units.
Capital Efficient Model
Where Hilton appears to separate itself from its peer group is in the area of salable inventory acquisition. Hilton has clearly gone "all in" on the capital-efficient inventory acquisition model that others in its peer group are utilizing, but to a considerably lesser degree. In particular the fee-for-service model wherein it acts as the sales and marketing agent on behalf of a third party developer.
For 2015, Hilton reports that 78% of its sales are capital-efficient and 58% are fee-for-service. It also reported that it has a six-year supply of salable inventory with 85% representing capital efficient arrangements. Given Hilton's low level of current salable inventory, it is clear, it is banking the near to intermediate term future on sales using this type of inventory acquisition model.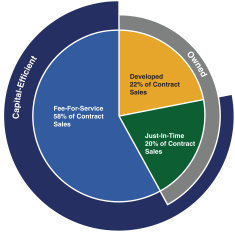 These and other capital efficient models were developed by the major timeshare companies following the "great recession" as a means to reduce their direct dependence on capital markets for access to funds to develop new properties. Up until then, timeshare companies were traditionally very capital intensive, requiring significant upfront capital to develop new properties. This capital was typically raised by monetizing its notes receivable portfolio. The more traditional acquisition model also increased the amount of time it took to penetrate new geographic markets since the average construction period might run two to three years depending upon the location and size of the property being developed.
Wyndham, in its filings, provides a good explanation of its capital efficient programs, which it calls Wyndham Asset Affiliation Models (WAAM) Fee-for-Service and WAAM Just-in-Time. By comparison to Hilton; however, its fee-for-service sales represents approximately 6% and 7% of its total sales in 2015 and 2014, respectively. Wyndham also indicates a movement away from fee-for-service and towards just-in-time inventory acquisition model along with continuing to develop its own inventory under the more traditional model.
Diamond acquires its inventory almost exclusively by re-acquisition of previously constructed inventory through various channels (repurchase from secondary market, mortgage and maintenance defaults, distressed property acquisitions, etc.). Interval and Marriott continue with more traditional development, but indicate that they are also looking at a potential acquisition of already developed properties. Marriott notes that approximately one-quarter of its properties are "co-located" with other Marriott hotel properties.
The fee-for-service model has the clear advantage of zero capital requirement and quick entry to new and even existing markets provided the third party developers are already there. In most cases, the timeshare companies retain the management of the properties and buyers are members of their respective exchange networks, so the associated ongoing revenue streams are retained.
It has the distinct disadvantage of splitting the net profit with the third party developer and eliminating seller financing and thereby eliminating the interest income revenue stream and means of raising capital through monetization of notes receivable. It also puts a premium on negotiating commission rates with third party developers and controlling operating costs.
When considering that on average 50% of the price paid for a timeshare goes towards sales and marketing costs, one obviously sees that commission rates need to be significantly north of this amount. Considering that this is and will continue to be a sizable part of its business going forward, Hilton discloses very little in terms of its fee-for-service sales agreement rates and terms. This is probably due in part to confidentiality with its third party developers and some additional information may be forthcoming in future filing updates.
By comparison, Wyndham appears to have earned an average rate of approximately 65% and 74% in 2015 and 2014 when one considers the reported $83 million and $98 million in commission revenue earned against the $126 million and $132 million in sales, respectively.
The just-in-time model is also built upon utilizing a third party developer, but the timeshare company actually acquires the units from the developer, typically in pace with sales; therefore, the name "just-in-time." It too, splits the net profit with the third party developer, but has an advantage over fee-for-service in that the timeshare company retains the seller financing and thus the interest income revenue stream and ability to monetize the corresponding note receivable asset. It has the clear disadvantage of still requiring the ultimate capital outlay though it allows for much better timing of cash flow.
It may or may not allow for the accumulation of capital assets on the balance sheet since accounting rules do not generally allow for contracting with a third party developer for the specific purpose of acquiring assets over time. This is basically a form of financing. In those cases, the asset and corresponding obligation would be recorded though it continues to have the advantage of spreading out the cash flow over the sales period, which might be many years depending upon the property size.
Whether it is just-in-time or some other re-acquisition model similar to those employed by Diamond, the clear question is whether there will be adequate and affordable inventory going forward for all timeshare companies when they need it. Obviously, as the economy continues to recover, the cost of properties in the more desirable locations will increase and competition for this inventory will increase as well.
Third party developers will obviously want to participate in this appreciation. So, one may see the timeshare companies moving back to a more traditional development model and working to find the appropriate mix of traditional and capital efficient inventory acquisition. Hilton indicated that it would "over time, target a 50/50 sales mix of owned [includes just-in-time] and fee-for-service inventory." However, based on its level of availability of additional assets to monetize, new debt and focus on fee-for-service inventory, this may be more on the longer-term horizon.
Macro Impacts
In macro terms, Hilton's future, much like the rest of its peer group, may be contingent on how well it attracts new owners and maintains the timeshare value proposition.
Hilton indicated that 60% of its contract sales over the last five years came from new owners, which would indicate 40% sales over the same period were to existing owners. The industry, as a whole, has seen an increase in sales to existing owners since the recession. In 2015, Wyndham reported 68% of its sales were to existing owners while Marriott reported 64%.
It would be interesting to know what Hilton's current sales percentage is to existing owners, but regardless, like the rest of its peer group, there appears to be a strategic imperative to bring in new owners and lower this percentage. According to the American Resort Development Association (ARDA), the average age of a timeshare owner is 51. The majority are in the "baby boomer" generation, which is moving into retirement age and ultimately fading out of their vacationing years.
Hilton indicates that sales into Millennials and Generation Xers made up nearly half of the first time buyers in the U.S. during 2015, which is a positive statistic and a solid move in the right direction.
As the cost to build properties in the more desirable destinations has increased, the sales price has obviously increased as well. Along with the rising costs to maintain these properties, especially to the brand standards of the major hotel brands, paid for in annual maintenance fees to the HOAs, the general "value proposition" may be eroding for timeshare. The 2015 ARDA media kit reports that the average timeshare price in 2012 was $20,463 and the average maintenance fee per week was $845.
In the four years since, those amounts have obviously increased, especially in some of the more desirable locations that Hilton operates. Timeshare has long represented itself through its sales pitches as a hedge against future vacation costs, but this representation may be under pressure given these increased costs and competition from the likes of alternative or "peer-to-peer" accommodation networks like Airbnb (Private:AIRB), VRBO and HomeAway (NASDAQ:AWAY). This is not a challenge specific to Hilton, but rather the industry as a whole, but how Hilton addresses this challenge may signal its viability and leadership as a public company.
Summary
In general, Hilton's operations compare favorably to its peer group and so an investment in Hilton's timeshare operations becomes a case, at least in the near to intermediate term, of investor confidence in the fee-for-service model in an industry that for the majority of its history has been more vertically integrated. Hilton will be a timeshare developer focused largely on the fee-for-service business model along with just-in-time acquisitions.
Both these models ultimately split the revenue with the third party developer and this reduces net profit on an equivalent sale basis. Its overall performance outcome will be dependent on increased sales, negotiated commission rates and their ability to control operating costs to retain operating margins. This model is much different than the rest of its peer group.
It has a solid portfolio of properties concentrated in very attractive tourist destinations, which should support sales and interval exchange. Its current operations have had good revenue and profit growth and similar, if not better in some cases, operating statistics.
In the long term, it becomes a matter of how well Hilton achieves its balance of capital efficient and traditional inventory acquisitions, and addresses the need for new owners, rising costs, solidification of the value proposition and competition from alternative accommodation companies.
With the recent consolidation in the industry, the biggest question becomes whether Hilton will be a public timeshare company competing against its peer group or a very attractive acquisition target for private equity or another timeshare developer similar to Interval and its recent acquisition of Vistana (previously owned by Starwood) or Apollo Global Management LLC (NYSE:APO) and its recently announced acquisition of Diamond.
Hilton's operations would give any private equity company an immediate or expanded foothold in the timeshare market. It would also significantly grow the operations of an existing company, like say Wyndham. In the case of Wyndham, the resulting company would be the world's largest timeshare operator with extensive global reach, the world's largest exchange/rental network and a merging of similar inventory acquisition models. Only time will tell and given the movement within the industry, likely more to come.
Disclosure: I am/we are long HLT.
I wrote this article myself, and it expresses my own opinions. I am not receiving compensation for it (other than from Seeking Alpha). I have no business relationship with any company whose stock is mentioned in this article.