Recently, the biggest U.S. banks were told that the Federal Reserve Board had not objected to the capital plans of 30+ institutions. There were a lot of headlines like Citigroup's (NYSE:C) 220% dividend increase, Bank of America (NYSE:BAC) finally increasing its payout or Morgan Stanley's (NYSE:MS) $3.5 billion share repurchase authorization, representing over 7% of the company's current market capitalization.
To be sure JPMorgan (NYSE:JPM) saw its fair share of headlines as well, but with a "continued" dividend it didn't get quite as much attention. I'd like to highlight the potential that this program could have in the future.
Let's look back a few years to get a feel for how the capital program has been developing. Naturally, the financial crisis is an extraordinary event, so let's start a few years out.
In March of 2013, JPMorgan announced that it intended on declaring a $0.30 quarterly dividend followed by $0.38. In addition, the company announced a $6 billion share repurchase authorization for the year.
In March of 2014, JPMorgan indicated that the company intended to increase its dividend to $0.40 per quarter and repurchase up to $6.5 billion in shares.
In March of 2015, JPMorgan announced its intention to increase the dividend to $0.44 per quarter and repurchase up to $6.4 billion in shares. (And keep in mind that this authorization was for five quarters instead of four.)
Before we get to 2016, let's see how the company has delivered in relation to what it announced. With regard to dividend payments, the company has been right on par: increasing the dividend from $0.30 to $0.38 to $0.40 to $0.44 and up to $0.48 per quarter as of this month.
On the share repurchase front, JPMorgan has spent $4.8 billion, $4.8 billion, and $5.6 billion retiring shares over the past three years. In other words, the dividend has been in line with what was announced and a good portion of the share repurchase authorizations have actually been used.
Reviewing this information may seem like a formality, but I think that it's important to highlight the idea that the capital plan is merely an expectation of what could occur. It's a non-objection, not an absolute.
Which brings us to today. Just recently JPMorgan announced its plan to continue the $0.48 quarterly dividend and also have a repurchase authorization of $10.6 billion. Some bemoaned the lack of a dividend increase announcement, but it should be underscored that the company had already increased its payout by 9% under the previous plan.
This sort of thing is interesting because it gives you a clear view of what to expect. Naturally, it's not guaranteed, but you have the company telling you exactly what it's "best guess" is as to what returning capital to shareholders in the short-term will look like.
So let's see if we can work in these parameters to get a better feel for the current value proposition.
JPMorgan has also previously highlighted its intention to pay out between 55% and 75% of its profits in the form of dividends and share repurchases. Last year the company earned over $24 billion and this year something close to that is also expected.
With 3.7 billion shares outstanding and the current $0.48 quarterly payout, common dividend payments could total $7.1 billion or so. If you add in the $10.6 billion share repurchase authorization, you come to a total net payout ratio of nearly 75%. In other words, the company is presently at the upper end of its targeted net payout range.
Let's scale it back a bit and suggest that dividends could make up 30% of average profits and share repurchases could represent 35% - putting the net payout squarely in between 55% and 75%. Naturally, share repurchases are going to be more finicky, but if this year's plan or the last several years is any guide, share buybacks will continue to be a large portion of the capital returned to shareholders.
If JPMorgan's profits were to stagnant, you'd anticipate an annual dividend payment of about $7.2 billion and share repurchases totaling $8.4 billion annually, using the above assumptions. Of course, profits are not anticipated to stagnant. Intermediate-term growth estimates have been in the 5% to 7% range.
Let's proceed with a bit of caution and suggest that JPMorgan the business can grow profits by 3% annually. (It's important to note that this merely baseline and ought to be adjusted according to your own expectations. Although it should further be highlighted that the company was able to grow profits by 7% per annum from 2006 through 2015, despite the Great Recession and arguably tougher interest rate times in relation to what's now anticipated.)
Here's what that could look like (in billions):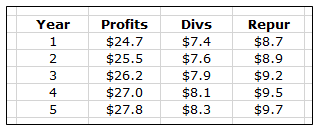 In total, you might anticipate the company paying out $39 billion in dividends over the next five years to go along with perhaps $45 billion in share repurchases. Let's see what that could mean on a per share level.
Obviously, we don't know what the future share price will be, which in turn determines the effectiveness of the share repurchase program. However, we can make a few guesses to generate a baseline. The important part is figuring out what a base case may look like, not perfectly predicting the unpredictable.
Should JPMorgan retire shares at an average price of say $65 in the first year followed by an 8% higher price in the years thereafter, the company could retire perhaps 600 million shares in the next five years. This would represent about 16% of the current total. That sounds like a lot, and in relation to many other share repurchases programs outside of the sector certainly is, but I think it's important to highlight that this year's program alone already accounts for 4% to 5% of the outstanding shares.
Banks are in a unique situation where the dividend is being restricted and you have lower average valuations. In turn, more funds are going toward share repurchases, leading to more effective programs.
The profit figure above relates to the entire business and does not take out preferred dividends. Last year common equity attributable to common shareholders represented about 94% of the number quoted above. In keeping with that vein, instead of $27.8 billion in total profit available to common shareholders after five years, you might think about say $25 billion or something of the sort instead. Regardless of how you want to get there, a bit of company-wide growth and reduction in the share count could increase the earnings-per-share number up to $8 or so ($25 billion divided by 3,100 shares).
JPMorgan's average earnings multiple since the recession has been in the 10 to 11 range. Using 10 times earnings, you come to an anticipated share value of about $80 after half a decade.
In addition, we need to add in dividends. Once more the actual payments are dependent on future profitability and the number of shares outstanding, but we can use some rough numbers. If JPMorgan paid out $39 billion in dividends over the next five years, that would equate to an anticipation of $10.50 in per share payouts with 3.7 billion shares outstanding or $12.50 with 3.1 billion outstanding. Call it $11 per share over the next five years. (A lot of people like to quibble over the share price of repurchases and dividend timing and that sort of thing, but the point here is that a dollar higher or lower in cash payouts is not going to significantly alter an investment thesis.)
This brings us to a baseline value assumption of $91 (prior to thinking about reinvestment). And when you do these sorts of calculations you're going to come up with an exact number, but I think it's useful to remember that it's a range; $91 might be your baseline, but $80 to $100 is a better for your investing psychology.
That's what JPMorgan could look like based on its capital return program and growing the business by 3% annually: ~$40 billion in dividends and $45 billion in buybacks, which could lead to $8 in EPS and $11 or so in collected per share cash payments over a five-year period. Whether or not that is interesting or not depends on the offering price.
If shares were trading at $100 and you thought that the company could deliver $91 worth of value in the coming years, naturally that would not be interesting. At a $60 offering price, that would represent a total expected gain of about 8.7% per annum. That's a lot more interesting.
In short, JPMorgan is set to return billions upon billions of dollars to shareholders with its capital return programs in the years to come. Interestingly, share repurchases are apt to constitute a larger portion of this return than in the past, as dividend payments are limited. With subdued valuations, these repurchases could very well be more effective to boot. The potential for reasonable to substantial returns is certainly there.
Disclosure: I am/we are long JPM.
I wrote this article myself, and it expresses my own opinions. I am not receiving compensation for it (other than from Seeking Alpha). I have no business relationship with any company whose stock is mentioned in this article.