U.S. Treasury yields have fallen to historic lows in recent days. Since lower yields accompany higher prices, this is a welcome development for bond investors. This recent development raises a worthwhile question for today's investors. Exactly how much lower can U.S. Treasury yields go from here?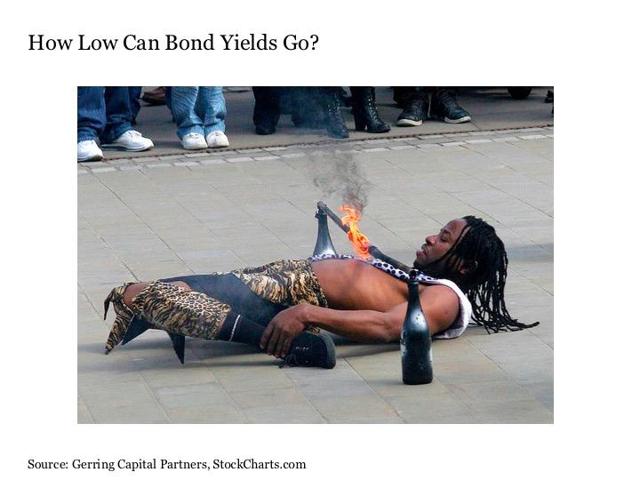 Epic Bull Market
Before going any further, it is worthwhile to highlight the long road that has brought us to where we are today. For all of the fuss that is made about stocks, bond investors remain in the midst of a bull market in U.S. Treasuries that is running at 35-years and counting. In other words, the woebegone stock bears that have been tormented during the post financial crisis rally since 2009 have nothing on the long suffering bond bears that have been waiting more than a generation for their day.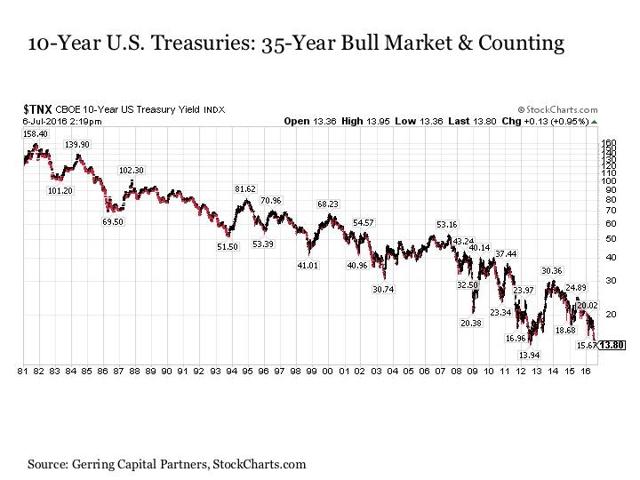 Of course, one key point has been a difference maker for bond bulls over all of these years. For most of us, the memories of double digit bond yields are still fresh in our heads. While I was a much younger lad at the time, I remember opening my first savings account back at the start of the 1980s at the local Dime Savings Bank with a 10.5% interest rate. Such rates on an FDIC insured, principal guaranteed bank account are much harder to come by nowadays. So for many of us, an interest rate much higher than where we are today feels like the norm, not the exception. But in reality, the sharply higher interest rates that we experienced in the late 1970s and early 1980s were the outlier exception, not the norm. In reality, both short-term and long-term interest rates have hovered in and around the 3% to 5% range dating back to the days of Queen Elizabeth of England - not the second one from today but the first one from the late 1500s.
So while today's U.S. bond yields are indeed at historical lows, they are not that much of an extreme outlier beyond what we have seen over the centuries.
Assessing New Lows
With that being said, U.S. Treasury yields are still at historic lows. As a result, further gains may be difficult to come by. So how much lower can we realistically expect bond yields to go from here?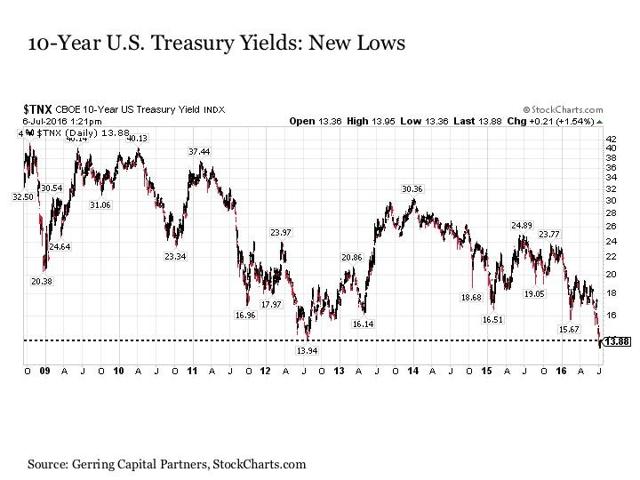 First, the economic environment remains supportive of bond prices. Recent economic growth readings in the U.S. have been generally mixed. But they have come in an environment where interest rates from the U.S. Federal Reserve remain locked just above zero percent. And despite so many years having passed since the outbreak of the financial crisis, the Fed remains highly hesitant to raise interest rates amid an economic environment that remains highly fragile and where deflationary pressures are controlling the day. Thus, U.S. Treasuries are continuing to provide a reasonable safe haven destination for investors that need to park their capital and generate even a modest yield.
Speaking of the fragile economy, trends in bond yields suggest that further economic deterioration may be coming in the months ahead. Indeed, the U.S. yield curve remains positively sloped, but it is difficult to invert a yield curve when short-term rates are effectively pinned at zero percent. Moreover, the spread between 10-year and 2-year Treasury yields is nowhere close to previous negative readings that preceded past recessions.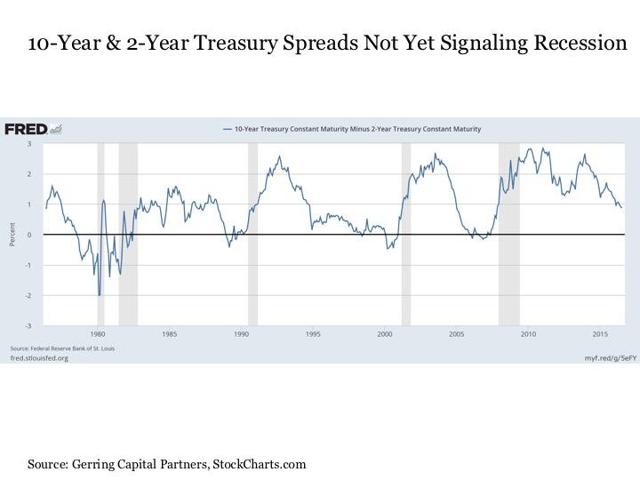 With that said, recent trends in interest rates across the yield curve suggest that economic conditions are getting worse at the margins, not better.
For example, while 10-year Treasury yields (NYSEARCA:IEF) recently broke below 2012 levels to set new lows, 30-year Treasury yields (NYSEARCA:TLT) have been below 2012 lows for some time. In fact, their latest push to the downside exceeded the previous low that was set at the start of 2015.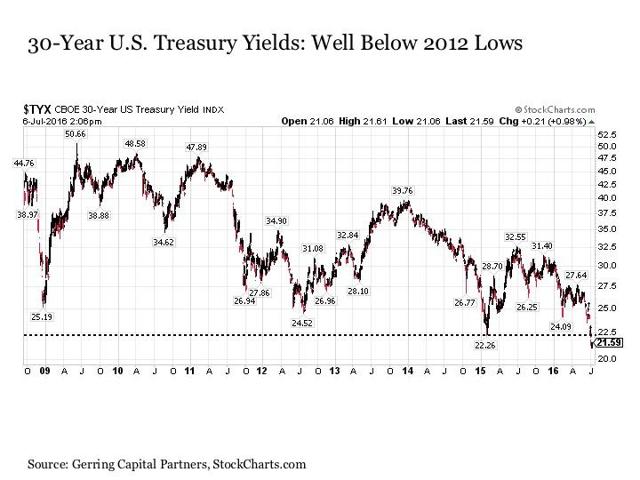 Moving the opposite direction toward the inner part of the yield curve, we see that 5-year Treasury yields (NYSEARCA:IEI), while lower, are still nearly double the lows from 2012. In fact, where the 10-year Treasury yield is trading today is effectively where the 5-year yield was just a month ago. In short, the 10-year yield is closing fast to the downside on the 5-year rate.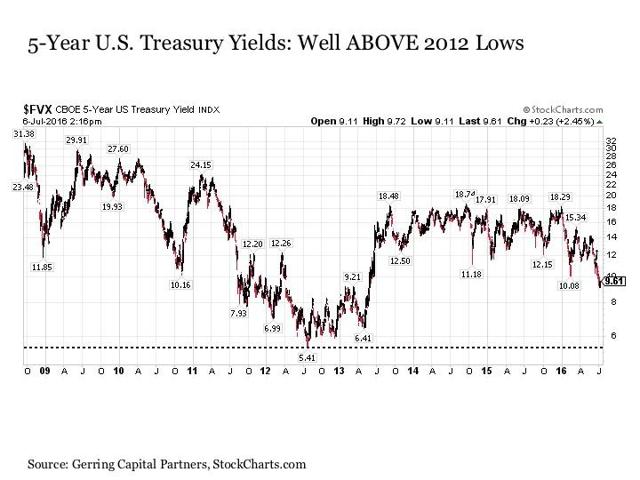 As for the 2-year yield, it has been trending steadily higher since its 2012 lows and was at levels just a month ago where the 5-year yield finds itself today. So just as the 10-year is closing quickly on the 5-year, so too is the 5-year closing on the 2-year. In other words, the yield curve is flattening where it is able to flatten, and such trends do not often bode well for economic prospects going forward.
And if the U.S. or global economy does indeed continue to weaken in the months ahead, investors will likely remain interested in allocating to the safe haven demand that U.S. Treasuries provide.
Better Than The Alternatives
What about the alternatives to U.S. Treasuries? If you are an investor looking to park your cash someplace where the principal value of your investment is guaranteed by the full faith and credit of the issuing government at maturity, perhaps the world offers other destinations where one can secure a higher yield other than the United States.
But with interest rates low to negative in most other parts of the developed world, the United States (NYSEARCA:SPY) remains the best deal on the globe from a safe haven yield perspective. Sure, a 10-year U.S. Treasury yield at 1.38% and a 30-year yield at 2.15% look paltry. But compare these to the rates in Japan (NYSEARCA:EWJ) where the 10-year yield is currently a negative -0.26% and the 30-year yield is 0.05%. Or Germany (NYSEARCA:EWG) where the 10-year yield is a negative -0.18% and the 30-year yield is 0.35%. Although $12 trillion worth of investors have poured into these negative yielding bonds worldwide, for many investors they would be better off putting their cash into a safe. Moreover, what does this say about the global growth environment when nearly $12 trillion in capital cannot find a better destination than an investment where you are guaranteed to lose money on a nominal basis over a period as long as three decades in the case of Switzerland (NYSEARCA:EWL)? Certainly not a "getting better in the second half of 2016" story to be sure.
But what about some other places. Canada (NYSEARCA:EWC) is a reasonable possibility, but they are only paying 0.99% on their 10-year bonds and 1.57% on their 30-year bonds. How about the United Kingdom (NYSEARCA:EWU) at the heart of the 'Brexit' fallout? British 10-year gilts are trading with a yield of 0.77%, which is roughly half the yield that the U.S. is offering, while the 30-year is also at a relatively lower 1.58%. Lower yields coupled with the currency risk of the plummeting pound is not a good combination for safe haven seeking investors.
Even Italy, which resides at the heart of what could be the next major global banking crisis has 10-year and 30-year yields at 1.24% and 2.21%, respectively, that are roughly comparable to what the U.S. has on offer. Once again, the choice between Treasuries and bonds from a country that was on the brink of falling out of the Euro Zone in recent years and is facing the prospects of a banking crisis is a fairly straightforward one in my view.
The Bottom Line
U.S. Treasury yields have fallen to record lows. But they continue to offer the potential to fall even further given the already weak and deteriorating global economic backdrop coupled with the fact that they remain by far the best yielding safe haven alternative among sovereign debt issuers across the developed world.
As a result, 10-year U.S. Treasury yields below 1% and 30-year U.S. Treasury yields below 1.8% should not be ruled out as a possibility in the coming months.
Disclosure: This article is for information purposes only. There are risks involved with investing including loss of principal. Gerring Capital Partners makes no explicit or implicit guarantee with respect to performance or the outcome of any investment or projections made. There is no guarantee that the goals of the strategies discussed by Gerring Capital Partners will be met.
Disclosure: I am/we are long IEF, TLT.
I wrote this article myself, and it expresses my own opinions. I am not receiving compensation for it (other than from Seeking Alpha). I have no business relationship with any company whose stock is mentioned in this article.