Solar company First Solar (NASDAQ:FSLR) was already struggling this year, having lost over 25% of its value so far, and the recent Brexit vote might have added to the company's woes. According to Needham, solar module manufacturers with international exposure will be in for difficult times as a weaker Euro will have a negative impact on module pricing. For companies such as First Solar that have businesses in Europe, revenue could be negatively impacted as their dollar-denominated revenue will fall due to a weaker Euro.
Moreover, Needham also points out that lower demand on account of the Brexit will negatively impact demand, which could lead to an oversupply in the industry and create pricing pressure. Considering such challenges, will it be a good idea to remain invested in First Solar or buy the drop in its stock price? Let's find out.
A closer look at module pricing and its impact on First Solar
As far as the module pricing argument of Needham is concerned, investors should not miss the fact that module prices have been in a perpetual state of decline over the past few years. This is shown in the chart given below:

Source: Green Tech Media
As shown above, average module prices have dropped over 17% in the last couple of years until the end of 2015. Looking ahead, the trend of lower module pricing is expected to continue until the end of the decade, when prices are expected to drop almost 23% to 2020 as compared to the last quarter of 2015.
But, the important thing to note is that despite the drop in module pricing, First Solar has managed to keep its top line and margins in decent shape. This is shown in the chart below: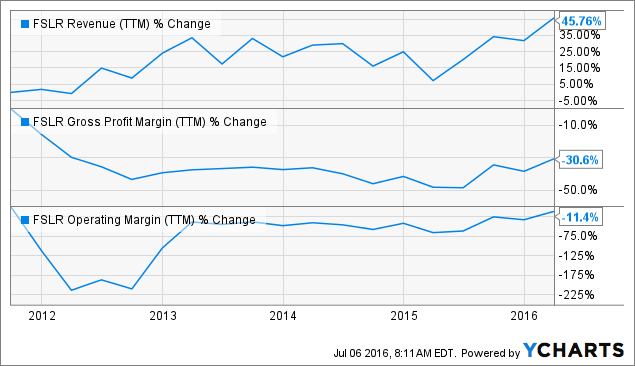 As seen above, First Solar's revenue has been growing at a consistent pace over the past five years. Additionally, even though the company faced margin challenges at first owing to the declining prices of modules, it has been able to correct itself on this front of late. In fact, First Solar's operating margin has been consistently increasing over the past few years, while its gross margin has also started picking up pace of late.
The strength in First Solar's revenue and margins is a result of the company's focus on increasing module shipments, apart from its moves to lower costs. Looking ahead, these factors will continue to drive First Solar's financial performance even if module prices remain weak. Let's see how.
Why investors shouldn't worry about First Solar
There are two factors that will drive First Solar's performance going forward - a strong pipeline of projects and focus on efficiency. We will take a closer look at both.
First Solar has an impressive late-stage development pipeline, which the company can convert into revenue in the medium term. More specifically, 3.8 GW of its bookings are currently in the advanced development stage, of which revenue has been recognized on just 0.9 GW. This indicates that First Solar is yet to recognize revenue on a majority of its late-stage pipeline.
What's more, the company is on track to add another 3.1 GW to its mid-to-late stage pipeline this year, which will continue to drive its top line performance going forward. Additionally, apart from focusing on the near-term revenue opportunities by way of the late stage pipeline, First Solar is also looking at long-term opportunities by developing the early-stage pipeline.
More specifically, the company has added early to mid-stage projects worth 500 MW in 2016, taking its total potential bookings opportunity to an impressive 23.3 GW. In all, First Solar sees its total bookings opportunity increasing 35% until 2020, as shown below, which will help it keep its top line growth in good shape: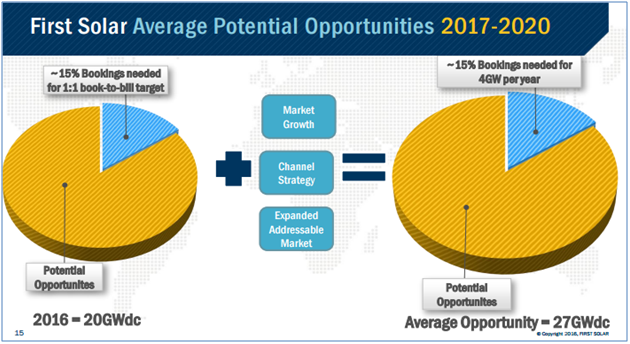 Source: First Solar
In the first chart given in the article, we can see that First Solar has been able to improve its gross margin profile of late. This can be attributed to the company's efforts to lower its module costs by focusing on a variety of factors, including a higher utilization rate and better lead line efficiency.
More specifically, First Solar has increased its utilization rate by 13 percentage points of late, achieving 100% utilization last quarter. This increase in the utilization rate has been accompanied by an improvement in the lead line efficiency and module conversion rates, which were up by 80 basis points and 10 basis points, respectively, last quarter.
Looking ahead, First Solar will continue to focus on these areas as it plans to keep the utilization high and also improve the lead line efficiency. As a result of its focus on these areas, the company believes that its module costs will come down drastically by the end of the decade, as shown below: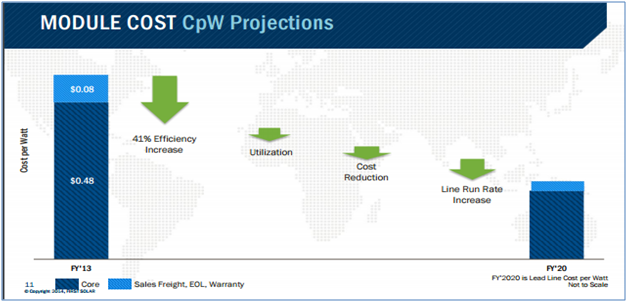 Source: First Solar
As seen above, it is clear that First Solar's focus on increasing efficiency, utilization, and the line run rate will lead to a lower cost per watt, which will allow it to overcome the decline in module pricing.
Conclusion
All in all, First Solar is making the right moves to overcome any potential challenges in the end market. The company's focus on enhancing its project pipeline and lowering costs will lead to an improvement in its margin and revenue performance going forward, irrespective of the decline in module prices.
In fact, as seen above, First Solar's cost per watt is expected to decline in more than half until 2020 as compared to 2017 levels, while over the same time, module pricing will drop 36% as the first chart in the article shows. Therefore, First Solar's costs will drop at a faster pace, helping it report further margin improvements.
As such, I think that it will be a wise idea to buy the dip in First Solar shares considering the long-term opportunity present in the stock and ignore the short-term concerns.
Disclosure: I/we have no positions in any stocks mentioned, and no plans to initiate any positions within the next 72 hours.
I wrote this article myself, and it expresses my own opinions. I am not receiving compensation for it (other than from Seeking Alpha). I have no business relationship with any company whose stock is mentioned in this article.